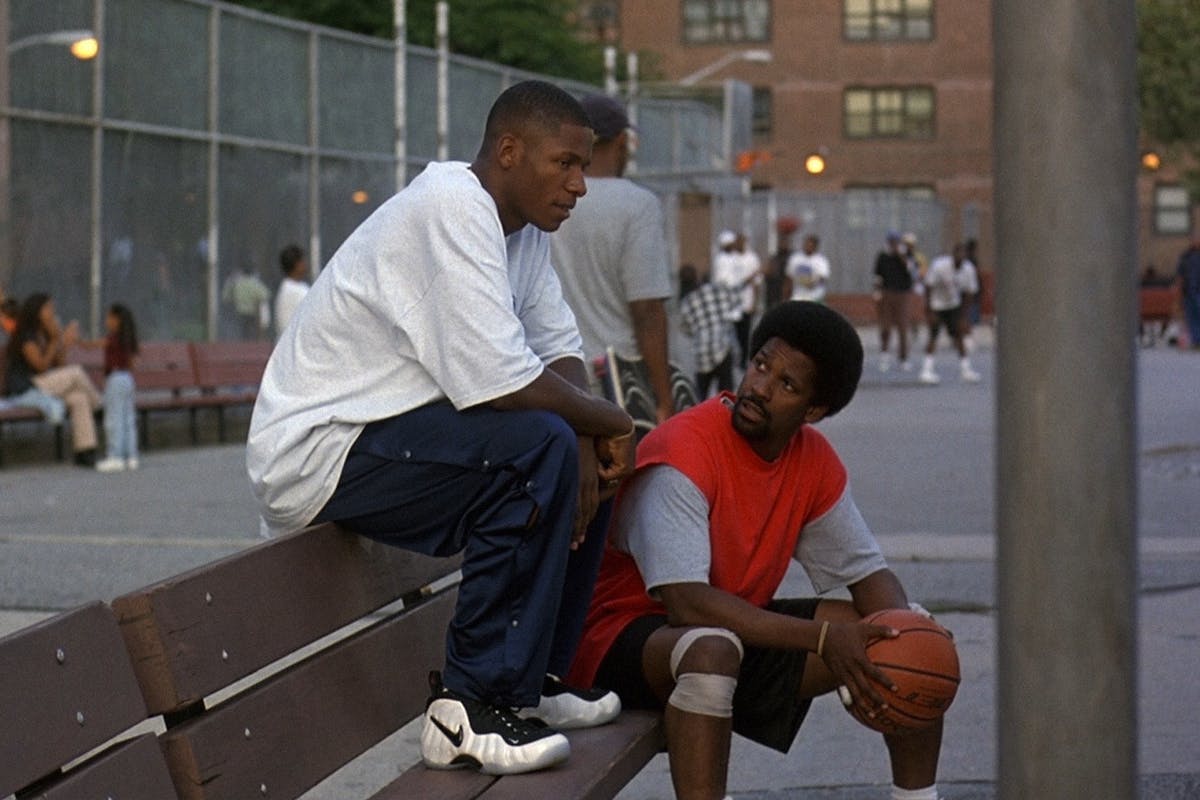 Social distancing measures are still in place across the globe, meaning our time outside is limited right now. And while the negatives are many, one personal positive is the extra time I've had to watch the movies that have been on my list for a while, not to mention a rewatch (or two) of some favorites.
With the world in hibernation, sneaker spotting on the street has become far less fruitful. Instead, movie marathons have become a way to indulge in this shopping sport virtually.
Product placement on the silver screen has been a powerful marketing tool for sportswear brands for decades, with certain sneaker moments transcending the movies themselves. No brand has perhaps done this better than Nike, and we've picked out seven times that Swoosh kicks stole the limelight in film, all of which are shoppable via resale platform GOAT. You can also get the sneakers via the GOAT app.
Scroll on to shop the Nike sneakers seen in classic movies.
Like Mike (2002) — Nike Blazer Mid '77 Vintage
Jordan fans around the world continue to wear the sneakers that allow them to be at least a little like Michael Jordan. But in 2002 film Like Mike, Lil' Bow Wow takes it a step further, slipping on a pair of Nike Blazer '77 believed to have been worn by Jordan himself, resulting in the protagonist gaining the talents of the great and playing in the NBA. This vintage pair, complete with the "Racer Blue" Swoosh, will let you get the look. We can't promise the talent, though.
The Wolf of Wall Street (2013) — Nike Cortez
Martin Scorcese's tale of excess and the sins of the stockbroking world packs more than a few memorable moments — the foot-, car door-, and quaalude-combining scene being a particular highlight. In that very scene, Leonardo DiCaprio's character Jordan Belfort sports a pair of classic Nike Cortez, a sneaker released in 1972 and designed by Olympic training coach Bill Bowerman. And like during the car door mishap, Leo is seen again here in the Cortez, albeit more composed this time.
Space Jam (1996) — Air Jordan 11 "Space Jam"
Way before The Last Dance, Michael Jordan was made a star of the screen by Space Jam — a film that, on paper, sounds absolutely bonkers. The Looney Tunes teaming up with MJ to win a game of basketball against some aliens? Despite that, it was a huge box office success and continues to be loved by adults and kids alike. In the film, Jordan dons a Player Exclusive Air Jordan 11, which he also wore in the 1995 NBA Playoffs. The sneaker, Nike's most successful launch ever, was treated to three retro releases — with 2000, 2009, and 2016 editions.
Do the Right Thing (1989) — Air Jordan 4 "Cement"
In his 1989 film Do the Right Thing, Spike Lee explored themes of racism, diversity, and police brutality that are equally as in need of a platform today. In the movie, the Nike sneaker moment comes courtesy of the Air Jordan 4 "Cement," which ends up with a nightmarish scuff from a passer-by. In honor of the classic film, Nike even dropped a "Do the Right Thing" pack in 2017, complete with scuff mark. We've stuck with the clean pair here, though.
He Got Game (1998) — Nike Air Foamposite Pro "Pearl"
On to another movie by the great Spike Lee. He Got Game tells the tale of Jake Shuttlesworth, played by Denzel Washington, who is released from jail to convince his son, the country's best young basketball prospect, to play for the Governor's alma mater. Played by professional Ray Allen, Jesus Shuttlesworth is seen wearing the Nike Air Foamposite Pro "Pearl" in the movie, a sneaker first released in 1998 that was also made popular by Scottie Pippen. The 2010 version boasts the same pearlized Swoosh and Zoom Air cushioning.
Lost in Translation (2003) — Nike Air Woven
Perhaps one of the more unexpected sneaker moments on the list, Bill Murray wore a pair of slip-on Nike Air Woven when taking Scarlet Johansson's character Charlotte to hospital in Sofia Coppola's much-loved Lost in Translation. Streetwear icon Hiroshi Fujiwara of Fragment makes a cameo in the movie and could perhaps be the reason behind this off-kilter footwear choice for Murray's suited Bob Harris. The hand-made sneaker first dropped in Japan in 2000 and has had plenty of modern remakes, like the one here from 2017.
Terminator (1984) — Nike Vandal
Kyle Reese comes from the future to protect Sarah Connor from the Terminator. And if the pressure wasn't already enough, he turns up completely naked. To fix this, he robs a store and picks up a pair of Nike Vandals in the process. With a similar silhouette to the Air Force 1, the Vandal first dropped in 1984 and had another movie moment a year later in Back to the Future. The OG Vandal that appeared in Terminator bears a silver Swoosh and heel strap but has undergone several more modern remakes. This blacked-out edition, in collaboration with designer John Elliot, is one of them.
We at HighSnobiety stand with the black community in support of ending police brutality and racism. If you'd like to support black-owned labels in fashion, click here for our most recent list of ones to support.
Our designated Selects section features products that we love and want to share with you. Highsnobiety has affiliate marketing partnerships, which means we may receive a commission from your purchase.