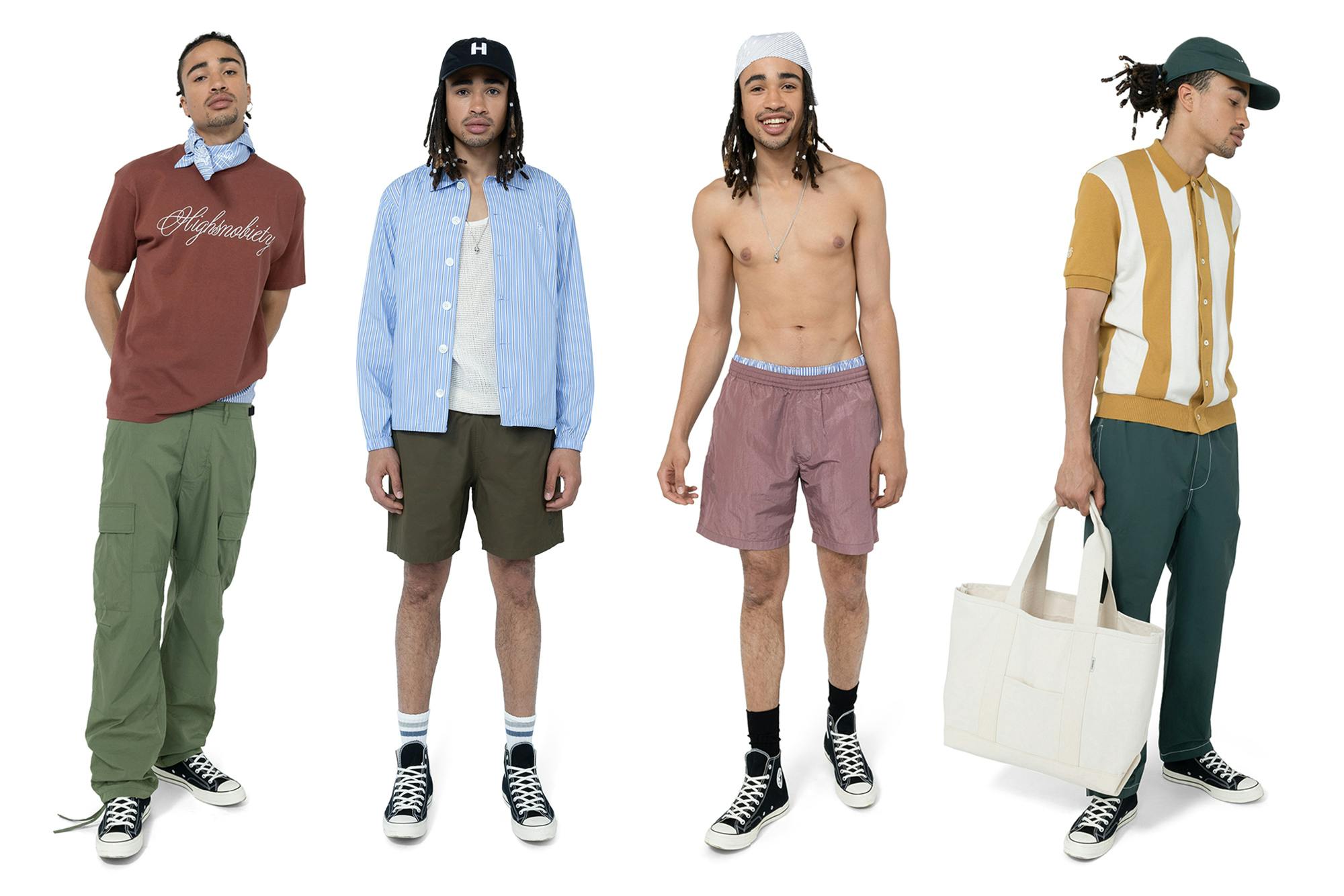 Browsing the net to find the best online clothing stores for men can be a time-consuming process. Finding the best deals and clothing pieces for your wardrobe might need you to get lost between the options displayed, with one too many shopping carts and going back and forth to decide on what you are going to buy.
To make your life easier, and your shopping experience as enjoyable as it should be, we decided to group all of the top men's online clothing stores in the world in one convenient list.
By covering all sides of contemporary men's fashion sites and through a cross-selection of the various options you should be able to find just about any men's clothing item you want. From men's best streetwear stores to high-end fashion to all-things sneakers, we got you covered.
Shop the best men's online clothing stores in one place below
HIGHSNOBIETY
Site: Highsnobiety
Physical Locations: Online only (for now!)
Instagram: @highsnobiety
The first entry for the best online clothing store for men has to be a shameless plug. Our very own Highsnobiety app. The Highsnobiety app puts the best streetwear, high fashion, design, music, and art in your pocket. You can quickly discover and shop the best products in culture today — from both up-and-coming brands and established fashion houses. You'll have access to a variety of product releases and collaborations from brands like A-COLD-WALL*, Dries Van Noten, Jil Sander, Carharrt, Vans, Reebok, The North Face, On, and many more.
And while you are at it, The Highsnobiety app includes curated cultural content from our editors discussing the people, brands, and products that are shaping culture — from Kanye West to Denim Tears, Aimé Leon Dore to Tyler the Creator, Drake to Nike, and everyone in between.
SSENSE
Site: SSENSE
Physical Locations: Montreal
Instagram: @ssense
SSENSE is here as one of the best clothing brands for men because it sets the standard for modern men's fashion retailers in many ways. From the dynamic collections to the retailer's ability to curate their selections, often releasing new collections through innovative capsules and events, SSENSE is at the forefront of men's contemporary fashion.
SLAM JAM
Site: Slam Jam
Physical Locations: Milan, Ferrari
Instagram: @slamjam
It all started in 1989 when Luca Benini created Slam Jam to serve the Italian underground community in all its forms from a streetwear style perspective. From the best of streetwear to high-end menswear, Slam Jam is here to bridge the gaps of the modern menswear universe. Today is by far one of the cornerstones of men's online clothing store experience.
Slam Jam prides itself on growing from a store into an ever-growing and faithful customer base that crosses cultures and generations.
MR PORTER
Site: Mr Porter
Physical Locations: Online only
Instagram: @mrporterlive
Mr Porter is for the gents. Think of Mr Porter as your go-to destination for everything the modern man needs to know, say, eat, drink, and, of course, wear. This online clothing store has a strong traditional curation. While you probably won't be finding any experimental, avant-garde designs here, you will be able to buy the world's best shirts, tailoring, and a growing selection of contemporary classics.
Mr Porter also has high-quality editorial content in the free Mr Porter Post newspaper, which will definitely elevate your buying experience.
GRAILED
Site: Grailed
Physical Locations: Online only
Instagram: @grailed
When it comes to a must-know in the world of men's clothing stores, Grailed is the one to browse through if you are struggling to get a hold of any hard-to-find rare clothing items. Thanks to a prolific user base that's as clothing-obsessed as you'd hope for, Grailed is an online resale platform that stocks a great selection of more approachable products.
NORDSTROM
Site: Nordstrom
Physical Locations: Online only
Instagram: Nordstrom
The American retailer Nordstrom is another online clothing store you definitely want to have on your radar. They have a great retailer's sale section and they really pride themselves in always having new, and on-trend options.
The company was founded in 1901 as a small shoe store in Seattle, Washington, and has since grown to become a global retail store, and has also developed a reputation for its unique shopping experience, which includes personalized styling services, free shipping and returns, and an easy-to-use website and mobile app.
STOCKX
Site: StockX
Physical Locations: Online only
Instagram: @stockx
Our Paris Fashion Week partner in crime. StockX isn't just the go-to-pay through the nose for sneakerheads on the secondary market. With this online store, you can buy pretty much everything you can think of, ranging from sneakers to streetwear to watches, and of course, some of the best men's clothing. But the site also has a seemingly endless repository of, good, low-profile sneakers that collectors are simply trying to get rid of—and for excellent prices and thus making it one of the best sneaker websites in the world.
BSTN
Site: BSTN
Physical Locations: Munich and Hamburg
Instagram: @bstnstore
​​Germany-based clothing online store BSTN was founded in 2008 by Christian "Fu" Boszczyk and Dusan "Duki" Cvetkovic as a new creative project motivated by their shared passion for the game of basketball, sneaker culture, and streetwear as a whole. An abbreviation for 'Beastin', the BSTN's mission is to share their love for sports and streetwear, as well as put their headquarters in Munich on the map.Beastin has steadily become a premium online shop destination for men and an exclusive sneaker boutique known today as BSTN.
Want to keep browsing? Head to the Highsnobiety Shop for more products that we love. You can find anything ranging from outerwear, to knitwear, to pants, and of course, footwear.