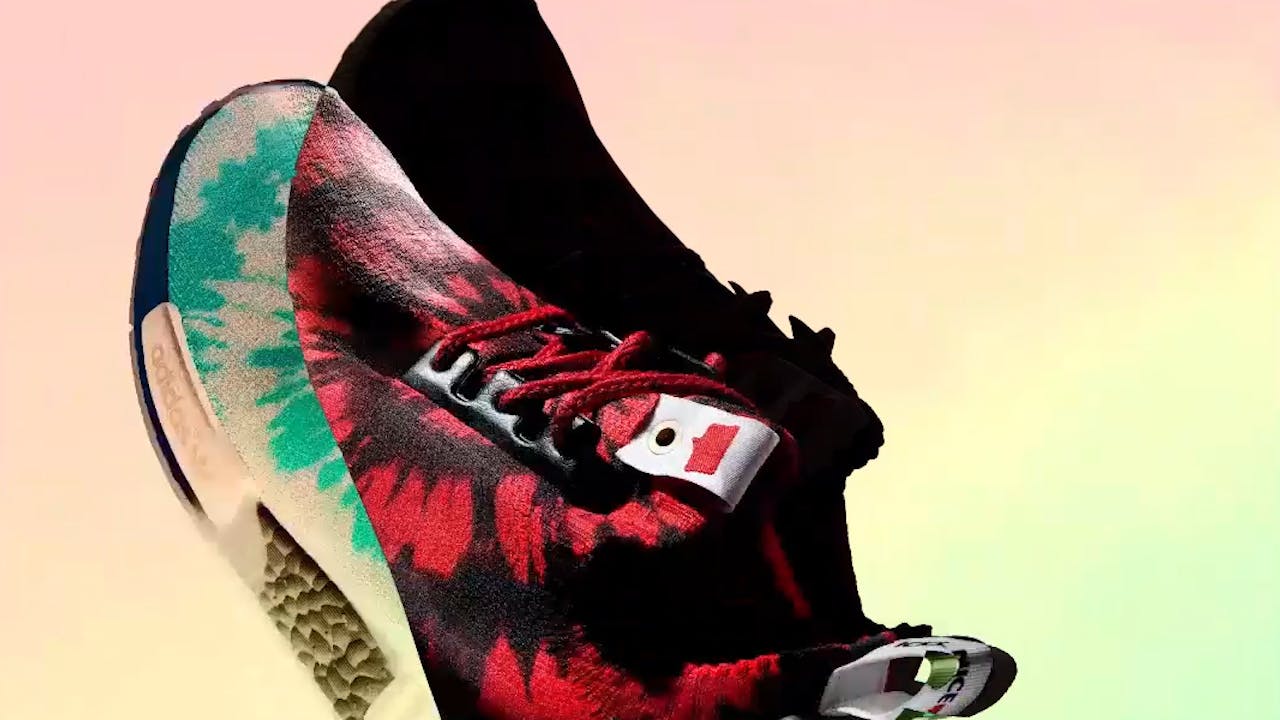 Highsnobiety / Jason Pietra
Colorways can make or break a pair of sneakers.
In the baggy-jeans era of streetwear, color-coordinated sneakers, hats, and jackets were instant sidewalk signifiers. Today, the popularity of any given sneaker usually still comes down to one factor: color. Beloved and instantly recognizable color combinations allow certain sneakers to transcend their status as mere products, turning them into nostalgic and collectible objects.
From a collector's point of view, certain color schemes are name-checked so commonly that they have become synonymous with the product itself — think of iconic Air Jordan colorways like "Breds" or "Concords." Though the appeal of a harmonic combination is often a gut feeling, you can bet the choices are more complex than a simple exercise of color-by-numbers.
But is there a science to picking the perfect colorway? We reached out to experts with the hopes of finding out.
Louise Hegelund, assistant designer in color and materials at adidas, tells Highsnobiety: "Before we actually color-up any sneakers and pick the materials, we work on building the frame for the season. It's always [our] aim to make the most impactful colorways. We make sure that we have some good stories for the season and that we translate all of our research and inspiration into the collection."
During her time at adidas, Hegelund has worked on classic running shoes, new innovations, and court icons like Stan Smith and Superstar, placing her in a position to grasp the importance of some of adidas' most popular and recurring sneaker colorways. "The most iconic adidas Originals color is, of course, Bluebird, and to me, it's the color that represents Originals," she notes. "An example of an iconic colorway is the ZX 8000 'Aqua' colorway, which we recently reissued. [It's] very bright and vibrant. But sometimes it's the simplest combination that becomes iconic and can be recognized from miles away. For court shoes, there's no doubt that Stan Smiths in white and 'Fairway Green' are signature colorways, as well as the Superstar in black and white."
Venturing into more obscure and referential territory, many popular YEEZY colorways look to the stars, taking inspiration from celestial objects like constellations (Antlia) and meteor craters (Lundmark).
Salomon's Fashion Program Manager Jean-Philippe Lalonde also offers insights into his methodology when selecting colorways for Salomon ADVANCED sneakers: "Given the origins of the Salomon brand, our colors are closely linked to themes of nature and outdoor sports," says Lalonde. "When ideating multiple colors of one style, we'll try to keep options balanced from a race heavy themed color to a subtler outdoor vibe option."
As Salomon footwear is known to incorporate performance textiles above and beyond a more traditional leather or suede, Lalonde also touches on the importance of choosing colors to match materials. "The shoes and their material composition and construction play a significant role in color application," he says. "We'll look at shoes with synthetics and laminated films differently than a traditional leather/suede construction."
Salomon is one of many brands in fashion, footwear, and sportswear that utilizes Pantone's color library. Lalonde mentions: "For precision in color selection, we're using Pantone's swatch library. It allows our team to have a common language when discussing color options. All too often, we've had conversations where you're trying to describe a "blue-er gray" or "sunset yellow," but with the Pantone library, there's no margin of interpretation... the colors are all there and we can make the choice as a team."
In the end, Lalonde emphasizes that it's the on-foot look that matters above all, adding: "At the end of the process, the one and only question that really matters is: 'Would I wear this shoe?' That's the key to the final edit."
Every year, US trend-forecaster and color institute Pantone chooses a color of the year based on "what is taking place in our global culture at a moment in time." The 2019 color of the year was a pinkish-orange hue named "Living Coral," while 2020's seasonal color was the more conservative "Classic Blue." Providing structures and solutions that simplify the process of working with colors, Pantone helps brands stay two steps ahead by answering questions like "What would this shade of red look like in suede, versus mesh, or pony hair?"
"We help brands in many different ways," says Laurie Pressman, vice president of the Pantone Color Institute. "It could be doing a workshop, it could be presenting what we see happening in trend on a broad scale and helping you apply it to a current product, or working with them on what colors make sense for their product line. It could also be [presenting] an overview of a macro trend presentation in general, what's happening in the market, and then working with them."
New eco-friendly practices also have a direct and somewhat unexpected knock-on effect in the fashion industry. Pressman mentions that Pantone recently discontinued 21 shades of neon because "we could not achieve those in a way that was sustainable." In the case of neon, shifts toward sustainability have actually caused trends to evolve in fashion. If a sustainable source of a certain neon shade can't be found in nature — whether it's a natural dye or a flower — Pantone will simply pull the color, then brands and designers might not use it. Subsequently it might not end up on your favorite sneakers, resulting in a somewhat surprising cause and effect.
Pressman summarizes Pantone's expertise in color and collaboration: "Our goal is to educate, and we find that there are certain clients we've worked with that come back to us annually because we're helping to develop them in their role, and that's really what we want. It's very collaborative, because we may know color, but they know their brand. I guess I look at it as a win-win in that you have two people that are experts in what they do coming together to create something that you really hope helps that company to achieve their goals, because we're living and eating and breathing color."