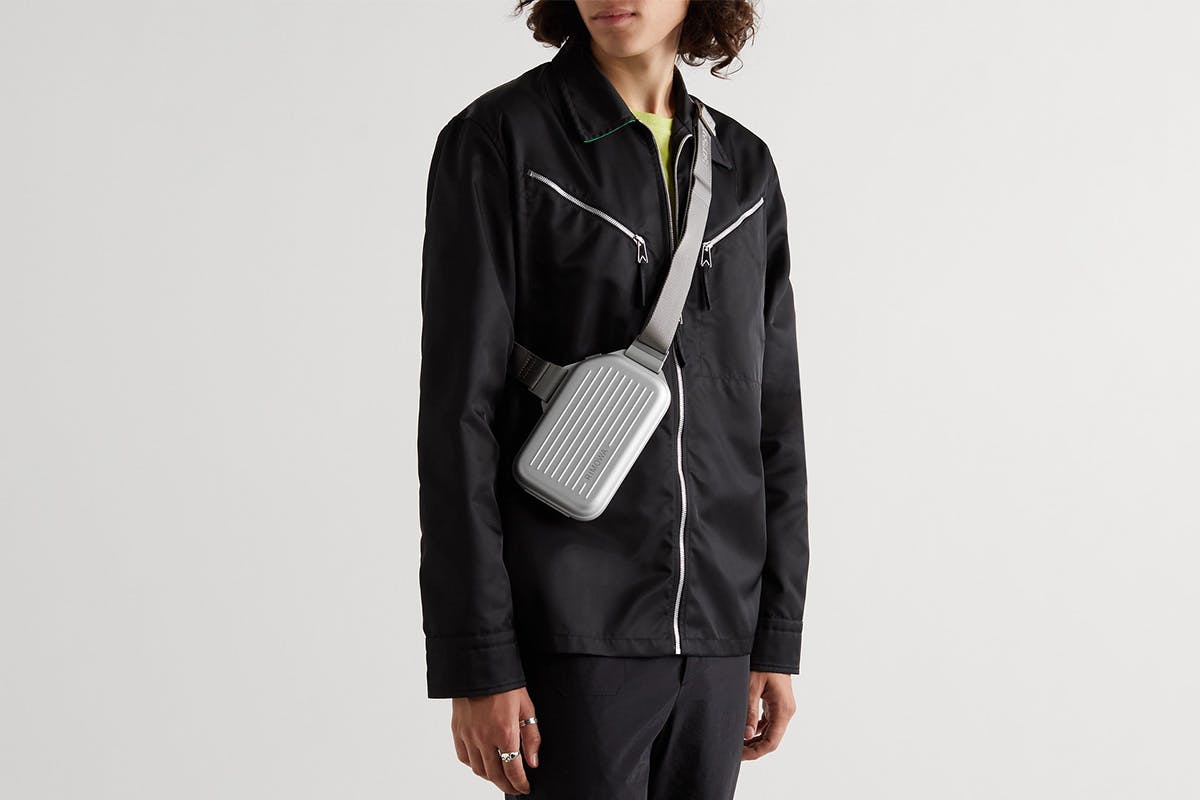 We, oddly, are celebrating the dying days of summer, but we're wise enough to know that with fall comes the danger of showers. With the possibility of the weather switching in minutes, waterproof bags come into their own. Whatever deserves to be carried also deserves to be kept safe and dry, so it's time to consider weatherproofing your essentials.
Investing in a waterproof carry-around doesn't always mean sacrificing the laid-back style of a summer tote bag for high-tech trekking backpacks, though. Our selection spans from the likes of Arc'teryx Veilance tote bags through to technical shoulder bags from RIMOWA and Snow Peak, so there's something for everyone.
Shop the best waterproof bags below.
Snow Peak TPU Sacoche
Snow Peak is — as the name suggests — a master in outdoor style. That indirectly makes it a master of the fall wardrobe, too. This TPU sacoche is versatile and the perfect size for a daily carry.
Ucon Acrobatics Till Bag
Ucon Acrobatics takes a very minimal angle on the waterproof bag, but that's exactly what we want from the accessory. No clashes, no fuss, just a technical bag done properly.
Patagonia Ultra Light Black Hole Hip Pack
Patagonia has amassed a cult following with its mixture of style and performance, all underpinned by strong ethics. This waterproof hip bag is an icon in its own right.
Filson Small Dry Bag
The bags in this roundup all fall into different places on the waterproof scale, but at the undisputable top of that scale is the Dry Bag from Filson. This polyurethane nylon number is completely waterproof even in the heaviest rain.
RAINS 1284 Field Backpack
When you're on the hunt for anything waterproof, Danish label RAINS has got you literally covered from all angles.
Arc'teryx Granville Backpack
Arc'teryx is peaking right now, with a bunch of high-end celebrity endorsements leading it confidently into the spotlight. That's good news for anyone who wants a bag completely devoted to function which happens to be on-trend, too.
The North Face Medium Base Duffel Bag
The North Face's Base Duffel Bag is a flagship from the outdoor label. It's a permanent fixture in our wardrobe thanks to its completely indestructible build, convenient travel size, and minimal style.
Arc'teryx Veilance Seque Tote Bag
Arc'teryx's (even sleeker than normal) side project Veilance is basically the final boss of technical outerwear. That makes it a safe bet when it comes to waterproof bags, too.
RIMOWA Personal Aluminium Messenger Bag
So you thought that the RIMOWA offering ended with suitcases? Well, when the world stopped travelling, the iconic case maker had to diversify and this wildly futuristic messenger bag is one of the glorious products of the new era of RIMOWA.
11 by Boris Bidjan Saberi x Ortlieb Velocity2 Backpack
Criminally underrated collaborator Boris Bidjan Saberi's recent partnership with cycling-bag maker Ortlieb takes a much brighter tack than what we're used to from the German designer.
Our designated Selects section features products that we love and want to share with you. Highsnobiety has affiliate marketing partnerships, which means we may receive a commission from your purchase.