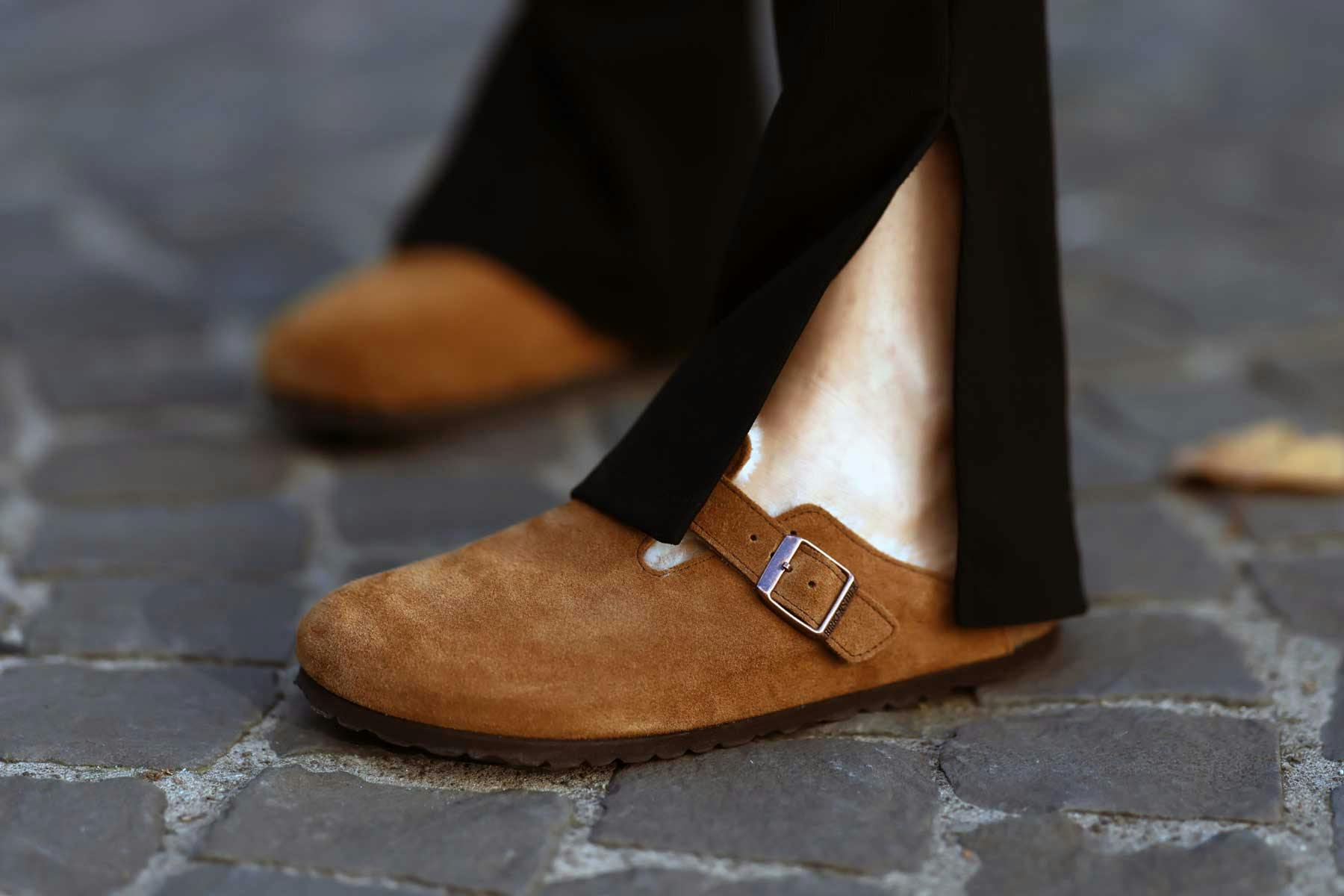 Every year is a big year for sneakers but 2022 delivered yet another high water mark. For instance, Louis Vuitton's Air Force 1s exploded auction expectations, adidas' Samba was everywhere, RTFKT brought its NFT kicks IRL, and New Balance just kept winning. But no one had the year that Birkenstock had.
It's kind of hard to properly quantify the scale of Birkenstock's success but it all hinges around the Boston clog that Gen Z has made impossible to keep in stock.
Let's put it this way: luxury e-tailer Yoox recently reported that the Birkenstock Boston sandal was its best-selling shoe for the entirety of 2022, Lyst estimated that searches for the Boston boomed by 593 percent in the first-half of the year alone, and the #birkenstockboston hashtag on TikTok, where demand for Birkenstock's Boston originally spiked, currently boasts 102.3 million views.
Birkenstock and its retailers simply couldn't keep Boston clogs in stock. After retailers were wiped clean of their sandal supply, some desperate TikTokers ended up on resale sites, paying scalper prices for their precious Boston sandals (retail price: $155. Average resale price at time of writing: $208).
I've been a Birkenstock head for the better part of my adult life; I began buying the German company's sandals mostly because I loved how they were styled in Japanese magazines like Fudge and Men's Non-No but also for the arch support and the sake of having something comfortable to wear in summer.
Plus, I love Birkenstock's no-frills authenticity. In a crowded field of footwear companies, it feels good to support something sincere.
It's been genuinely exciting to see the Boston pop up all over town, worn in all its forms (suede, leather, fleece-lined) by people of all ages and walks of life (no pun intended).
The people behind Birkenstock enjoy it as well, though the ones whom I've spoken to at their events are taking it all in stride (no pun intended, again).
For them, the success of the Boston is only proof that Birkenstock has always been in the right place and it just so happens that now is the right time.
This doesn't change anything for Birkenstock. Its winning formula is to stick to what Birkenstock knows best, patiently innovating while iterating its standard fare. In fact, with 2023 marking the 50th anniversary of Birkenstock's first sandal, the Madrid, you can expect some more new looks for the old classics.
This year alone, some of those old classics took new shape through Birkenstock's occasional (and excellent) collaborations, like Manolo Blahnik's second round of shoes and Dior's handstitched slippers, but Birkenstock also fleshed out some of its in-line offering.
The Buckley clog, for instance, arrived as a fur-lined Boston alternative, and Birkenstock began rolling out new boots ahead of the winter months to afford multiseasonal appeal to its signature cork footbed and grippy outsole.
Further, Birkenstock will continue opening new stores in 2023 — it recently opened a new store in Brooklyn and is planning a space in Japan's flashy Harajuku neighborhood — but, like everything Birkenstock, it'll all come at the brand's own pace.
In December 2022, Birkenstock held a frou-frou event at Cipriani in downtown New York. It was a casual affair packed with influential editors from across the globe (and also me), where Birkenstock showed off Steve Jobs' Arizonas and its line of beds, offered foot massages, and customized Bend sneakers for attendees.
It was less of a "We've arrived!" and more of a victory lap, cementing Birkenstock as an unflappable titan of industry. Boston clogs were worn en masse.
Shop our favorite products