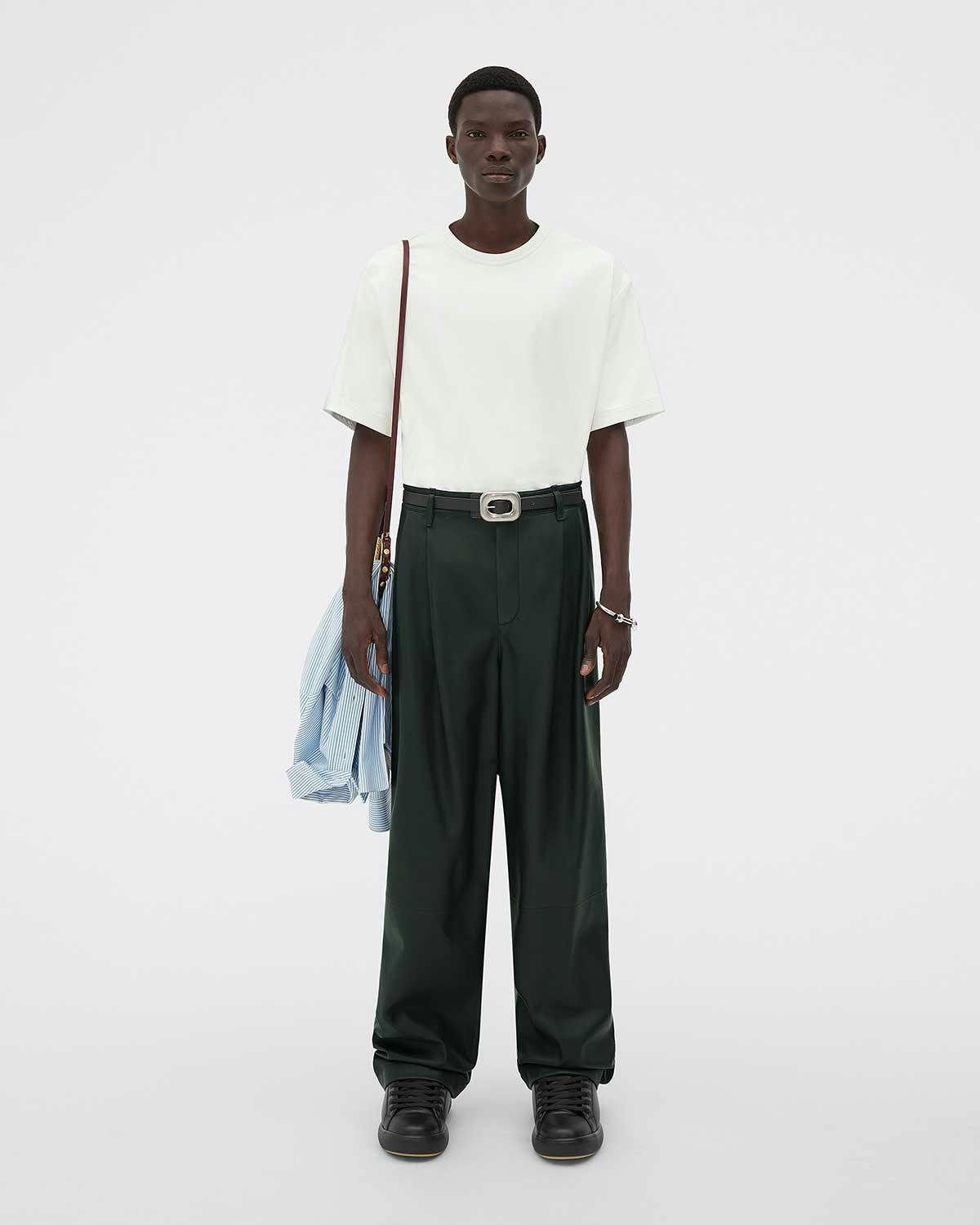 In a world where YEEZY GAP and ESSENTIALS epitomize most folks' perception of "luxury basics," Bottega Veneta's leather shirts, tank tops, and "denim" jeans are explosive. They're the physical manifestation of creative director Matthieu Blazy's #NewNewBottega vision, they update the house's humble artisan codes, and, frankly, they're just damn cool.
First seen in Bottega Veneta's Winter 2022 collection, Blazy's debut, and most recently starring in Bottega's accompanying campaign, the trompe l'oeil leathers are as close to It Garments as anything else in the Bottega lineup, not including the requisite bags and shoes that the label duly rolls out to meet demand.
On the clothing frnt, it's canny timing: Fall/Winter 2022 is the season that reinvents the tank top and dives deeper into all-leather everything. Skirts, boiler suits, blazers: goodbye latex, 'ello leather.
But Blazy's printed leather goes beyond the pale. They're made of touchably plush lamb and calfskin not so different from the usual luxury leatherwear but their deceptive appearance is makes them even better.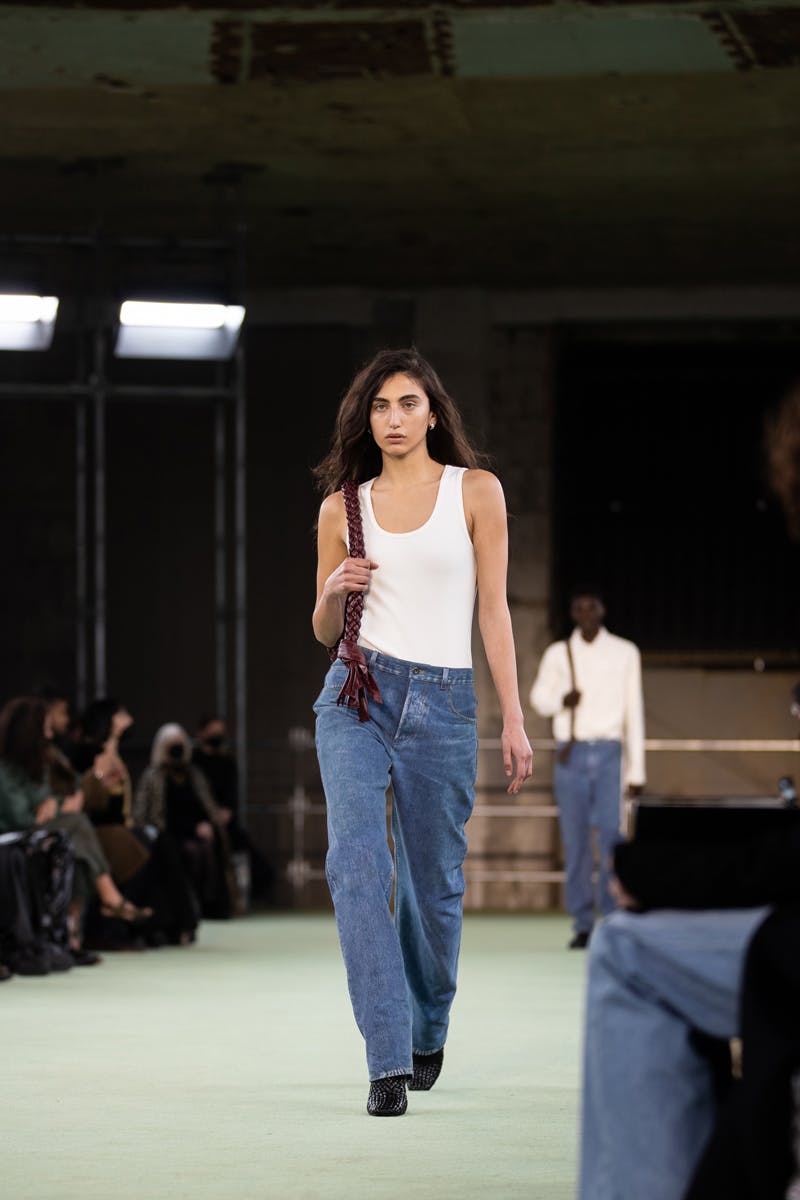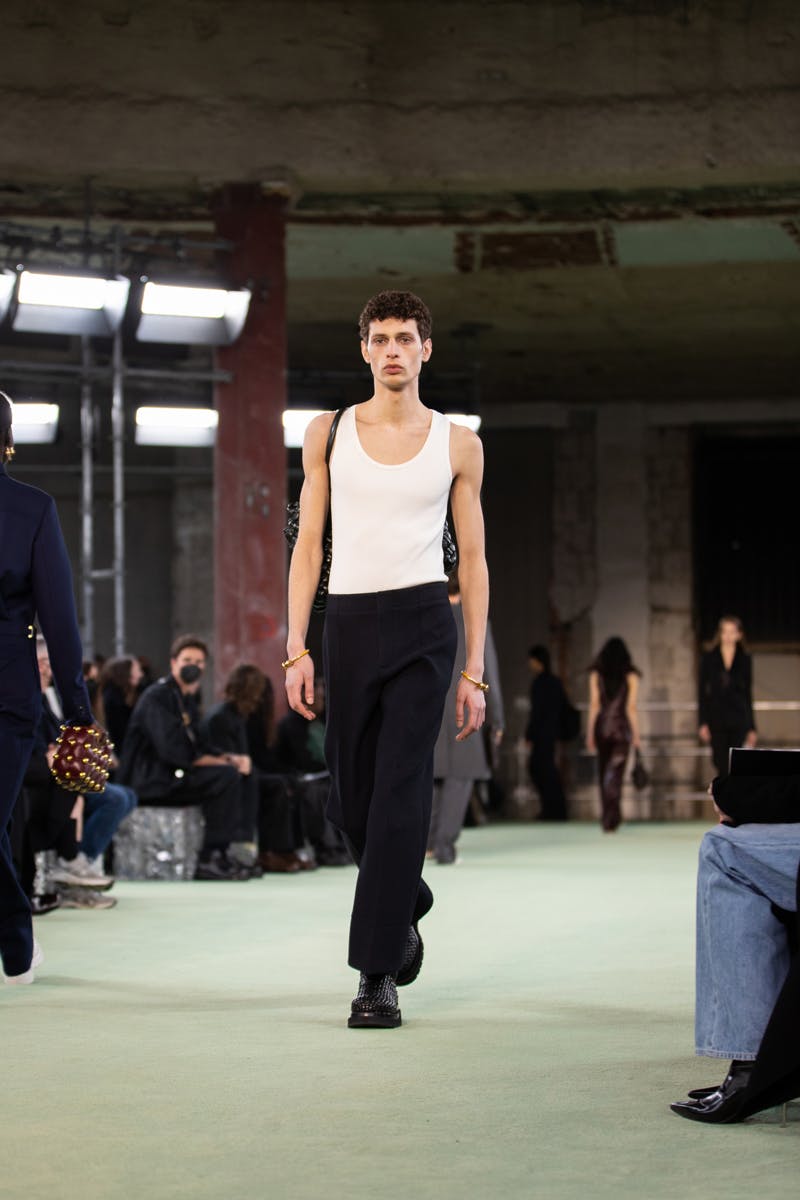 Printed to resemble a classic pinstriped shirt, faded denim jeans, and a modest white T-shirt, Bottega's leather clothing — available now on Bottega Veneta's web store and soon in stores alongside the Pillow Sneaker, a new chunky skate shoe — is the exact opposite of a seasonal statement piece.
While Fall/Winter 2022's other trend-defining garments are unmissable from even a million miles away, Bottega's leather goods look like unassuming wardrobe staples. If you peer close, you can see the zipper in the rear of the T-shirt that opens the neck-hole and the digitally-printed creases in the jeans but, otherwise, they're seamless chameleons.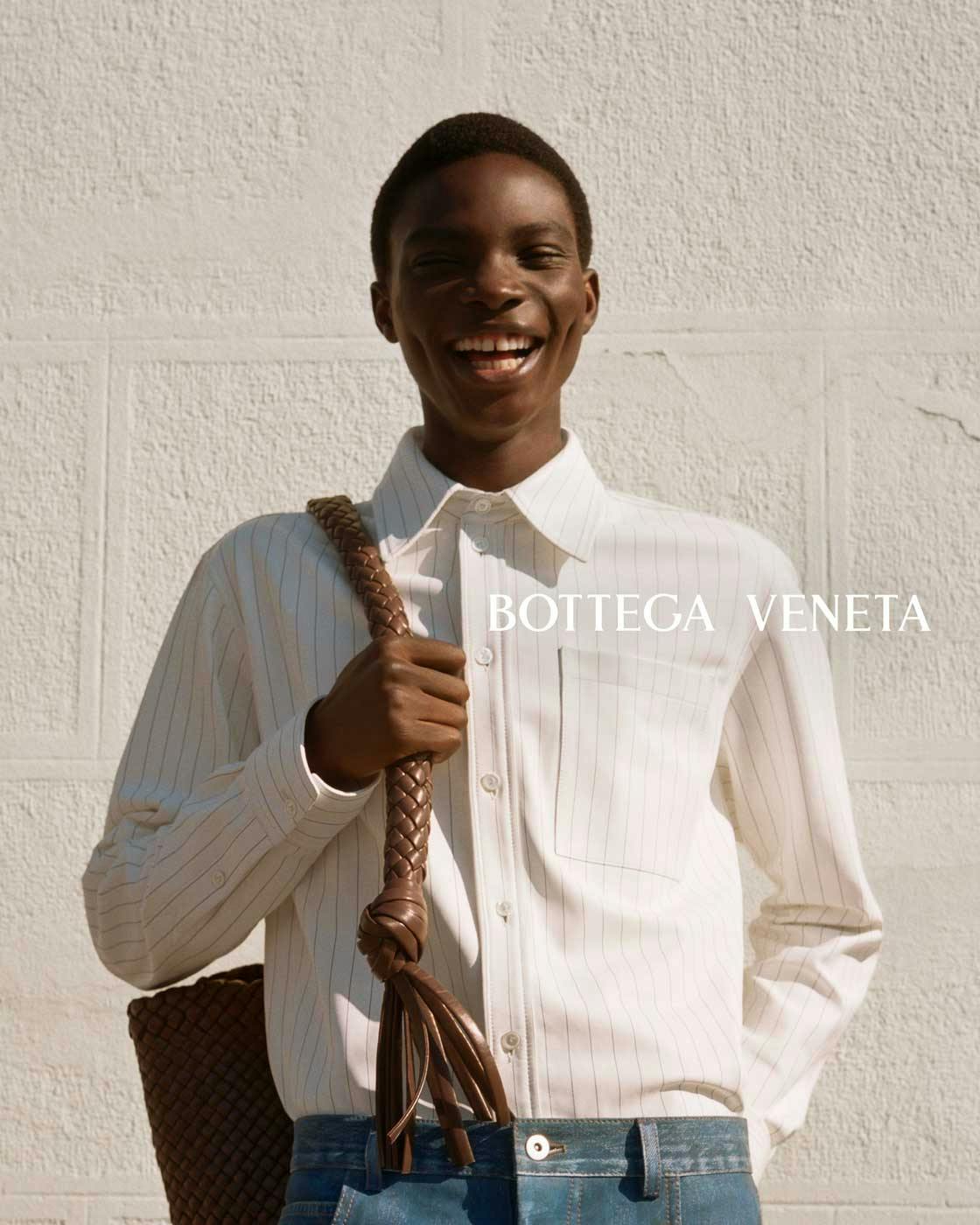 I love it. The unpresuming presence of these $3,100 "T-shirts," $6k "shirts," and $7k "jeans" — the tank top will release later in 2022 — is so perfectly plain that it entirely undersells the four-figure price tags. They whisper, rather than shout.
That's how luxury fashion used to be and, in my humble opinion, how it oughta be.
Dressing for yourself, rather than the 'gram, engenders inwards discovery, manifesting in quiet self-assuredness and, inevitably, cooler outfits that then make you feel better.
It's the opposite of a vicious cycle; it's a pleasant cycle. This is what "luxury basics" should aim to achieve.
Certainly, Bottega's leather layers aren't for anyone (or even most people) but we can still extrapolate pleasure from a distance. And then save up for Bottega's $500 cotton tank.