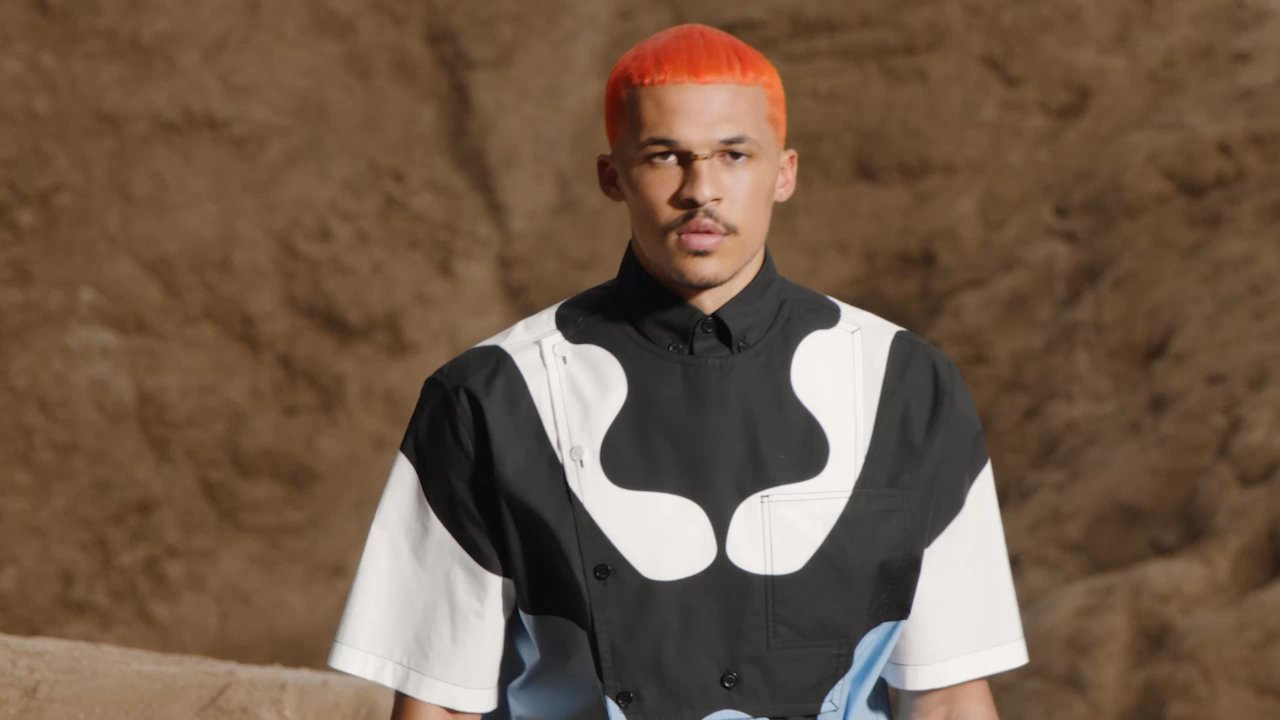 Burberry Spring/Summer 2022 Men's. Paris, France
Editor's Notes
We have sand dunes, people raving under a bridge at an undisclosed location, an entourage of black SUV's and a tower of boomboxes. It's called a Burberry fashion party and you're not invited.
Well, kind of. Via livestream, the English brand presented its Spring/Summer 2022 collection in what was anything but the Burberry you and I know. Where Riccardo Tisci, Burberry's Chief Creative Officer, opted for a presentation on home turf in the past the designer decided to leave brand's safe environment — the last couple of shows were held in the brand's London flagship store — all together, joining the Paris Fashion Week schedule instead and heading to Millennium Mills in Royal Victoria Docks in East London.
His stellar predominantly London-based creative team remained, including Isamaya Ffrench, Burberry's Global Beauty Director, and stylist Ib Kamara. English psychedelic electronic music group Shpongle played on the soundtrack.
Maybe it was a departure of sorts more symbolically. Burberry has always been synonymous with Britishness, predominantly white rich Britishness and all the nuances that surrounded the country's upper class as popularized by Tisci's predecessor Christopher Bailey. That might have worked for the time but Tisci has proven he has little interest in celebrating that part of British culture. Burberry is simply a global brand, a brand worn by those of all backgrounds, each group with its own symbolic relationship with the brand. So Tisci took his references elsewhere, something more universal. Music.
"I have always been inspired by music and by its ability to transport your mind – how it can connect you with times, places and people beyond boundaries," he explains. "Music has played a big role in my life, like a running soundtrack and energy throughout my youth. So many of my memories forged through music take me back to an incredible time when I was discovering myself – my voice, my identity, my creativity – sharing my experiences with friends and sometimes even strangers along the way. It was like being on a universal journey, brought together by a collective sense of openness, acceptance and opportunity."
There you have it, a collection for you, whoever you may be, at last.
"I wanted the collection to capture that free spirit of youth and its honest and daring attitude, that sense of experimentation and fluidity. It's a very raw energy that's infectious, exciting and full of life. Like an awakening."

Riccardo Tisci on Burberry SS22 Men's
Highsnobiety's Shopping List
Monogram Embossed Backpack
Cyclists in cities are the worst. Pedestrians will tell you this, drivers will tell you this, heck, even other cyclists will tell you that. What's even worse than cyclists is those highly practical yet utterly swagless backpacks they carry. Those rain proof ones that specify how much liquid they could carry. Don't stress, Burberry gets it. Its own rendition comes in a quilted check leather version, embellished with the Thomas Burberry monogram. We can thank them all.
The Rorschach Test Tee
If Tisci has proven to be good at one thing, it's the oversized t-shirt. I've been looking for one of the grey ones he did for Givenchy on resale sites for ages. Columbian-fit ftw. At Burberry, he knocks it out of the park with a Rorschach test printed sheer-cotton t-shirt worn by Khalil Ghani.
Black Tailored Trousers
The first suit I ever bought was from Burberry. I was moving into adulthood it seemed. The coat is good, the trousers are better. So sharp they cut ice. That's how you want to appear every time.
Friends To Carry You Through This Pandemic
Nevermind the clothing, I want friends that carry you through. Tisci style.