The title quote was said by a teenage Daniel Castillo, perched atop the banks at Beryl Heights Elementary School in Redondo Beach, California at the conclusion of Daewon Song's second full-length video part. Even with Street League and the impending 2020 Summer Olympics where skateboarding will make its official debut as a "sport," there's never been a metric for who the best skateboarder is. In fact, the most prestigious and respected honor in skateboarding is Thrasher Magazine's "Skater of the Year" title, an award famously hand-picked by the magazine's late Editor-in-Chief, Jake Phelps.
"Phelps was an encyclopedia—rest in peace," Daewon Song says. "He knew everything about everyone. It's rare that you get someone like that around these days. I wish he had written a book. His head was filled with so much amazing information and images from his life. He lived hard, he lived a good life, and he did not give a shit."
Song was given the "Skater of the Year" title by Phelps in 2006, was inducted into the Skateboarding Hall of Fame in 2017, and was named one of the 30 most influential skateboarders of all time by Transworld Skateboarding who also recently awarded him the "TWS Legend" honor. Additionally, his video parts, including the highly regarded "Rodney vs. Daewon" series and "Cheese and Crackers" have become canon and for the one million people following his Instagram account, his day-to-day video content is a captivating and almost sardonic take on his mastery of skateboarding.
At 44-years-old, Daewon is almost a year older than Tiger Woods, four years older than Jordan during his last year with the Wizards, and 24 years past reigning "Skater of the Year," Tyshawn Jones. With a career-spanning documentary titled DAEWON directed by Joseph Pease released May 17 by Transworld Skateboarding and adidas Skateboarding, he's not only one of the most accomplished to ever do it but arguably still the best in the world.
In an era dominated and dictated by Instagram, Daewon's unorthodox evolution of breaking every rule and convention of skateboarding with unparalleled control and style, his latest iteration of skating has silently become the blueprint for the "Instagram skateboarder"—the unknowns that pop up in your suggested feed doing things that barely make sense. A recent contest dubbed "Daewon Did It" promoted by adidas Skateboarding boasted nearly 2,500 known contributions of people executing Daewon-inspired tricks of the highest difficulty.
"The only thing that's kept me in the public eye is Instagram," Daewon says. "They label me an Instagram skater—I don't know how to take it but I also don't worry about it. I'm just happy people enjoy it. Kids know me from Instagram—they don't know my history, 'cos let's be honest, history is the worst class ever when you're in high school, at least for me. Kids in a park aren't going to research you, so some kids come up to me at the park and say, 'Hey! I saw you on Instagram. You're really good. Are you pro yet?' They think I'm a new guy. That's great, I'm going to embrace it and tell them to never Google me. They'll just assume I'm still in my 30s."
Skateboarding has had several seismic moments since the introduction of urethane wheels but nothing transformed it more than the advent of video. Skateboarding had been documented on grainy motion film but never circulated en masse until 1976 when the movie Freewheelin' was released. Freewheelin' was hardly pivotal but its featured skater, Stacy Peralta, would later become the most influential director/producer in skate history. Peralta's work making skate videos with his company Powell Peralta was the first time people could see actual skating in their homes with a bit of frequency—that alone added to the sport's progression as it was no longer a guessing game. By the late-'80s, videos were becoming a staple promotional tool before exploding as a medium in the '90s.
Daewon Song remains an evolving standout from the "video era"—the first generation of street skaters to have their entire careers documented, circulated, analyzed, and emulated. Not only was this a sea change in skateboarding, it created a new lane for street and the sport in general in that contests were no longer the measuring stick for a career.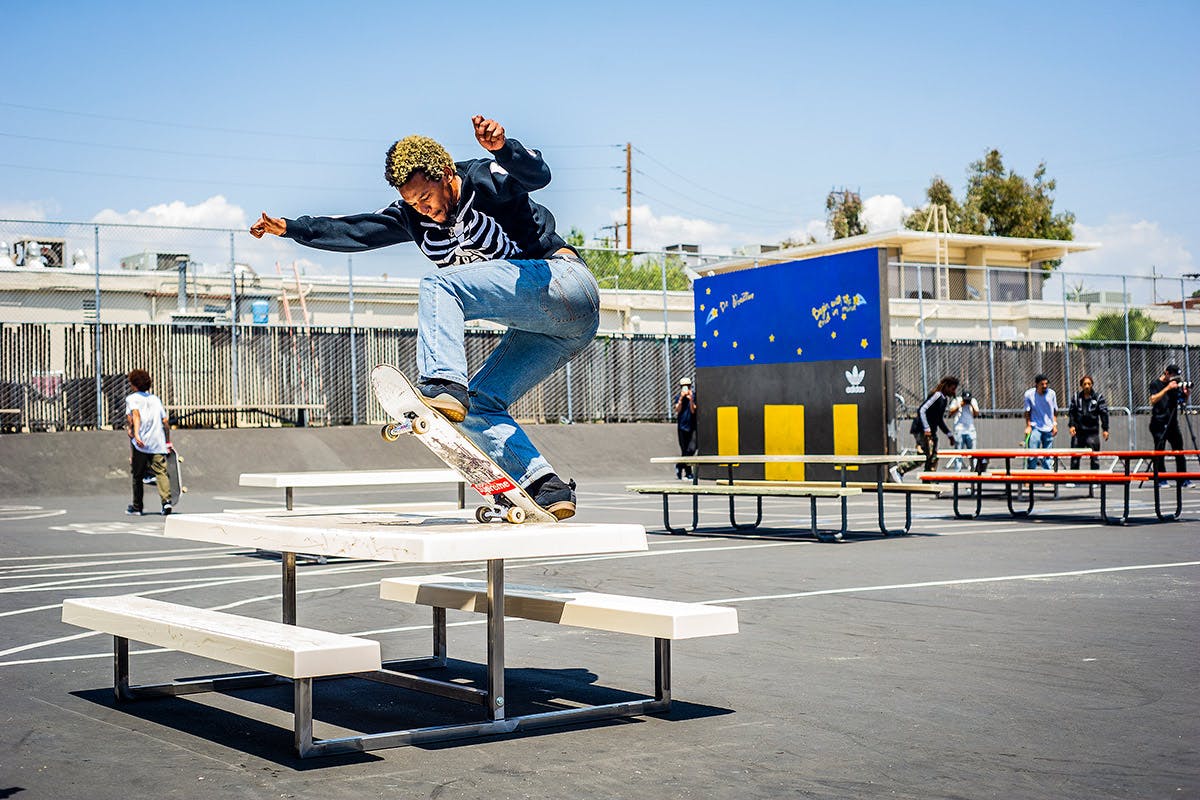 Daewon basically went from "that new guy" in a striking World Industries ad with the copy "White Power"—the three featured skaters were minorities—to a talent heralded as one of the most technically and stylistically gifted street skaters in the wake of his first video part in World Industries' Love Child (1992). For context, prior to Daewon's part it was common to rewind a trick in order to comprehend it—his entire part required repeated viewing to even deconstruct what the hell he was actually doing and how he was able to do it so consistently.
Love Child was Daewon's debut, not his defining moment—that's what makes Daewon Song an outlier with a beautiful mind for evolving skateboarding. Not content with being able to do anything on a skateboard, Daewon has a knack for finding the most difficult places—some, like a tree stump, would hardly be considered a spot—juxtapositions, and combinations of random things. Former teammate Daniel Castillo jokes that "it's too easy for Daewon—he needs something else."
Through his first few parts his advancement was logical—harder tricks on bigger obstacles, eventually graduating to picnic tables. But then things got less linear and more…Daewon. There was the warehouse debris-heavy skating in Deca's 2nd to None (2001), taking his technical tricks to natural transitions in new cities, skating rocks, comedic mini ramp stunts, and eventually, the often bizarre clips he logs for Instagram.
"Everybody grew up, no one was around, people had kids—I was basically alone," he says about his inspiration behind his current style of skating. "You ever just go to a park by yourself and no one's there? You can lose your mind. But you find an office chair, you start rolling down the banks and realize how difficult it is. All of a sudden, you end up sitting in the chair, trying to do tricks, and you film it and you just don't care anymore about what's cool. Instagram didn't make me do anything different; it opened up something for me to have fun. I'm gonna try to kick this can with my board and try to make it in a trash can 100 feet away for an hour. Next thing you know you're dripping in sweat—you burned off all the donuts and beer—and you upload it and people laugh. Some people talk shit but give me a break…I got no friends! [laughs]"
That original path is the crux of DAEWON. The reason it exists is more than an homage to his contributions to skateboarding; it's a dive into who he is and why he chose such an unorthodox path of progression. Despite his quiver of video parts and Instagram content, we've been privy to little about Daewon's life outside of skating other than his affinity for sweets, cars, and a brief period where he almost stepped away from skating entirely.
"From 1994 to 1996 I was just hanging out in Long Beach with Anthony Oglesby (former professional skateboarder) and he introduced me to this girl," he says. "I ended up just hanging around there all the time. I got into dropping cars and racing them. I was still skating but then I got the call from Rodney (Mullen) that all those guys left to form Girl and it was a real wake up call. That's when I started filming my Trilogy part. I had some tricks in 20 Shot Sequence but I was known for having full parts, so in Trilogy I was getting back into it—people are skating ledges but I had tricks on curbs. I just got out of getting metal arrows shot through my windshield when I was racing cars… trying to pretend I was a banger slash I don't even know what. I might have even thought I made a mixtape for myself rapping. Who knows?"
When I ask Daewon what he sees as his story he doesn't actually know. At the time of our conversation he hadn't seen a cut of the documentary and was already a bit regretful about his contributions to it. Initially intended as a short video piece to accompany his "TWS Legend" award with Transworld Skateboarding, DAEWON evolved into a close to 50-minute production featuring Tony Hawk, Rodney Mullen, Mark Gonzales, and other luminaries speaking to his influence in skating.
As a timeline of his career, Daewon almost immediately jumps into him being discovered skating a local school yard by Mullen at age 14 and being thrust into a revamped World Industries roster as an amateur. Prior to that, Daewon admired the skaters on Dogtown, who were known at the time for attitude and aggression over the finesse that he'd later forge a career on.
"My parents bought me one skateboard in my whole life," he says, poking holes in the idea that even though he was hooked up at a young age, he never faced adversity. "From then on I built my own career—getting my own spare parts, finding a board left out front. I was thirsty. I wanted it bad. I'd pick flowers, sell them, then use the money to buy a used board off someone. Now I get free stuff and I try to use my stuff till it's dead. I wear my shoes down until they're something you don't wanna see in public. My board gets so worn that you can cut steak with the tail and I ride my wheels until they look like something you found floating in a lake for years. Sometimes I even put sesame oil in my bearings to keep them going and get a little scent in there to remind me of home. If you get something for free you need to appreciate it."
After talking to Daewon for close to an hour and viewing the entire doc, the first five minutes are the most telling as he explains how strict and disciplined his mother was and how little he saw his father, who was constantly working to provide for the South Korean immigrant family. Skateboarding wasn't only a release from his home life, the obsessive commitment to perfection and work ethic ingrained in him by his parents translated into his skating, eventually leading to a strained relationship with his own family, resulting in a divorce.
"There was a period around 2004 where filming took me away from my son for a long time," he says. "For three years I constantly filmed. I did "Round Three," "Skate More," and "Cheese and Crackers." That caused a divorce. There's always consequences. I wasn't doing anything negative but you do have to put in time in your life."
Unlike many who use humor as a device to deflect truth and consequences, Daewon's way of poking fun at himself and his accomplishments comes off as color and commentary. He's self-aware almost to a fault, mentioning that attention—especially a career encapsulating documentary–makes him uncomfortable, not because he doesn't think he's deserving, but because he's still focused on riding a skateboard in the same way he did as a teen and a lot of the time it's by himself.
"It makes me so uncomfortable," he says. "I'm not good with that stuff. I didn't even go to the "Skate More" premiere. I look at myself and think, 'I've been blessed to just be a part of skateboarding and build a career and have fun. It's one of the best things that's happened to me. I still dream about it [skating]. I wake up in the middle of the night and go, 'Oh my god, I did a hardflip back-5-0 on a table,' then I realize it was a dream and I don't have that much pop anymore [laughs]."
After leaving Almost Skateboards in 2018—the company he founded with Mullen in 2003 and whose parent company he'd been affiliated with for 39 years—Daewon founded Thank You Skateboards with friend Torey Pudwill. He likens the move to "having to find a new place to fish after casting your rod in the same lake forever." Thank You is another vehicle for his creativity and a chance to not only form a sustainable business but hopefully give back to skating by adding more employees and helping them have careers.
In addition to the continual stream of projects and drops for the brand, the DAEWON documentary, Daewon Did It contest, and namesake picnic table contest that occurred over Mother's Day weekend, he also has his latest and possibly most personal colorway for adidas Skateboarding, which launched on May 9 in select shops and online. Normally offered in all canvas, Daewon added suede construction to the classic inspired 3MC skate shoe as well as a custom pattern.
"They're little soccer balls," he says about the unique patterns across the side wall of the 3MC. "And sure, the pattern looks like checkers. I used to love checkers as a kid, it brings back the memories of me playing my dad and whooping him. He's not around anymore. But yeah, it's got the reinforced mesh and I added the suede toe to the 3MC. I'm super happy with how it looks and skates."