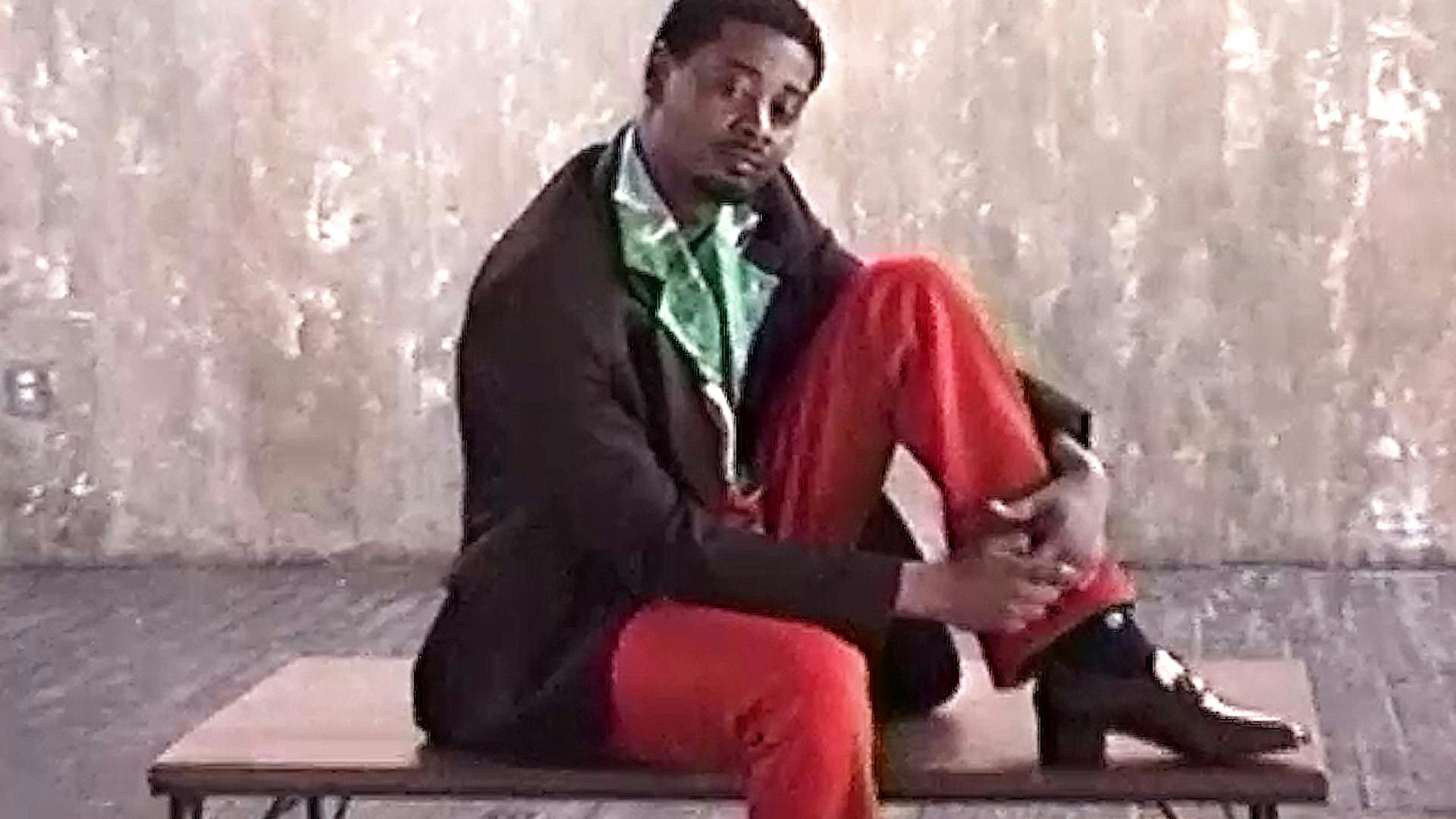 Highsnobiety / Bryan Luna
This story is taken from Issue 18 of Highsnobiety magazine. You can buy the new issue here.
After a trilogy of records that rank among the decade's most critically acclaimed rap releases, Danny Brown has both nothing and everything to prove. Returning to the public eye with a Viceland show and his fifth studio album, the Q-Tip-produced 'uknowhatimsayin?,' he is presenting a new version of himself: Danny Brown, serious craftsman and burgeoning elder statesman of rap.
Danny Brown sits on a faded blue La-Z-Boy recliner in what looks like the set of That '70s Show — if the band of teenage stoners inherited a house and were able to move from the basement up to the living room. Comedian Zack Fox is next to him on a red couch inside the wood-paneled room, which is decorated with psychedelic art, framed sports memorabilia, CDs, VHS cassettes, and a rack of sneakers. The two are riffing on all things style, from what they hate about designer clothing to those who take vintage so far they literally stink.
Another crowd Brown has beef with are the white girls in Brooklyn who dress in Carhartt like blue collar laborers from his home city of Detroit. "Dress like you're the dominant culture in America," he says to a room full of laughs.
We're on the set of Brown's new Viceland show, Danny's House, for which a Bushwick warehouse studio has been transformed into a suburban oasis. Along with highly anticipated new album uknowhatimsayin?, the show marks the next step in the 38-year-old's career — not a reinvention, but a deeper examination of aspects of his personality not fully explored in public.
Humor has been crucial to his music, adding levity to otherwise desolate material through lines such as "Tackled her asshole, my dick was like a lasso/ Fucked in her mouth, she washed it down with Tabasco." His Noisey interview with A$AP Rocky went viral in 2012, as Brown jumped seamlessly from praising the quality of Molly in Barcelona to schooling his peer on Zsa Zsa Gabor. Danny's House, a blend of sketches and talk show segments, marks his first full foray into comedy. And it wouldn't have been possible if he hadn't modified his computer to start livestreaming in summer 2018.
"No matter how frustrated I got or how much I would fuck up, I'd go to YouTube and watch videos, read Reddit, and I got to the point where I built the fucking PC," he says a week later in the basement restaurant of The Williamsburg Hotel. "You can't tell me shit now. I got an official top-notch machine, running very powerful. So when I would get frustrated doing the show, trying to learn, I never get shook by it. Since I built that PC, I feel like I could do anything. Give me a YouTube video, I can do anything."
"No matter how frustrated I got or how much I would fuck up, I'd go to YouTube and watch videos, read Reddit, and I got to the point where I built the fucking PC."
Brown and his manager are sitting unbothered in a corner booth. In the bar next door, Sophia, a famed humanoid robot developed in Hong Kong, is filming a TV appearance of some sort with a strikingly large production. The whole undertaking is annoying Brown, who finds himself periodically distracted during the course of our interview. "That fucking robot's talking now," he says at one point. "I hate that robot. I wanna smack it." But he's content to have a lot less focus on him a day after our cover shoot.
Avoiding attention is a lot easier now he's rid of his signature look. He has cut his long, wiry, usually asymmetrical hair down to a fade and fixed the missing and chipped front teeth that had defined his smile since childhood. Brown used to flaunt his penchant for designers like Mark McNairy and Jeremy Scott, but his current wardrobe is inspired by People Just Do Nothing, a British mockumentary series he fell in love with on Netflix. The characters dress like soccer hooligans and UK garage music fans, and he's been stoked on their uniform of windbreakers, sweat and track pants, and sneakers.
"I tell people all the time, if you wanna be a rapper, you don't have to buy security, just get a pair of Monarchs," he says. "No one will ever take a picture with you. That's your security."
Also aiding his desire for anonymity is Brown's relative silence since September 2016, when he released Atrocity Exhibition, his most critically acclaimed album to date and a narrative conclusion to a trio of albums that started with 2011's XXX and 2013's Old. In nonlinear fashion, the records reveal how Danny Brown the child became Danny Brown the hip-hop spectacle, from witnessing his uncle smoking crack in the kitchen to selling drugs himself, from his decade-long struggle to build a music career to the stress of expectation and scrutiny once he'd finally made it. In order, the story goes Old side A, XXX, Atrocity Exhibition, and finally Old side B. Drugs are the constant throughout, the root of Brown's trauma becoming his coping mechanism in a cruel but familiar twist of irony.
On Old closer "Float On," where his story reaches its conclusion, he raps, "Every other minute, thoughts run through my mind/ 'Bout how bad I wanted this, but I cannot waste time/ So I'm trapped in the beat, stuck on every line/ Nothing else matters, except my next rhyme/ Can never understand all the pressure I'm against/ Getting high thinking how to make it better than your last shit/ Might have a mental breakdown if it wasn't for these pills here now."
That search for his next rhyme took the story a step back. Atrocity Exhibition, named after the 1980 Joy Division song, which itself was named after a J.G. Ballard book, captured the contradictions of his earlier success. He'd made it, but getting there had created another Danny Brown, one the public expected and encouraged to create chaos. What room was there for the Danny Brown who wants to be left alone? What if maintaining a persona literally killed the real person? The album ruminates masterfully on these tough questions while melding hip-hop with prog rock.
But as soon as those rhymes were released to the masses, they merely became the latest shit. Time, always undefeated, started the process anew. And for the first time, Brown couldn't find the next rhymes on his own.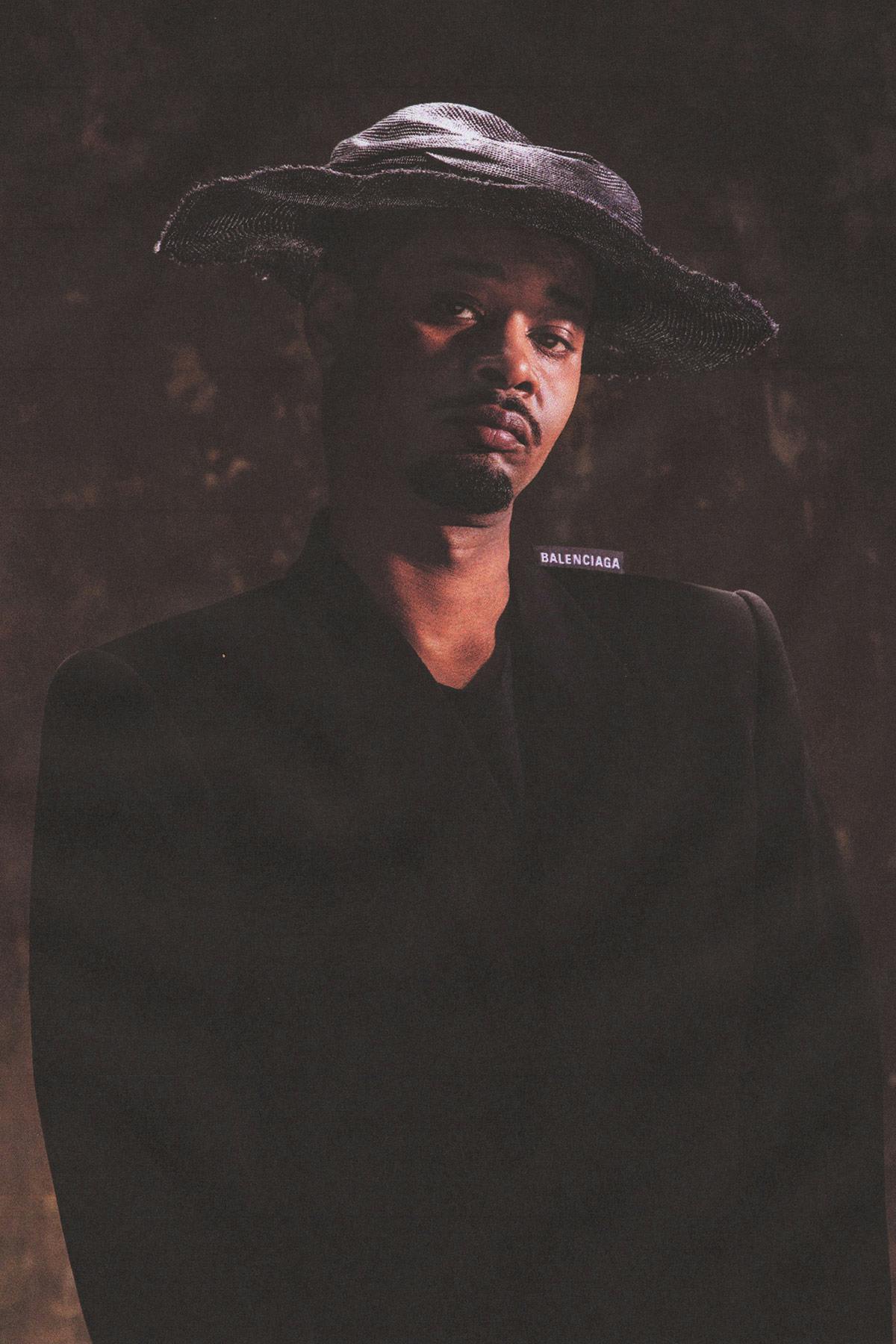 Inside a cavernous studio in Brooklyn's Greenpoint neighborhood on the edge of the East River, Brown takes a break from playing dress-up. Having shed a pink Ann Demeulemeester silk pajama set, he takes a seat on the couch back in his black and gold reflective The North Face parka, green Liam Hodges hoodie, camo Carhartt WIP aviation pants, and cream-on-white Nike Zoom 2Ks. I ask if he feels more comfortable in his own clothes. "I'm warm," he replies.
It's early February and a polar vortex is wreaking havoc on the United States. The studio has a slight chill, but outside it's 7°F with a windchill of -9°F. Brown remains stoic throughout the photoshoot, graciously and silently changing poses and 'fits at the direction of our photographer and stylist. It's evident that this isn't his favorite part of the job, but he gets it done, saying little and conserving his energy.
"It gets to the point where you're going to have to do it, so ain't no use being a dick about it and making everybody's day harder," he explains the next day. "I used to do that. You don't win like that."
He has always been consumed by the process of making music. He's notorious for disappearing for months at a time, holing up at home and grinding away at his next project. Every night, he'll play beats — the more challenging to rap over, the better — and wait until the words come. At least, that's what he did until the inspiration dried up and it all became too stressful. To force a breakthrough, Brown enlisted a familiar face.
A Tribe Called Quest, his father's favorite group, have been present in Brown's life since he was a child. After Brown released The Hybrid in 2010, Tribe's Ali Shaheed Muhammad liked what he heard and bought Brown his first MacBook. And when A-Trak was thinking of signing Brown to Fool's Gold, it was Q-Tip who urged him to act quickly. The legendary rapper, producer, and shepherd of A Tribe Called Quest was the perfect fit to executive produce uknowhatimsayin?, even if Brown says his dad won't believe he is involved until the album is out.
"If I didn't get help, with somebody to find a direction, I didn't know what the fuck to do at that time," Brown says of his issues with writer's block. "I knew I couldn't make an album like [Atrocity Exhibition] again. This is the easiest one because you got someone like him you can put your trust into." Working with Q-Tip allowed Brown to do something he's longed to do for years: get back to straight rapping.
Highsnobiety / Bryan Luna
Brown became one of hip-hop's leading innovators in the last decade through his concept albums, embrace of scrappy electronica and grime, and lyrics about using drugs like Molly and Adderall rather than selling them. Today, the genre has caught up with a lot of his sensibilities. Traditional hip-hop is passé in the eyes of many, with a generation of SoundCloud rappers becoming the new norm. No one bats an eye anymore when artists rap over electronic beats. The biggest star in the game, Drake, works with grime MCs. Rapping about using drugs has become so standard we have artists naming themselves Lil Xan. Looking back, it's novel to think that Brown was once referred to as an "internet rapper" — a designation that has become meaningless in 2019.
"His mind and his taste level and curiosity is really expansive," says A-Trak. "He was able to find the music that he needed to get to accomplish his vision, really just finding stuff using the internet in a way that people weren't doing yet. I can't stress this enough. We'd be like, 'Oh, this is a dope song with this beat.' He's like, 'I was just DMing with somebody on Twitter.' No one was doing that in 2010 or 2011. It just wasn't happening yet."
Now, Brown wants to focus on "just dope rhymes." He promises no drug talk, no crazy sex talk, no "weird" concepts. Getting back to the core elements of hip-hop provided a new challenge, a new way to disrupt. As he nears 40, he's willing to take on the cause of "old man rap."
"Hip-hop is like 50 years old or some shit," Brown says. "We're at the point of it now where you've got kid music and you've got… People get so mad with what the kids is doing, the new hip-hop. It's not for you — mind your business. So I'm minding my business, making sure it's my business for the little fellas like me, the older motherfuckers, 30-year-olds, 30 and up."
Brown likens his relationship with Q-Tip to that of a writer and director. The two would mostly talk about the direction of the album, and Brown would then either send him songs or come into Tip's New Jersey studio to record. From there, Q-Tip handled the rest, deciding which songs would make the cut, tinkering with the production, and finding other artists to bring into the mix. At times, Brown would get a call to ask about adding a guest artist. "Like, 'What?'" Brown says, imitating his response. "'You don't call and ask me about that shit. Just do it.' You don't tell him no."
"Even when there's not a concept, there's a concept."
As we speak, Brown has yet to hear the finished product. He has his version of the album, but because Q-Tip has final cut as the director, Brown is reluctant to discuss the project in detail. One of the few details he does share is the album's title, which he says is inspired by comedy albums and indicative of his approach. "Even when there's not a concept, there's a concept," he says.
Also confirmed is an appearance by El-P, one half of Run the Jewels. Brown wanted Run the Jewels to appear on Atrocity Exhibition's "Really Doe," but it didn't pan out in time. In January, El-P tweeted that the new album is an "instant classic," but his affinity for Brown goes back further. A-Trak says Brown's XXX is the reason Run the Jewels chose to sign to Fool's Gold. El-P liked the way XXX was distributed for free before going on sale and wanted to do something similar without going through the traditional label format.
When Brown looks at the current hip-hop landscape, he sees the art of rapping taking a back seat. "Everything is so personality-driven," he says. "Even someone like Cardi B, which is so dope, but to watch how it happened… You could just be a YouTuber, have like a million followers, then make a song and know you got a gold record. I don't even got no fucking gold record. It makes me discouraged."
This might sound hypocritical when Brown has built a persona around that high-pitched, yappy voice rapping about Molly, Adderall, and cunnilingus. But the penmanship behind it has always shone through. His approach to vices is not one of glorification, but of recalling hip-hop's role as the CNN of the streets.
On "Torture," one of Old's heaviest tracks, he raps, "I feel like a prisoner of war/ Reacting sporadically to what the mind absorb/ Probably need a shrink, can't get a wink/ So I smoke a lot of Kush and pop a Xanax to sleep." Even "Smokin & Drinkin," an Old side B cut that plays as more of a party anthem, reveals a darkness lurking underneath: "Gotta get away, to escape I smoke this Kush to the face/ Gotta get away, get away, I think I need to pray/ Please, oh Lord, oh Lord, I need your help again/ Took too many pills and I think I hear my heart beating."
A-Trak sees Brown as someone who toes the line perfectly between innovation and a respect for history. "It's important to know the amount of deep information — like on some librarian level deep in his brain and ear — that gets digested and comes out," he says. "What really touched me about him is that duality. You had the Q-Tips and Sean Prices giving him his bona fides, while at the same time he was playing on the same stage as indie rock bands."
Peers and critics have never stopped touting Brown's work, and he's encouraged when younger rappers cite him as an influence. Hanging out with budding Baltimore rapper and producer JPEGMAFIA has been a boon for his confidence, with the two trading compliments back and forth. Still, not everyone recognizes the doors Brown has opened.
"You're never complimented on being first," Brown says, torn on how much he wants to dwell on it. "But I never wanna be the butthurt rapper, always complaining in songs about where the culture gone. Nobody wanna hear that shit, man."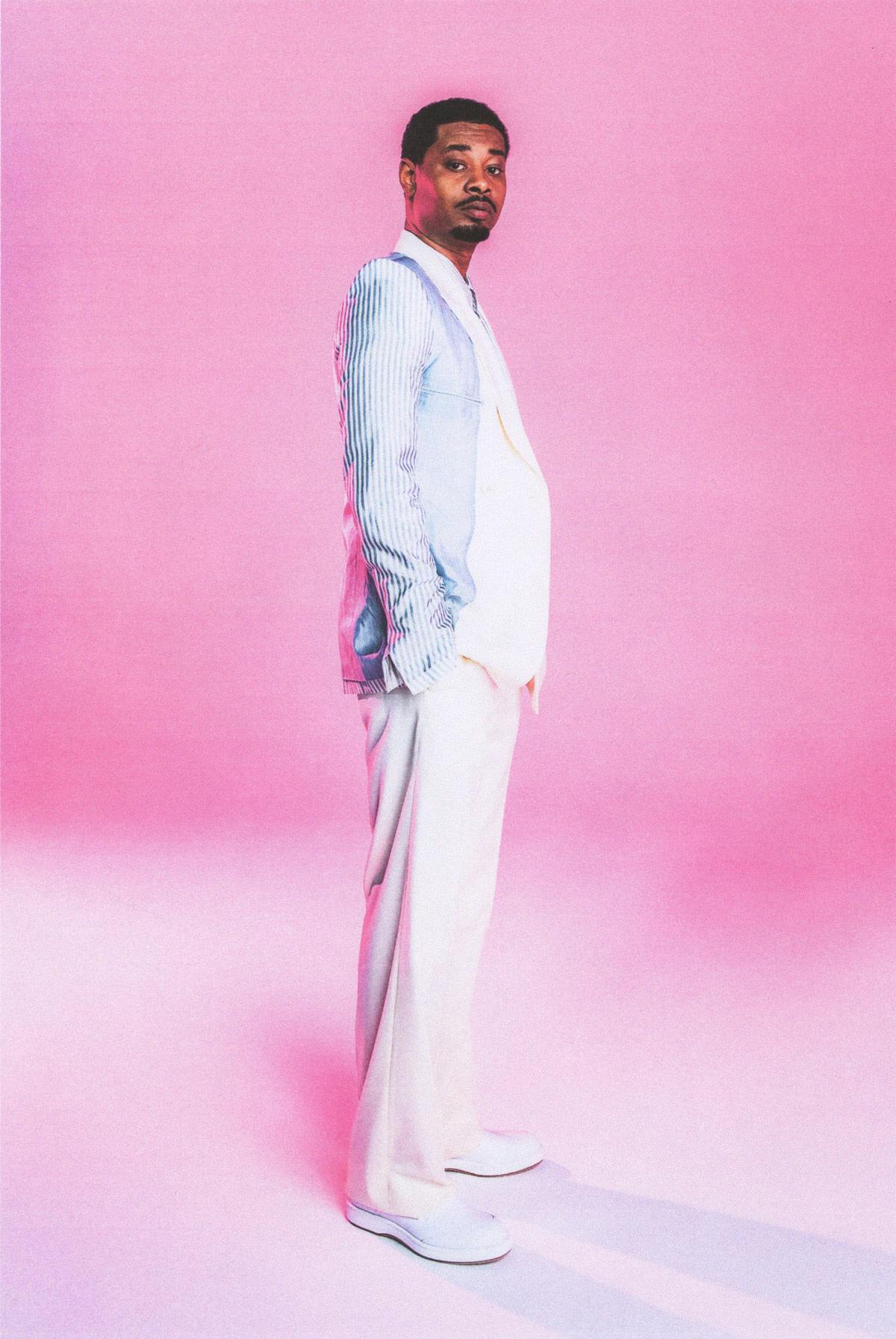 Another form of encouragement has come from reading Mastery, a book recommended by Donald Glover when the two discussed Brown getting into acting. In it, author Robert Greene looks at historical and contemporary pioneers, examining the common traits that made them masters in their respective fields. The story that struck Brown most was about Freddie Roach, the former boxer who enjoyed only marginal success as a fighter and displayed early signs of Parkinson's disease, yet still went on to become one of the world's top trainers, coaching eight-division champion Manny Pacquiao.
"That's the whole thing with me doing the comedy show," Brown says. "Just being able to have another outlet, it's more securing because if I get to a point where it fully supports me, that would be so cool. I can make rap music back to my hobby again, not have it be my sole source of income."
"People get so mad with what the kids is doing, the new hip-hop. It's not for you — mind your business. So I'm minding my business, making sure it's my business for the little fellas like me, the older motherfuckers, 30-year-olds, 30 and up."
Brown's director on Danny's House is Derrick Beckles, whose credits include writing for The Eric Andre Show and Why? With Hannibal Buress. Beckles sees the show as only the beginning of Brown's screen career. In 2018, the rapper added to his showreel with a small role in the Matthew McConaughey-starring biopic White Boy Rick, about a Detroit teenager who became a drug kingpin in the '80s.
"There are so many great moments with him and how he interacts with people," Beckles says. "He's so self-aware, so it's easy to watch. Danny is like an open book. He's so transparent about his own life experiences, embarrassing things no one would normally want to tell anybody. It's almost like going through a therapy session with him. When you put yourself out there like that, it makes people want to watch."
Comedians share an approach similar to how Brown has recorded his music in the past. Comics might perform in front of an audience, but most of the work is done in seclusion, writing and probing subjects others don't examine as thoroughly. As Brown raps on Atrocity Exhibition's "Rolling Stone": "Some people say I think too much/ I don't think they think enough."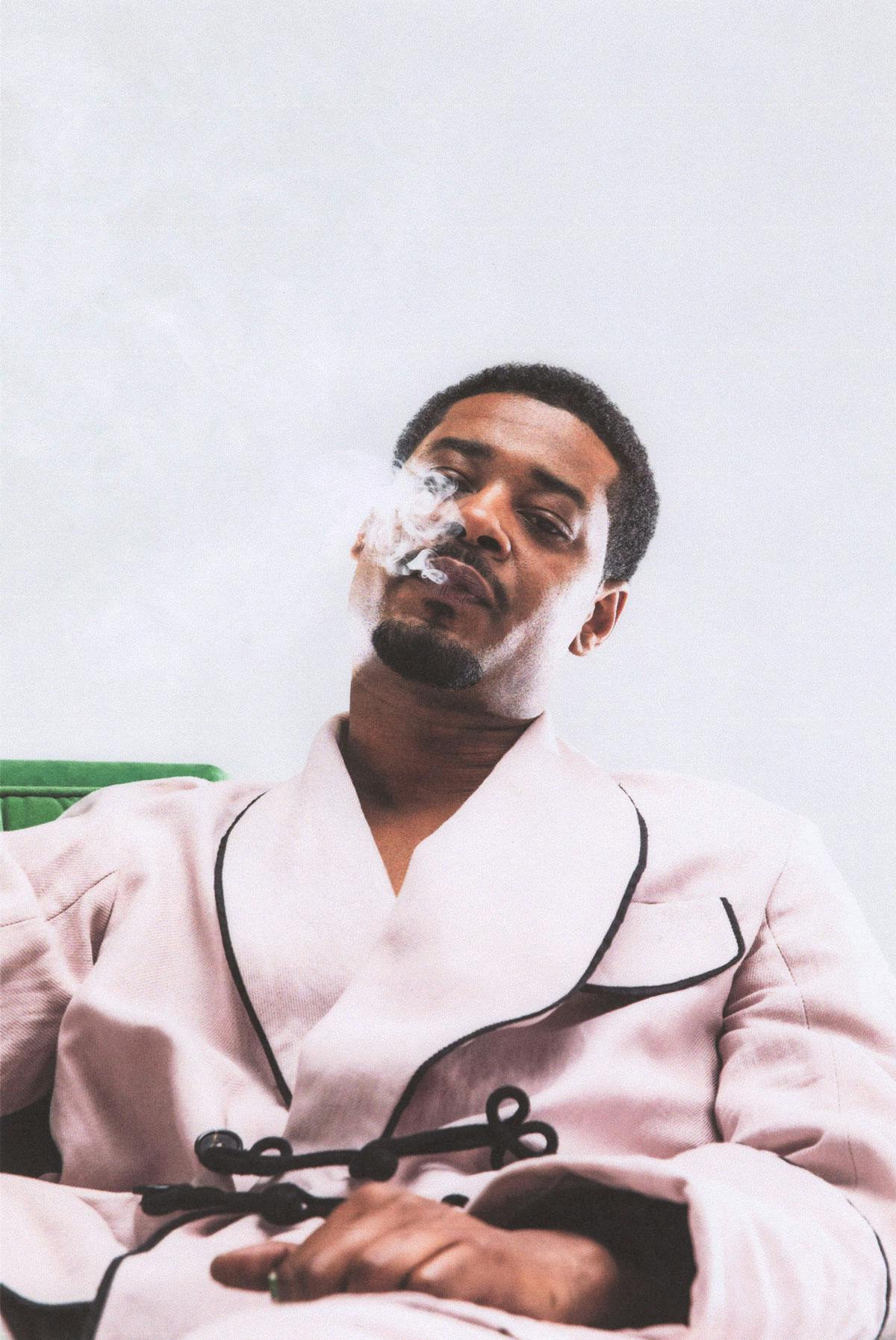 Streamers also have that element of seclusion, broadcasting to the world while gaming alone at home. Twitch reached out to Brown to livestream during the Old tour, but unreliable internet connections hindered the partnership. But in 2018, with his computer now up to speed, Brown started streaming from home and teasing unreleased music between sessions.
"I just wanted to be a part of that community because it's being around like-minded people," Brown says. "I like gamers and I like comedians, but you get caught up with the whole word 'rapper' and you're just a cool rap guy. I'd rather hang out with them."
Comedian Joey Coco Diaz has become a close friend, with Brown appearing on his The Church of What's Happening Now podcast three times in a year from 2017 to 2018. Beyond teaching Brown more about comedy, Diaz has played a large role in his maturation. "He's always big on accepting responsibility, always telling people the truth," Brown says of his 56-year-old friend. "He taught me how to apologize and shit. The only way you can live a clean life is like that."
"Can't stop me now... I could fuck around and learn software."
Brown is living life clean now, or at least a "clean" that works for him. Besides weed, he has only been using drugs socially since Diaz introduced him to Stars of Death edibles (which have since been taken out of production). "I've been burning the candle at both ends for so long, I finally had a chance to sit back and be able to improve, get fat, get healthy," Brown says. "Now I'm more refreshed and appreciative of it."
That helped him to realize how hard he was making it on himself while making music. Since stepping back and allowing Q-Tip to handle everything but the raps, Brown sees even more possibilities beyond music. Watching Beckles direct Danny's House has given him a new itch to scratch. "Damn, I'm gonna be that nigga sitting in the chair one day," Brown says. "I might want to produce a show one day. You can't tell me I don't know what funny is. I might be behind the monitor next."
Brown also sees room to jump even deeper into gaming. He dreams of making a side-scrolling, retro-looking platform game similar to Celeste, an independent title that went on to become one of the highest-rated games of 2018. "Can't stop me now," he says. "I could fuck around and learn software."
And why not? He already learned how to mod his computer.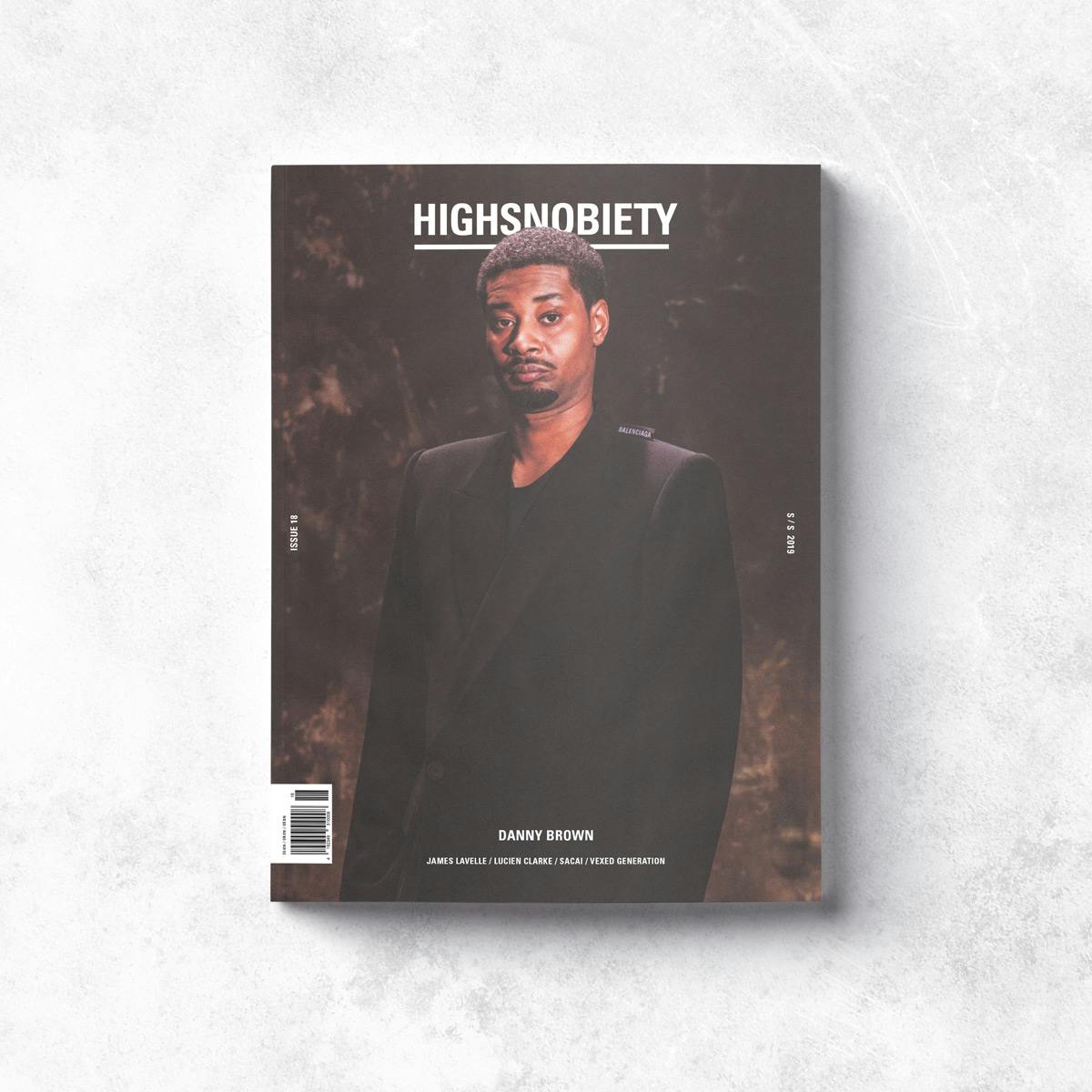 Highsnobiety magazine Issue 18 is available now from our online store and at select premium stockists and boutiques worldwide.
Editor's Note: the print and initial online version of this story refer to Danny Brown's upcoming album as 'U Know What I'm Sayin'?'. Brown has since clarified that the album's title should read 'uknowhatimsayin?'