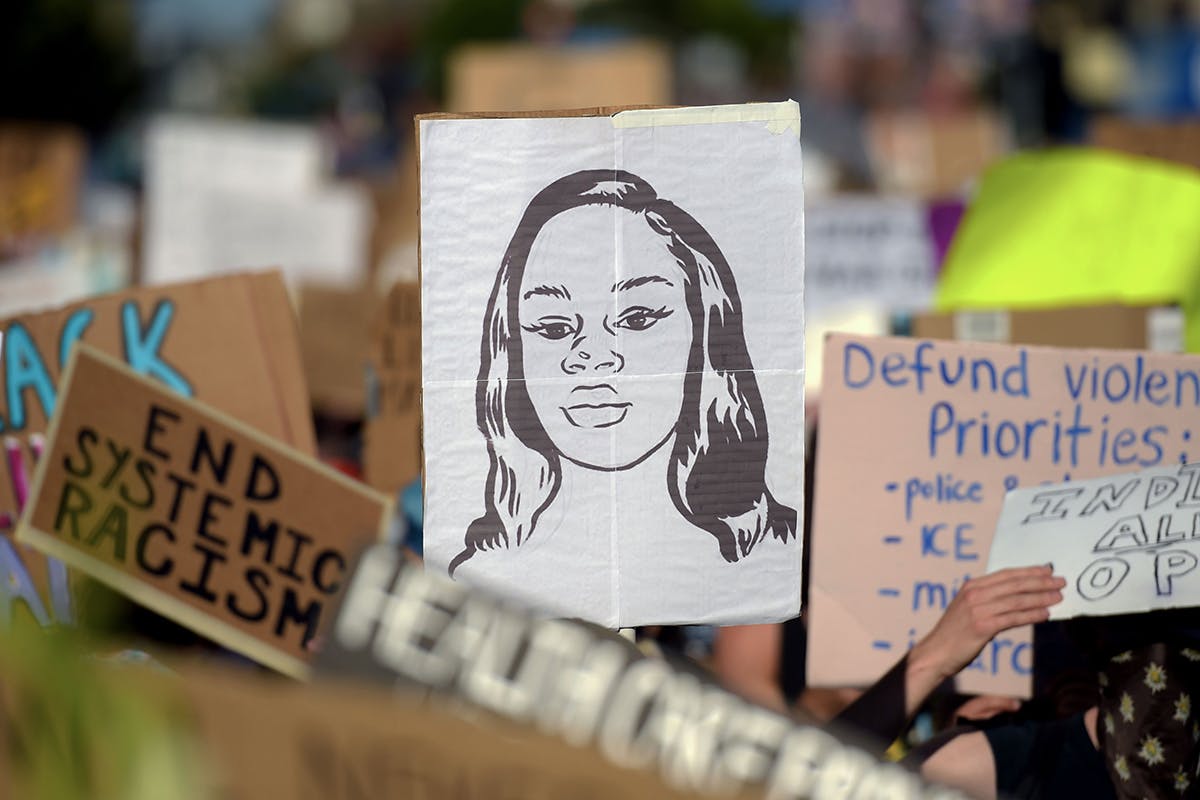 Louisville Metro Police Sgt. Jonathan Mattingly has sent a mass email to the entire department defending the actions of an officer involved in the Breonna Taylor shooting. He also condemned Mayor Greg Fischer, Public Safety Chief Amy Hess, and former Louisville Metro Police Chief Steve Conrad, and called protestors "thugs."
Addressing the email to his LMPD Family, he wrote, "I'm here to tell you I'm sorry you have to go through this ... I'm sorry for the Mayor, Amy Hess, and Chief Conrad failed us in epic proportions for their own gain and to cover their asses.
"You DO NOT DESERVE to be in this position. The position that allows thugs to get in your face and yell, curse, and degrade you. Throw bricks, bottles, and urine on you and expect you to do nothing ... Your civil rights mean nothing, but the criminal has total autonomy."
Mattingly continued, "... Regardless of the outcome (of the Kentucky attorney general's decision) today or Wednesday, I know we did the legal, moral and ethical thing that night. It's sad how the good guys are demonized, and the criminals are canonized."
His email arrives shortly after the Louisville Metro Police Department declared a state of emergency in anticipation of an imminent announcement in the Breonna Taylor case. The declaration means that departments are operating on emergency staffing and reporting, which cancels off-days and previously unapproved vacation requests.
According to local news reports, heavy equipment, chain-like fences, and concrete barriers have appeared behind the Louisville City Hall. Louisville police appear to be making preparations for the possibility of unrest if a grand jury does not produce indictments against the police officers involved in the killing of Breonna Taylor.
On March 13, Breonna Taylor was murdered by police in her own home. Anger over the killing of Ms. Taylor by the police fueled demonstrations in Louisville, across the United States, and the globe. Earlier this month, Louisville officials agreed to pay $12 million to settle a wrongful-death lawsuit brought by Ms. Taylor's mother and to institute reforms aimed at preventing future deaths by officers, but her killers have not been arrested.
Officers involved in the killing of George Floyd were quickly fired and charged. By comparison, progress in Taylor's case has been slow. Over the last six months, none of the Louisville Police officers involved in the shooting have been arrested. Det. Brett Hankison was fired on June 23. The other two officers — Jonathan Mattingly and Myles Cosgrove — are on administrative leave, CNN reports. Six Louisville Metro Police officers are under an internal investigation into their actions related to the fatal shooting, a police spokesman told ABC News.
Protesters and family members have demanded no less than manslaughter charges against all three LMPD officers involved in the killing. But preparations being made by the police department suggest that they do not predict this outcome.
"It's like when you see these little subliminal things going on, it's a direct indication to what the decision is going to be," Aaron Jordan, the founder of Black Complex Louisville, said.
Marking a small step in the right direction, the Breonna Taylor law, which bans no-knock warrants, was passed in Louisville in June (it was passed in response to the officers using a battering ram to enter Taylor's apartment while she and her boyfriend slept), however, there's still a long way to go.
The campaign to bring justice to Taylor and her family is part of the ongoing #SayHerName movement. According to the Centers for Disease Control and Prevention, black women experience the highest level of homicides of any racial group, but their deaths are frequently left unsolved.
Here are some of the most effective ways to demand justice for Taylor's death, while supporting both her family and the Louisville protesters.
Contact Officials
Louisville Mayor Greg Fischer: Demands for justice can be made by calling Fischer's office at (502) 574-2003 or by filling out the contact form on his site.
Louisville MPD: A contact form is available on the department's site. A template is widely available as well as a submittable form that will automatically send an e-mail in your name.
Sign Petitions
Color of Change – #JusticeforBre: Color of Change is calling for all of the officers responsible to be fired immediately.
Fight for Breonna: This petition outlines a list of demands that will bring support to Taylor's mother Tamika Palmer. Some of the demands have already been met, including the dismissal of Walker's charges and a ban on no-knock warrants in Louisville.
Change.org – Justice for Breonna: Law student Lorelai HoJay launched this Change.org petition to demand charges be filed against the officers involved, as well as damages paid to Taylor's family by the LMPD. It has nearly met its goal of nine million signatures.
Donate
Breonna Taylor's Family: An official GoFundMe page has raised over $6 million for Taylor's family through their loss, surpassing its original $500,000 goal.
Louisville Bail Funds: Protesters have rallied in support of Taylor and the calls for justice daily throughout June. Donating to the bail fund provides support for those who have been arrested in the process.