Dennis Rodman is an enigma — there's probably no better way to describe him. The basketball HOFer put it best in the opening scene of ESPN's The Last Dance when he said: "I was shocked that the Chicago Bulls even asked me to come. I think I was a little too eccentric for them."
The Last Dance focuses on the 1997/98 Chicago Bulls season, Michael Jordan's sixth and final championship, and — naturally — his Hall of Fame teammates that helped cement MJ's status as the GOAT. Episodes 1 and 2 cover Scottie Pippen in greater detail, while episode 3, which airs on April 26, is expected to dive deeper into Dennis Rodman, both as a player and a person.
Anyone who knows anything about basketball and the '90s Bulls knows two things about Rodman: that he was one of the greatest rebounders of all time, and that he was an influencer long before social media even existed. Rodman was involved in everything from whirlwind tabloid romances and crazy-colored hairstyles to befriending foreign dictators. Nothing was off limits to the 6ft 7, 220 lbs. rebounding machine.
After high school, Rodman was homeless and worked as a janitor. He wore color on his nails long before Virgil Abloh did, and didn't get drafted into the NBA until he was 25. In many ways, Rodman was the prototypical 2020 creative — 30 years before anyone else was.
Here, we take a look at Rodman's most outrageous moments, both on and off the court.
Dennis Rodman's most outrageous moments
The Hair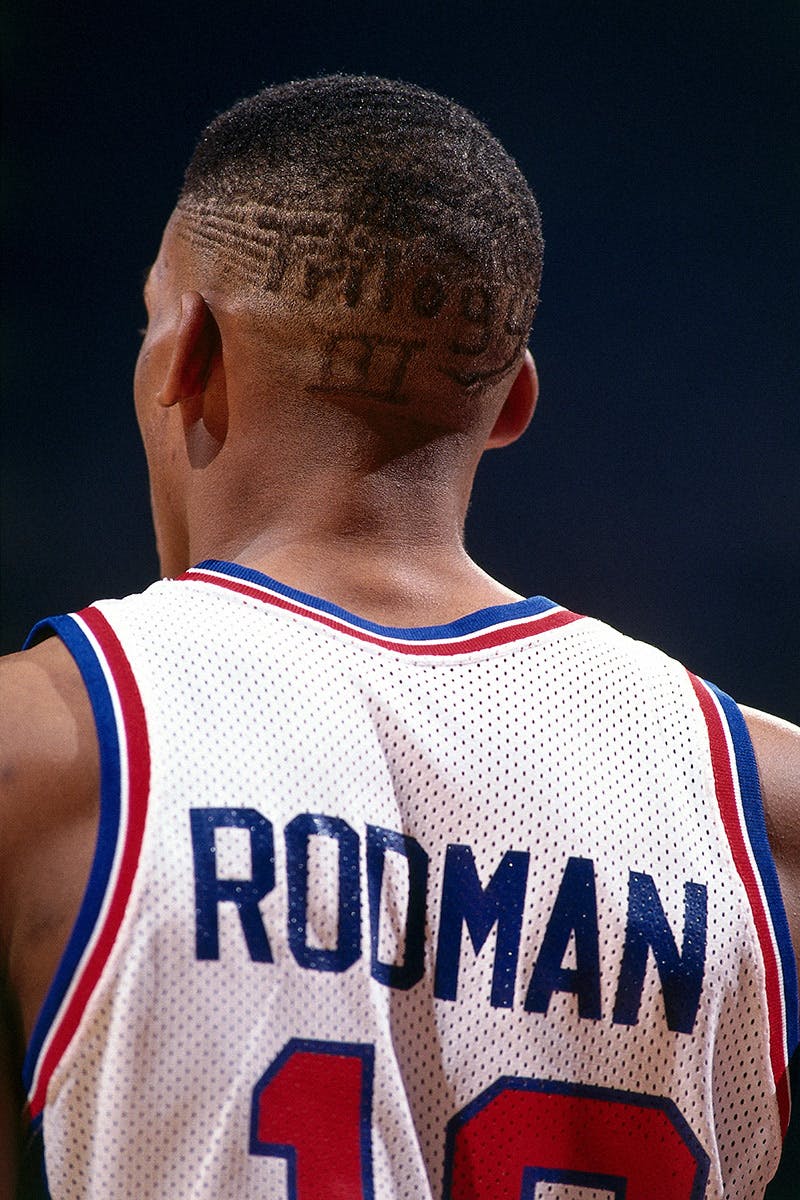 Dennis Rodman's rebounding ability is only rivaled by the craziness of his ever-changing hairstyles. He's had cheetah print, a smiley face, slime green, and a (relatively muted) bleach blonde. Rodman began dyeing his hair following a near suicide attempt, which he wrote about in his 1997 biography: "I decided that [instead of killing myself] I was going to kill the imposter that was leading Dennis Rodman to a place he didn't want to go." Rodman vowed never to be the "shy imposter" again and showed us his true colors — which were very, very bright.
I do, too
In 1996, Rodman came out as bisexual — a big step for any person, let alone a professional athlete. Underlining his announcement, he decided to "marry himself," wearing a big, white wedding dress — out of self-love, but also as part of the promotional tour for his autobiography, Bad As I Wanna Be.
He and Madonna tried for a baby
This list wouldn't be complete without one of Rodman's sexcapades, and what better celebrity to have a whirlwind romance with in the '90s than Madonna? The romance only lasted a few months, but last year, Rodman claimed the singer offered him $20 million to impregnate her. Madonna apparently once called him while he was in Vegas to tell Rodman she was ovulating. Rodman promptly ended his night to jump on a private jet to New York to meet Madonna. Can you imagine Rodman in the Athletes Village at the Olympics?
The infamous kick
Dennis Rodman was an amazing basketball player. His ability on the court paired with his craziness off of it might lull some people into thinking it was just off the court that Rodman got up to no good. But he was equally as unpredictable while playing the game he loved. In 1997, Rodman kicked a camera man in the nuts for no apparent reason. And the year before that, he actually head-butted a referee. Talk about a wildcard.
The Squared Circle
Were you even a celebrity in the '90s if you didn't appear alongside Hulk Hogan in the Square Ring? Because Dennis "Rodzilla" Rodman did. I don't know what's worse — the fact that he went with "Rodzilla," or that he wrestled Karl Malone as part of the New World Order — one of the most legendary wrestling teams of all time. Either way, it was hilariously outrageous.
Rodman goes Hollywood
Another hallmark of '90s celebrity was that everyone had to have a movie. Michael Jordan had Space Jam, Shaq was in a movie (and a video game), so Dennis Rodman had to be, too. Rodman starred alongside Jean-Claude Van Damme in Double Team, a 1997 film that has an 11 percent fresh rating on Rotten Tomatoes. His performance was so bad, it bagged Rodman Razzies for "Worst New Star," "Worst Supporting Actor," and a shared "Worst Screen Couple" with co-star Van Damme. Ouch.
The Comeback
In 2003, Dennis Rodman tried to mount a comeback to the NBA. He was 45 years old and, unsurprisingly, failed at his attempt to make a meaningful return to an NBA roster. In true Rodman fashion, though, the HOFer turned it into a widely publicized, three-year journey that had even the harshest doubter rooting for him — even if it was just a little bit.
BFFs with Kim Jong-Un
Dennis Rodman's well-documented relationship with North Korean dictator Kim Jong-un is not just the most bizarre entry in this article — it's perhaps the most bizarre headline ever. It's still unknown how these two became friends, and whether Rodman honestly believed he was trying to improve relations between North Korea and the United States, or if it was all just a weirdly on-brand publicity stunt.