The second of four chapters, detailing a motorcycle build project that Diamond Atelier will be sharing with us over the next few weeks.
For their latest project, the guys at Munich-based Diamond Atelier have undertaken the challenge of flipping a brawny off-road Suzuki DR650 into a more stylish, urban-friendly cafe racer. If you've not read it yet, make sure you check out part one of the project. Part two continues below, courtesy of Tom Konecny and Pablo Steigleder from Diamond Atelier, shot by Philipp Wulk.
"In today's episode we focus on the fabrication work to complete the DR650 frame. Since the entire frame is made from scratch, we were not limited in our ability to build something truly unique."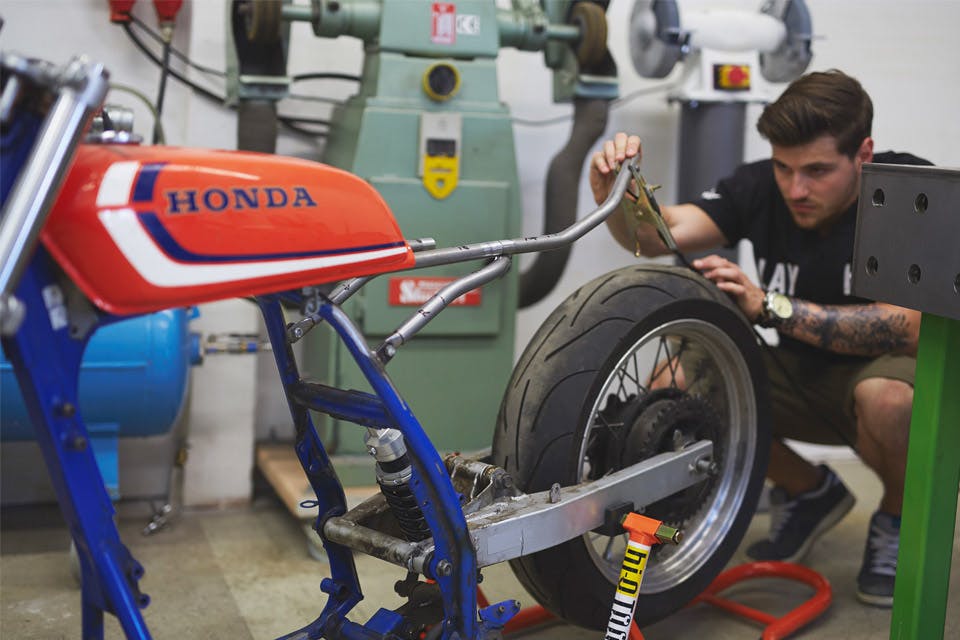 "We start off with 22mm metal tubing. It's solid enough for bending and just a notch thinner in diameter than the main frame, making it ideal for the slim rear of the bike."
"Once you have a concept in mind it's just a matter of patience to cut, bend and weld all the pieces together and make them fit nicely. The real struggle is to make both sides of the bike perfectly symmetrical, because mistakes are hardly noticeable at this stage (but will be later!)."
"After spot welding the whole frame, we take off all unnecessary components and bring it to the welding table where we have easier access from all angles."
"With all frame pieces together, we put everything back on the bike to check our final measurements and make sure the welding process hasn't tweaked any of the tubes."
"Since everything fitted just fine, we can proceed with our new custom header. For this we use stainless steel so rust is basically not a problem in the future. Also, with the new direction of the header, the exhaust gas flow is supported."
"The bike is now halfway finished, so stay tuned for next week's episode to see how the bodywork takes shape."
Stay tuned for part three of the transformation diary, coming soon, and check out part one here.