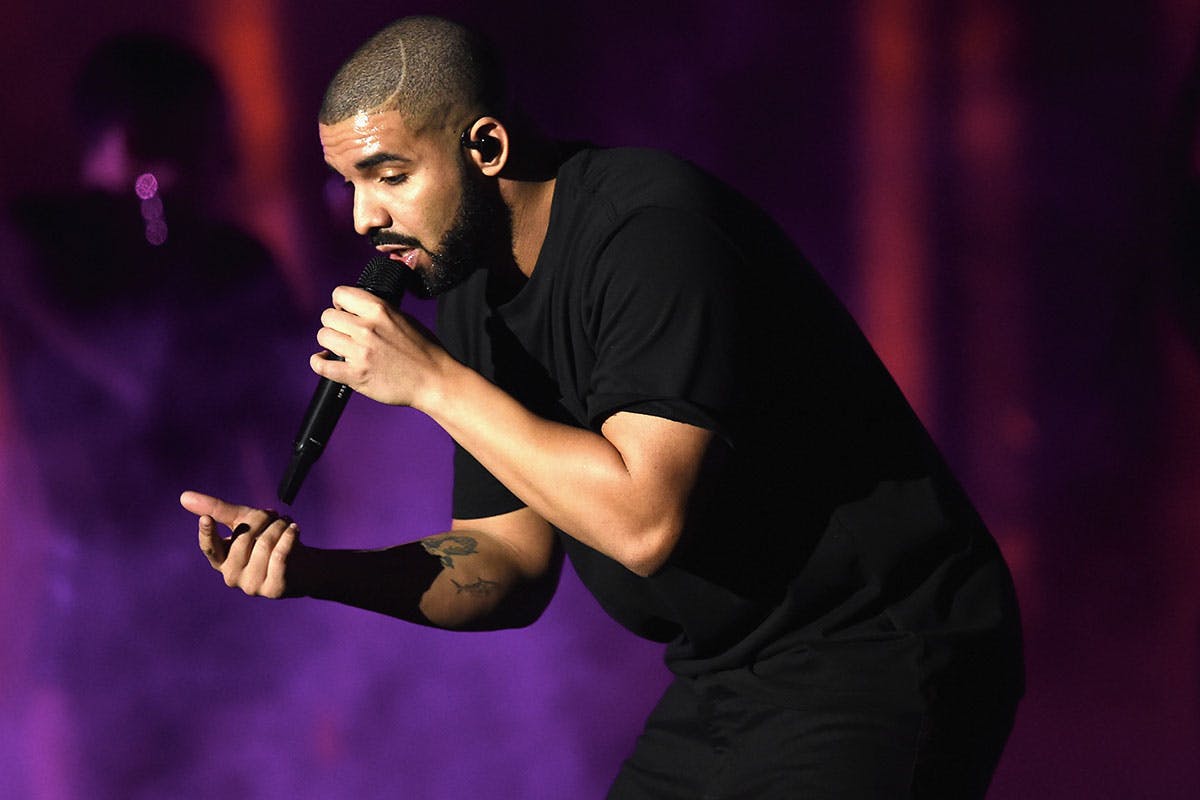 At 25 tracks, Drake's fifth studio album Scorpion is the longest of his catalog, just five more than Views and three more than his playlist More Life.
The double LP – which is split between an A Side (rap) and B Side (R&B) – is all Drake for real, with key features from the late Michael Jackson and Static Major, JAY-Z, Future, and Ty Dolla $ign. Some Drizzy fans have already made an effort to cut down the bloated project (some say seven songs is good in light of those G.O.O.D. Music minis) while others think a tight 13 tracks would suffice. But if you were to combine both albums into one, how would the songs stack up against each other?
And so we broke down Drake's Scorpion, placing each song from worst to best. See what made the top spot in our official ranking below, and be sure to let us know what you think in the comments.
25. "Ratchet Happy Birthday"
Produced By: Boi-1da, Jahaan Sweet, D10
On the B Side of Scorpion, Drake attempts to make a song for the ratchets who celebrate an important occasion: their birthday. By his definition, these are self-centered types with high standards who get excited over the "petty bullshit," but also feel empty inside too. Though "Ratchet Happy Birthday" is going to tear the club up (because everyone is going to scream "it's your brrrrrrr!" in the VIP now), it's easily the weakest link on the album, and played only to annoy your not-so-ratchet friends.
24. "I'm Upset"
Produced By: Oogie Mane
On the A Side, Drake's third single comes after the far more superior song, "God's Plan." When it was released on May 26 after The Boy responded to Pusha-T's "Infrared" with "Duppy Freestyle," fans assumed he was going back-to-back with disses. Instead, he drops a mediocre track, featuring a very Drake-y hook that he's upset and he can't go "50/50 with no hoe." When you know Drake has done better before on songs like "Yes Indeed" and "Energy," "I'm Upset" is a disappointing listen.
23. "Can't Take a Joke"
Produced By: ModMaxx, Cadastre
"Can't Take a Joke" is all over the place. You have Drake bigging up his Reps Up bros, boasting about being in the studio 24/7, complaining that his comments section is in shambles, and living in Hidden Hills, which is near Calabasas. Then he's complaining that his haters target him so much that when he tries to joke about them with his friends, he can't because they're trying to take his spot. This sounds like an emotional dump rather than an actual song.
22. "Peak"
Produced By: Noah "40" Shebib
On "Peak," U.K. artists Stefflon Don, Rhea Kpaka, and Vinessa Douglas discuss the poor dating etiquette of men who want different things in a relationship. Drake, delivering the male perspective, shows his affection for British women by coming off as a frustrated sad boy who wants his respect. He sings about "England breeds proper girls," but he doesn't seem to get the good manners from this certain one after spending time with her. Hey, it happens. Just get over it, Drizzy.
21. "Elevate"
Produced By: Nonstop da Hitman, PartyNextDoor
Drake revisits the tried-and-true method of uplifting your people in a song. His success is at a new level and he uses his experiences to motivate people to do the same. "I wanna thank God for workin' way harder than Satan/He playin' favorites, it feels amazin'," he raps. We've just heard Drake tell a similar story before. And it's been done better ("Weston Road Flows" for starters).
20. "Survival"
Produced By: No I.D., 40
Drake's openers always accomplish two things. They set the tone for the entire project, and they give listeners the state of affairs for Drake – the person and the brand. "Survival" registers as the shortest intro from Drake and a departure from the R&B heavy "Keep the Family Close" on Views. In just over two minutes, Drake slickly addresses recent beefs with Puff Daddy, Meek Mill, Pusha-T, and throws a dig at Birdman ("I'm pretty sure we got a label, I'm still independent"). After weeks of having no bars for Pusha's lyrical beatdown in "The Story of Adidon," Drake emerges bruised with fists up: "My Mount Rushmore is me with four different expressions."
19. "Emotionless"
Produced By: No I.D., 40, The 25th Hour
Drake confirms the rumors that he has a child in "Emotionless," which has the first mentions of Adonis. Constructed around a sample of Mariah Carey's "Emotions," among those Adonis lines are quotables about our obsession with social media – referencing unnamed girls on Instagram who stunt for likes, who stay on their phones to avoid their spouse, and more. "I know a girl that saves pictures from places she's flown, to post later and make it look like she still on the go," he raps. Any of you with a friend like this surely felt that.
The Adonis lines spin the allegations that he was hiding his child with Sophie Brussaux into a positive, depending if you believe him or not. "I wasn't hidin' my kid from the world/I was hidin' the world from my kid/From empty souls who just wake up and look to debate/Until you starin' at your seed, you can never relate/Breakin' news in my life, I don't run to the blogs/The only ones I wanna tell are the ones I can call/They always ask, 'Why let the story run if it's false?'/You know a wise man once said nothin' at all/I'm exhausted and drained, I can't even pretend."
Contrary to the title, it's a song with a lot of reactionary lines about his drama, but not one of the record's best.
18. "8 Out of 10"
Produced By: Boi-1da, Sweet, OB
Apparently, Drake is a good guy now. This is the excuse he's using for his delayed response to Pusha-T, and he decides to send subliminals throughout "8 out of 10" instead of calling him out by name. Similar to the making of "Back to Back," Drake uses Pusha-T's allegations as material to make a potential hit record, speaking on Adonis again ("Kiss my son on the forehead then kiss your ass goodbye") and reminding him that when he drops new music, everyone is tuning in ("Your sister is pressin' play, your trainer is pressin' play/Your wifey, your wifey, your wifey, your wifey— (true)"). This response was softer than expected, but at least he finally did it after weeks of being off the radar.
17. "Mob Ties"
Produced By: Boi-1da, Allen Ritter
It's known that Drake is tied to street legends J. Prince and Birdman, as well as OVO affiliates Baka Not Nice and the late Anthony "Fif" Soares, who have had criminal pasts. So, as Drake implies in "Mob Ties," he's tired of people who are fake and betray him, mentioning that he has plenty of backup if things need to get dirty. While Bearded Drake isn't breaking his machismo code, his tough guy talk does produce some fantastic one-liners such as this one: "My bitch in Chanel now/Your bitch in Escada."
16. "Final Fantasy"
Produced By: Boi-1da, 40, Sweet
In the history of Drake talking about sex in his songs, "Final Fantasy" has to be the freakiest. He wants to keep it nasty by referencing Evil Angel and Vivid Entertainment – two production companies in the adult film industry – and compares the pussy to waves hittin'. It also samples an episode of Maury, which is kind of funny given the whole child reveal thing. Sex playlisters – add this along with "Marvin's Room," "Come Thru," and "Fire & Desire" to set the vibe.
15. "Finesse"
Produced By: Cadastre
Did Drake and Bella Hadid ever have a fling? The 21-year-old model denied it on Twitter, but the lyrics here suggest otherwise. Drake sings, "I want my baby to have your eyes/I'm going against my own advice/Should I do New York? I can't decide/Fashion Week is more your thing than mine." And when Drake says "you and your sister, too hot to handle," it makes you wonder if he's actually fantasizing about Bella and Gigi or some other unnamed women. Tabloid fodder aside, this song ranks high for the way Drake sings "Finesse" ever so eloquently.
14. "Nonstop"
Produced By: Tay Keith, No I.D., Noel Cadastre
Drake's musical influences have pulled from all over the world – Jamaican dancehall, South African house music, and London grime. When he's not using Toronto as his source of creativity, he looks to the Bay Area, Memphis, Atlanta, and Houston to create his certified bangers. "Nonstop," produced by the same person behind BlocBoy JB's "Look Alive," is the Bay meets Memphis, with Drake riding the infectious beat and dropping some IG worthy punchlines. "This a Rollie, not a stopwatch, shit don't never stop," he raps. "Nonstop" fits in the world of "Hype" and "Gyalchester" as songs to lose your shit to when he performs them live.
13. "Jaded" ft. Ty Dolla $ign
Produced By: Cadastre
"Jaded" is the Drake aesthetic fully refined. He's the supplier of mood music, and here he's pouring his heart over a younger woman who apparently hurt him. With some help from the summer's go-to feature Ty Dolla $ign, he describes her as someone who is chasing fame and starts to see their differences in what they want in their relationship. Some have speculated this is about the 21-year-old singer Jorja Smith, but she denied ever dating him. Whoever this is about, Drake still sounds lonely even at his level of celebrity.
12. "Don't Matter to Me" ft. Michael Jackson
Produced By: Nineteen85 and 40
One of the biggest surprises after Drake revealed the tracklist to Scorpion was a posthumous feature from the King of Pop, Michael Jackson. It is confirmed by the Jackson estate to be previously unreleased vocals from the singer, co-written with Paul Anka. In the court of public opinion, MJ fans – and Rebbie Jackson's son Austin Brown, who is MJ's nephew – suggest if he didn't finish the song, then it shouldn't be used. The result is MJ's vocals sounding a bit like The Weeknd (he's still recognizable), but it works in the brooding environment of Drake. It's a perfect flex for him (it must've cost a fortune for the publishing), asserting his dominance in pop music and reaffirming that he's just as popular – if not more now – than Michael.
11. "Summer Games"
Produced By: 40 and No I.D.
This is arguably the best song on Side B of the album. A midtempo heartbreaker in the same box as "Teenage Fever," "Jungle," and "Find Your Love," "Summer Games" is Drake seeking affection in the digital era, where he witnesses everything fall apart after she loves him too quickly. "Yeah, you say I led you on, but you followed me/I follow one of your friends, you unfollow me/Then you block them so they can't see you likin' someone just like me," he sings. For all of you looking for a song to cry about your flings and random hook-ups, this is about to reign your summer.
10. "God's Plan"
Produced By: Cardo, Yung Exclusive, Boi-1da
When everyone thought Drake was taking a break from music after More Life, he kicked off 2018 with a two-song EP called Scary Hours. Drake, who just couldn't stay out of the conversation for long, delivered with "Diplomatic Immunity," a non-single that should seriously be a bonus track on Scorpion, and "God's Plan," a song that has become his longest-leading Hot 100 No.1 at 11 weeks on top, according to chart data from April 14. Since its release, "God's Plan" – and its video featuring Drake giving away an entire $1 million budget to those in need – has become the anthem for feeling charitable. Why would he beef with Pusha after his act of generosity?
9. "Is There More?"
Produced By: Wallis Lane, Preme
Side A of the album wraps with "Is There More?," a song that contains an interpolation of Aaliyah's "More Than a Woman" performed by Hiatus Kaiyote's Nai Palm, and is a gorgeous ending track that's tailor-made for the fans. Drake contemplates life as a rapper on a deeper level, telling us that it's not always about engaging in controversy or boasting about your riches. The "more" is hard to pinpoint exactly what that is. Ask anyone if taking trips to Dubai, being on yachts during the 4th of July, and soaring the skies in a G5 is living your best life, and most people would agree. For Drake, it doesn't seem like a worthy enough purpose.
8. "Blue Tint" ft. Future
Produced By: Supah Mario, Illmind, Taz Taylor, JR Hitmaker
Drake and Future's What a Time to Be Alive sparked a working relationship akin to Quavo and Travis Scott. When they team up, their chemistry is bound to create some bangers. "Blue Tint" has an uncredited appearance by Future, which is why fans were excited to hear him when the album dropped. "Blue faces, I got blue diamonds, blue tint, yeah" is not as memorable and catchy as "La di da di da, slob on me knob," but we'll take any new Drizzy Hendrix from these two.
7. "Sandra's Rose"
Produced By: DJ Premier, Maneesh
DJ Premier has worked with tons of respectable MCs in his legendary career. In recent memory, those include Royce da 5'9" for another PRhyme album, MC Eiht, Evidence, and A$AP Ferg. This is Drake and Premier's first-ever collaboration and it delivers: Drake's introspective verses pair well over Premier's soulful production that has his classic bounce. Drizzy's notable moments are when he references Premier ("Stack of c-notes get all you n*ggas scratched like Preemo), the song's inspiration, his mother Sandi Graham, ("My mother had a flower shop, but I was Sandra's Rose), and Charlamagne Tha God, who he might still have bad blood with ("Like Charlamagne, I see the light and see the darkest patches).
6. "That's How You Feel"
Produced By: Noel Cadastre
This is another song about Drake's insecurities. In here, he wants to see and if this woman will reciprocate the same feelings as his. The best part of "That's How You Feel" comes from the sample of Nicki Minaj's live performance of PTAF's "Boss Ass Bitch" at Powerhouse 2014. Four years later, her three rules of revenge are still the gospel.
5. "Talk Up" ft. JAY-Z
Produced By: DJ Paul
Beyonce and JAY-Z's EVERYTHING IS LOVE rounded out a trilogy of chapters about the couple's marriage and celebrated their love for one another. Tucked underneath that message was another reminder of Jay's business acumen on "Boss," possibly pointed at Drake and his Apple Music deal. "No cap; false n*gga, you not a boss, you got a boss/N*ggas getting jerked, that shit hurts, I take it personally/N*ggas rather work for the man than to work with me/Just so they can pretend they on my level, that shit is irkin' to me," he raps.
Drake and Jay's relationship has always been rocky, and you can hypothesize their continued friendship is a "keep your enemies close" kind of situation. Even with the backstory in mind, Drake and Hov hold nothing back on "Talk Up." It's dark. It's grimy. It samples N.W.A.'s "Dope Man." It's 92 Bricks Hov with an agitated 6 God. Who cares if these guys hate each other? Let them keep cooking.
4. "March 14"
Produced By: T-Minus and Valle
Not only does Drake sprinkle lyrics of Adonis throughout Scorpion, he also dedicates an entire song to the subject for the album's closer. "March 14" is Drake embracing his son in the public eye, discussing the circumstances of having a relationship with the baby's mother and the idea of co-parenting. According to Drake, he only met Sophie two times. He got the news of his child in Miami, and saw Adonis once, who was born on October 11. Adonis hasn't met his grandfather, Dennis Graham, either.
"March 14" falls in line with "Fear" and "The Calm" as a song that contains his most vulnerable sentiments – all out in the open for his fans to forgive him for being silent. Drake hiding his child isn't what normal good guys do, and it took Pusha's scathing diss for him to go back to the drawing board to confirm Adonis' existence. "March 14" is Drake's first step in accepting his child. And hopefully he stays on this path to create more songs acknowledging him outside of any scandals.
3. "In My Feelings"
Produced By: TrapMoneyBenny, Blaqnmild, 40
"In My Feelings" has Summer '18 anthem written all over it. The song samples Magnolia Shorty's "Smoking Gun" and Lil Wayne's "Lollipop" and features Miami rap duo City Girls. It also includes a sample taken from an episode of Atlanta where they're at Drake's house. You can hear Zazie Beetz' character talking about wanting a photo from Drake to make her Instagram poppin'.
"In My Feelings" is one of two New Orleans bounce-inspired songs on Scorpion. Drake sends special shout-outs to Kiki, KB, and 'Resha, asking if they love him and if they will ride for him. As far as the content of the song, it treads familiar territory as his previous love letters to his interests, "Faithful" and "Get It Together." But at this point, Drake knows what he's good for – creating slappers that will give you all the feels.
2. "After Dark" ft. Static Major and Ty Dolla $ign
Produced By: Static Major, 40
Drake's homages to artists from the afterlife are tasteful and expertly done, whether he's unearthing unheard Pimp C vocals, collaborating with his favorite artist Aaliyah, or building a song around Michael Jackson vocals. In another posthumous appearance, Drake places Static Major – the producer/songwriter behind Ginuwine's "Pony," Pretty Ricky's "On the Hotline," and Lil Wayne's "Lollipop" – with Ty Dolla $ign for "After Dark." An R&B record plucked from the 2000s, Drake sings about seeing a woman after a long day of work. Ty Dolla $ign, who has been utilized more lately on these big summer releases, absolutely steals the show just off of how passionate he sounds. Drake going full R&B should never be this good.
1. "Nice for What"
Produced By: Murda Beatz, Blaqnmild, 40
As the #MeToo movement gains momentum, Drake decided to use his platform to show love to Hollywood women doing incredible things. Released in April 2018 and combined with a fun video directed by Karena Evans and featuring cameos by Tiffany Haddish, Tracee Ellis Ross, Rashida Jones, and so many more, "Nice for What" has already become a contender for Song of the Summer as Drake sounds like your best friend pumping you up for excelling in your accomplishments. Backed by a sample of Lauryn Hill's "Ex Factor," recordings from Big Freedia, and head-nodding drums, "Nice for What" finds Drake energetic and happy to be here. When he paints a scenario of a woman taking her phone out to "hit them angles," you can't help but smile. When he states, "you gotta be nice for what to these n*ggas?" You agree. When he says "you ain't stressin' off no lover in the past tense, you already had them," you believe in love again. As much as Drake's career is based on making songs about the women that hurt him, he's equally good at making uplifting songs about women who are strong and independent.
Now, 25 of the best Drake songs of all time.