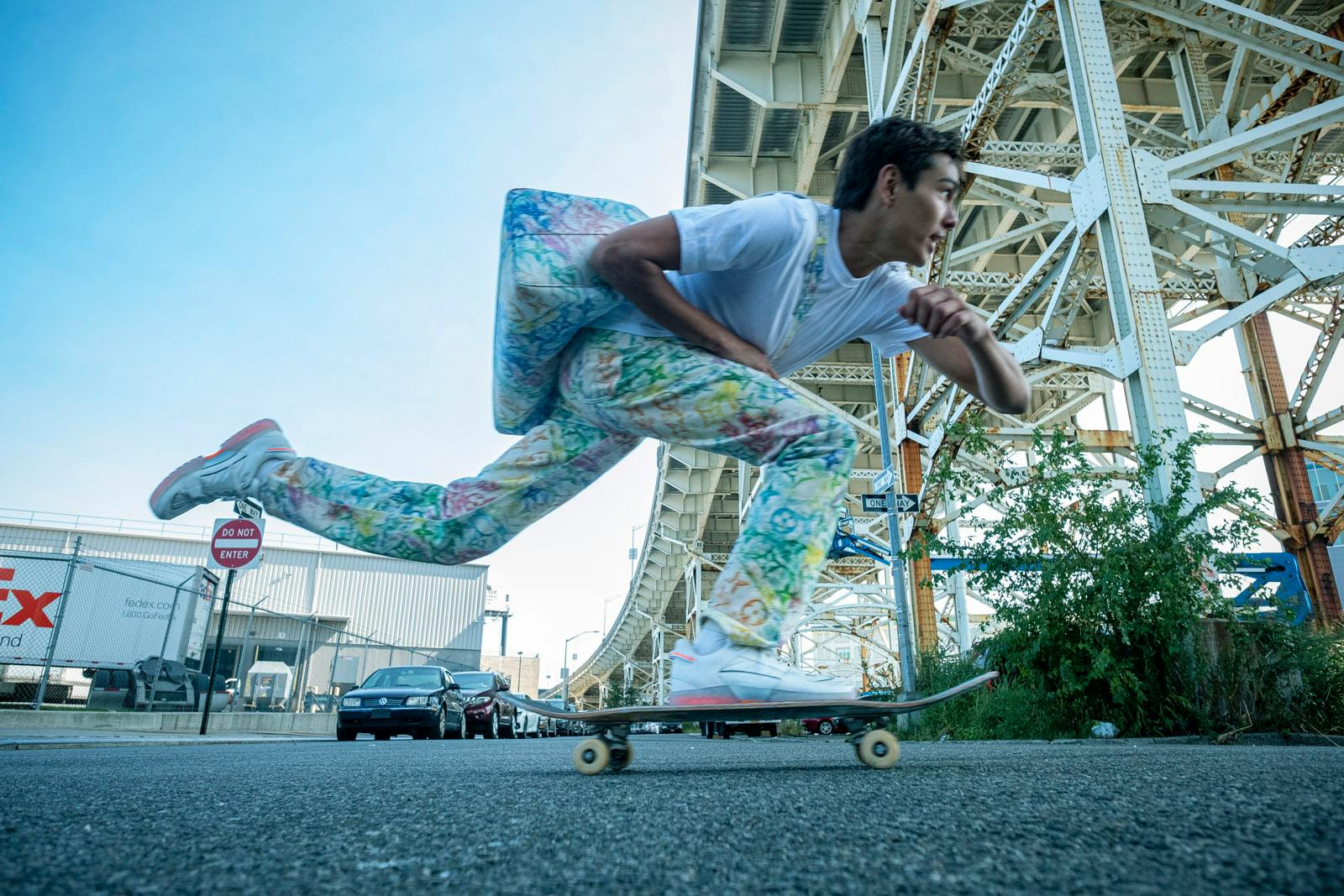 Highsnobiety / Giovanni Reda
This story appears in HIGHTech, A Magazine by Highsnobiety. Our new issue, presented by Samsung, includes exclusive pages of interviews, shoots, merch, gadgets, technical gear and more. Order a copy here.
When I call Evan Mock over Zoom, I can tell he's bummed. It's raining in New York City, and Mock had been hoping to skate. "It's really putting a damper on my plans," he says. The 23-year-old skater, model, photographer, and designer is still a die-hard skate rat at heart, though his recent exploits may suggest otherwise. With buddies like Tom Sachs, Frank Ocean, and Travis Scott, Mock has been thrust into the role of Gen Z Renaissance man, dabbling in a number of creative pursuits that stem from an impeccable sense of personal style.
Mock also represents a new guard of skate-slash-fashion figures who have transversed two industries with tough gatekeepers. Like a growing number of young skaters, he has walked runway shows for major fashion houses and appeared in the pages of legacy magazines, as the world of fashion continues to try and capture the alchemy of skate culture. After all, were it not for the ongoing coronavirus pandemic, skateboarding would have made its Olympic debut this summer. For anyone born before 1995, this might all seem strange, but to Mock and the current generation of skaters, it's part of the same game. Why would anyone turn down the opportunity to design a skate shoe for Louis Vuitton, as Artistic Director Virgil Abloh recently did in collaboration with British skater Lucien Clarke? After a day of doing huge tricks in LV's Pre-Collection Spring/Summer 2021 and said shoe, Mock helped us figure out what this cultural collision really means.
Something interesting about the Louis Vuitton shoe is that it looks nostalgic. A lot of elements of the shoe remind me of different skate shoes from the past.
Like the old DC stuff! That was the style back then and, you know, history repeats itself. It's funny to see — like, the wave of skinny jeans, and that translating into the fashion world, and then back to baggy, then you see baggy again.
What was it like to skate in them?
Well, it was a struggle off the bat because they were just too big. They were size 11, and I'm a size nine. But we made it work. I can definitely see the potential in them. But the soles are pretty stiff. They need a little bit of breaking in. Maybe throw them in the microwave for a minute or so.
Are they not done with production yet? Is that why they only had one size?
I guess so. We hit up like 20 different people that worked at LV — at the showrooms, the stores, everything. None of them have it. We couldn't even have them flown from Paris if we tried.
Do you think skate companies benefit from the fashion world getting into skateboarding?
I think it's all positive. I mean, for the people who can't afford a $900 or $1,000 shoe, they're obviously going to turn to companies that are more affordable, which are the skate companies. It can help them in the long run. It's kind of like the discussion around the Olympics. I'm assuming that the numbers are going to go up in sales just by having their logos on national television, seen all around the world. That means people are into skating. So, they're going to buy whatever it takes to be a skater.
Highsnobiety / Giovanni Reda / Sweater, shirt, t-shirt, and sneakers LOUIS VUITTON Pants STYLIST'S OWN
Did you always see yourself more as someone who was going to try to make a living skating?
I guess I still am. It's just that I'm making money from a few different areas now. But, yeah, growing up in Hawaii that's all I wanted to do. That's why I moved to California in the first place, to expand my ability on the skateboard, but also to make friends with people in the industry.
Was social media a big part of skateboarding when you started?
I don't think I ever really paid attention to it until I was 16 or something. I definitely didn't know the importance of it as a kid, so I was kind of late to the bandwagon. It was only when I got a little bit older that I figured out the importance of it. At that time, it was really starting to blow up. There was no such thing as an influencer or paid posts or any shit like that. When we were 12 or 13 we were super into GoPros.
Oh yeah, that was big back then.
It was the GoPro HERO, the first one you could take underwater and shit. We were definitely filming, but we weren't filming for Instagram. We'd just go back to the house and download the footage and make a little iMovie edit. That was kind of our Instagram before Instagram.
Was it easy for you to translate what you were already doing with your friends onto the Internet?
That definitely helped us get ready for what we were going to start making a living at. You know, my friends that were filming before are full-on movie makers now. They have vlogs on YouTube and stuff like that. I feel like we were a little bit ahead of it because we were already doing edits just for the fun.
So, how did the modeling start?
I've always been kind of interested in the fashion world and always had my own style. I knew it was going to be a part of my life — I just didn't know how. It was something I thought correlated with surfing and skating, because those two sports, or those lifestyles, are so style-oriented that when I got into fashion it just seemed right. That's what it's all about: what kind of hair you have, what kind of clothes you wear, you know, the whole getup. So, the modeling thing just came naturally from people seeing me and reaching out. One thing led to another. Once I had a little bit more momentum, I started to assemble a team. I brought on a publicist that I'd known for forever who didn't even blink when I asked her. She showed me my agent. I'm with that same team today. They kind of switched my life upside down.
Is there a similarity in how skating and modeling works for you?
Not really, 'cause if I'm honest, modeling doesn't take, you know, that much skill. And with skating, you're putting your entire body through this fucking rigorous course of who-knows-what's gonna happen. It's a lot more thought and it's a lot more gruesome damage to your body.
Do you feel like the two worlds are starting to collide?
Fashion labels have been taking inspiration from skating and surfing for years. They're always chasing the cool factor — which is why surfing and skating influences so much of our culture today. It makes sense for them to get a hold of that because that's what they do, they jump on the trends. But they also recreate what they think those trends are. It's nice to see their take on it.
If fashion is always borrowing from skateboarding and surfing, does anything feel different with this current generation?
There's so many skaters nowadays it's hard to really classify them as one thing anymore. There's amazing new talent taking inspiration from the past, which is great, because that's what I always try to do: mix a classic and modern style. It's cool to see because skating's been growing rapidly throughout these last 20 years. It's become so much more normal and more respected by a lot of other people who had no idea what it was about.
The detractors might say the fashion world doesn't actually care about skateboarding and is just leaching off of an already-established subculture.
I mean, skateboarding culture is the most judgemental culture in history. There's so many different opinions because there are so many different people in it. But at the end of the day, they gave a real fucking skater a real Louis Vuitton shoe. I think that's rad. There needs to be more stuff like that. I think there should be a jouster pro-model or something, you know? I think skating's just a touchy subject because everyone's so judgemental. If, say, Ronaldo did a pro soccer shoe with LV, then I feel like people would fucking eat that up.
Do you feel like the newer generation is less judgmental?
Yeah. When I hear negativity towards skate culture getting involved with the fashion world, it's always the older cats, the core guys who aren't really ready for change in skateboarding. Which is fine. But I think the kids who are seeing these pros on top obviously look up to them. It has to do with certain key players in skateboarding making it cool over time. I mean, obviously Dylan [Rieder], obviously Harold Hunter. All sorts of people that have kind of kept an amazing reputation and also transformed the way people look at skateboarding.
Do you feel like the younger generation want to get modeling jobs just as much as they want to get sponsors?
I think it's funny to be in the position I'm in now, because kids that even two years ago would've had a different outlook on what I'm doing are now looking to me for advice. And I'm just like, "I don't know. If I knew, I would tell you. I would definitely tell you."