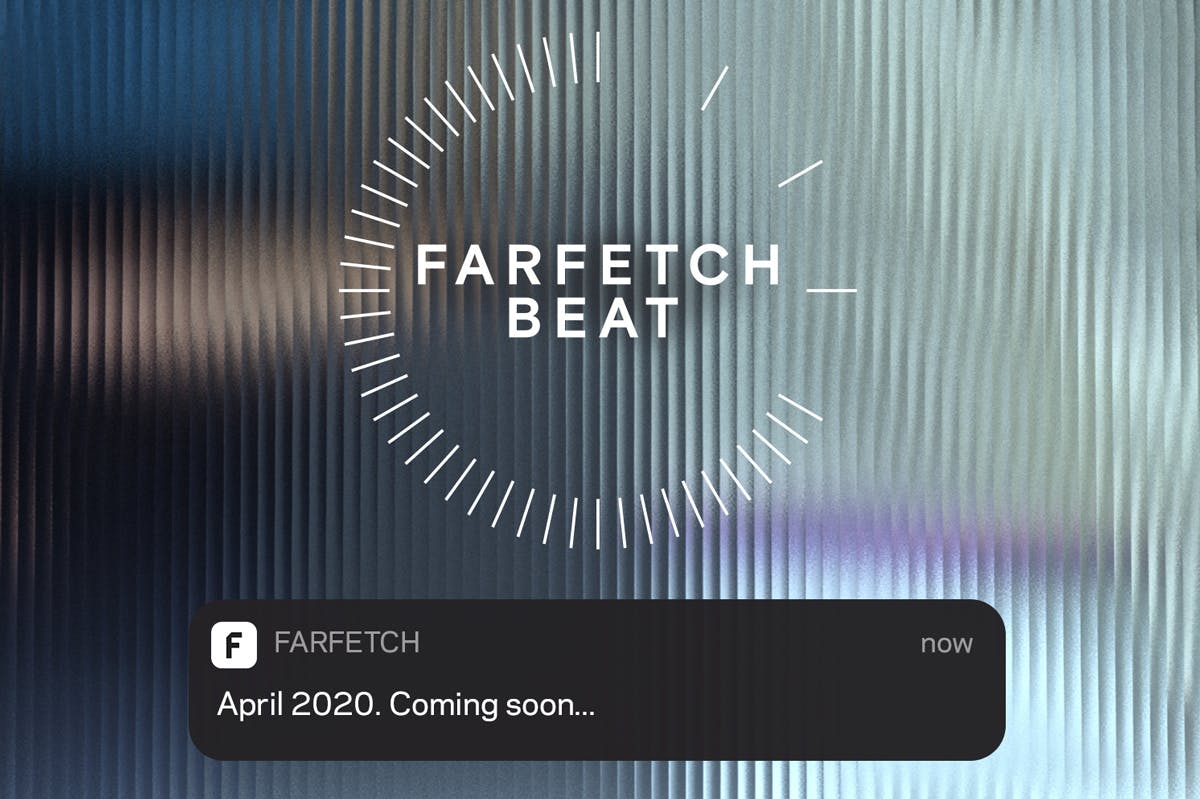 Farfetch — the London-based online fashion marketplace — is launching a weekly global drop strategy dubbed BEAT.
Starting in April, Farfetch will leverage its community of brands partners, boutiques, and newly acquired companies like Stadium Goods (bought for $250 million), New Guards Group (bought for roughly $700 million) and Opening Ceremony (bought by New Guards Group just last month for an undisclosed amount) to bring unique fashion and sneakers to consumers globally in what is the biggest implementation of a drop-style distribution system since Moncler Genius in February 2018.
"Many luxury brands are evolving their strategies, and we expect an even greater shift in the industry away from traditional cycles to a drop model," explains Stephanie Phair, chief customer officer at Farfetch.
"Very limited releases and surprise drops are concepts that are endemic to sneaker and streetwear culture," says John McPheters, co-founder and co-CEO of Stadium Goods.
BEAT will have a digital-first approach to drops by living on the Farfetch App and will release new products from its top international superbrand partners, along with brands from New Guards Group's portfolio, including Off-White, AMBUSH, Palm Angels, Marcelo Burlon, Heron Preston, Opening Ceremony, which will relaunch on the platform. It will also sell one-off or non-production pieces, and create limited-run capsules and exclusive product. Meanwhile, Stadium Goods will surface cult streetwear and sneaker rarities while bringing out exclusive products and potential upcoming collaborations between Stadium Goods and other brands.
Together with a short list of Farfetch' 650 boutique partners, the company plans on bringing a curation of luxury products and retail exclusive products, usually only available at niche boutiques around the world, to a larger audience.
Overall, new BEAT products will drop synchronously every Wednesday in all Farfetch markets, including the United States, Europe, Brazil, the Middle East, China, Russia and Japan, leveraging the platform's native language websites and customer service teams of each in doing so. Over time, some drops will be available through Farfetch's boutique network.
"The idea of the BEATS is nothing sure than brilliant and puts Farfetch in a unique position," says Robert Burke, founder and CEO of retail and fashion consultancy Robert Burke Associates. "The challenge today for all retailers is being able to have exclusive products that drive customer awareness and sales, but the vast majority of retailers have many of the same brands and products from these brands."
Burke continues: "What Farfetch has done with their investments — from NGG to Browns, Opening Ceremony and Stadium Goods — is what many great retailers had done in the past, which is curating product and understanding their customer. We all know that frequent drops drive demand and interest."
All will be led Farfetch's Chief Brand Officer and CEO of Farfetch-owned Browns, Holli Rogers, who's formed the BEAT Collective, a global group of industry tastemakers and culture-definers that, next to Rogers, includes Cristiano Fagnani, chief marketing officer at New Guards Group; Carol Lim and Humberto Leon, co-creative directors at Opening Ceremony; John McPheters, co-founder and co-CEO at Stadium Goods; and Ida Petersson buying director at Browns. It is planned that the BEAT Collective will welcome other members over time, either as guest creatives or permanent members.
"[The goal of creating a BEAT Collective is] to ideate together, connect with their industry network, collaborate and identify the hottest product that Farfetch customers will want around the globe and ensure we have an incredible pipeline of each weekly BEAT," says Rogers. "They have a key curation role in the program."
And for retailers, it's authoritative curation serves as the last standing form of differentiation at a time when expensive price points, limited distribution and retailer-brand product collaborations — once critical pillars of creating exclusivity — have been adopted by every player on the block. Moreover, a continuously changing definition of luxury — for some making a Supreme box logo tee more covetable than that of any high-end fashion brand — and rapid global retail expansion of fashion brands, has made these elements obsolete, leaving room for disruption by curation.
Weekly drops are a clever way to show off taste level, access, and ultimately differentiation from competitors. In September, 2019 Highsnobiety already launched its commerce Highsnobiety Shop, partnering on exclusive product drops and collaborating with brands including Prada, Maison Margiela, Sotheby's, Loewe, adidas, Versace and more.
Others such as END Clothing too, already have a drop strategy in place. While Farfetch — along with most of its peers — already launches thousands of new products a week, setting up a structured drop system will allow it to create weekly buzz around its main platform, equally serving as a clever customer acquisition tool for new and existing audiences.
"I think the speed is going up and it's again a function of the internet. That conversation has a much quicker cycle than the previous offline conversation. Because it has a quicker cycle, the consumption cycle is also quicker," Farfetch Founder and CEO Jose Neves told Highsnobiety during an extensive interview in October 2019.
While the increased consumption speed created by drops — which implies that last week's purchase is no longer relevant in this week's cultural conversation — strongly goes against the sustainable changes many brands and retailers say they want to put in place, business-wise it's a smart move.
"Fashion, in a way, is an industry that doesn't move very fast. It moves very fast in terms of the trends and the creative side of it. In terms of the business model, it tends to be cautious," Neves said last year.
When Neves founded Farfetch in 2007, it was something the industry had never seen before. With BEAT, Farfetch challenges the industry once again.
As Burke puts it, "It's a rare example of an online retailer being in control of the distribution."