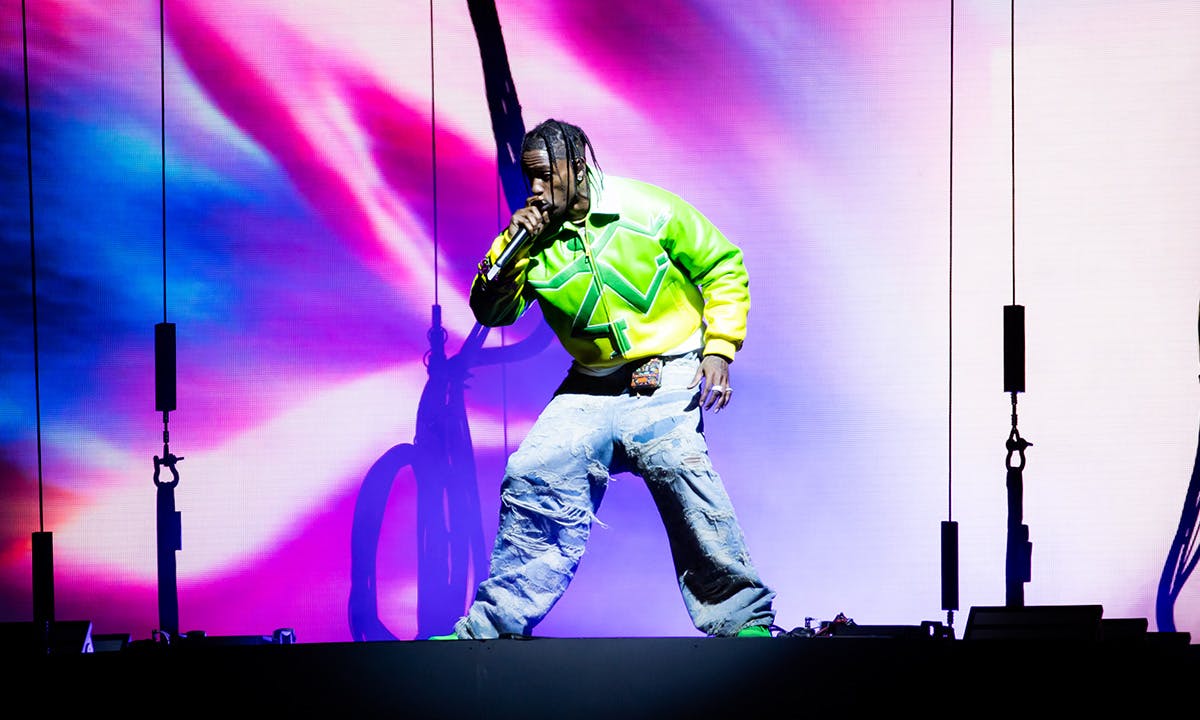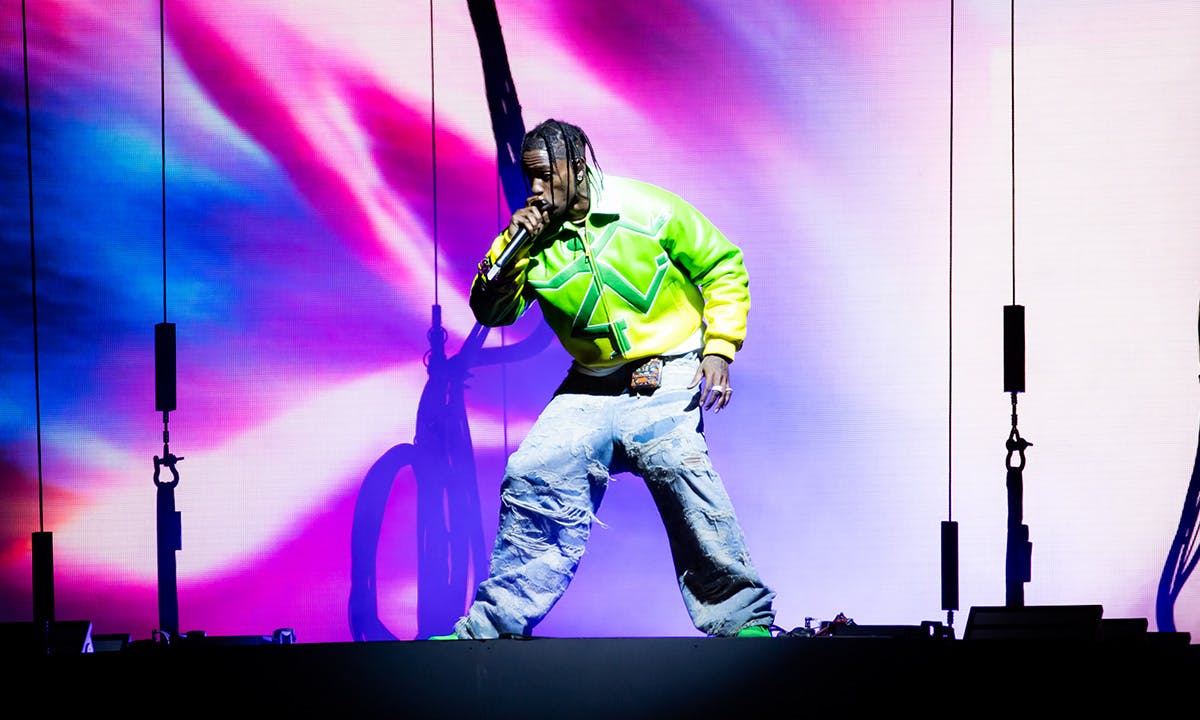 At least eight people died and hundreds were injured following a crowd surge at Travis Scott's Astroworld music festival in Houston, Texas.
Panic broke out on the night of November 5 during Scott's set — which closed out the first day of the event — when attendees began pressing towards the front of the stage at around 9 p.m., Houston Fire Chief Samuel Peña told reporters at a press conference.
When Drake made a surprise appearance on stage, crowds surged further.
23 people, including 11 patients in cardiac arrest, were taken to nearby hospitals. Roughly 300 people were treated for injuries at NRG Park, the festival's venue, where a field hospital was set up.
Houston Mayor Sylvester Turner told The New York Times that a thorough review and investigation of the events that took place will be conducted.
"We do know that there were several cases of cardiac arrest. What was the cause of that?" he said, adding that it's too early to assume that drug overdoses had anything to do with the night's fatalities.
Approximately 50,000 people were in attendance during Scott's set. The mayor's office announced that seven of the eight victims, one of whom remains unidentified, ranged in age between 14 and 27-years-old.
So far, the dead have been identified as: Franco Patino, John Hilgert, Brianna Rodriguez, Rudy Peña, Danish Baig, Jacob E. Jurinek, and Axel Acosta.
As of November 6, 13 people remained hospitalized, including five people under the age of 18.
As evidenced by video footage from Astroworld, Scott reportedly paused his set more than once to ask security to assist audience members in distress.
"If everybody good, put a middle finger up in the sky," he said in response to the situation. Vehicles with flashing lights — ostensibly emergency response — can be spotted amid the crowd.
Houston Police Executive Assistant Chief Larry Satterwhite, who was on-duty at the festival along with 367 police officers and 241 security officers, recounted the events: "Suddenly we had several people down on the ground, experiencing some type of cardiac arrest or some type of medical episode."
"Our hearts are broken," Judge Lina Hidalgo of Harris County, which includes Houston, said at a press conference. "People go to these events looking for a good time. It's not the kind of event where you expect to find out about fatalities."
The rest of the weekend's planned performances — which included Earth, Wind & Fire; Bad Bunny; and Young Thug — are canceled.
NRG Park is now a crime scene as investigators work to find out what exactly happened. Houston Police Chief Troy Finner urged people to refrain from jumping to conclusions regarding what exactly caused the crowd surge.
"I think it's very important that none of us speculate. Nobody has all the answers tonight," Finner said.
Officials said that a crowd surge that took place earlier in the day, when hundreds of show-goers rushed the event's entrance, appears to be unrelated to the deadly events that took place at night.
On Instagram, Astroworld released an official statement regarding the tragedy. "Our hearts are with the Astroworld festival family tonight — especially those we lost and their loved ones," the statement begins.
"As authorities mentioned in their press conference earlier, they are looking into a series of cardiac arrests that took place. If you have any relevant information on this, please reach out to @houstonpolice."
In a statement posted to Twitter, Scott said he is "absolutely devastated by what took place last night."
"Houston PD has my total support as they continue to look into the tragic loss of life," the rapper added.
Live Nation, the organizer of Astroworld, echoed Scott's sentiments. "Heartbroken for those lost and impacted at Astroworld last night," a statement posted to Twitter reads.
Unverified accounts of the pandemonium have been circulating on social media. "The rush of people became tighter and tighter" one attendee described in an Instagram post.
"The screaming intensified, as more people realized they could not breathe. We begged security to to help us, for the performer to see us and know something was wrong. None of that came."
One video posted to Reddit appears to show an attendee attempting to alert the crowd and a festival employee of the deadly situation. "People are fucking dying," he yelled.
On Twitter, the Houston Office of Emergency Management announced that a reunification center for Astroworld attendees has been set up at a Wyndham Hotel in Houston. The organization also launched a hotline for those unable to reach loved ones who attended the festival.
On November 7, Scott posted a series of Instagram Stories addressing the catastrophic events that unfolded. "My fans really mean the world to me," he said. "I always want to leave them with a positive experience."
"I'm honestly just devastated and I can never imagine anything like this happening. I'm going to do everything I can to keep you guys updated and informed on what's going on. Love you all," he finished.
In the wake of the tragedy, fans and critics alike are reevaluating Scott's behavior at past concerts.
In 2015, he was arrested and charged with disorderly conduct for encouraging audience members of his Lollapalooza set to climb over security barriers and rush the stage.
In 2017, he was arrested and charged for inciting a riot at an Arkansas show.
On Scott's Instagram, a yet-to-be-deleted photo shows what appears to be an unconscious fan on the ground.
And he is currently embroiled in an ongoing lawsuit concerning a fan who became paralyzed after concertgoers allegedly pushed him from a third-story balcony at 2017 show in New York City. The rapper is expected to testify in December.
Already, Scott and Live Nation are facing legal backlash over Astroworld. One injured attendee, Manuel Souza, filed a lawsuit that described the deadly crowd surge as a "predictable and preventable tragedy."
"Defendants failed to properly plan and conduct the concert in a safe manner," Souza's attorney, Steve Kherkher of Kherkher Garcia LLP, wrote in a statement to Billboard. "Instead, they consciously ignored the extreme risks of harm to concertgoers, and, in some cases actively encouraged and fomented dangerous behaviors."
The lawsuit runs parallel to reports that Houston officials expressed "concerns about the energy of the crowd" to Scott before his performance.
Neither Scott nor Live Nation have commented on the legal repercussions they currently face, though Scott has promised to refund all Astroworld attendees in full.
The artist has also canceled his appearance at Day N Vegas Festival.
Reports that Scott will cover the funeral costs of the eight victims who died at Astroworld have yet to be verified by the rapper himself.
On 9 November, Drake posted a statement to his Instagram in which he said "my heart is broken for the families and friends of those who lost their lives and for anyone who is suffering."
He also deleted his previous post which included images from his surprise performance at the event.