Reports from the first rounds of Fall/Winter 2022 fashion presentations have led to some interesting observations about the Men's and Women's trends to look for over the next few months. Between Paris, Milan, New York, and London, journalists have keenly observed the prevalence of wearable tech, inflatable materials, and distorted silhouettes. As key tropes, outlets have pointed to both augmented reality and a heavy dose of surrealism as making their presence felt in presentations across the world.
But in spotting these threads and through-lines, it feels like something bigger has been missed. An overarching narrative that hinges on the twisting, manipulating, and warping of the world as we know it. A statement, more than anything, that calls to mind a certain cult ethos: "Long live the New Flesh!"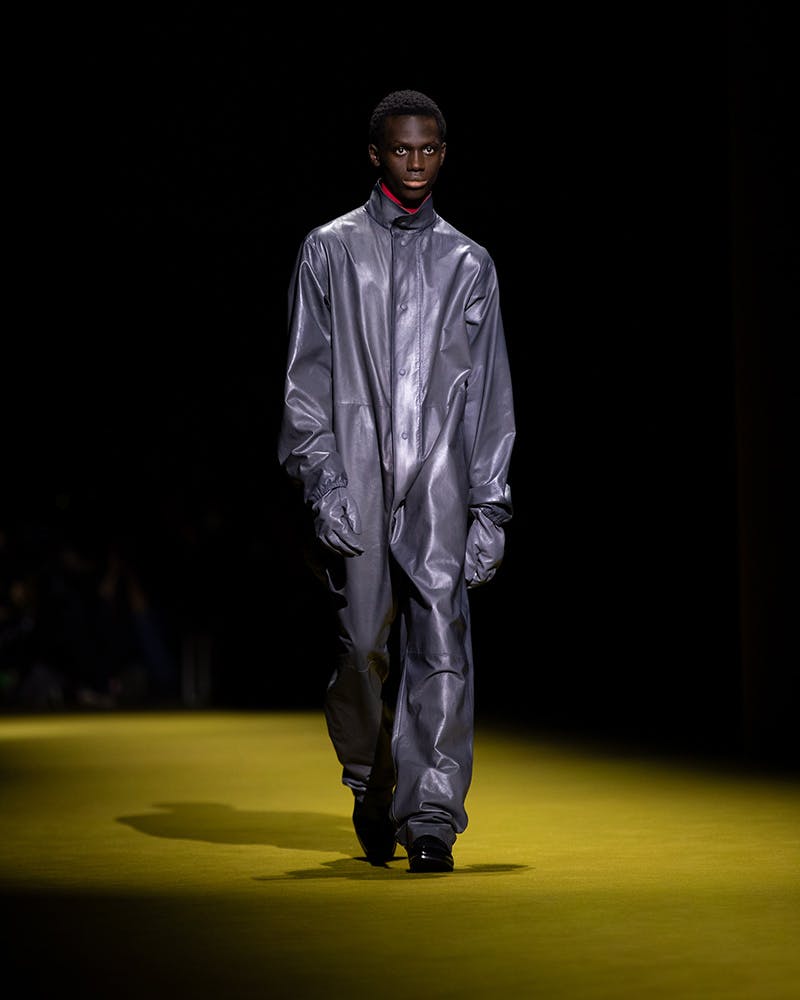 What all of these shows and collections have in common is a rejection not just of the notion of a "perfect" human form but of the human form altogether. They look toward a different future, some to a world in which man and machine meld as one, others to a time where these fleshy vessels are contorted and mangled beyond recognition. From Loewe's greasy textures and weird riffs on opacity to Dingyun Zhang's bulbous designs for Moncler to Diesel's cartoonish take on Ron Mueck-esque inflatable decor, a new visual code of body horror.
Of course, in fashion we're used to proclamations and speculations – Rick Owens' regular meditations on the end of the world are ever present at Paris Fashion Week, and Miuccia Prada's nod to a post-apocalyptic Mad Max-style bikertopia for Prada's Fall/Winter 2022 collection fall firmly into that dystopian category.
But this is something new, not just about the future of our society, but also about our bodies; our very being.
Perhaps the most obvious of these projections came from Dior's last show, where technology and fashion united as one to make a joint claim over the human body. Literally titled "Disturbing Beauty," presumably as both adjective and verb, Maria Grazia Chiuri's collection was both disruptive and technology-focused. Created in partnership with the Italian start-up D-Air Lab, the garments are performance-enhanced re-imaginings of House classics — biker jackets, for example, reworked with technology designed for extreme, adverse climate conditions.
This, however, is about material preparation rather than bodily reality. Dingyun Zhang's designs for Moncler, though, point to something else. Their bulging, inflatable silhouettes allude to a discontent with the human form: a need to distort its contours and familiar lines, a desire to reconsider what that form could or should be.
In its most conceptually realized form, this new dialect on the human body was also spoken by Jonathan Anderson at Loewe, who presented an uncomfortable and altogether uncanny look at the more gruesome possibilities for our future bodies. At the show in Paris, sanguine heels stuffed into the squirming, viscous bellies of Anderson's models called back both to Cronenberg and to that iconic and visceral stomach eruption scene from Ridley Scott's Alien, crafting an idea of emerging new and, perhaps, even better into an unfamiliar world. Slick and discomfiting textures felt like a tribute to the bodily fluids and violent collisions of Ballard's psychosexual horror opus, Crash.
A beautiful and terrible thing to behold, these designs make for a shocking glimpse at a possible future. But it's no surprise, really, that after years in the grip of a worldwide pandemic that ripped through our bodies, that we might find ways to reject what has failed us.
Naturally, fashion follows suit. Out with the old, in with the New Flesh.