When the Berlin-born grocery delivery app, Gorillas, came to life back in the summer of 2020, little did it know just how much of a creative community it would build.
With the stellar growth that the company is making, it has managed to bring together a crew of hundreds of avid cyclists from all backgrounds and cultures, fostering a rider community like no other. From DJs and artists to musicians and designers, Gorillas' rider hub teems with creative individuals from across the globe.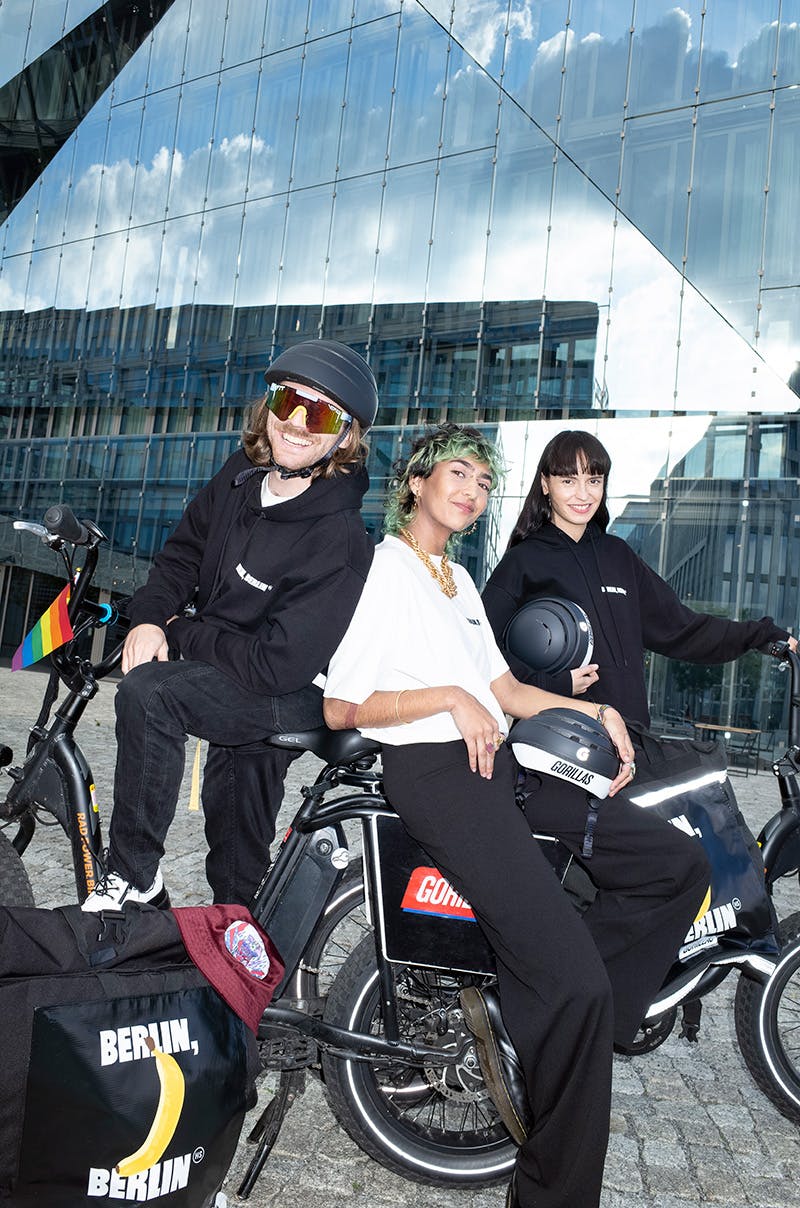 To honor Gorillas' dedicated rider individuals and their personal crafts, we caught up with three members of the crew to find out what brought them to Berlin and what inspires their non-Gorillas-related work. We also got them decked out in the exclusive Highsnobiety BERLIN, BERLIN x Gorillas merch collection, which you can see on the riders around the city this week — it's pretty hard to miss the big banana.
First up, meet Dea Dvornik. Born into a family of acclaimed Croatian actors and musicians, Dea spent her childhood involved in the arts, from classical ballet and piano to performing in the theatre and being on TV. Music has been a constant in her life, having lived in Slovenia, Ibiza, and now Berlin, where she is currently producing and recording.
"In early 2018, I met my musical soulmate, Enrica Falqui, at Berlin's Club der Visionaere and started a techno-electro project named after the Greek goddess of chaos, Eris. It was only natural for me to relocate to Berlin at that point as I already had a decade-long connection to the city. Moving to Berlin felt like coming home," she explains. "This city continues to provide me with endless inspiration thanks to the creative and talented people that live here. The immeasurable variety of music available at every corner, from clubs and record shops to studios, is insane. Everything is just bursting with sound and activity, and music of all kinds is being made behind every door, from heavy metal, funk, and jazz to techno and hard-core. You can't find that creative cocktail of expression everywhere."
Like many others, Dvornik comments on how Berlin has allowed her to grow into the person she is today, and unapologetically be herself. "It's a city that gives me tough love when I need it, but also lifts me up when I feel as though all my resources are drained. This city takes all you have, but rest assured that your efforts, dedication, and hard work will be rewarded."
When it comes to her job as a rider at Gorillas, Dvornik mentions how cycling has always been a big part of her life, and so it just made sense to be part of the team at Gorillas. "I love riding my bike, especially in my comfy leggings and Nike Air Knit sneakers - these shoes are virtually a sock with a rubber sole and they make for a smooth cycling experience always. What I, and probably many others, find attractive about working for Gorillas, is the ability to customize our schedule. If I need more shifts due to lack of music gigs on the horizon, then that's not a problem, and vice versa if I need more studio time," she explains.
"But the best thing about this job however is our working environment. I cherish everyone who works in the warehouse with me. We're from every corner of the world and our subcultural backgrounds form such an eclectic mix. We are also just all there for each other and that's the most beautiful part - we're like a family."
Next we caught up with Berlin-based DJ, Zoei Nijjar, who similarly to Dvornik, fell in love with the city's exploding music scene.
"I was born and raised in Davis, Yolo County, California. I went to university in Vancouver then moved to Melbourne before coming to Berlin. You can probably tell, I love to move around and travel, but in a way where I live somewhere for a few years so that I really understand the culture and creative scene, instead of just getting a surface level experience," explains Nijjar. "Davis is also the bike capital of the USA. It was the first city in the States to have bike lanes, so biking has been a part of my life since before I can remember. And I never forget to wear my black cycling glasses - those are a must!"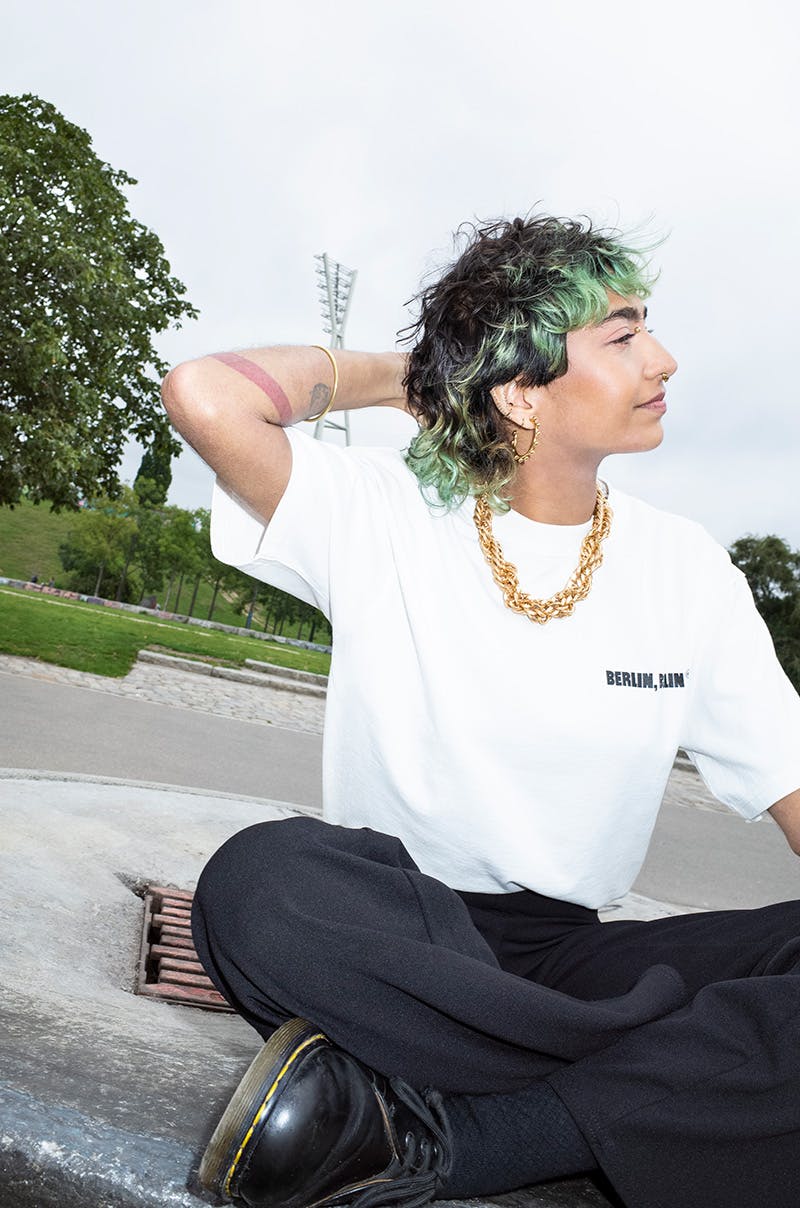 As with most musical creatives, the pandemic really affected Nijjar's practice and how she spent her free time. "Pre-corona, I was spending my evenings going to see gigs and concerts. I was managing a band, helping musicians promote their music, DJing - my whole life revolved around music. I moved to Berlin only a few months before corona really kicked off, so I've really struggled creatively."
Regardless of the lack of events that the city has been subject to, Nijjar goes on to comment on how this buzzing hub still inspires her. "Berlin seems to be a city where you can do anything you want to do if you set your mind to it. It's a DIY city. You definitely have to hustle to be here, so it's inspiring to see how determined people are to get their creative practice out there. Berlin to me is a very non-judgemental place, whatever your passion is, you will always find people that will support you."
For Nijjar, her job as a rider at Gorillas is more than just exercise and making money. "When I started working at Gorillas in January, I was so pleasantly surprised to go from being quite alone and not having much social interaction, to then having a job where I'm working with such different people. A lot of Gorillas workers are designers, artists, DJs - we play our music together all the time! The most rewarding part of it all is the connection I've made with these people that I probably wouldn't have met if it wasn't for this job. To be a food delivery worker during a pandemic is a very demanding job, but we get through it together."
Lastly, we chatted with Toronto-bred Dan Oz. Like Nijjar and Dvornik, he is involved in the ever-expanding creative scene in Berlin, but not just for music. Oz is a visual artist and designer who dreams of one day turning his designs into a fashion line.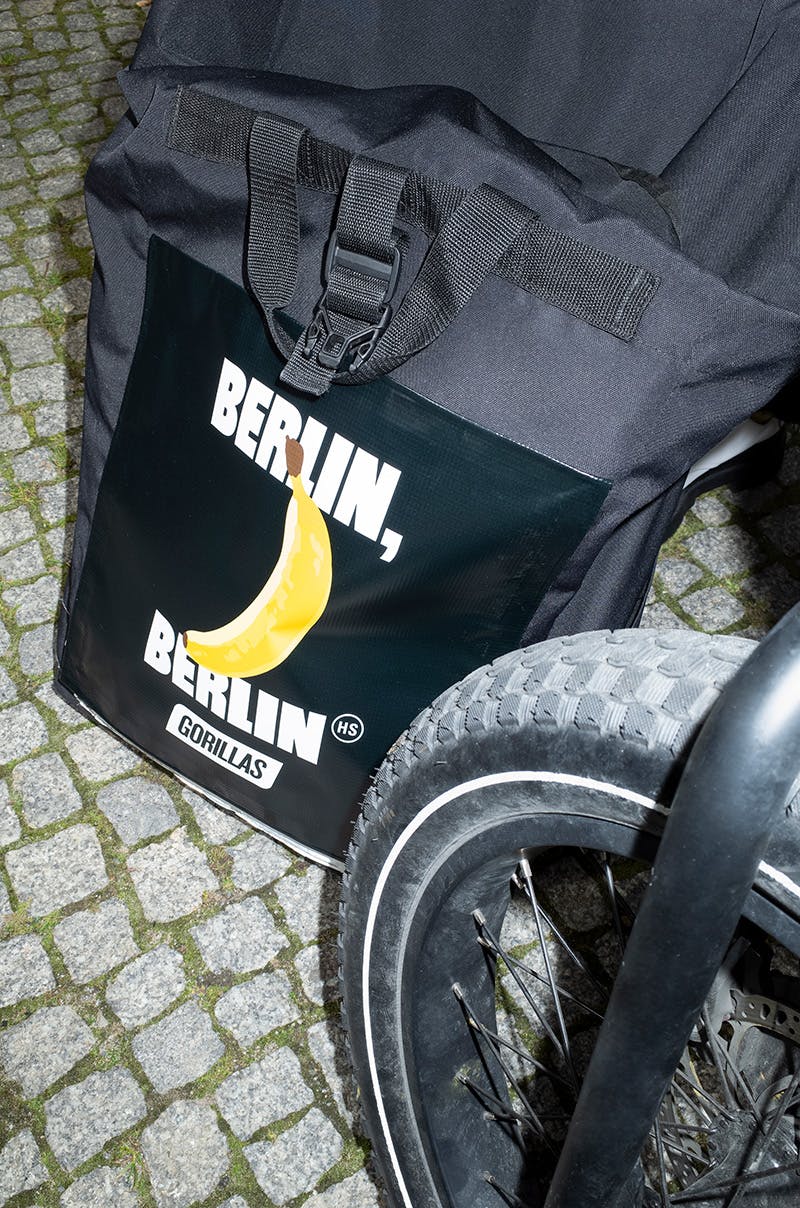 "I recently started my brand Crave Fluidity and launched my first collection on my website. It consists of custom-designed kimonos, T-shirts, and upcycled clothing - all infused with my explosive, colorful artwork. My main fashion inspiration is Jimi Hendrix. His style was way ahead of his time, he didn't care what people thought, and he wore bold, feminine clothing - all of which I feel resonates with me, just as his music and other music from the golden hippy era does."
Besides his passion for the arts, Oz is an avid cyclist - something that seems to be part and parcel of all Gorillas riders' character traits. "I've had phases of skateboarding and longboarding but have been biking since I was really young. Bicycles are the future and should be treated as such by governments everywhere," he explains. Considering the riders are on their bikes for most of the day, we asked Oz what one item is most consistent with his cycling fits. "My UE mega boom speaker is by far the most important - I wear it on my rides every day." So when you see a Gorillas rider bike past blasting Hendrix, you know who it is!
When it comes to his life in Berlin, Oz comments, "the openness in this city gave me the courage to do what I want. You walk down the street, and people just have a look in their eyes that they're on to something. They're dreaming, following a passion, or just being in the moment. I get that feeling of inspiration walking around these streets every day." As a visual artist, the street art that Oz has encountered has also pushed his practice in a positive way. "The first thing I noticed when I moved here two years ago was that graffiti does not stop anywhere. I saw that as a sign that creativity is never allowed to be stifled here; it continues whether or not the building managers want it. That's what sold me here initially, it's engrained in the streets and not in a pretentious way. There is no holding back here, and that mentality is a different form of social consciousness."
Keep your eyes peeled to see the Gorillas riders in our exclusive merch capsule around the city.
This piece appears as part of BERLIN, BERLIN — a week-long virtual celebration of creativity in the city Highsnobiety calls home. See the full series here.