The one and only Gorillaz are back with another star-studded album to add to their oeurvre. We spent time lolling around LA with the world's foremost virtual band in this FRONTPAGE story.
It's a January evening in Los Angeles. Passersby can't help but double-take as they catch the custom pink 1950s Cadillac limousine hurtling through traffic. It stands out – even in this town. The color was selected by Murdoc Niccals, and it is dubbed "Last Cult" pink. As far as branding exercises go, he and his band, Gorillaz, are pretty committed to this one. We're on our way from a photoshoot which has taken up the majority of their day, back to the mansion in Silver Lake that they've been living in since relocating from West London's Kong Studios. The whole band – other than lead singer 2D – are dressed head-to-toe in the same shade, and Murdoc has been brooding since a misunderstanding over donuts on set.
"You still here?" Murdoc asks, emerging from his stupor to realize that I'm sitting between his bandmates Noodle and Russel in the back of the limo. "Oh, you're a journo, thought you were hair and makeup. Right, yeah fair play, mate. What was the question?"
I had asked Murdoc to talk us through his outfit, a uniform he has been wearing throughout the album campaign for the band's eighth album, Cracker Island. Although he was persuaded to change out of it for our shoot, he was back in his priestly garb immediately after wrapping.
"Robes, very breathable fabric, but warm for when I levitate high into the clouds or meditate at the top of a mountain," he explains. "Interior pockets for my accoutrements. But really, it's all about the headpiece. As iconic as the Tutankhamen death mask. Designed to inspire awe in my groveling disciples, while at the same time making me seem approachable, like a friendly CEO."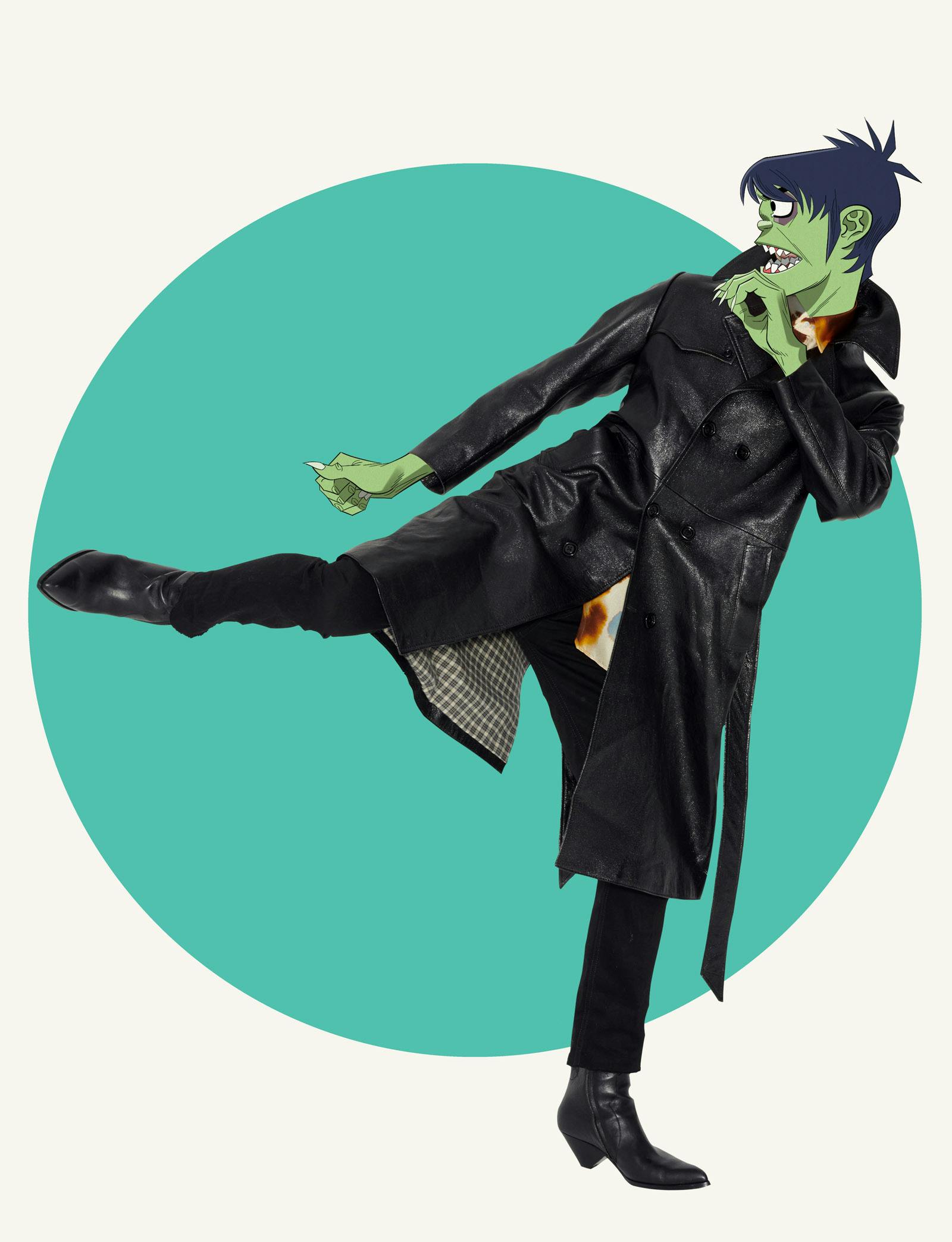 Despite each member's individual sense of style, the band have rarely taken part in fashion shoots, which Murdoc says has to do with being "Dwayne Johnson levels" of busy. "My sartorial tastes are infamously hard to satisfy," he adds. "This one was passable, if not for the balls-up with the catering. But one must endure."
Noodle, long suffering guitarist and voice of reason, clarifies that the issue on set had been about the color of the icing on the donuts. "I don't ask for much, do I? I'm not one of those divas who wants koi carp sashimi or rose petals in the bogs," Murdoc shoots back. "Just pink donuts. PINK. It's not that hard is it?"
His eyes dart quickly to my phone, which is recording the conversation, and he suddenly corrects his posture and composes himself. "Fortunately I've got shit loads of inner peace these days, so it's water off a deity's back."
2D, the sole member of the band dressed in blue, mouth currently full of the offending donut, which happens to be iced in a similar color to his tracksuit, chimes in. "The blue icing's well tasty."
"Nobody cares mate," says Murdoc, not taking the bait. "And don't get any of that muck on the seats. This is a rental."
***
Nearly a quarter of a century ago, the enigmatic Gorillaz were conceptualized by musician Damon Albarn and his then-roommate, artist Jamie Hewlett, as a comment on the increasingly artificial nature of popular music. At the time, it seems unlikely that they could have imagined how increasingly relevant that vision would become. Albarn was best known for his work as the frontman of award-winning British band Blur, while Hewlett was the co-creator of legendary comic book hero Tank Girl. Their eclectic tastes and creative ambition have seen both become pioneers in their respective fields.
Now the world's most successful virtual band, Gorillaz have endured two decades through constant innovation. In their creative fluidity, the band who started with a twisted fusion of alternative pop music, underground hip-hop, and comic books has become a multimedia art project that has spawned eight albums, pioneering live shows, and collaborations with a who's who of boundary-pushing talent. Their music has charted across the world, and their respective tours have led them from San Diego to Syria, racking up hundreds of millions of streams along the way.
This year, as well as releasing Cracker Island, they are gearing up to play Coachella – appearing directly below recent collaborator Bad Bunny on the line-up – after Billie Eilish invited them to join her headline set last year with De La Soul's Posdnuos to perform "Feel Good Inc.," where she declared "Gorillaz changed the world."
Eilish is indicative of the generational fanbase that have drawn inspiration from the band. Gorillaz have amassed a beloved cult fandom who piece together their ever-expanding lore.
***
As we near the Hollywood sign, Russel is completely lost to the allure of its giant letters. "You know it used to be longer?" he asks, when I enquire as to whether he's had the chance to get a closer look. "Used to say 'Hollywoodland' back in the 1920s, when it was built. 'Land' fell off in a storm I believe."
"All very interesting Russ," Murdoc interjects. "But you've left out the stuff about your recent trip. Allow me: Yeah, he's been up there alright. Uber'd there on New Year's Eve, suitcase packed and everything, thought the sky would open a gateway to the promised land, but eff all happened! Came back the next morning with the right hump!"
This seems to further escalate the tension in the group. There is no further clarity on the events of New Year's Eve, and everyone remains silent as we continue the journey to their new residence.
Silver Lake Mansions begin to surround us, and as we slow down, Murdoc breaks the silence by presenting me with a blindfold that he implores me to wear before we enter the gates of their abode. Noodle snatches it away. "He tries to blindfold everyone who comes here," she says. "Even the guy who came to fix the jacuzzi. He thinks it's like the Bat Cave and we need to keep it secret."
The moment we cross the doorstep, Murdoc launches into tour guide mode. "Walk this way, mate," he declares, ushering into the hallway, which is piled high with boxes. "Mind your step, that's just my new celebrity toilet water, Essence of Murdoc. Bit of a snarl-up with retail logistics, so I'm storing the product here for the time being. Have a sniff! It'll put years on your life."
He thrusts an open bottle into my face, overwhelming my senses with an unpleasant blend of cheese, olives, herbs, and alcohol – which I later learn from a press release was brewed from his used jacuzzi water. The scent lingers as we proceed through the house. Murdoc saunters past a half-finished bust of himself, which looks like a long-abandoned project by an amateur sculptor. Spray-painted slogans referring to "The Rupture" cover the walls, and each room features old flickering TV sets.
"Different kind of TV," Russel clarifies, when I enquire about Netflix habits. "These old timers are all all tuned to the same frequency. Seems to exist only in this zip code. Most of the time it's just static, but stay with it long enough, just when you're about to pass out – something manifests. Flash of an old movie, commercials, weird shit. A trail of breadcrumbs, guiding me through the…"
He trails off, distracted by the TV, which doesn't raise any concern from the rest of the band. "It only happens when Russel's watching," explains Noodle. "He's always been a conduit for strange phenomena."
***
Cracker Island sees the band moving into a brand new era. In 2021, while fans were expecting the second season of their Song Machine web series (which saw the band utilizing portals in Kong Studios to teleport around the world during lockdown, collaborating with artists like slowthai, Elton John, 6LACK, ScHoolboy Q and Beck), Albarn mentioned in an interview with Warp magazine that the band had recorded a song with Bad Bunny in Jamaica. The track, "Tormenta," was rumored to be the first single from a new project, which Albarn said was inspired by Latin America.
Another collaboration – "New Gold" with Kevin Parker of Tame Impala – was originally teased by Noodle on Instagram in 2020 and assumed to be part of the Song Machine project. However the track remained unfinished until Bootie Brown of The Pharcyde (who previously appeared on Demon Days' "Dirty Harry") added a verse to it during a stop in Mexico on the Gorillaz World Tour 2022. It was premiered live that summer during the band's headline set at All Points East in London.
Despite the fandom's association of both tracks with Song Machine, the anticipated collaborations ended up making their way onto Cracker Island. Albarn recently told Belgian magazine HUMO that the album came about because he and Hewlett were spending time in Los Angeles working on a Gorillaz feature film, previously reported to be for Netflix, which he told them has been "withdrawn" by the streaming platform.
Produced alongside 8-time Grammy award-winning producer Greg Kurstin and regular collaborator Remi Kabaka Jr., Cracker Island is the band's Los Angeles record; learning to drive during lockdown has changed his experience of a city that was once limited to Sunset Boulevard. Albarn told The Fader that he began the album by asking himself "How do I feel about LA? How do I feel about the world at the moment?"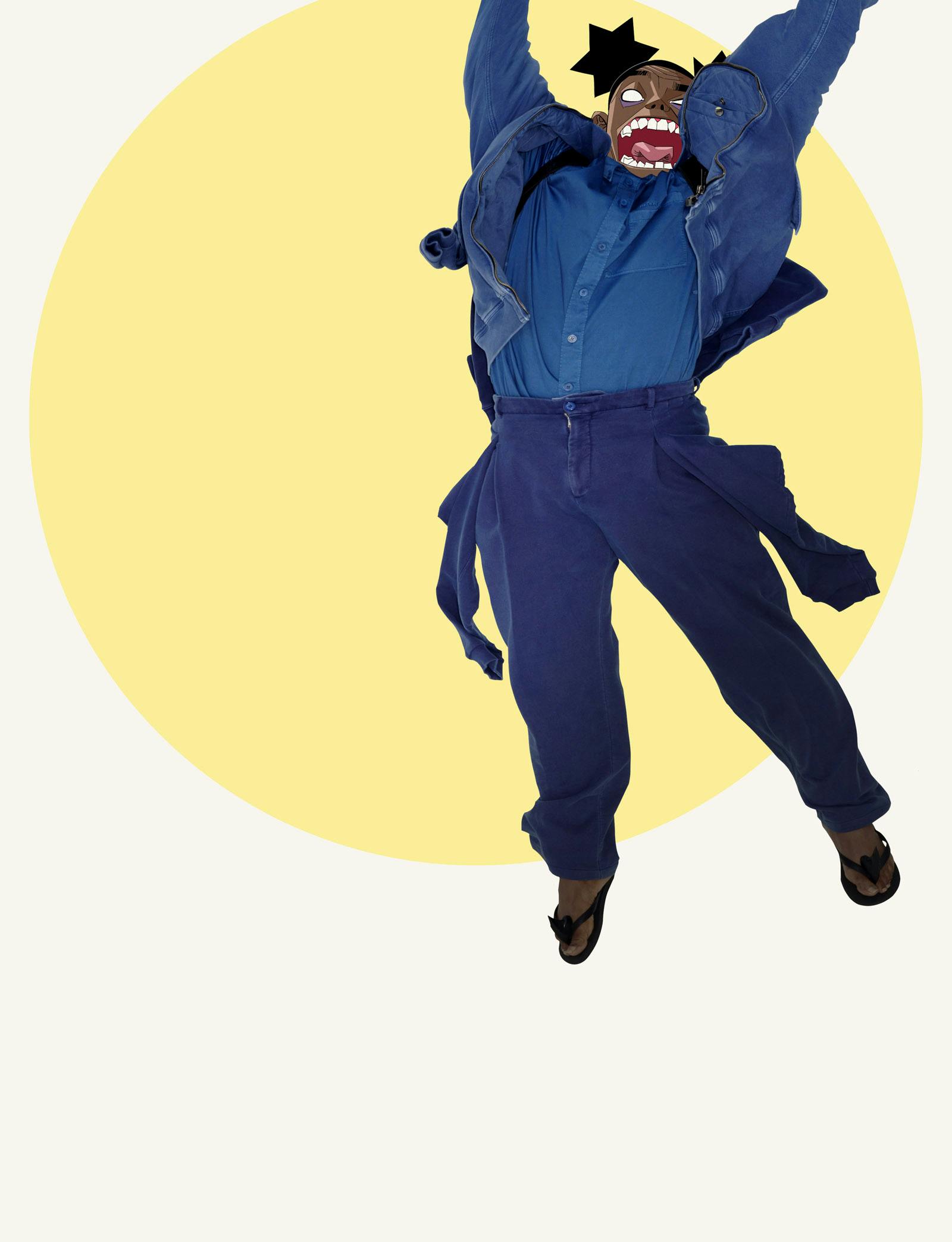 This inevitably brings up an exploration of social media; the spread of misinformation and self-absorbed egotists in particular. Speaking to Zane Lowe, Albarn described the internet as a collection of cults, adding "The thing about cults is that they always end up self-imploding."
The resulting 10-track LP blends the signature melancholy of 2D's vocals with upbeat production that – despite the band's apocalyptic predictions – ultimately feels hopeful. Testament to the respect garnered by Gorillaz in the music community, the album sees them joined by an unpredictable-as-ever line up of guests that includes Thundercat, Stevie Nicks and Beck.
Always keen to engage with their beloved fanbase in new ways, and push themselves into new dimensions, Gorillaz have collaborated with Emmy-nominated director Fx Goby, of Nexus Studios, for the music videos that accompany Cracker Island. And in December, to mark the release of the album's fourth single, "Skinny Ape," crowds gathered in New York's Times Square and London's Piccadilly Circus to witness first-of-their-kind live performances of the track, which utilized Google's ARCore Geospatial API to bring the band into Godzilla-proportions as they performed against the landmark skylines.
***
We reach the roof garden where our interview is formally scheduled to take place. The space is surprisingly lush with greenery; surrounded with grass, plants, and trees. A pair of binoculars lies discarded on the terrace where we take our seats overlooking the impressive grounds of the mansion and its next door neighbor. Russel pushes aside some "The Rupture is nigh!" placards so that we can take a seat.
Murdoc tries to brush off the relocation to LA with a cliché about the British weather. "And a demonic sinkhole opened up beneath Kong Studios," adds Noodle, exposing perhaps a more accurate truth.
"True, yeah," admits Murdoc. "Was getting a bit crafty, wasn't it? Not to mention the ever present risk of falling into a bottomless abyss on your way to the fridge."
The move is significant for the band who spent their first 10 years together working out of a storied residence that was formerly the clubhouse of a biker gang, built on a cemetery turned druid's meeting point - all thanks to its unique alignment of dark energies. "Ahh, Essex's premier hilltop mansion!" Murdoc reminisces. "Lots of dark energy sloshing about, never a dull moment in that pad. Zombie infestations, undead gorillas, hauntings, police raids. Wonderful times. Had some brilliant table tennis tournaments too. Shame it accidentally, inexplicably burnt down, although the massive insurance payout softened the blow."
In 2017, while imprisoned by EMI over a contract dispute, Murdoc eventually agreed to move into a West London studio where he was joined by the rest of the band, who renamed the new site Kong Studios. Noodle believes Kong Studios is more philosophical than geographical. "Kong is eternal," she explains. "It is more than just a building or place. It has no geography. We take it with us. Each time I smell something bad, or handle a flame-thrower, I am reminded of it."
Since the move, the band have become fascinated by the world of cults. In the face of so much division in the world, Murdoc has selflessly devoted himself to starting his own, The Last Cult, to which he regularly dispatches emails and notifications rallying his "lost lambs" to join him to prepare for the ever vague Rupture.
"OK, from my experience leading one of LA's 'most promising new cults' for a year now (think I read that quote in LA Weekly) there's a wish-list of things you're gonna need," Murdoc begins when asked about the makings of a great cult. "Firstly, a belief system – create a new one or rip-off someone else's. You deffo need a day of reckoning to lead people towards, something that involves a bit of toil and brimstone but with green pastures on the other side – sort of like driving through Slough to get to West London. A terrific outfit's a must, of course. And a holy relic to flog, like my signature fragrance, Essence of Murdoc! Boom. Got yourself a cult."
Of course "cult" is a loaded word, but Murdoc is ready to take on any criticism of his new endeavor. "My life is backlash!" he declares. "It fuels me. Been getting backlash ever since I won that music contest when I was 6 years old. Lot of jealousy out there. I ride it, it's my wave. I sometimes even pay to get my back physically lashed by a reformed ex-con called Vlad. Let me know if you want his number."
"We all conform to certain beliefs without realizing it," offers Noodle, bringing some balance to the overly excitable conversation, as Murdoc opens his phone and scrolls through the contacts list. "Many people are in cults without even knowing. Ours is a conscious cult for nice people. Although the leader can be an idiot."
I ask for advice that could be shared with readers wanting to live a more enlightened lifestyle, and Murdoc jumps back in, answering before anyone else has the chance. "Tell them to join The Last Cult! The first and most important step. Then, through a rigorous, soul-cleansing program of back-breaking toil, they'll start leveling up and shedding all those bad qualities from the before times. Then wallop – we can all start building a better world and so on. I'm also willing to accept donations to further our cause."
Murdoc continues his pitch (apparently there is "a very low chance you'll be burnt at the stake… at the time of writing") and I can't help but notice that the garden next door has filled with blue-robed figures all quietly chanting. As a procession of flame torches snakes around the lawn, I'm reminded of an earlier comment from Murdoc about getting a cheap deal on the rent.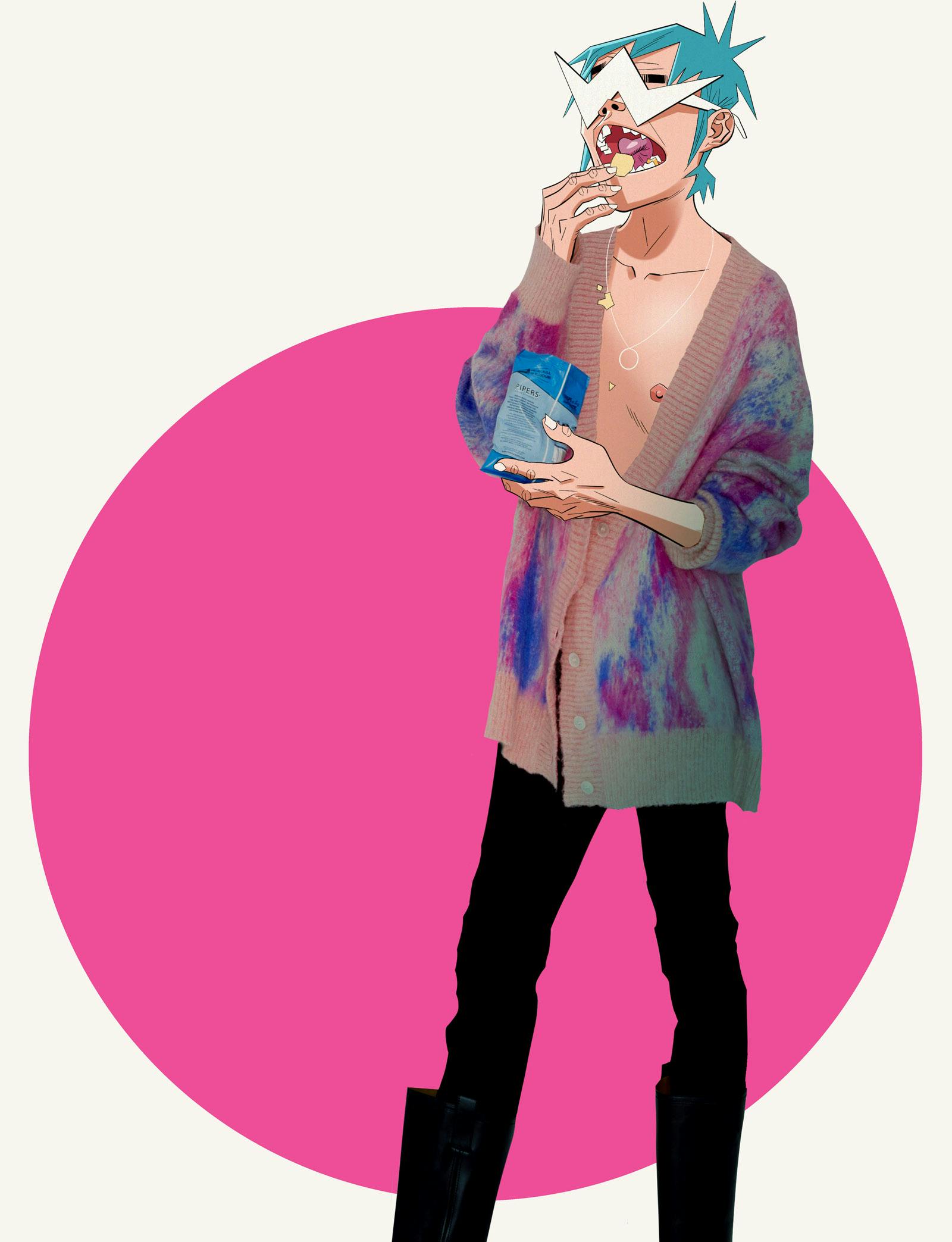 "Yeah, smashing bargain," he confirms. "I put the feelers out after Kong sank halfway towards Hades, then got a strange email out of the blue offering us a worryingly cheap rental deal on a place in Silver Lake, LA. Thought it must be one of those scams but went through with it anyway for a laugh. And here we are!"
"You didn't tell me about the strange email," says Noodle.
"Need to know basis, Noodle!" he responds, with a grin.
Sensing that all of this might have something to do with the band's concern about "The Rupture," I ask Russel what it's all about. "That, my friend, is the question. Short answer: To be confirmed. But it's nigh, pretty damn certain about that. I don't know exactly what it is yet, thought I did, but maybe it's something else. But it's definitely something. And that something is most definitely nigh."
Having spotted us on the roof, the neighbors have all turned to stare towards us, chanting 2D's name. It feels eerie and uncomfortable, but 2D smiles down giving them a wave. "That is the other cult," explains 2D. "They're a real nice bunch of people. Moon Flower is their leader. They have been giving me this well nice tea and bathing me every day for the past few weeks to clean my aura."
This all seems to irritate Murdoc, and the tension from the limousine returns. "Moon Flower reckons Murdoc only started his cult to copy her," 2D continues.
"For the benefit of your readers," interrupts Murdoc. "I just did a massive eye roll. Will you give it a rest, mate! Moon Flower, Moon Flower, it's all you go on about. She's not into you, ok? It's all an act! Ask me, she's probably going to sacrifice you! Actually, I've got a little bet on that at the bookies."
***
As I leave the mansion, the whole awkward exchange replays through my mind. I can't help but feel as though I've been left with more questions that I walked in with. Maybe it's the Essence of Murdoc still working its way through my system, but I wonder if this not-knowing is what drew me to the band in the first place. When I saw the "Clint Eastwood" video on TV as a kid, I embraced the mystery. Gorillaz allow space for the weird and wonderful; the fan theories, canon, and personal meaning.
"It's gonna be brighter than anything you ever saw," Russel had teased of the forthcoming "Rupture," "So you better be wearing eye protection. A welding mask should do the job!"
Despite the dystopia of the world that they inhabit, Gorillaz remain hopeful.