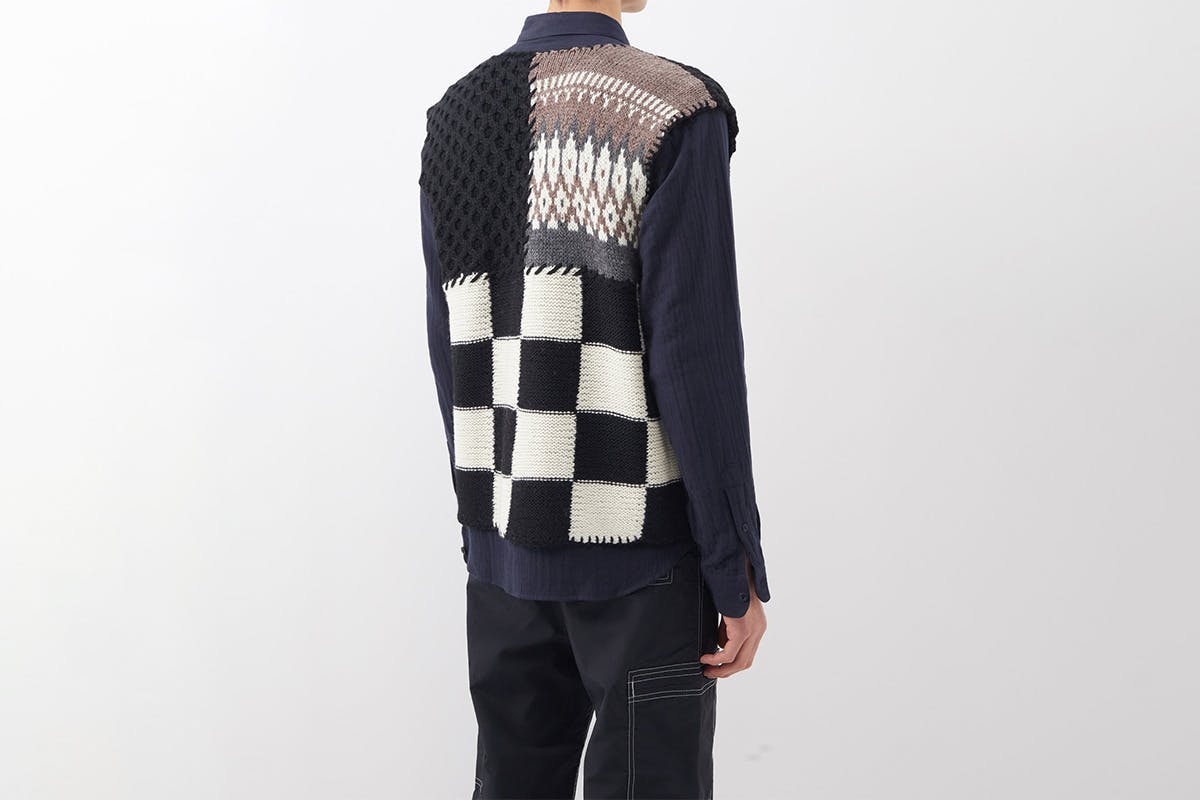 Since the scream queen herself, Jenna Ortega, portrayed the leading role in the Wednesday Addams Netflix series this last November, we're all drooling over the humorless Addams family member. The iconic show of the early '80s returned for the Gen-Z viewers with some dark magic, but, Wednesday's outfits definitely stole the show and are a major reason we can't wait for season 2.
While some fashion enthusiasts opt for playful designs, like JW Anderson's fun frog shoes, others are celebrating the Y2K gothy aesthetic names like Blumarine are bringing to the scene. Wednesday would likely sneer at you for mentioning a trend, but she epitomizes the Gothcore movements we're seeing develop.
Below, we've rounded up some black-and-white pieces for you to match her colorless style.
Shop 10 Gothcore clothes that even Wednesday Addams would be proud of.
Séfr Double-Breasted Twill Blazer
One thing that stands out about Wednesday Addams is her developed intellect at a young age. To match her humorless personality, this Séfr Hamra Blazer is the perfect option if you like to go for more refined looks.
Andersson Bell V-neck Knit Mesh Vest
Andersson Bell mostly offers unconventional pieces, and this one feels custom-made for Wednesday. The white stitching throughout the black knit is the exact kind of raw detailing that defines Wednesday's looks.
Marsèll Gommellone Leather Loafers
There is no need to dress all in black like Wednesday to wear a pair of chunky black loafers. Whether matching it with some classic cropped jeans or more formal trousers, this pair of loafers will take your fit to the next level.
NOMA T.D. Patchwork V-neck Wool Sweater Vest
Patchwork might be a bit much if you already went back to black. But this NOMA T.D vest will keep your Gothcore style mantra intact while adding a pop of fun.
Jil Sander Technical-Shell Cross-Body Bag
If you really want to perfect the preppy gothic look, then a messenger bag is key. This Jil Sander bag is ideal for everyday use because of its big front pockets and adjustable cross-body strap.
1017 ALYX 9SM Buckle Track Jacket
1017 ALYX 9SM modernizes the classic '70s track jacket in an all-black color with a signature buckle at the pocket as the only detail.
Charles Jeffrey Loverboy Mega Shred Sweater
Not all striped sweaters have to be formal. Charles Jeffrey Loverboy clearly knows how to break away from the conventional and distresses the seriousness out of this sweater.
Dr. Martens Jadon Hi Platform Boots
From punks to minimalists, Dr. Martens are a timeless piece for everyone to rock their own way. Wednesday Addams definitely knows how to style a pair.
Urban Outfitters Checkerboard Scarf
When Wednesday decides to switch things up in her outfits, a checkered print is about as far as she will go. This scarf is a great way to bring some texture and print into an otherwise all-black outfit.
Axel Arigato Iron Pants
The time has come for you to ditch your ripped black jeans and replace them with some trousers. You can make this pair either casual or elegant with its workwear details and straight-leg shape.
Want to keep browsing? Download the Highsnobiety app for all the hottest products and brands from the the Highsnobiety Shop. Highsnobiety has affiliate marketing partnerships, which means we may receive a commission from your purchase.