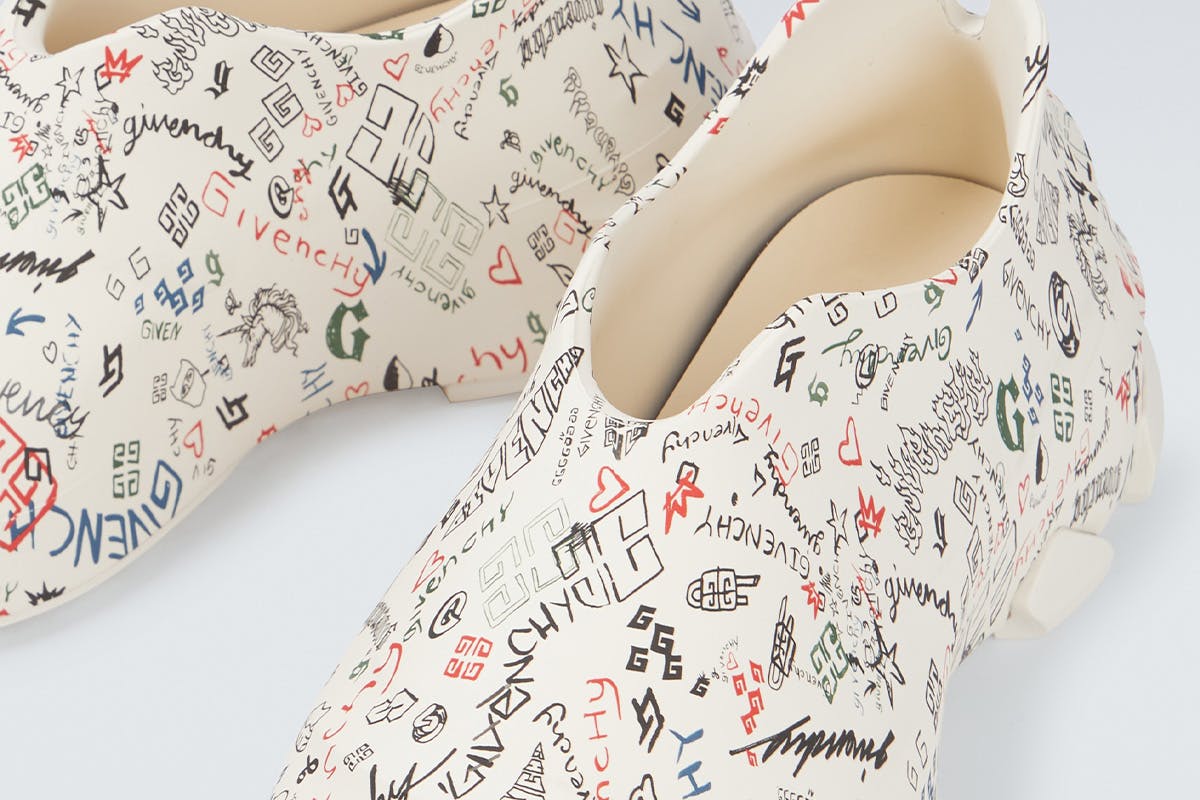 Matthew Williams' tenure at Givenchy has, for the most part, been as we expected it to be. Sleek black design has ruled the roost, aided by the occasional flash of industrial metal hardware and silver or gold-foil branding. We're not complaining, he's one of the best in the business when it comes to that kind of refined brutalism. That said, the brand's latest Mallow Sneakers break that mold.
The Givenchy Mallow Sneakers have been one of the most memorable releases under Williams at Givenchy. The molded slip-ons offer a view into the technical future of luxury sneakers but, until now, we've only seen them in dialed-back, monochrome colorways. Now with every inch featuring doodles of Givenchy logos, the design feels much more playful.
Whether this is a nod to Margiela's iconic Replica Sneakers which were — as the legend goes — passed around the atelier as people scribbled phrases and sketched logos on them is up for debate. If not, perhaps Williams took inspiration from Demna's famed remix of the Reebok Instapump Fury.
Either way, it's certainly not the first time we've seen a luxury label find new life in a silhouette by vandalizing it. In a way, this form of tongue-in-cheek irreverence has become the defining factor in the popularity of the biggest luxury labels in 2022, and Givenchy is just the latest to try its hand at it.
The question is, how would you rock them?
Shop the vandalized Givenchy Mallow Sneakers below.
Want to keep browsing? Head to the Highsnobiety Shop for more products that we love. Highsnobiety has affiliate marketing partnerships, which means we may receive a commission from your purchase.