Gucci's Fall/Winter 2023 womenswear collection was a worthy follow-up to the Florentine fashion house's landmark FW23 co-ed presentation, its first since Alessandro Michele departed, in so far as it picked things up right where they were left and carried right on carrying on.
The house's new creative director Sabato De Sarno hasn't yet put his mark on Gucci — his first designs for the house will be presented later this year — so the in-house design team instead delivered a second round of throwback ready-to-wear steeped in retro Gucci motifs.
"Going by [the team's] own memories of collections and the history of Gucci as they experienced it first-hand, the idea behind the collection was to identify the heritage of the House through present-day eyes and look to the future," Gucci explained in a press release.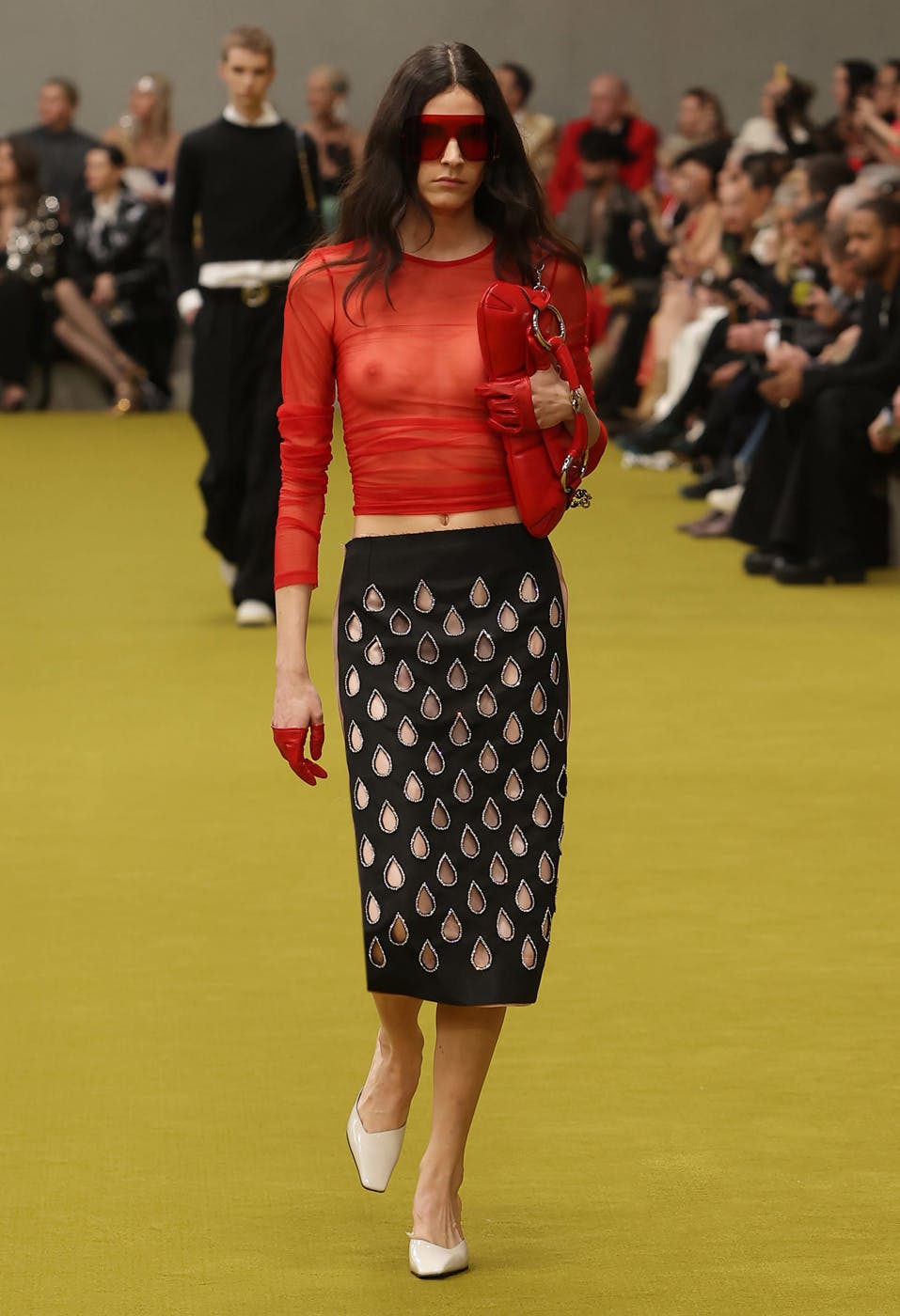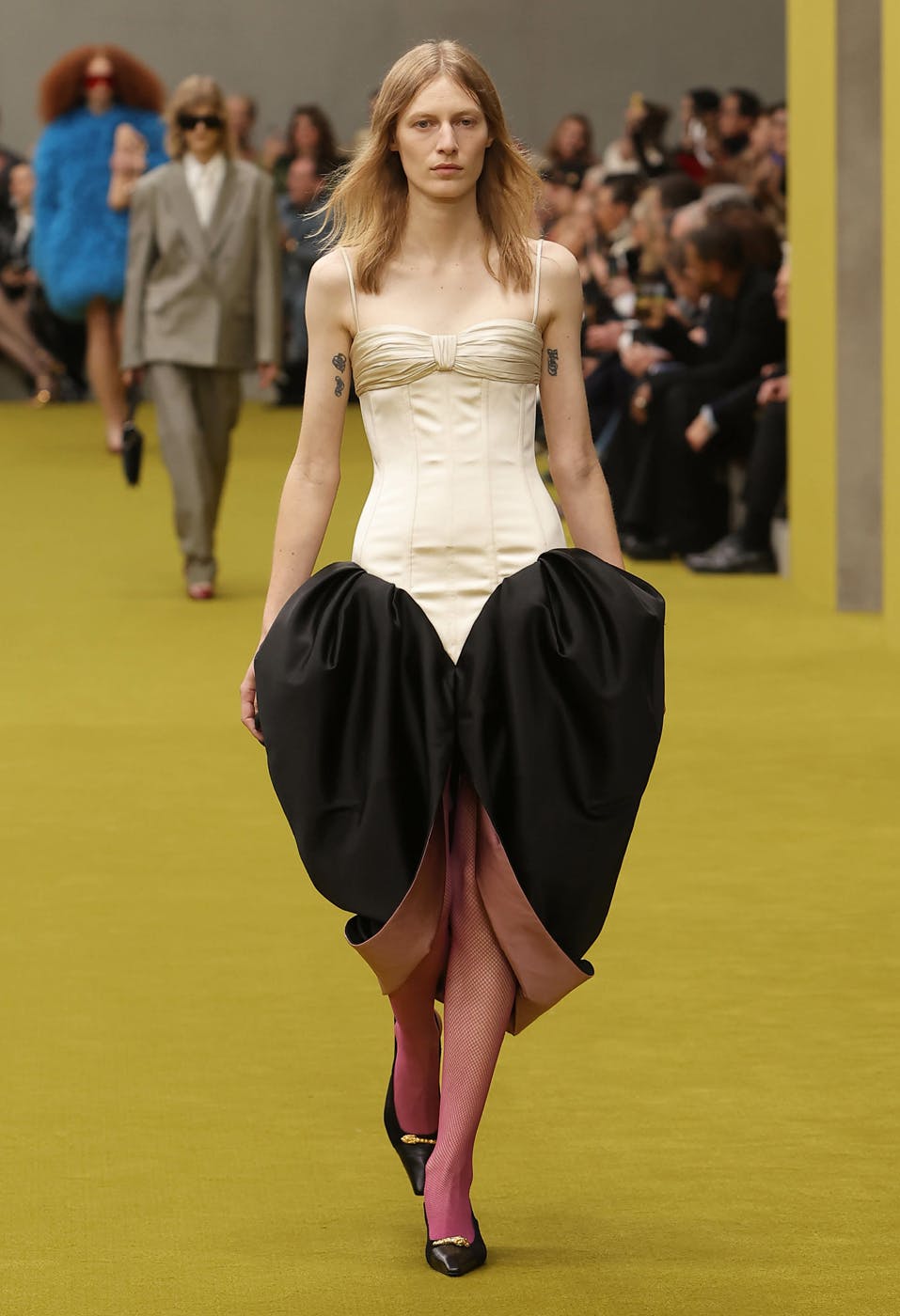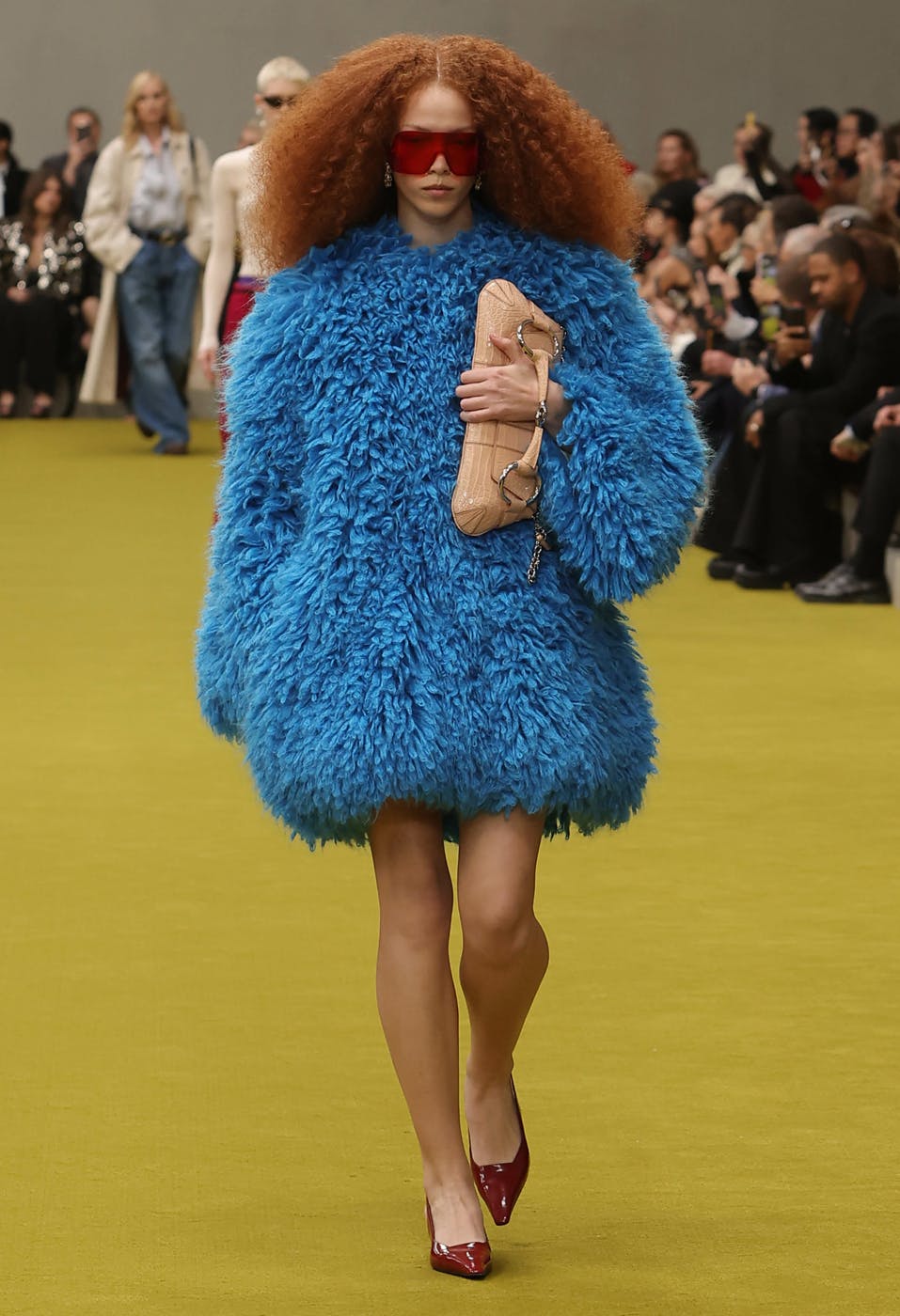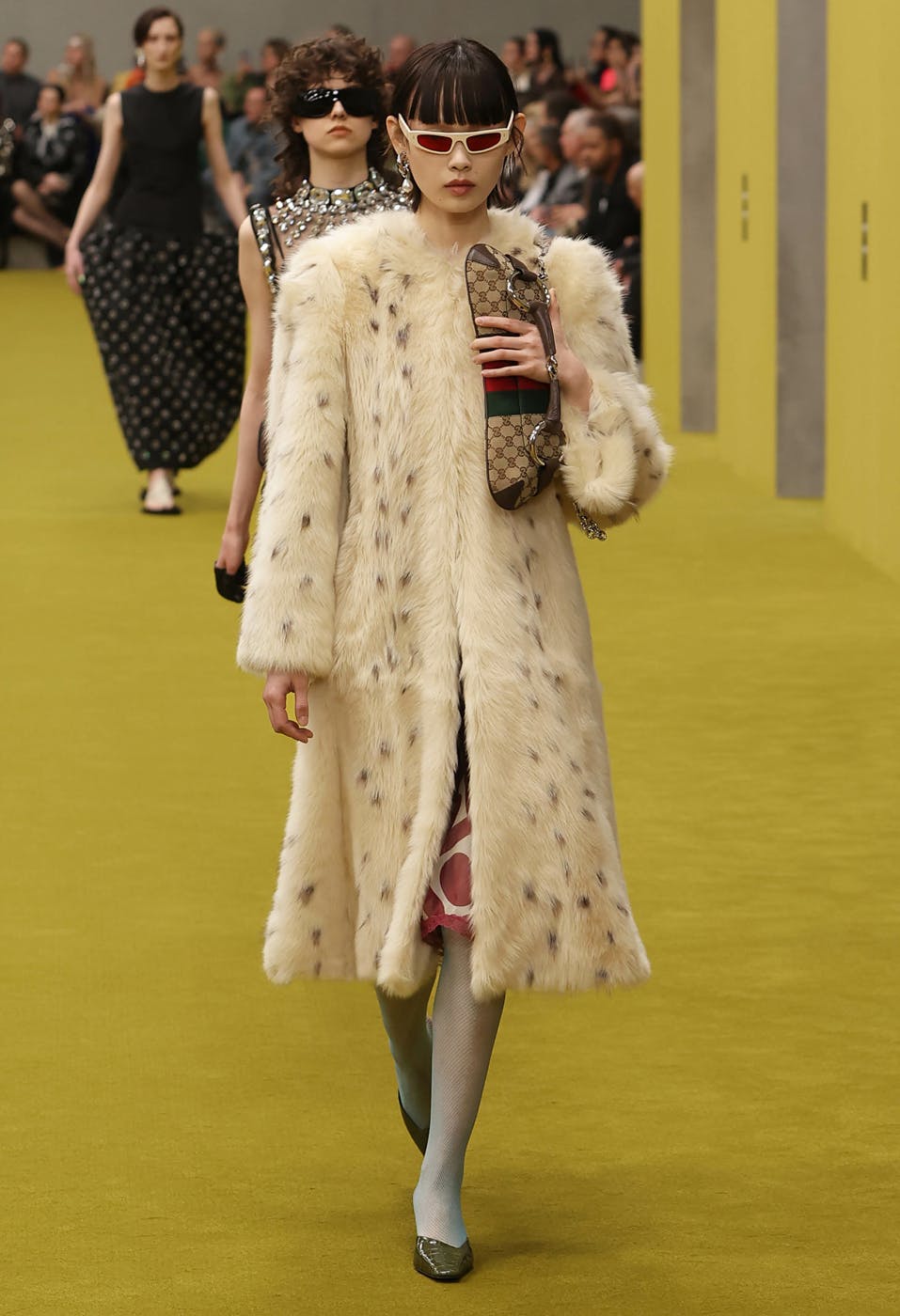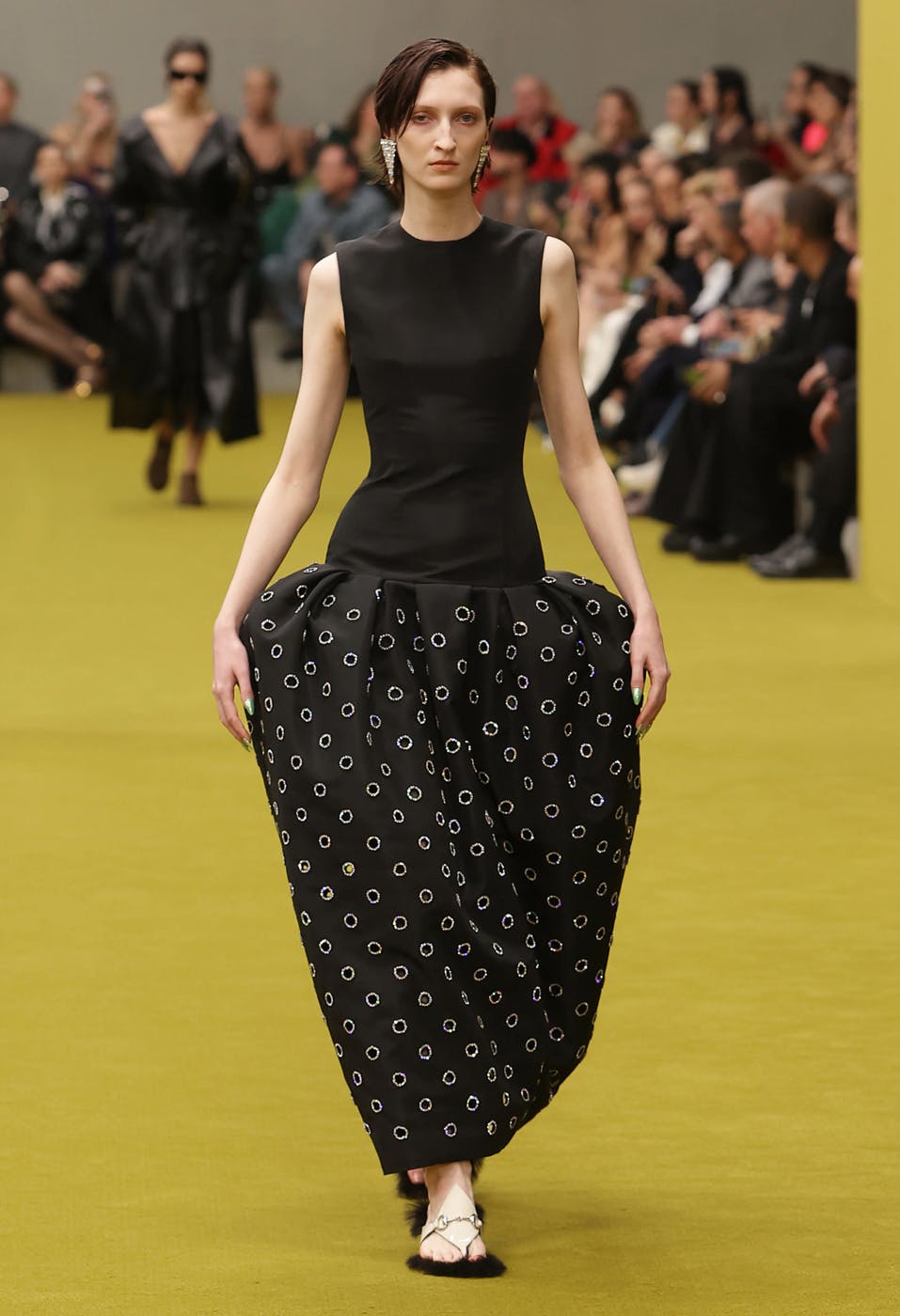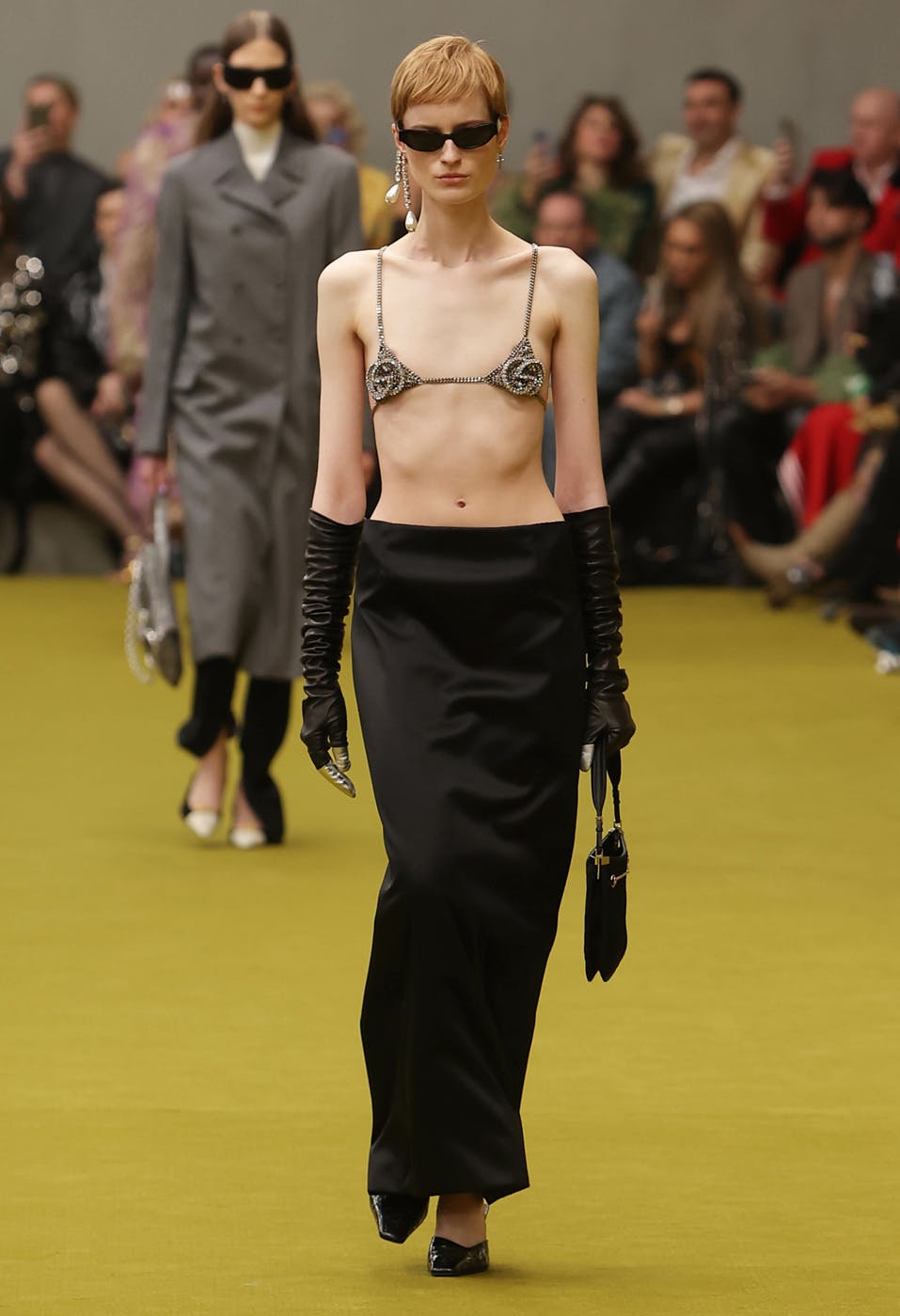 There's a natural continuation of Michele's Gucci here, in the tangible sensuality and kitschy flair — think crystal bras, sheer skirts, pink faux fur, and kitten heels — which frames the archival nods in a fresh context.
The vibe was indulgent: these are the designers who worked under Alessandro Michele for over half-a-decade, after all.
But Gucci FW23 wasn't one big Michele tribute.
Enormous hater-blocker sunglasses, flared denim jeans, and fur boots that may as well have been bougie UGGS brought Gucci back to the aughts, when Tom Ford brought Gucci's sexy back.
And even then, there's more. Gucci is still serving deliciously overstuffed presentations, which means cocktail jewelry inspired by archival designs, dresses that channel the house's tailoring heritage, and riffs on handbags from the '70s and '80s.
Sashaying shearling, tinsel-y fringe, plush-ified Jackie bags, rubber-soled Gucci loafers, and Michele's geek-chic sweaters were all here, too. You can't do too much with a Gucci collection.
That's one of the things I hope that De Sarno doesn't do, actually: part of the joy of Gucci is its exaggerated indulgence, its resilience to be generalized as a single thing because it's simultaneously every thing.
I hope that air of exuberance is maintained, even if the actual aesthetic shifts.
Speaking of aesthetic shifts, how about new Gucci ambassador A$AP Rocky hanging out with burgeoning K-pop outfit New Jeans???
As usual, Rocky was the main event at the front row but New Jeans, currently on the rise in a big way, gave him some good competition.
No Rihanna, sadly, but she's in Milan somewhere with baby number one in tow.
Her not being there may have been good for Gucci, actually, since her presence coulda swiped the clothes' spotlight. Instead, nice balance and good looks all around.