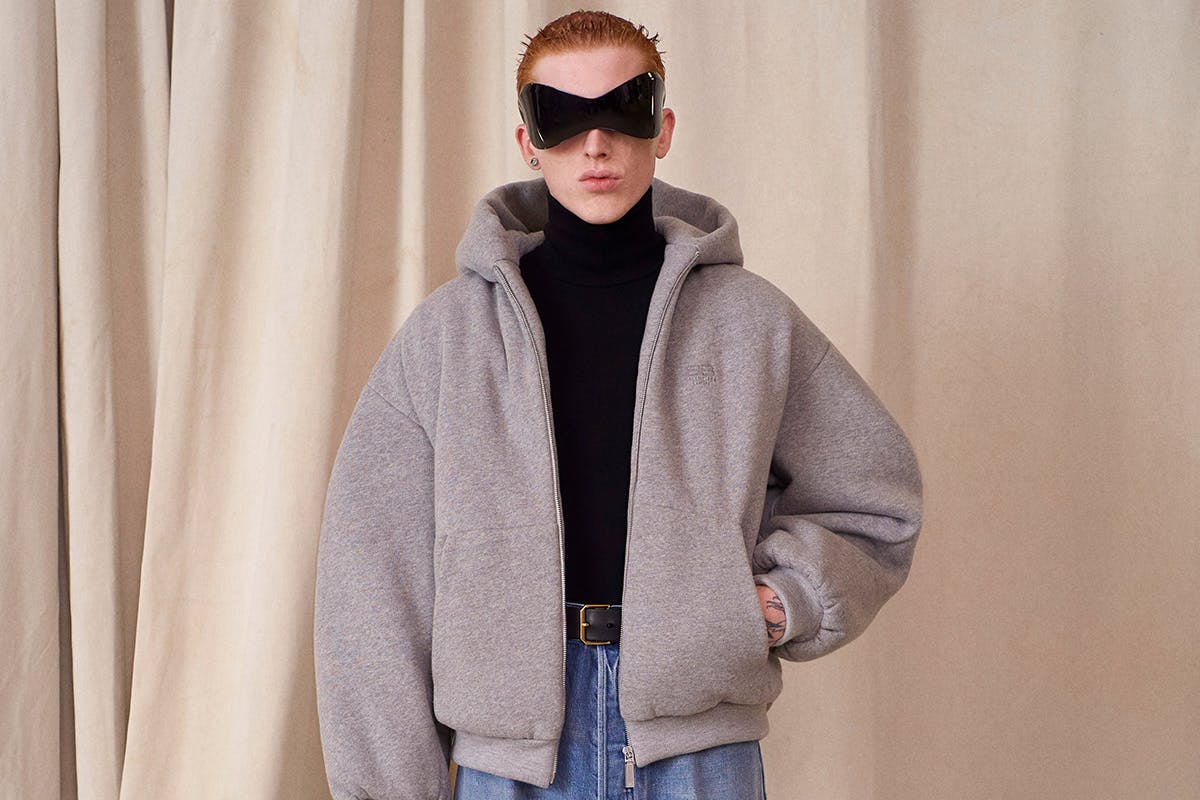 Kanye West, Juergen Teller, Bella Hadid, and Anna Wintour were at the Balenciaga's couture show in Paris last year, bearing witness to, alongside a long list of other standout pieces, look 38 — a zip-up, grey hoodie. It was ultra-basic, but it looked plush as hell.
As if the humble hoodie, which many of us have relied upon more than ever in the stay-home era, needed more vindication — Demna and Balenciaga go and stick the most simple of staples on the most anticipated of runways. This was Balenciaga's first physical couture show in a huge fifty-three years and it served as a reminder of the love this hard-working garment deserves.
This is the wardrobe essential that can do pretty much anything. As well as couture runways, it'll handle summer evenings, long dog walks, nights in, nights out, and everything in between. Hoodies are crazy tough, too. Good ones will brush off years of mistreatment, hot washes, and begrudged borrows and still be solid.
Of course, your trusty Uniqlo one might be fine, but with the above in mind, we're turning to exceptionally high-quality hoodies that are worthy of a little more investment. While we await Demna's latest take on the staple, we've picked out some luxe options from the likes of Loewe, Stone Island, and Acne Studios.
Shop some of the internet's best investment hoodies below.
ACRONYM S26-PR Hoodie
Widely considered to be the upper echelon of techwear, ACRONYM's S26-PR Hoodie is proof that appearances can be deceiving. Constructed with two lightweight layers to keep your personal belongings stashed, it also features a rapid adjust tape to keep the hood in check.
Rick Owens DRKSHDW Granbury Hoodie
Rick Owens' DRKSHDW collection is filled with unconventional styles, like this purple monochrome hoodie complete with drawstrings where you'd least expect to find them.
Loewe Paula's Ibiza Palm Print Hoodie
Finding the right graphic hoodie can be tricky but Loewe has got you covered. Part of the popular Paula's Ibiza collection, this medium-weight hoodie is perfect for breezy nights on the beach or layering when it's a bit colder out.
Yeezy Gap Engineered by Balenciaga Dove Hoodie
There was a time when anything Ye dropped was a must-have. Whether that time has come and gone is up for debate, but his GAP collection engineered by Balenciaga is an instant classic, and may even appreciate in value.
KARMA8A x Highsnobiety HS Sports High Hoodie
The classic logo hoodie is all about deciding which tribe you want to represent and quite literally wearing it on your chest. If you want to be part of the exercise and style-driven HS Sports tribe, then this hoodie is for you.
We11done Cut-Out Logo Hoodie
You don't have to sacrifice functionality to be pretty in pink. The South Korean style aficionados add a touch of tech with the Cut-Out Logo Hoodie, furnished with breathable vents at the side-seam.
A-COLD-WALL* Essential Logo Hoodie
At this point, the name A-COLD-WALL* might as well be a synonym for high quality. Samuel Ross' future thinking style continues to lie in simplicity done ridiculously right. Logo pieces like this one are always smart investments as they tend to stick around.
Rhude A Perfect Day Hoodie
Aside from making fire Zara slides, Rhuigi Villaseñor has been dropping hit after hit with Rhude. This screen-printed graphic hoodie has a faded finish that works well for any day.
Stone Island Fleece Hoodie
The timelessness afforded by brands like Stoney is always a smart path for investment. The compass emblem has been on the arm of Stone Island gear for decades and here it adorns a dyed, purple-colored hoodie from the Italian outdoor wear expert's latest collection.
ERL Cotton Hoodie
A little bit of appliqué on a hoodie can go a long way. Pair this one with your favorite threads to add a splash of color to your fit. Chastity belt not included.
Acne Studios Hooded Sweatshirt
Taken from Acne Studios' "Face" subline, this hoodie delivers the Scandinavian label's focus on craftsmanship and timeless designs. Made from organic cotton, a tonal "face" logo subtly adorns the left chest.
GmbH Logo Hoodie
The champions of forward-thinking club attire deliver a boxy-fitting hoodie to keep you at ease on your way to the afterparty, or simply to work.
Helmut Lang Cotton Hoodie
If you're one of those types who lose the drawstring in your hoodie, then this Cotton Hoodie embellished with oversized eyelets is just for you.
Want to keep browsing? Head to the Highsnobiety Shop for more products that we love. Highsnobiety has affiliate marketing partnerships, which means we may receive a commission from your purchase.