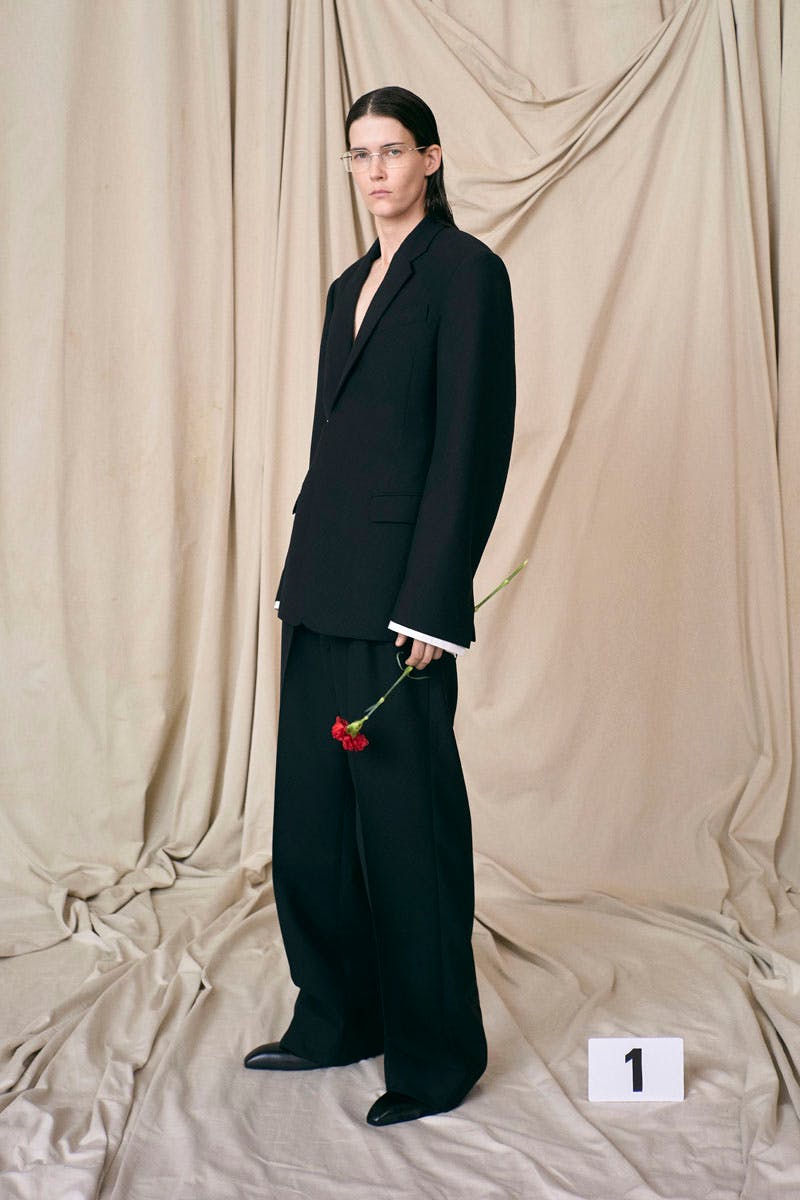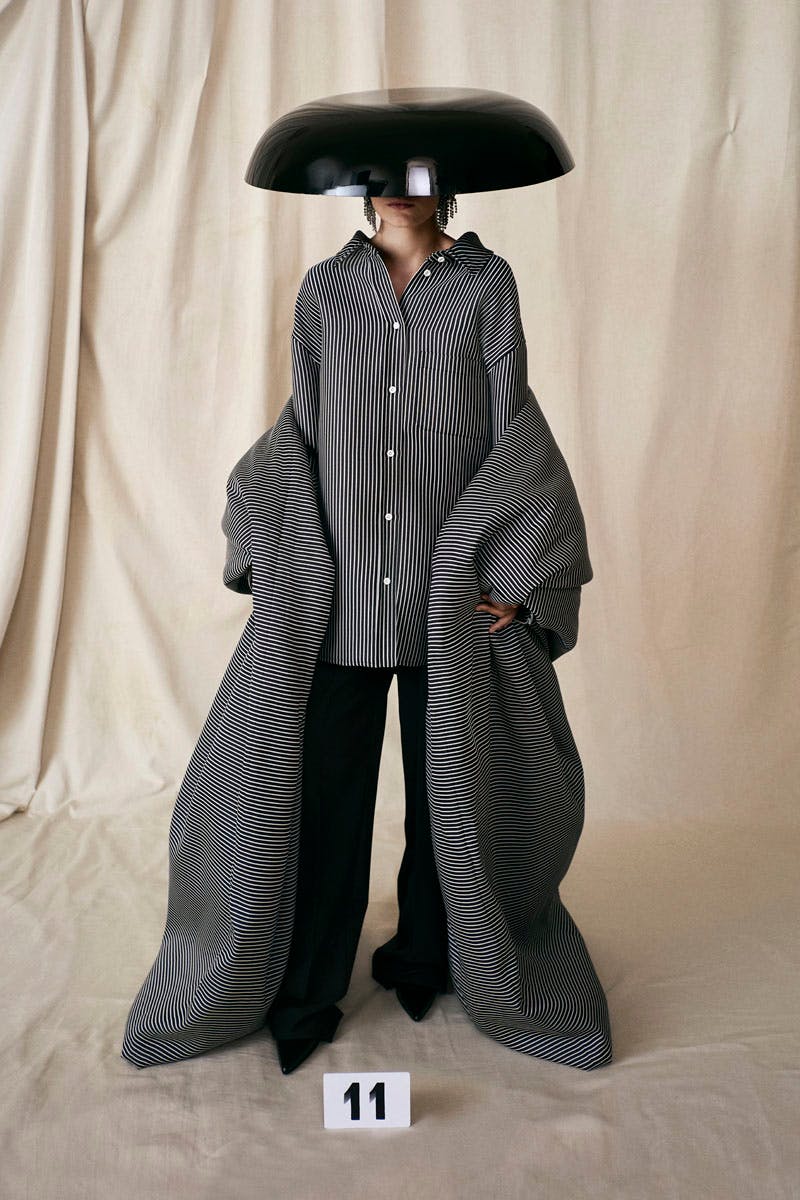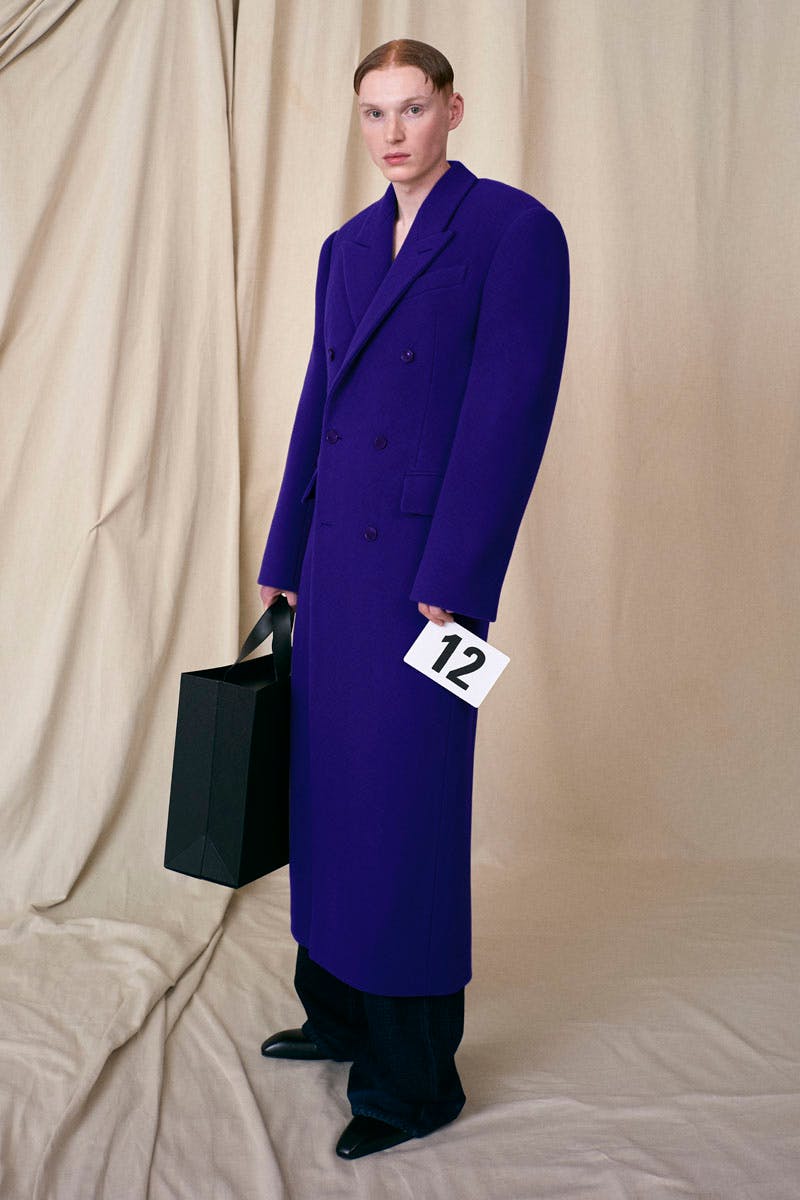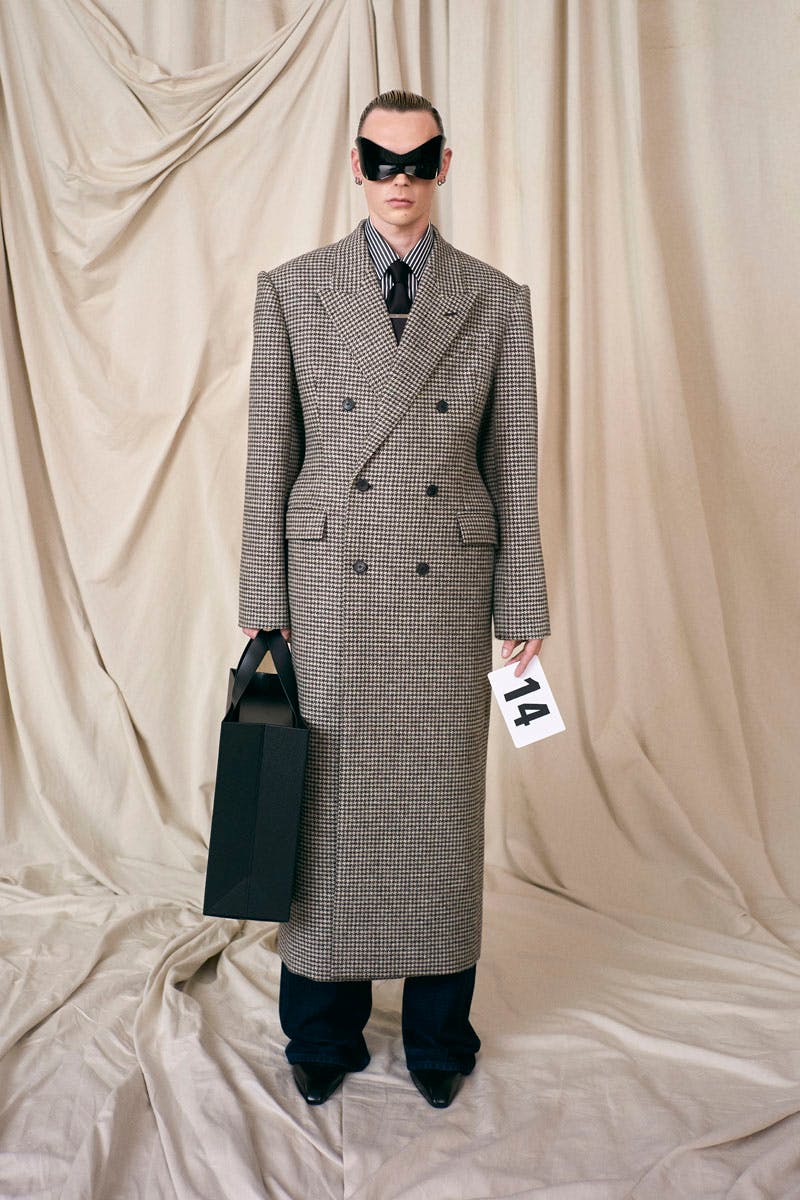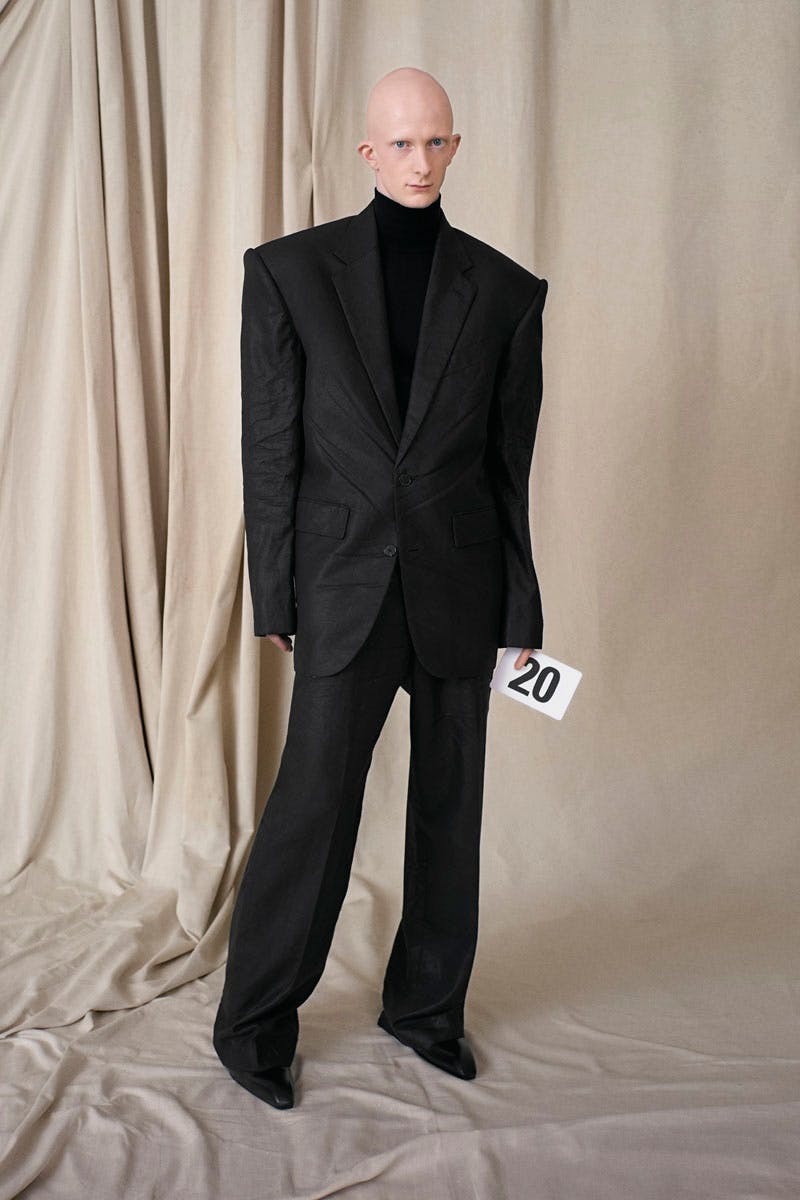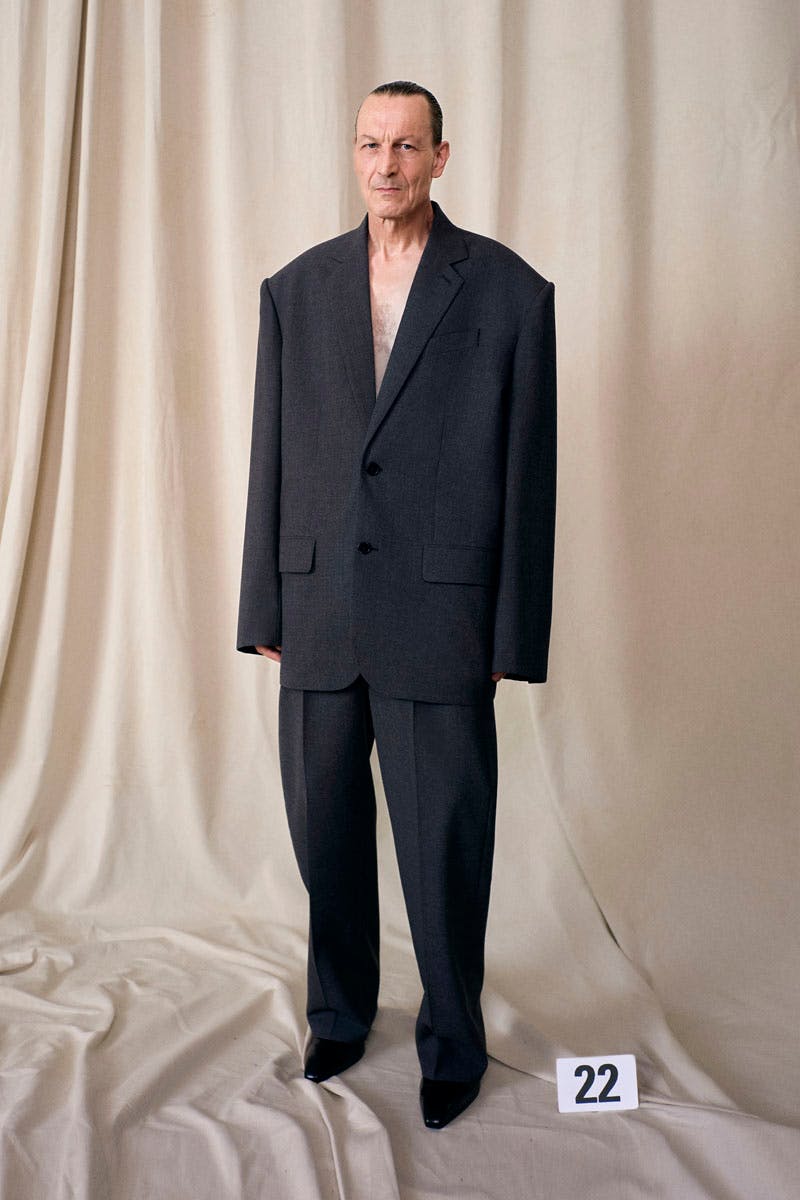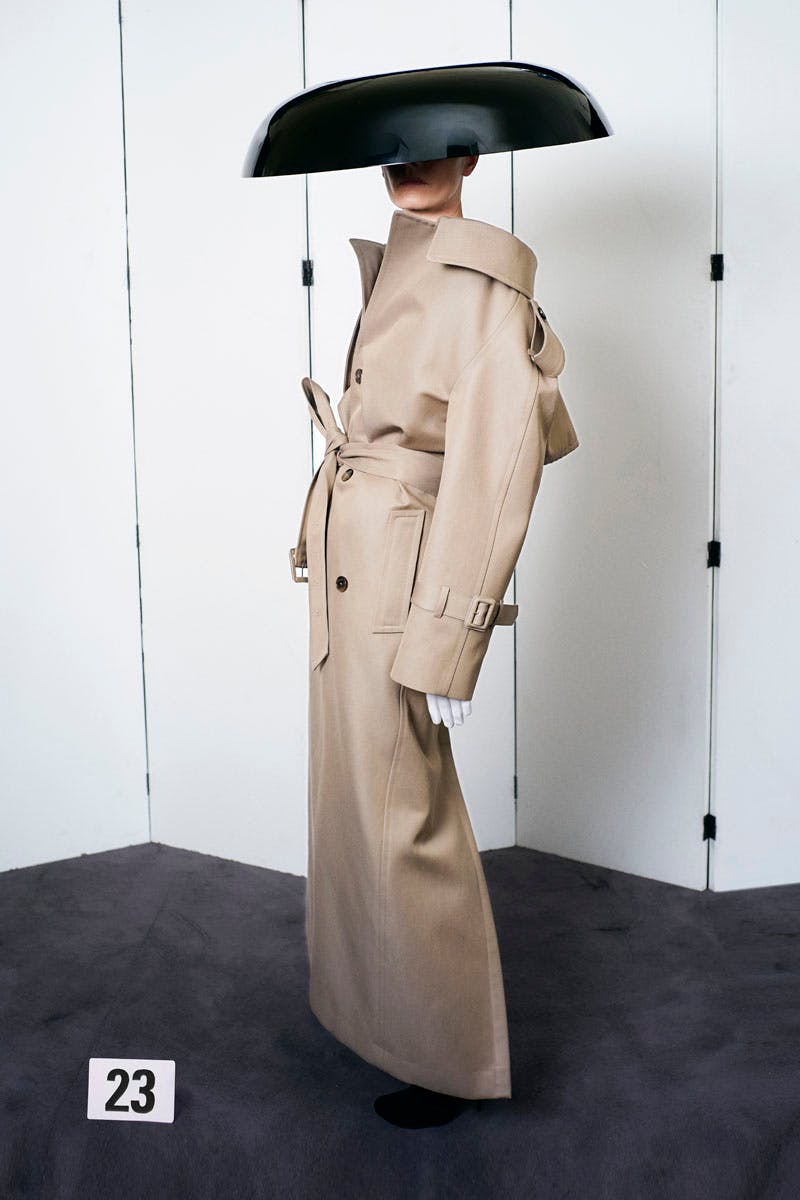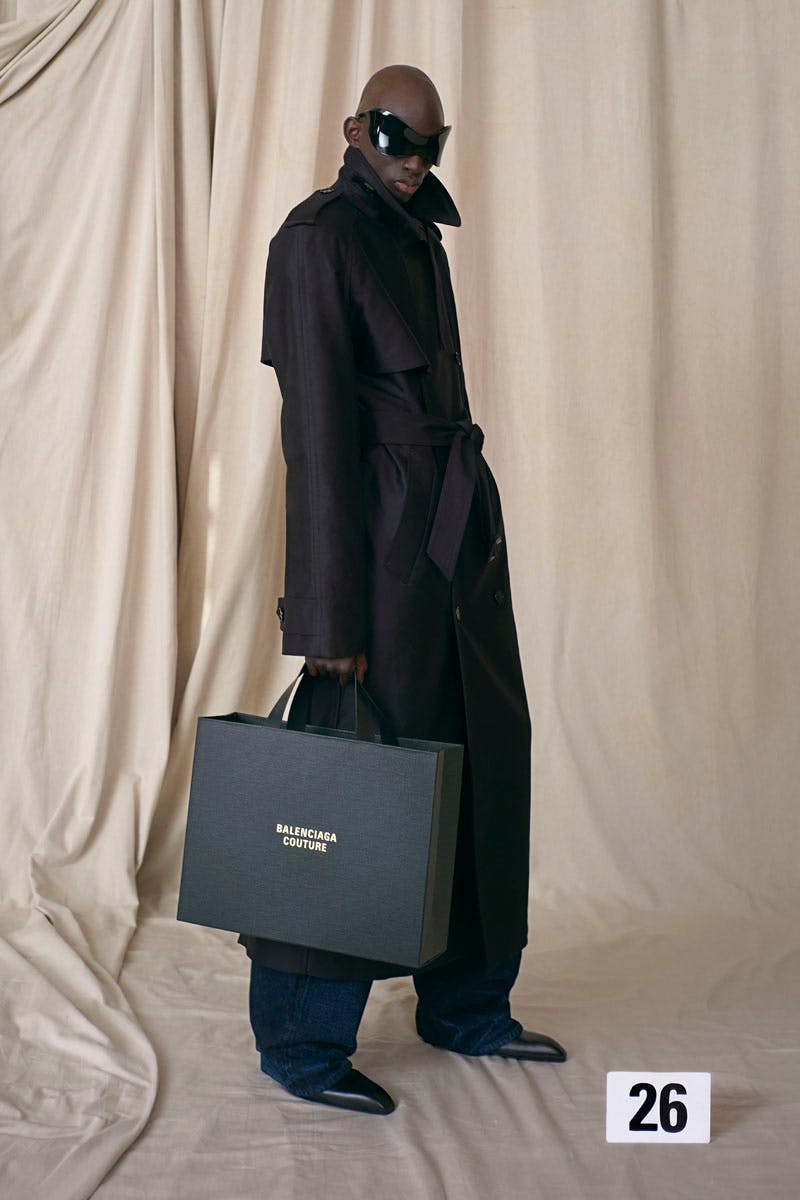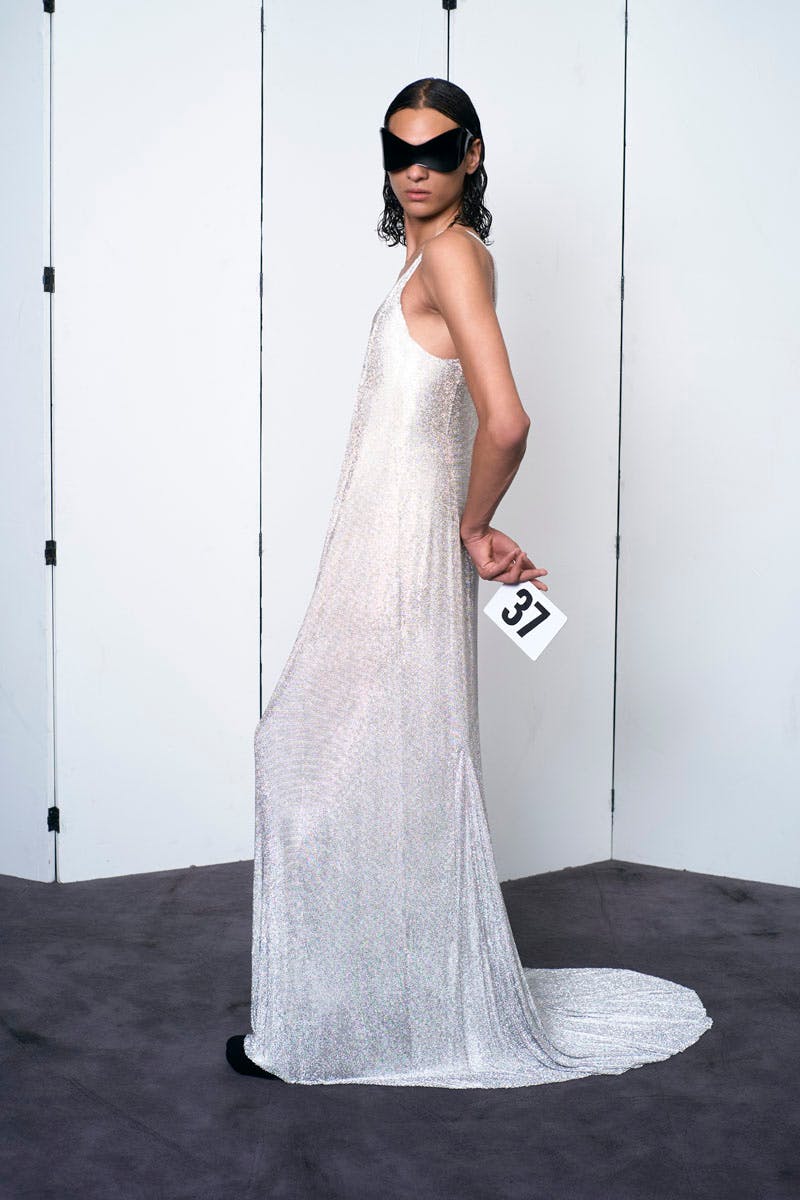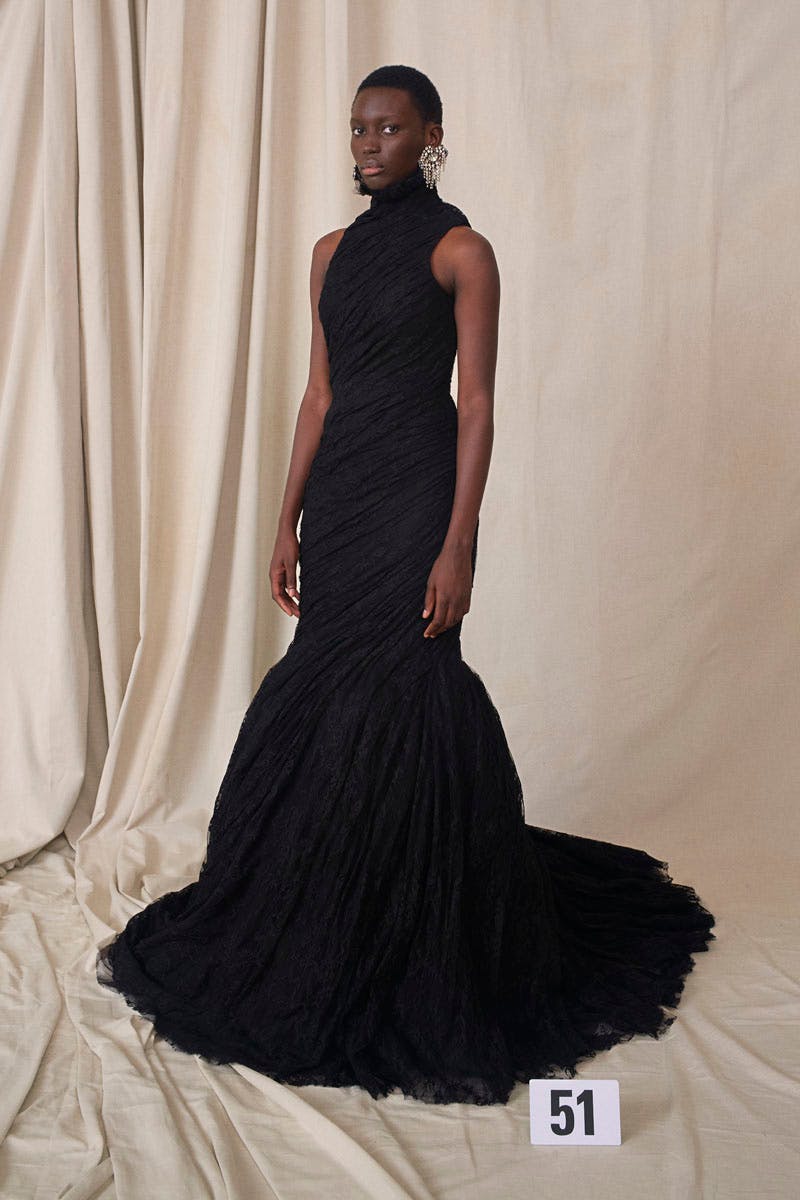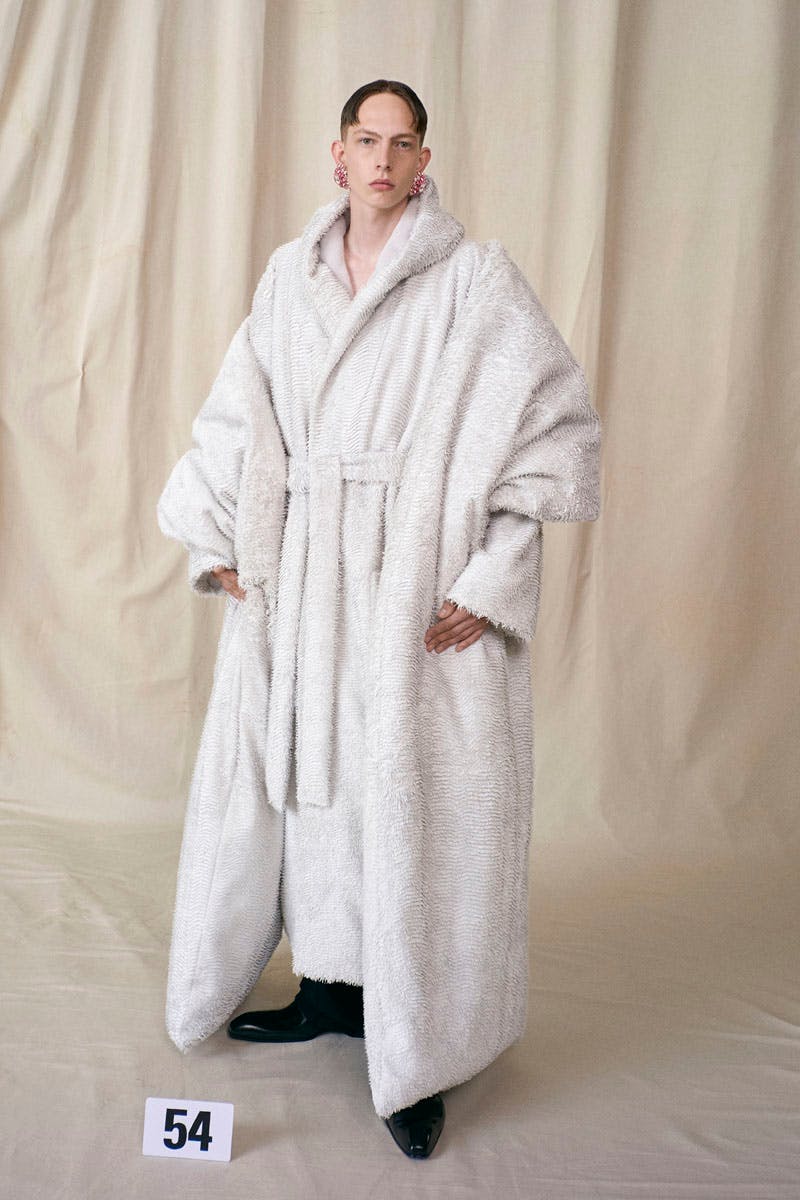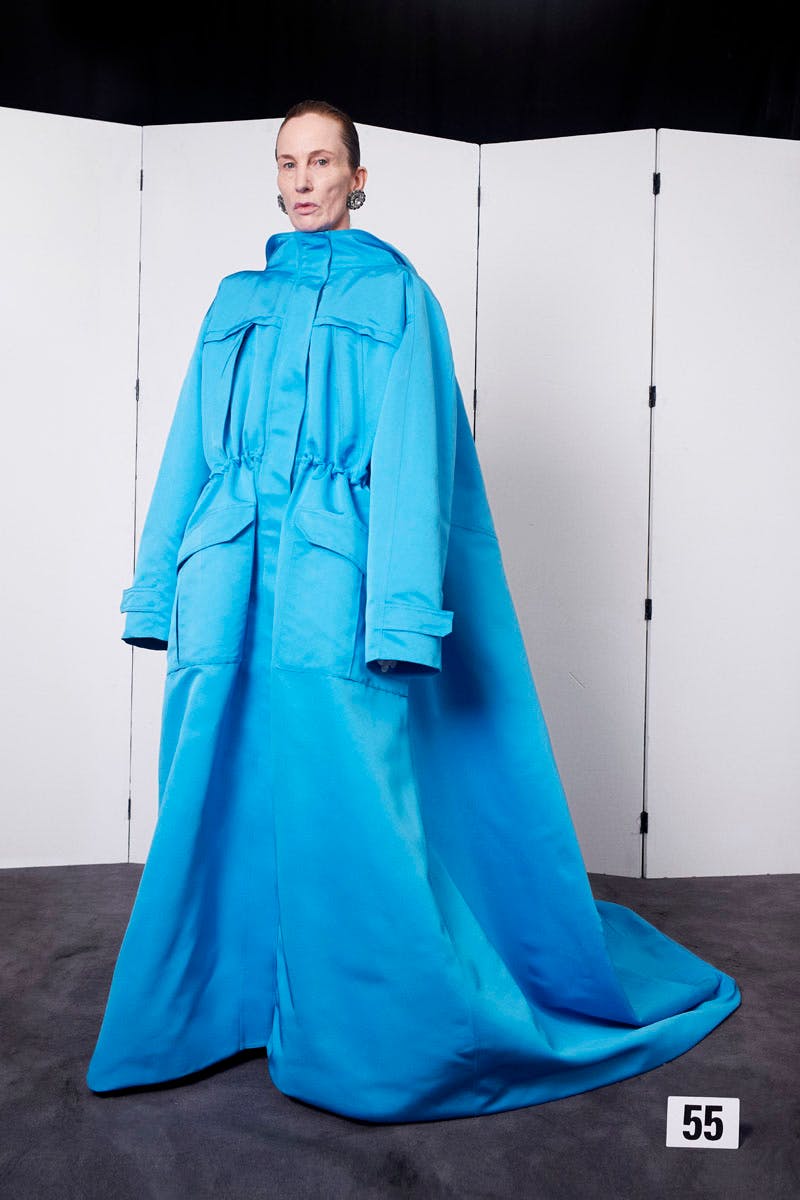 It has been a hot minute since Balenciaga put on a physical couture show, fifty-three years to be exact. We were ready for their couture unveiling a year ago but its Creative Director, Demna Gvasalia, put anything physical of this nature on hold due to the pandemic.
Today, however, Gvasalia revealed what he had been cooking up over the past year, an outing that marked Balenciaga's 50th couture collection, which was attended by the industry's biggest editors including Vogue's Anna Wintour, BoF's Imran Amed, and photographer Juergen Teller in his signature shorter-than-short fluorescent shorts. James Harden, Lil Baby, and Bella Hadid sat elsewhere, couture's new gen. And then there was Kanye West, in a never-before-seen black colorway of his "Round" Yeezy Gap coat paired with a zipped hooded hoodie, adidas Foam Runners, and white sports socks by… Nike?
Back to Balenciaga. Under the roof of 10 Avenue Georges V in Paris, Gvasalia rebuilt Cristóbal Balenciaga's original couture salon, but something was different. As if time had stood still, ceilings were moldy, the dry walls appeared dirty, and silk curtains contained water stains. The decor symbolized the notion that nothing has changed, yet everything has changed, a thread throughout the show presentation.
"Over half a century later I see it as my creative obligation to the unique heritage of Balenciaga to bring couture back to his house," noted Gvasalia in the show notes. "It's the very foundation of this century-old mansion."
The pandemic gave vision to the Creative Director and the relaunch of couture completes his multi-layered vision for the brand has has come to encompass streetwear staples, conceptional (yet often commercial) fashion and wardrobe, and finally one-of-a-kind and made-to-measure couture pieces.
In a September 2020 interview with WWD, Gvasalia announced the brand would produce couture for men, believing men are ready for this type of high fashion. "I think men came to the point [where] they want to wear couture as well, and I know that we have some customers that will love that," he said. "I want to kind of erase the gender identification of couture being only for women, or only for older women who have money to afford it."
And today he did. Signatures of Gvasalia's Balenciaga including broad shouldered tailoring and tweed overcoats, off-the-shoulder denim jackets, hourglass-shaped dresses, and big insect-like glasses merged with familiar classics of couture past, like exaggerated headwear, costume jewellery, long white gloves, and a wedding dress finale. All appeared on men in heels who wore eyeliner, women of all ages, and Ella Emhoff, the artist-turned-model and stepdaughter of US Vice President Kamala Harris. Balenciaga couture leather shopping bags, classically structured couture shapes in workwear, and t-shirts, hoodies and bathrobes perversed our notion of couture, despite being meticulously crafted with the same materials and sophisticated techniques that paid tribute to Cristóbal Balenciaga.
Luxury redefined, best put by High Fashion Talk's Director Lewis Edwards who took to the fast-growing Instagram page, that he runs with a collective of writers, after the show. "Luxury is often a facade, some old concept of what is and isn't it which relates in no way to how people use them or live their lives. Everything is labeled luxury, down to the mediocrity of ready-meals. The concept is abstract," he said. "Perhaps the last luxury is privacy, where anyone can be doxxed online, the redux head dishes, reflective visors, identical grooming, and the bride's veil that closed the show provided the models with a screen between them and the world. It's funny how fame is so desirable but soon enough we realise privacy is the real luxury and freedom in our lives."
For the collection, the Vetements co-founder collaborated with experts, including Philip Treacy on hats, Atelier Jean-Pierre Ollier on embroidery, and storied fabric houses including Dormeuil, Taroni, and Forster Rohner. The iconic C.B. initials were hand-embroidered to add personal touches to the men's looks from the silk ties, poplin shirts, and leather gloves. Tailoring came in fresco, mohair, cashmere, and barathea wool.
If that sounds expensive, it's because it is. Gvasalia has sought to create couture at his highest level of design. Yet, for couture to survive today, it must also be functional. "Couture isn't only relevant in today's mass-productive industry, but even absolutely necessary for the survival and further evolution of modern fashion design," he said in the show notes.
Where some of his silhouettes have felt repetitive at times, his accessories too commercial, and the overall brand too reliant on logomania, Balenciaga and its Creative Director today proved that good reinvention will drive excitement. And just like that, Gvasalia redeemed himself, at the highest level.