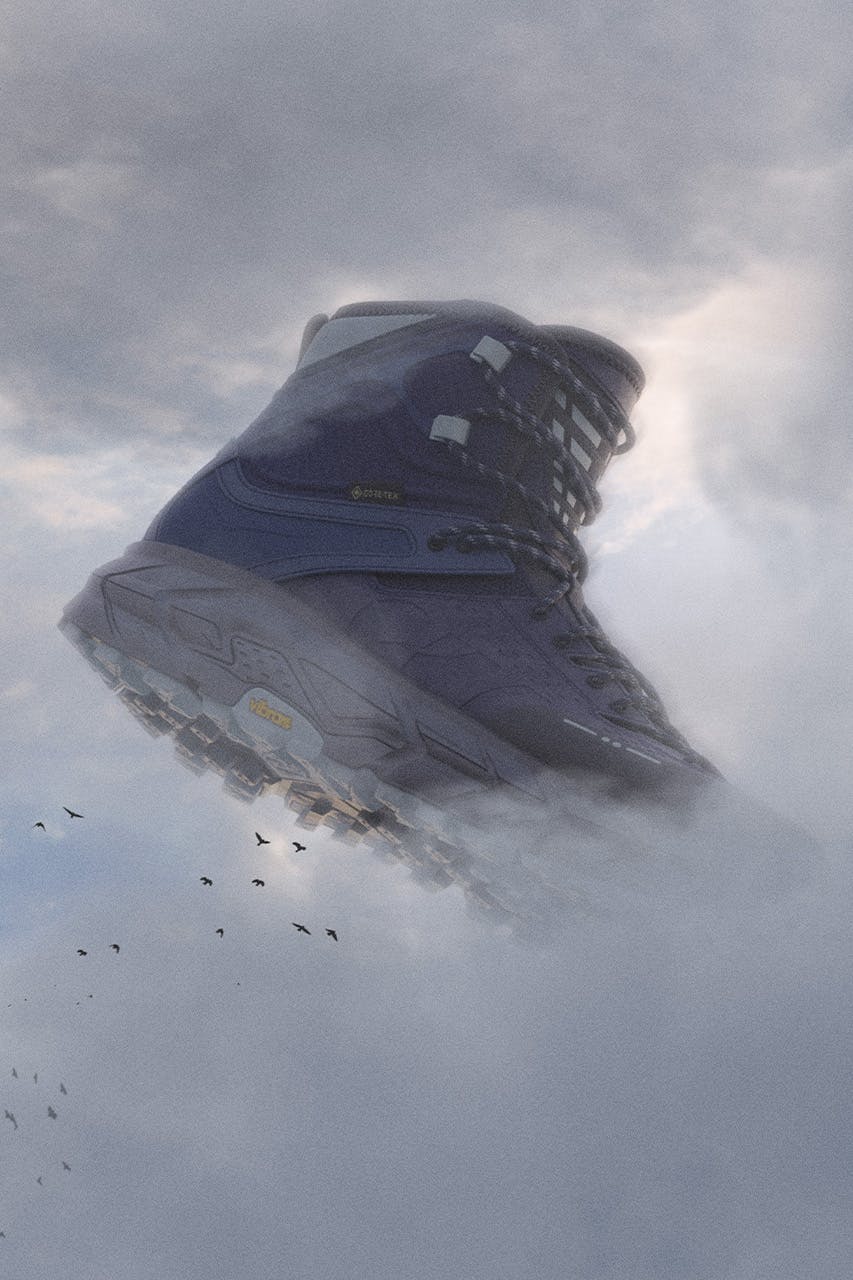 Did you hear? There's an outerwear renaissance happening in London. Whether it's down to a new wave of creatives in the capital, or simply its miserable climate, there's a burgeoning hub of technical innovation at its centre — and J.L-A.L is at the forefront.
Named after the initials of its founder and designer Jean-Luc Ambridge Lavelle, J.L-A.L has come a long way from its Instagram beginnings in recent years to become a fully-fledge brand that's become renowned for a particular focus on technological innovation and development, as well as for favoring experimentation over more established trends.
Going from standalone IG page to label in under three years, J.L-A.L draws inspiration from nature's ability to create protection, comfort, and functionality from simple structures, an ethos that also guides the label in both its materials and silhouettes.
For 2023, J.L-A.L is kicking things off with its biggest project to-date, after teaming up with footwear label HOKA for two takes on its Tor Ultra outdoor boot.
By leveraging its proprietary Meta-Rocker sole geometry with the comfort of a cushioned running shoe and the stability required for trekking, HOKA's Tor shoe has become a staple in the realm of hiking footwear.
"Something I've always admired about HOKA is their tendency to abstain from the norm," explained Ambridge Lavelle about the French label's eye-catching silhouettes. "I've always been a fan of their sneakers and the design language the brand has established. It's something that stems from function and has inherently become a recognisable staple within the industry."
This collaboration — which is available now — features two takes of the shoe (Tor Ultra Low and Tor Ultra High), both of which boast a full-grain leather and textile upper, plus a tough-tackling Vibram MegaGrip hi-traction outsole with a 5mm lug.
Realized in "Dune" and "Aurora" colorways — inspired by harsh desert landscapes and the aurora borealis, respectively — the collection hits the functional tick box that both J.L-A.L and HOKA are known for, as well as looking the part too.
For J.L-A.L, this HOKA link-up marks its highest-profile collaboration to-date, and one that's been in the making since day one.
"The initial conversation actually came about before my brand had been properly established," he admits. "HOKA reached out to me via Instagram over a year ago when I was still designing and making one off items. We hit it off fairly quickly and began discussing different ideas."
Accompanying the collection is a campaign shot by Stanley Hall in Iceland, which is said to evoke a balance between the synthetic and the natural, and draw parallels to the technology and materials we use in order to appreciate and interact with nature.
While the brand is still in its relative infancy, a collaboration with HOKA shows just how big the London gorp scene is right now, and hear this right: J.L-A.L is leading it.