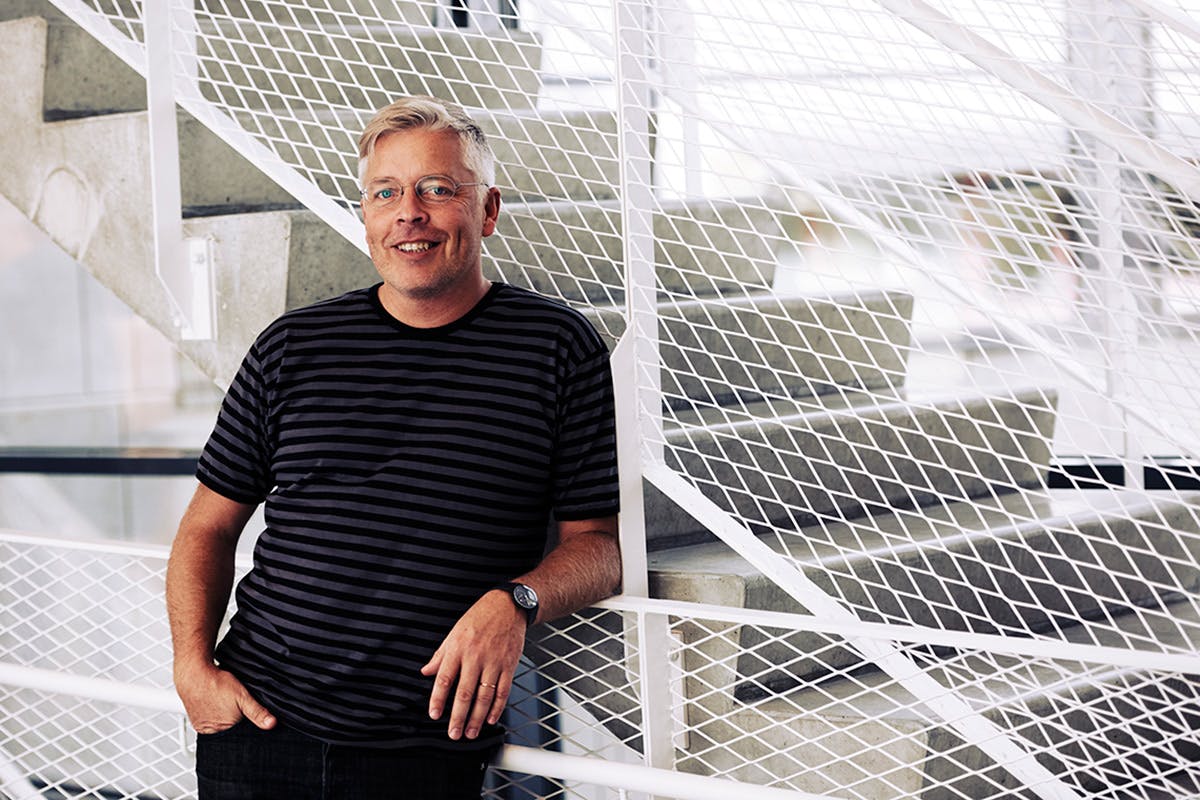 The transformation from purveyor of garish flat-pack nightmares to the new darling of the fashion world didn't take IKEA very long to complete.
By 2016, it had shaken off its reputation for missing screws and flimsy furniture, but ownership of its products was still something to keep under the polyester rug. For most millennials, buying at IKEA was born of necessity rather than choice. The price of designer furniture and a lack of disposable income meant — and still do mean — that every urbanite's house or apartment move is followed by a trip to the big blue warehouse of meatballs and occasional mental breakdowns.
But, starting first with a collaboration with menswear designer Katie Eary, the Swedish giant has quietly reinvented itself. It has reasserted its 75-year legacy as a genuine creative powerhouse with an undeniable influence on millions of homes around the world. After Eary came a visit and request for collaboration from Kanye West, before Balenciaga "took inspiration" from its FRAKTA tote bag and spawned an avalanche of custom IKEA-based pieces on Instagram.
In summer 2017, IKEA announced it was collaborating with the likes of Virgil Abloh's OFF-WHITE, luxury fragrance house Byredo, and STAMPD. Earlier this month, it revealed upcoming projects with adidas, LEGO, and Saint Heron.
One of the main drivers behind these projects is IKEA head of design Marcus Engman. While visiting IKEA's headquarters in Älmhult, Sweden for the company's annual Democratic Design Days event, we had the chance to sit down with Engman and discuss everything from the OFF-WHITE collab and its plans with adidas to millennial living and the future of furniture. Check out the interview below.
The big news from Democratic Design Days was the announcement of a collaboration with adidas, but let's first head back a year and to Virgil Abloh. How did that collaboration come about?
We met at the Milan [Furniture] Fair. That was how it started. I think Kanye was visiting us here at Älmhult at around the same time and, of course, he and Virgil worked together. That was the background for it, at least. When we met there in Milan, we were already thinking about it. We had some ideas, he had some ideas — we both wanted to help millennials make a statement with their homes.
So the initial idea was to create some statement pieces together?
For us, no. That came about when we started out working. In the beginning, we just wanted to reach out to young people and make the home important to them again. We have seen fashion, music, and other areas become increasingly important for young people — but the home has gone a little bit down. So we were thinking, "Can we do something about that?" Virgil shared our view on the importance of the home to be a full person.
How has it been working with him?
I think we learned a lot and I think he learned a lot as well. He's a great creative, of course, and I think that he thinks across disciplines. He has no boundaries for his thinking, which is good. He doesn't see himself just as a designer. He's part-architect, part-fashion designer, part-product designer. It's more on a conceptual level that we speak.
For him, I think it's been important to work with something that's not as false as music or fashion. You have to have the stamina to go through the products and then really make them good. When you work in fashion, you create things in weeks to months. Here, we talk about years. That's a big difference.
When will we be able to see and buy the full collection?
Sometime in 2019. But something might happen this fall.
A smaller drop, perhaps?
Potentially.
Potentially.
You could call that a rumor.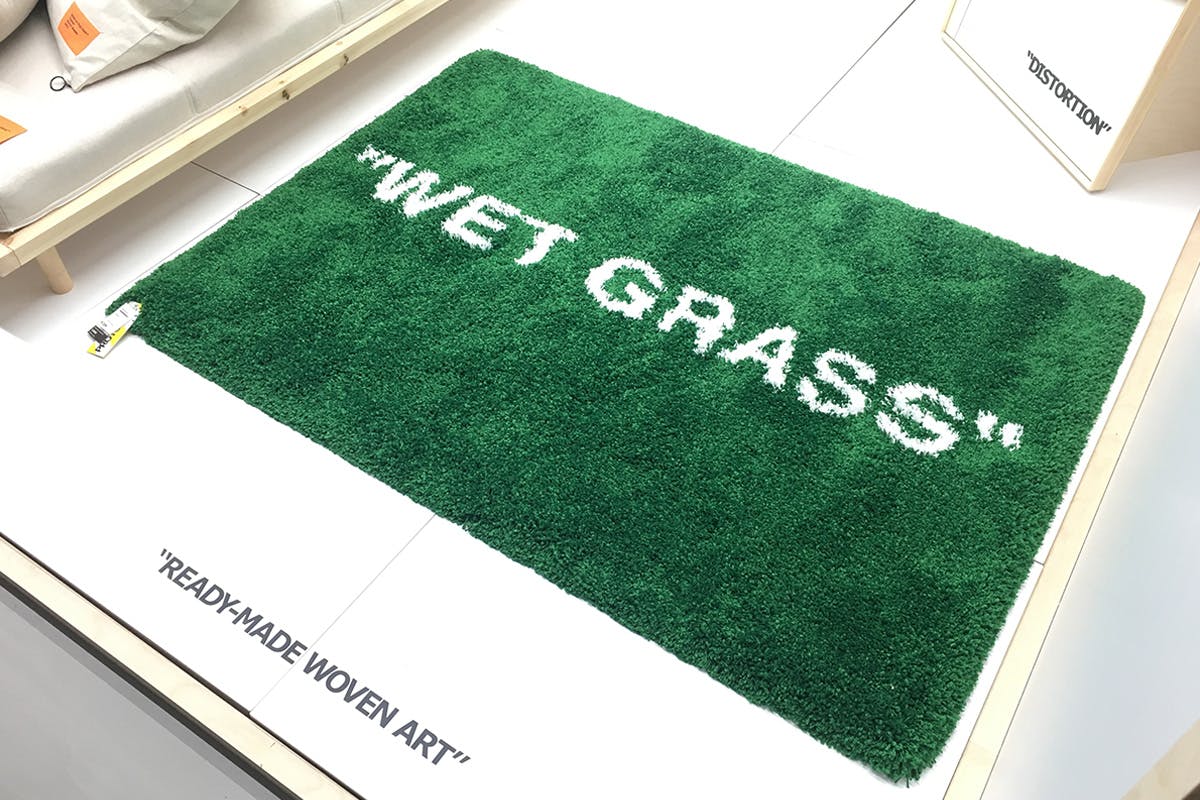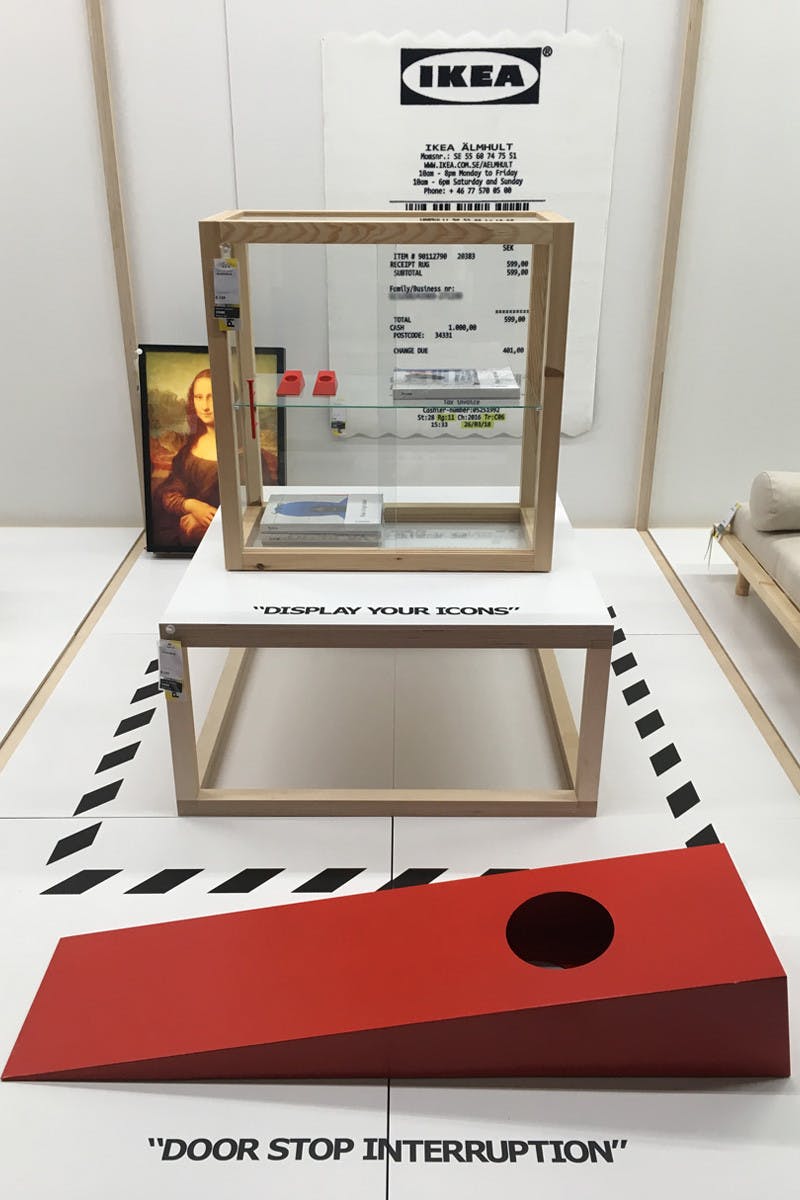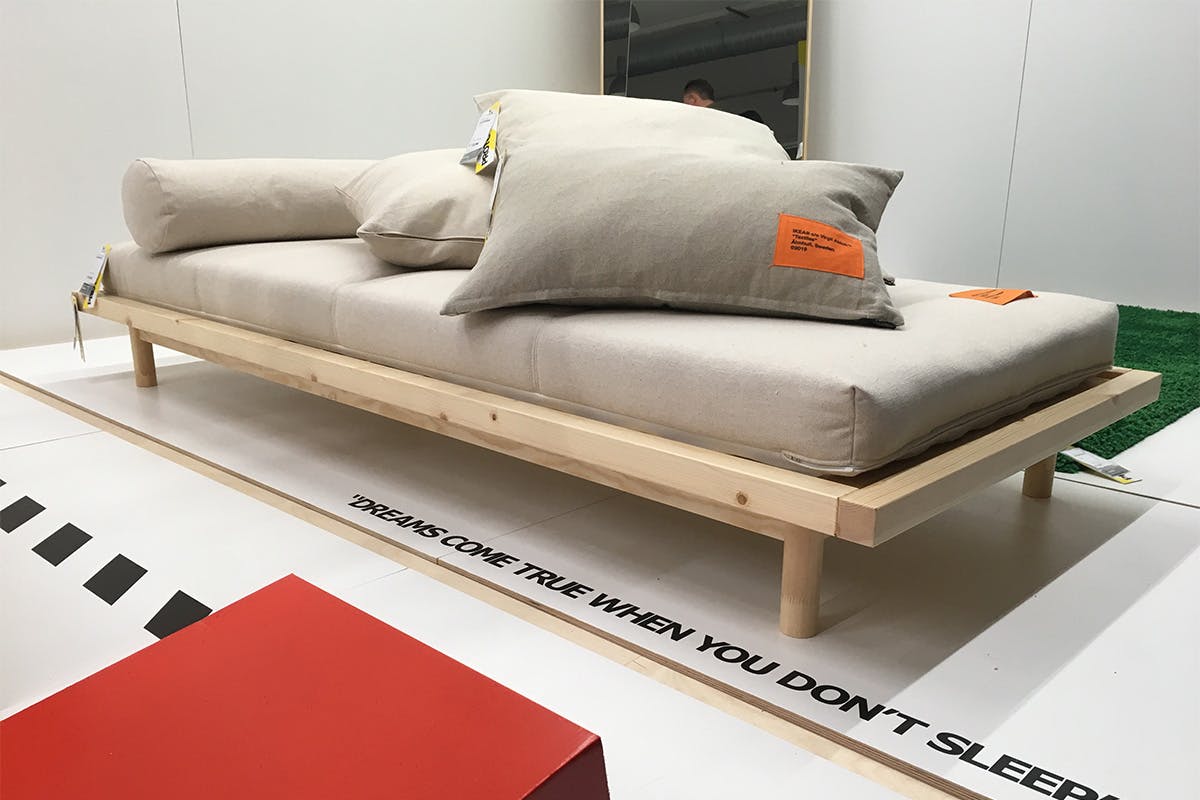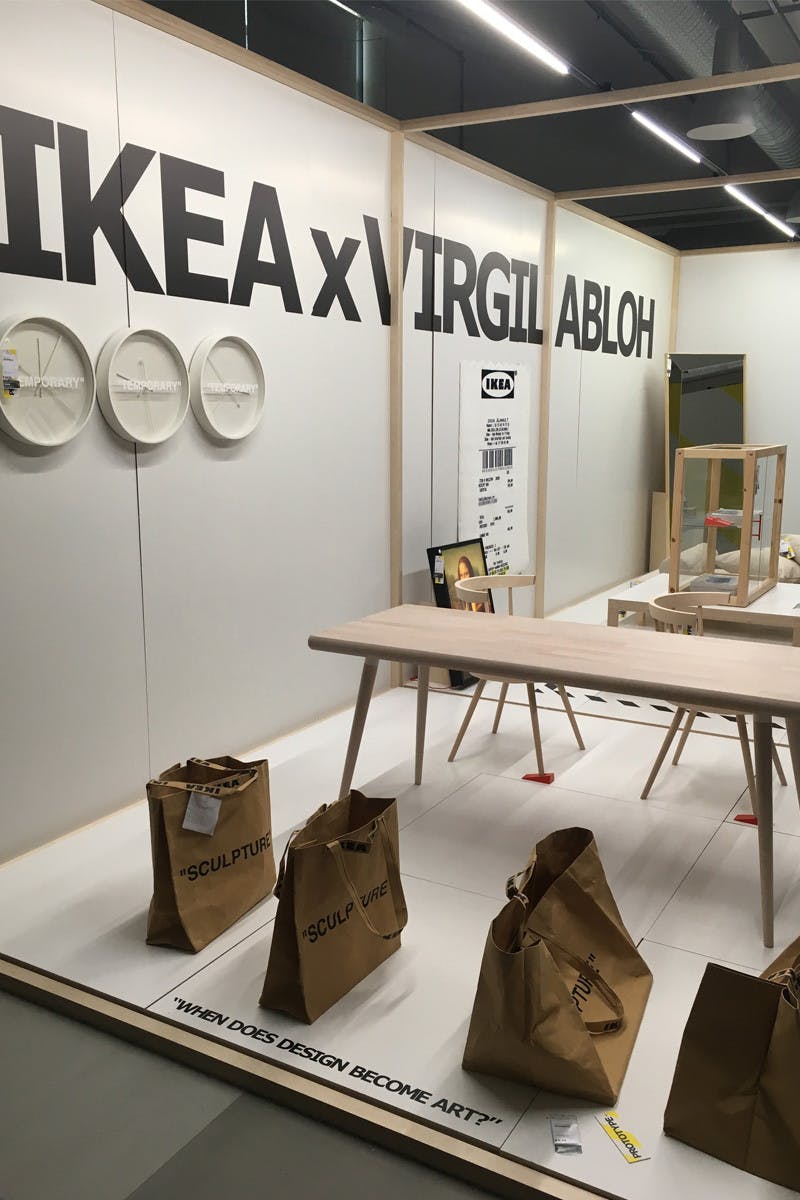 Virgil isn't the only one you've worked with from the streetwear and fashion worlds. You've collaborated with Byredo's Ben Gorham and Chris Stamp of STAMPD to name just two. Why did you choose to work with these types of creatives?
Well, the first collaborations were with Walter Van Beirendonck and Katie Eary. I have an interest in the narrative of fashion — how they reinvent themselves for every season, how they are able to do that all the time, how they tell those stories. That is something that has not happened at all within interior design, which is kind of a slow business.
So I thought we could learn from their ways of being creative and how they start off with a story most of the time, rather than a product idea. I found them really interesting, so I wanted to see how they work creatively.
Do you think that will change how IKEA works?
It's already changed, I think. I think we're far better off thinking about the narrative and starting off with the question: What is the storyline in this? Also, to put things into context, we don't work on a product-by-product basis. It's actually more contextual. That's why we do collections, for instance.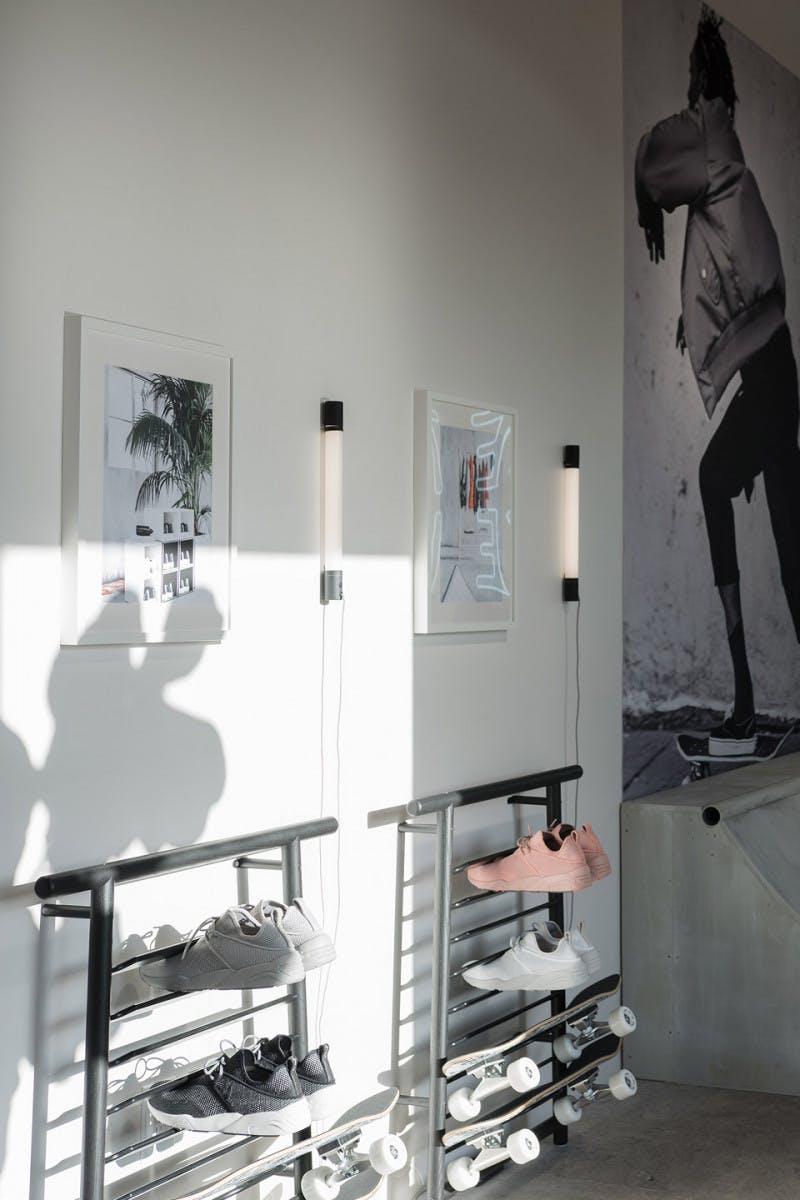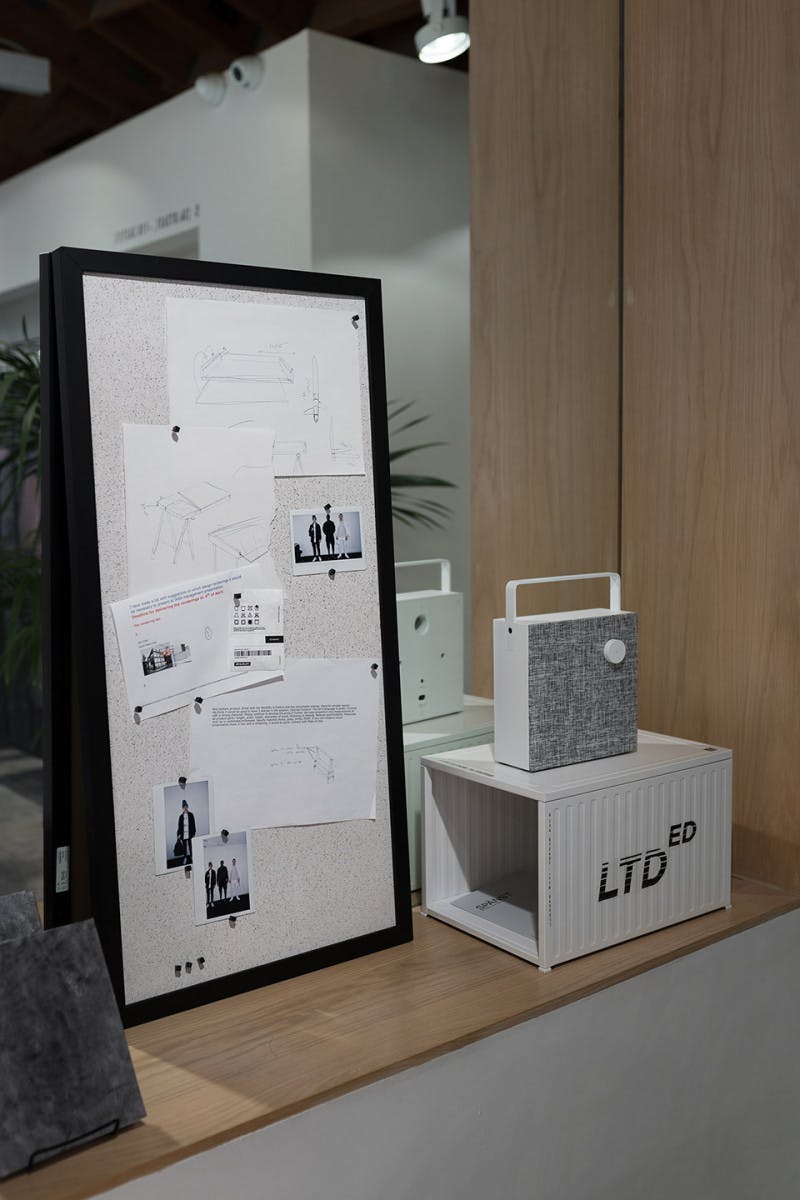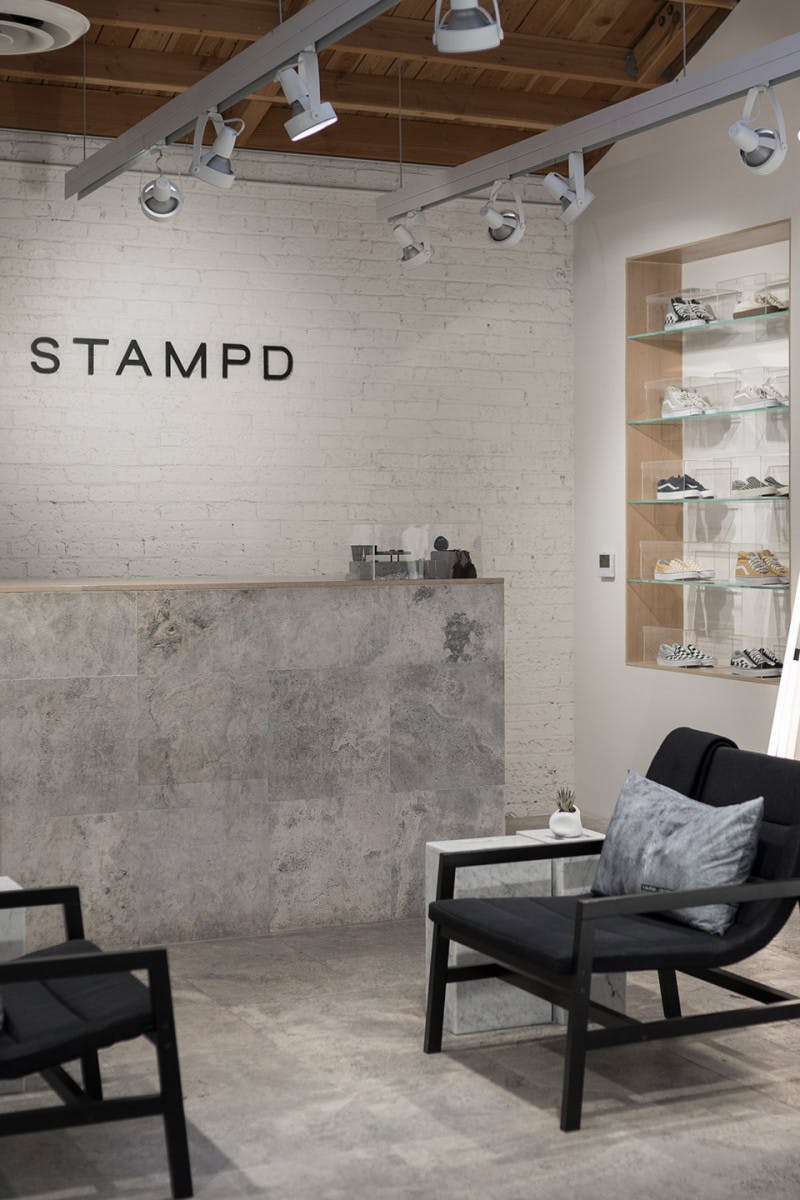 Coming back to the big Democratic Design Days announcements and the news that you'll be collaborating with adidas — what can you tell us about it at this stage?
It's very early days. We've only met a couple of times and talked about what we want to achieve together. We're absolutely not on the product level. What me and [adidas Originals design director] Josefine Aberg talked about, and what we're really looking forward to, is merging our design teams. They have a great design team and we have a great design team — what will happen if we mix them? We come from two completely different angles and I think it could be really cool.
You hinted the collection will be within the sector of sports at home?
It will be in the sector of sports at home but it will take a holistic approach. I want to work with the sleeping part. You know if you really want to go into competitive sports or live a healthy life, you need to eat properly, train properly, and sleep properly. Together, we could take on all three and make something new there.
Most collaborations in fashion tend to be difficult to get your hands on, either because they're super limited or very expensive. Will this be the case with IKEA x OFF-WHITE and IKEA x adidas?
Nope. We truly believe in the brands and their designs, but when we do stuff, we want it to reach as many people as possible. When we do things, we don't even call them "limited collections" — they're more time-restricted. Usually, when we run out of things, it's because of new production methods or those types of things that mean we can't make it in on a larger scale. The problem for IKEA, which is also what's good for IKEA, is that we have 2 billion customers. When we stock something, we have to do it at scale. We don't want to generate hype by keeping it limited. That's not the idea.
So anybody who wants to buy a piece will get one?
I can't say that we're going to supply everybody around the world because there seems to be really big demand for Virgil. When we started out working with him, it was big news. Now it's huge. That has happened during a year. It's really hard to foresee actual numbers but we will try to cater for as many people as possible.
Are you anticipating people lining up the day before and camping outside stores to get hold of it?
I can see that happening.
Similarly, not only are collaborations usually limited, they're often expensive, too. We've already seen some of the Virgil prices and that's clearly not the case here.
No, we want to make everything affordable. We work together, we create some extraordinary designs together, but it has to be affordable. This is not Virgil Abloh. It's Virgil Abloh and IKEA. Even if we were to work with a brand like Louis Vuitton, it would still be at IKEA price levels.
Young people today move around more than their parents and grandparents did. In part, I guess, because the internet has brought the world closer, meaning people aren't as afraid to move cities or countries these days. But housing markets in major cities are becoming trickier to navigate, with temporary contracts, rising rents, and a decreasing amount of available living space. How will IKEA adapt to help millennials in these challenging times?
I think the key is to design things that can be repurposed. If you look at the comfort series we did together with Tom Dixon, it's all about repurposing. You could buy it as a bed but then make it into a sofa, or make it into something else at the end of the day. Its variety of uses is good for sustainability. It has longevity in your home, both in terms of personality but also in function. That's important.
IKEA has been famous for our flat packs and do-it-yourself philosophy. In the past, we focused on "How do you put this product together?" Now the focus is on "How do you tear it apart again?" Because we know that people are moving and moving often — you need to make it easy for people to tear it apart and put it together again.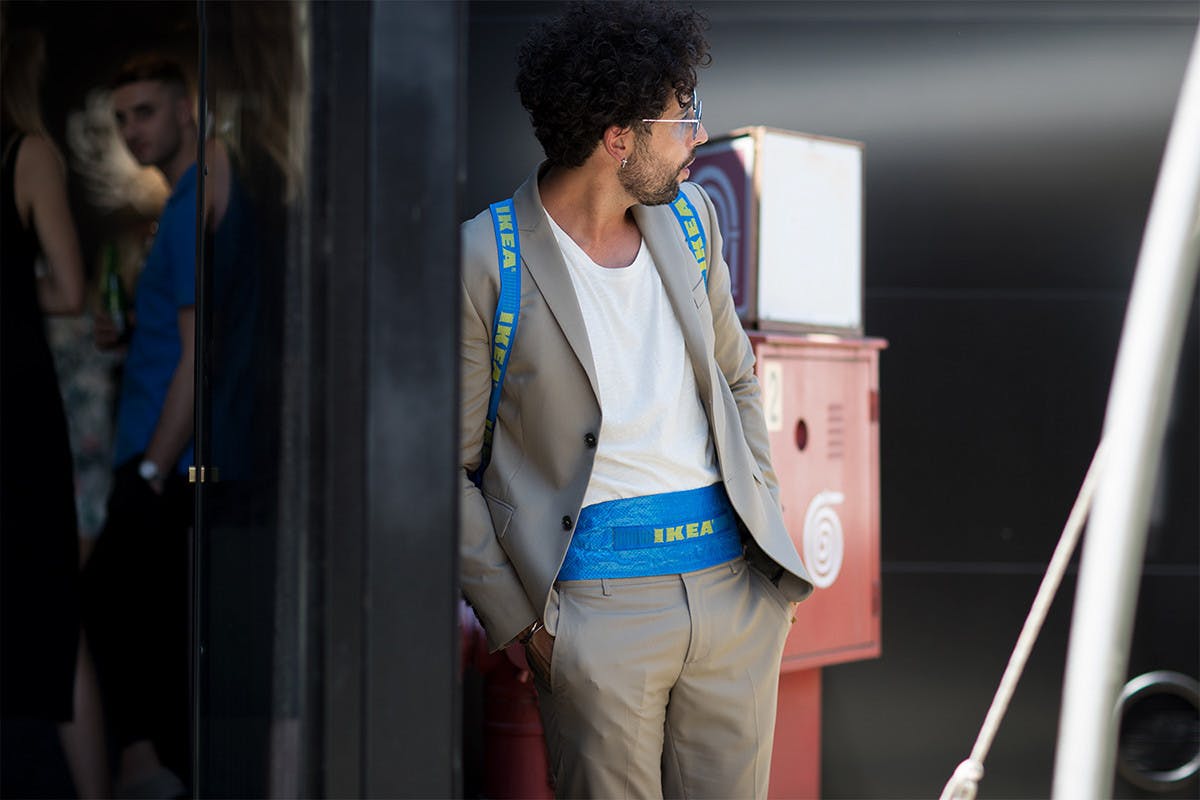 What do you think millennials want in a home, or rather, what does "home" mean for millennials?
It's a bit of a shift from previous generations. What young people want and what they can have are two different things. You can see it in the living situations that a lot of young people have today. They have to move a lot and they live in secondary housing all the time. Sometimes you move every six or eight weeks, and then your home reflects that. What I've seen during home visits, and also with my two daughters — one is living in London and the other in Stockholm — is that things such as small decorative lighting and souvenirs are far more important to them in making a home than actual furniture.
How has Instagram influenced IKEA?
I think it's an inspiration to us, first of all. Actually, both Pinterest and Instagram. We draw a lot of inspiration there in how people are putting things together. What I love about it is that it's so much more diverse. It's an eclectic way of putting things together. Anything is okay. It's a little bit like what has happened in fashion. There could be wild contrasting prints, for example, but everything is okay and that's lovely. But, on the other hand, we're not designing for Instagram or anything. We design for people's lives.
There was a period last year when it seemed like every day there was a new IKEA FRAKTA bag creation. What did you think about that?
A bit of hype there for a period! I thought it was kind of cool, actually. Nobody had anticipated that at all. We always loved the FRAKTA bag. It's one of the iconic faces of IKEA and it's actually one of the best bags ever made. We love it at IKEA, but it was a little bit of a… I wouldn't say shock, but it took us by surprise. A nice surprise. I like it. And it's also about anything that caters for other people's creativity. I love that. I love things that show off people's creativity and not just IKEA's creativity. If they use our stuff in a creative way and make it, then you know that, okay, they like us for some reason.