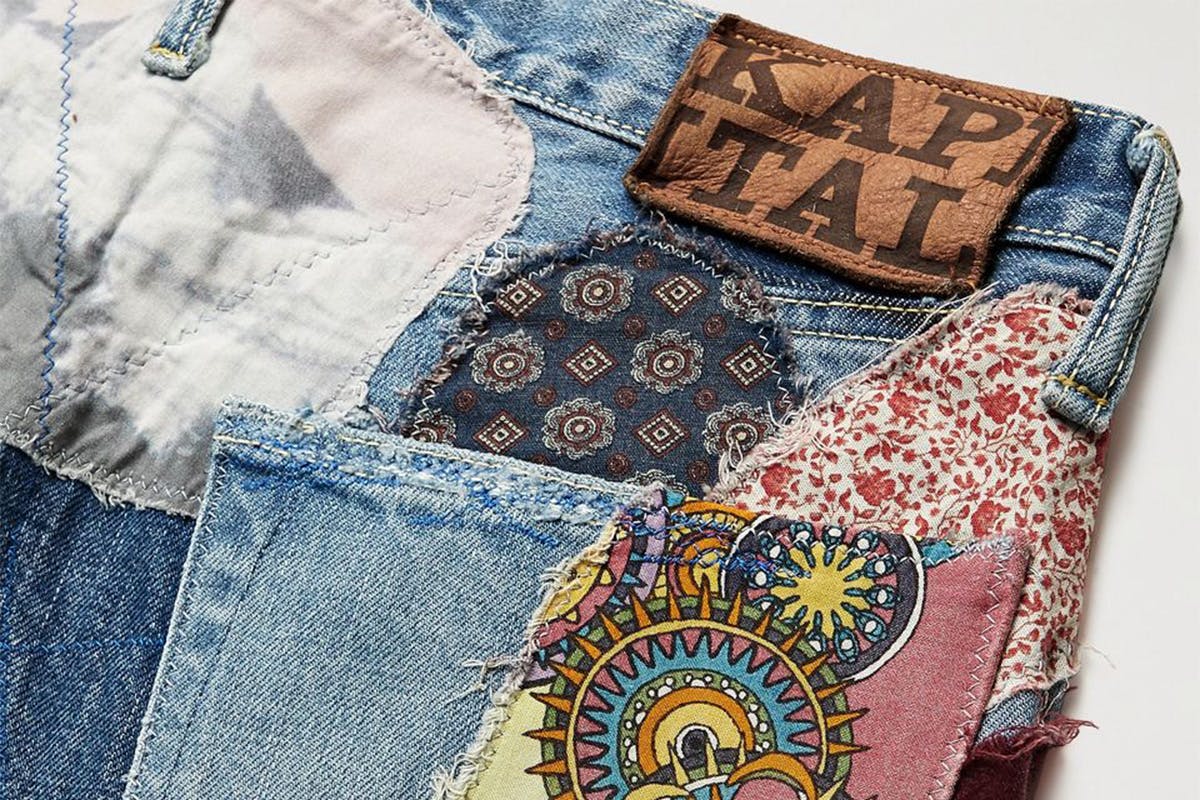 While the real popularization of denim happened in the States, Japan is the undeniable spiritual home of the fabric. Like most other clothing categories, Japan took its time to learn the denim fabrication and dyeing process to an unrivaled level. Viewing the process as an art rather than a workwear necessity has led to labels like Kapital, EVISU, and visvim defining the nation's leagues-ahead output.
Considering the fabric's hard-wearing, working roots, denim fits squarely into the traditional Japanese sartorial mindset: the beauty in an item is in the story that it tells. There is no other fabric that carries its scars, marks, and imperfections like indigo-dyed denim, and in Japanese hands, it becomes a canvas for true artistic expertise.
At its core, Japanese denim has always been an exercise in long-lasting quality. The characteristic heavyweight cottons and natural indigo dyes are unchanged, but as style swings in its cycles, the out-there designs come back into the focus of the trend lens. Popular in the early '00s, labels like Evisu and True Religion (which is not strictly Japanese, but is explicitly inspired by the culture) underpin the Y2K renaissance happening in fashion, adding another reason to the 'why you should be wearing Japanese denim' list.
So, while there's no denying that your A.P.C. New Standards or Levi's 501s are timeless staples, examples like Kapital's patchwork designs cater to a more specialist set. But, an increased focus on material perfection means an increased price tag, too. It's worth remembering that these pairs are made to last a lifetime, so it becomes crucially important that you get the right one. Below, we've rounded up some of our favorite Japanese denim jackets and pants to guide you into the beautifully complicated world of denim.
Shop the best Japanese denim pieces below.
Japanese denim jackets
visvim 101 Jacket
This visvim jacket is archetypically Japanese. Although visually understated, it's built using the highest-quality materials down to the deerskin patch to the reverse. Heavyweight pure cotton denim features a slightly waxy finish thanks to the deep black dye.
Junya Watanabe Denim Jacket
There's a reason that denim jackets are the go-to fall selection. A good denim jacket will go with everything in your wardrobe, and with the addition of a warm sherpa lining, this Junya Watanabe iteration is set to keep you cozy too.
Kapital Appliquéd Embellished Denim Jacket
Kapital's high quality and high prices have rendered it an exclusive club within the fashion industry. Designs like this 12oz denim jacket complete with hand-appliquéd suede patches and embroidery have made it a marker of denim purism.
Kapital Denim Jacket
Anything made by Kapital is a definitive 'if you know, you know' situation. The signature embroidered smiley faces to each arm will turn the heads of those who 'know'.
Japanese jeans
UNDERCOVER Straight-Leg Jeans
The perfect cut of jeans doesn't exi...
Kapital No.4 Plant Dye 5p Monkey Cisco Jeans
Dyed using a pure plant dye, this pair of Kapital jeans has an unorthodox green hue which is mirrored by a multi-fabric patchwork section running across both legs to add texture.
Junya Watanabe x Levi's Patchwork Jeans
The Japanese philosophy of wabi-sabi recognizes imperfection as beauty. It's why repairs and patchwork elements play a big part in the life of Japanese denim. This collaboration pair sees Junya Watanabe put his spin on a classic pair of Levi's.
COMME des GARÇONS Paneled Jeans
Boasting a striking cropped length, these COMME des GARÇONS jeans marry four slightly different shades of indigo into one, beautifully harmonious whole.
Kapital Embellished Jeans
There's no such thing as too much embellishment when it comes to Kapital. Somehow remaining tasteful, this pair of embellished jeans features a range of visual additions from signature references to deadstock fabrics. Each pair is unique.
NEIGHBORHOOD. Distressed Jeans
Part of what makes your own denim special is that it becomes a story of your life with it. Each spillage, stain, and rip imbues the pair with more meaning. If, however, you want the sought-after aesthetic without the 20 years of hard work then there's nowhere better to get your distressed jeans than NEIGHBORHOOD.
EVISU Seagull Pocket Jeans
EVISU's iconic seagull motif graces the back pockets of this pair of raw indigo jeans. Cut to a no-nonsense straight leg, this pair is a staple that couples perfectly with any T-shirt & sneaker combo.
Want to keep browsing? Head to the Highsnobiety Shop for more products that we love. Highsnobiety has affiliate marketing partnerships, which means we may receive a commission from your purchase.