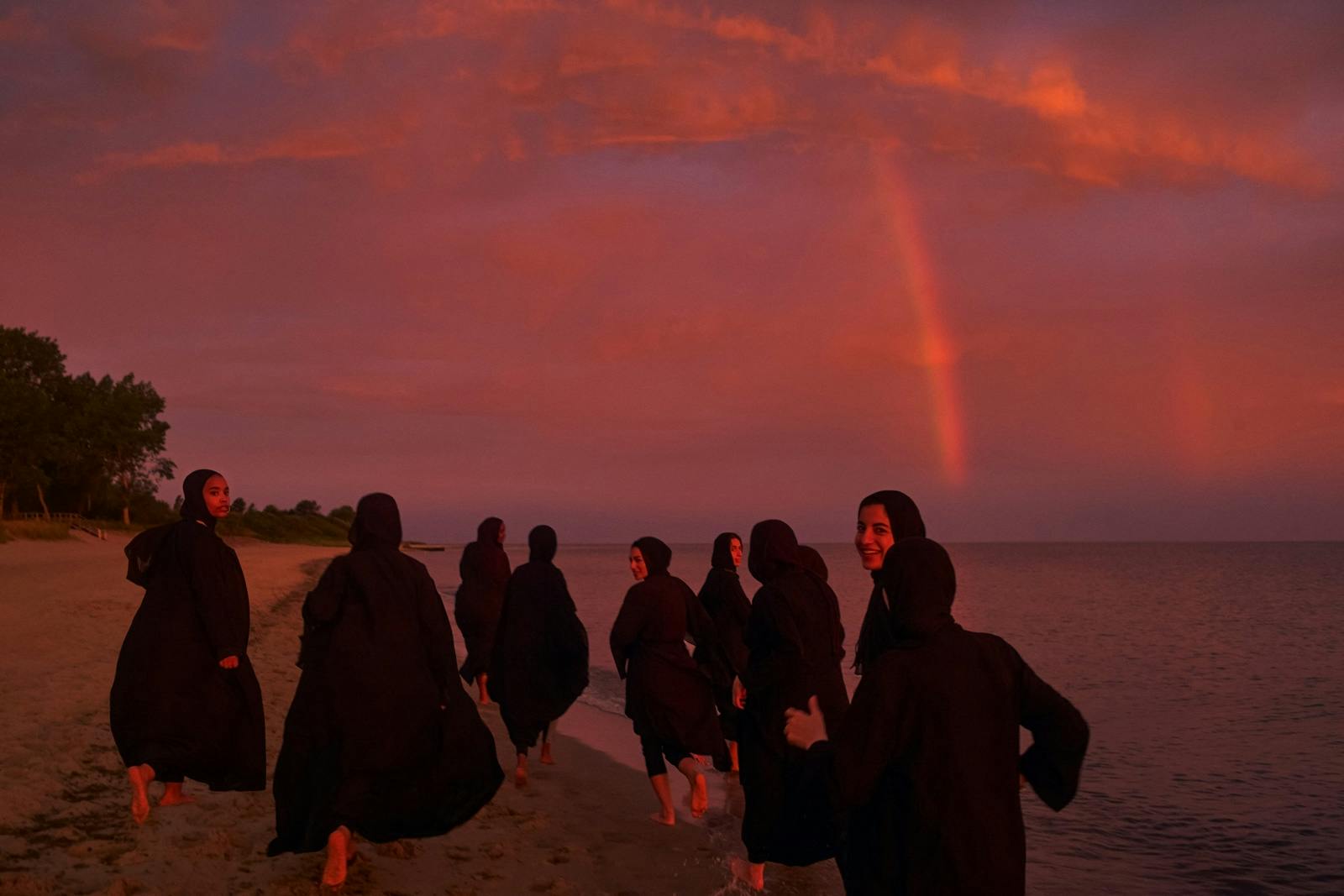 This piece appears as part of "BERLIN, BERLIN" — a weekend-long virtual celebration of the city. Head here to see the full series.
Jonas Lindstroem wants us to slow down, and focus on the moment at hand. The photographer — best known for his arresting music videos for Kendrick Lamar and Peggy Gou, his luxury campaigns for RIMOWA and Hermes, as well as his viral #MyCalvins campaign (yes, the one with Bella Hadid kissing virtual Lil Miquela) — isn't used to a slower pace. However, lockdown changed all that, making his regular life of international travel a lot more difficult, and freeing up his usually frenetic work schedule, finally giving him time to focus on personal work. The result is BELIEVE, an ongoing project, that will eventually make up the photographer's first book.
The images, which we are exclusively sharing, were mostly taken in Berlin last summer. Some show scenes of leisure: a family swimming in a pool, veiled women at the beach, lovers on a hot day. Other images invoke intrigue: a young man (a boxer?) with a bloodied nose, a boy sitting in front of an MRI. Ostensibly, they're random images without explicit connections. Instead, they evoke an emotional narrative of what it is like to inhabit a particular moment — "a real moment, which in a way is the essence of photography," Lindstroem explains.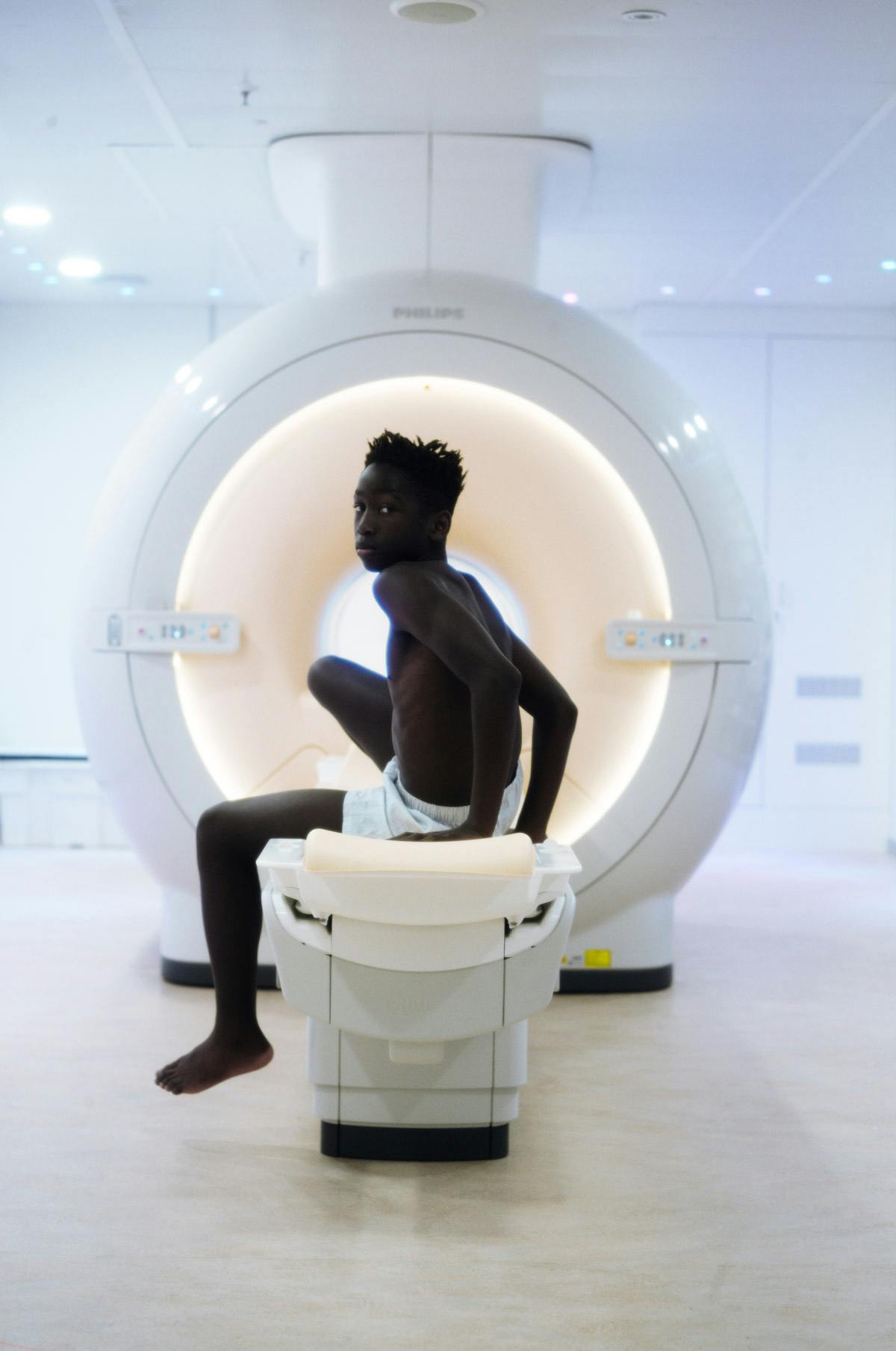 Though, the concept of "real" here is ambiguous. While many of these images appear like documentary photos, Lindstroem says they were "completely staged." Not that they weren't originally based on actual events, however. Drawing from a combination of live events, found footage, or fragments from dreams, Lindstroem planned each image, creating "a series of imaginary fragments dreamt up from different parts, characters, storylines, and emotional states of our world."
Lindstroem is an international photographer — it's hard not to be, when you're working with major brands and celebrities as he does, so it's interesting to hear how rooted in Germany his work is. Growing up in a small town near Frankfurt, "a tiny place where the last bus in the evening to go into the city would be a seven o'clock, and you'd be completely stranded otherwise," he now lives in Berlin, a city that inspires his images. "In Berlin, certain things are still a bit easier than elsewhere — you can have a really solid place where you can let your thoughts go and produce work. We have all these modes of youth culture, starting with techno music and this DIY culture that I find quite inspiring."
"And at the same time, that produces really interesting eclectic people; it's a big point for me in my casting to work with the people and the characters and the communities and the cultures and the subcultures that this city embodies," he explains.
In fact, even when he could travel for work, Lindstroem still preferred to shoot in Berlin. "When we produced the Kendrick Lamar video, 90 percent of it was shot in Berlin and cast in Berlin, which I think nobody really knows," he reveals.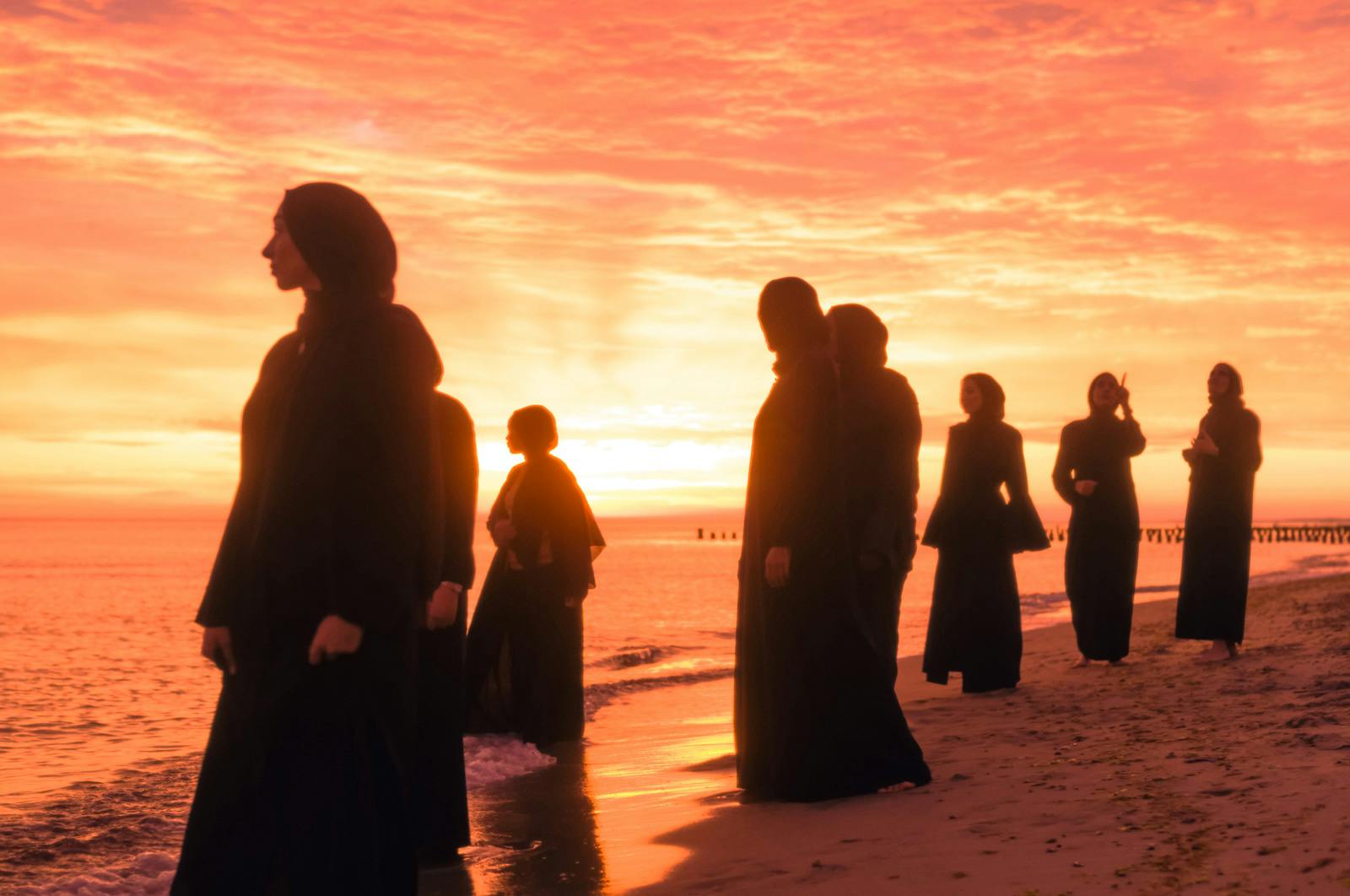 With BELIEVE, Lindstroem is able to step away from his usual commercial work (as artistically beautiful as it is) and use his photography to make a statement on the world as he sees it. In original prose poems interspersed throughout BELIEVE, Lindstroem writes thoughtfully about our current way of life: "We learn to feel everything and nothing at the same time. That thing in your hand making you believe you have some kind of power over the world, in all your hyper-individualism."
He's vocal about the emergent aesthetics, for better or worse, of the attention economy fueled by our connection to social media. "Increasingly, we're getting more individualized," he says on the Internet's endlessly fragmented filter bubbles and feedback loops. "We're all part of this giant machine that's slightly bending our thoughts and showing us things that we like, because we liked them before."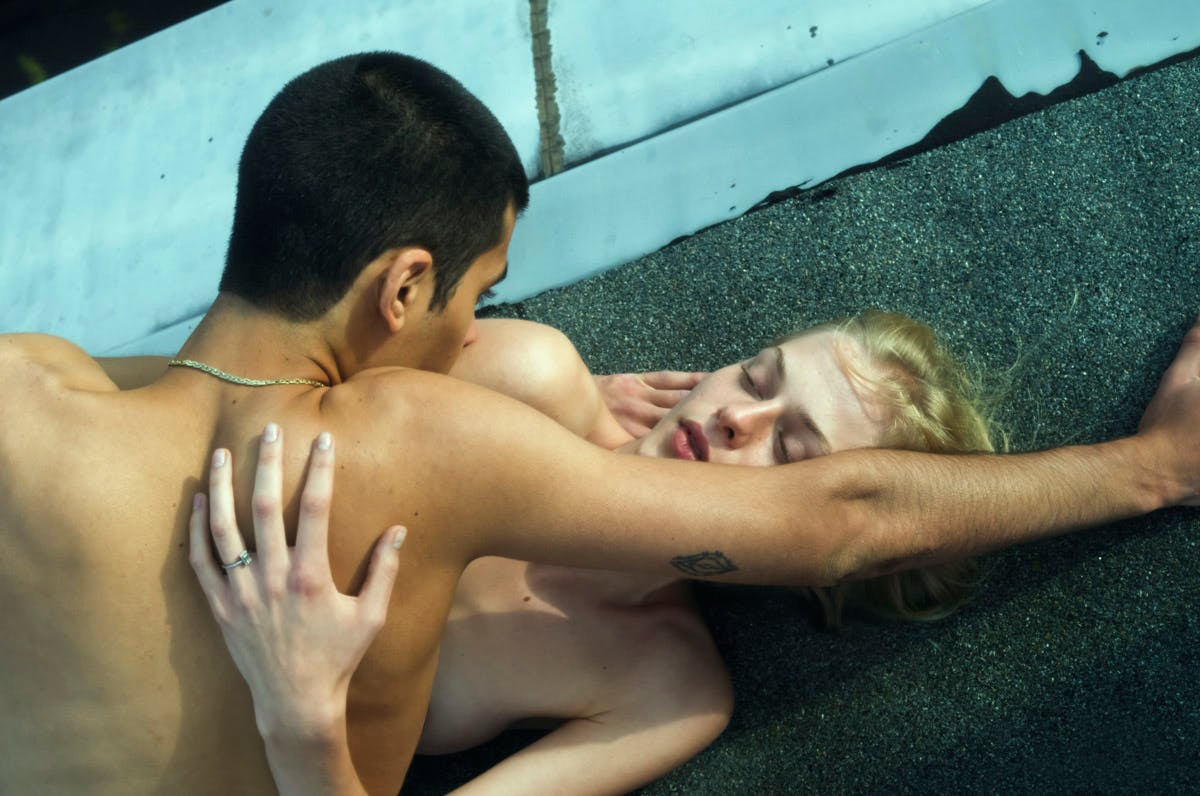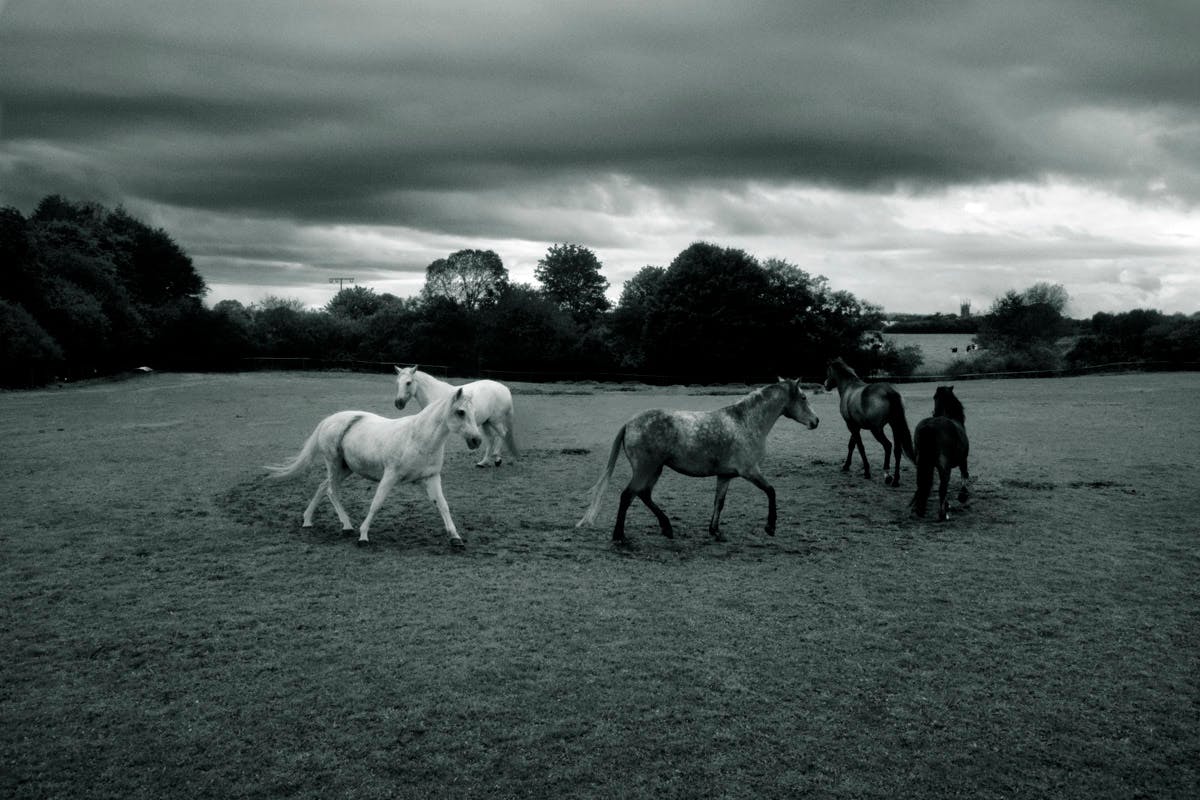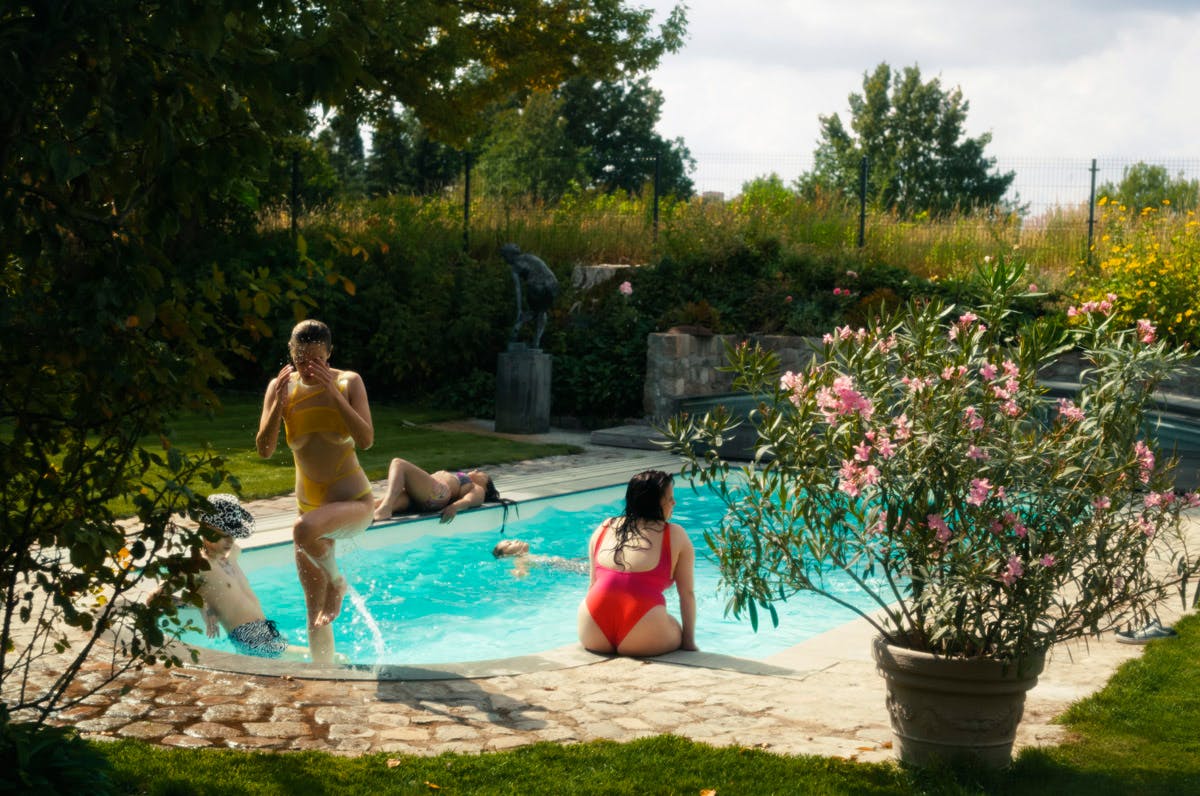 While critical of social media, Lindstroem has also taken inspiration from it in his previous work. Take Tik Tok and Instagram Stories, for instance: short videos, often without any context, appear at random like bursts of feeling, and then disappear. Borrowing that same sensibility — which can only be described by the word "contemporary" — Lindstroem makes visuals that happen quickly and intensely. In his 15 minute short TRUTH OR DARE — 21 performances, he films 21 short set-pieces that happen in quick succession, like on Instagram. In these snippets, a woman shoots herself in the head, an explosion goes off in a rural village, a tattooed man in his underwear carries a sleeping girlfriend to a mattress on the floor. One user review online wrote: "mini Enter the Void."
While TRUTH OR DARE leans into the jarring effect of social media, BELIEVE is intended as a counterpoint, or antidote, to the relentless, chaotic pace of endless hot takes and socially mediated images. It's a call for slow thinking, slow feeling, and an awareness of our present moment. As part of a public installation for BELIEVE, Lindstroem plans to print images on large posters plastered throughout Berlin without context or explanation. He hopes it "inspires a certain hopefulness, freedom, and feeling in these coldest, darkest of months with everything that's going on around us. A gentle reminder of life."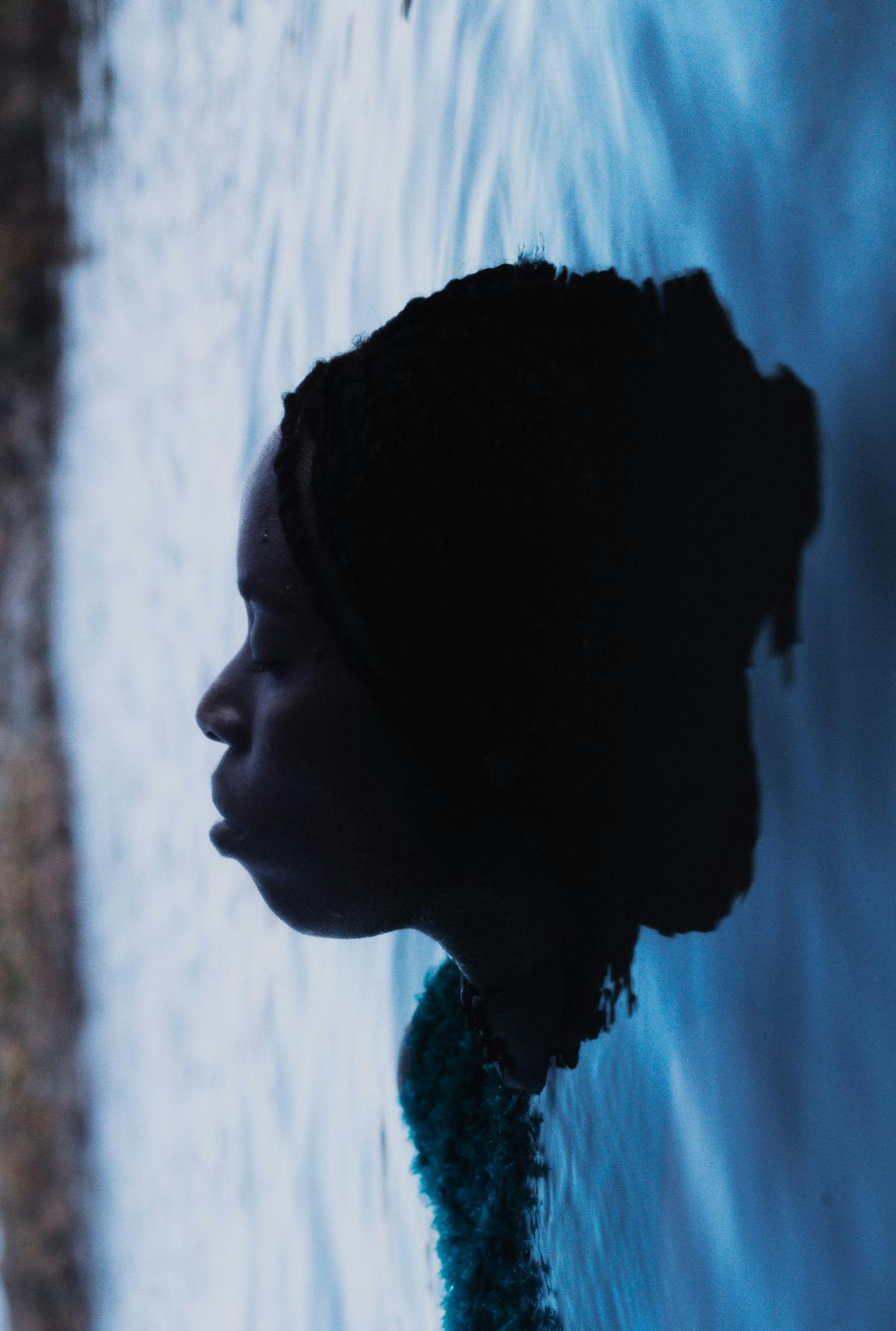 And by "life," he addresses its full range of contradictions, including the intimate moments often overlooked by the pace of contemporary life. As he writes in BELIEVE: "Love and Despair, Hard and Soft. It's paradise and reality. Making you feel it all at once."