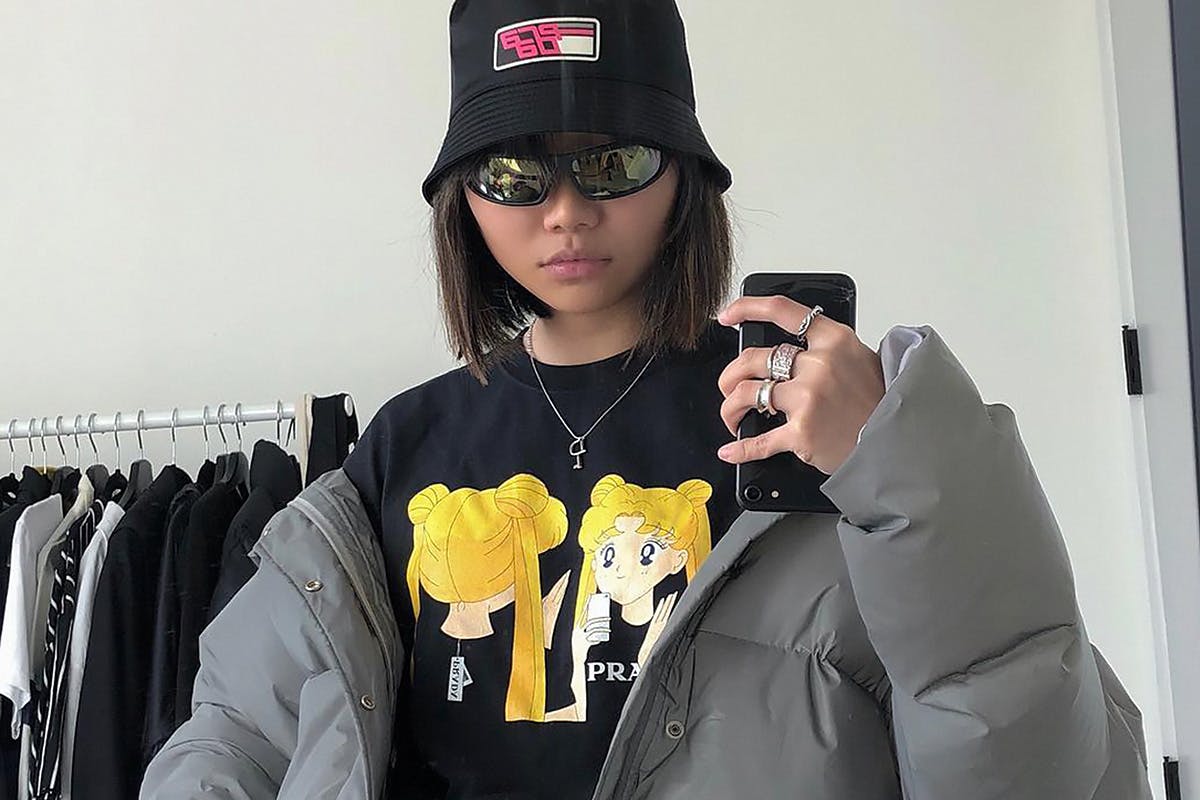 Brooklyn-based Jynwaye Foo is taking customization to the next level. The 22-year-old artist first caught our attention when her meticulously hand-painted Nike Air Force 1s went viral last year. Featuring scenes from anime classics Spirited Away, My Neighbor Totoro, and Sailor Moon, and paying homage to pop culture institutions such as Sonic the Hedgehog and Pokémon, each sneaker was more than a custom; it was art.
Foo's kicks seemed hard to beat, but since turning her attention away from sneakers, she has used her skills to transform just about anything, from shirts, side bags, and hoodies to inhalers, Game Boys, and New York MetroCards, into a one-of-a-kind anime creation.
Anime has always had a special place in streetwear, but Foo takes that relationship further. Alongside Helmut Lang or Prada bags overlaid with anime characters, recent pieces have even updated anime characters' costumes with high-end 'fits, like a recent Naruto hoodie that featured Sasuke made over in Dior Pre-Fall or a tee with Sailor Moon decked out in Prada.
As legit as some of the pieces look — we did a double take on the UNDERCOVER umbrella — Foo's designs are 100 percent bootlegs. Thankfully, they haven't brought her to the attention of copyright lawyers just yet.
We caught up with Foo to chat anime, making money from your art, and why she doesn't want to be known as a sneaker customizer.
Tell me about your process. How long does it take to complete a project?
I don't really have a creative process. I just make it a point to get art done. It varies depending on the size of the canvas and the level of detail. A highly detailed anime scene on a pair of men's size 11 Air Force 1s could take up to 12 hours, but something as simple as an anime character on a fanny pack could take under two hours. The price of my work is usually a reflection of the number of hours put into it.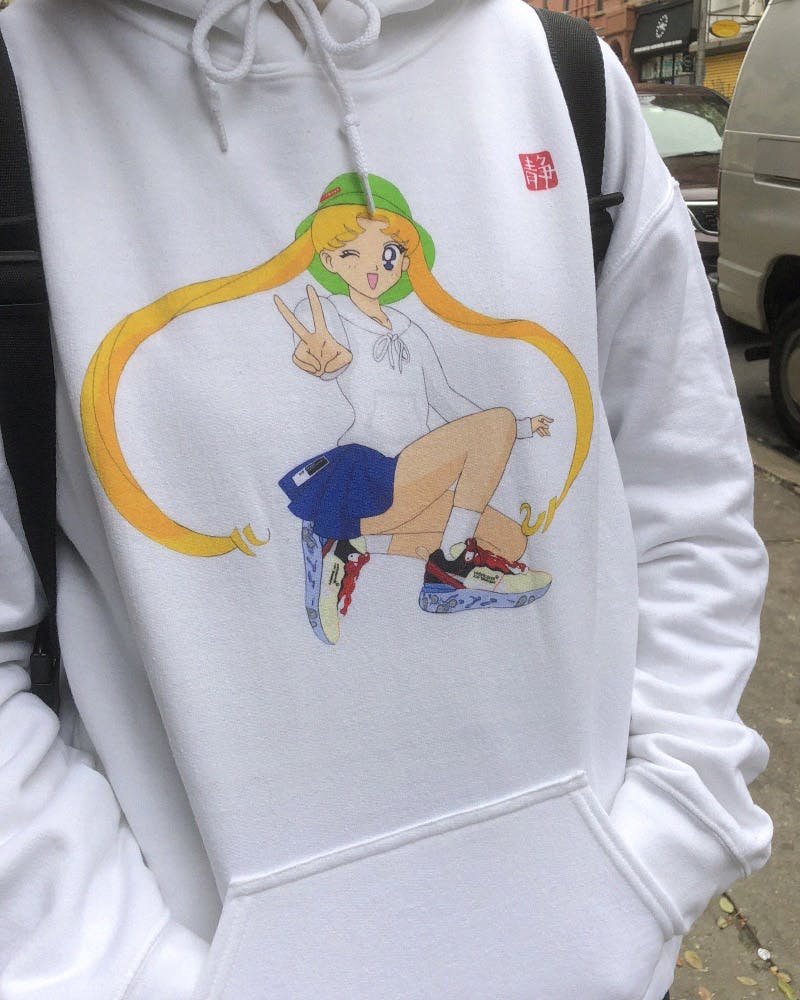 How do you decide which animes to paint? Are they your favorite characters?
My "brand" is definitely anime-centered. Funnily enough, I didn't grow up watching anime or paying any mind to "anime culture." Anime has just always done exponentially better than the other characters I've done, sales- and demand-wise. But I've recently started to watch Naruto after being pestered by a friend and I have to say it's pretty damn good. [Laughs]
This might come as a bit of a shock to people, but if I were to be real with you, my art on Instagram is strictly a money-making mechanism for me. I didn't intend for it to turn out this way, but this "business" that I run single-handedly supported me throughout college and allowed me to live in one of the most expensive cities in the world. I'm also saving up for grad school — that would have never been possible without Instagram.
The art I make that truly fulfills me, I don't post on the internet. I don't seek gratification for that.
I read that you dropped out of art school. What happened?
I wouldn't say I "dropped out" because I never started to begin with. I enrolled in an art institute, went to one class, and quit right after. I got overwhelmed once the instructor started explaining the syllabus. It was assignment after assignment. When would I have time to do the art I like? That was the excuse I gave myself at least. [Laughs]
I was also passionate about the environment and decided environmental science was a better fit for the type of student I was. I was definitely more of a test taker than a diligent student who would complete all their art projects.
Your account went viral after you started painting Nike Air Force 1s. Why that model? Were they the first thing you started customizing?
A friend of mine got an extra pair of Air Force 1s that weren't in our size, so we decided I'd paint on them. I was customizing things like guitars and skateboards prior to Air Force 1s, none of which got as much attention.
Why did you expand into different products? Would you paint sneakers again?
I might come across as narcissistic for saying this, but people were starting to copy my work. I just lost the kick or thrill to keep it up. Not only did I not want to be pigeonholed as a sneaker customizer, but I also didn't want to be grouped with unoriginal "artists" that were using Air Force 1s to hype up their mediocre work. I saw Air Force 1s as a mere canvas and decided it was time to move on to the next. I would paint sneakers again but only to have, or for people I truly fuck with.
What's your favorite thing you've made?
The favorite thing I've made — that I posted on Instagram — is this Sailor Moon T-shirt. I'm making fun of hype culture: Sailor Moon taking a mirror selfie wearing Prada with the tags still on. I hope this satire doesn't fly over people's heads.
Do you keep any of your customs or are they all for sale?
Most of the stuff I post is for sale. Designer items are usually painted just to have. I'm saving them for a showcase I'm hoping to put on sometime in the near future.
Do you take commissions?
I don't take commissions. People request some crazy shit. [Laughs] From having the initials of their significant other to drawing them in anime form to recreating Supreme collabs. An insult to my artistry, really. To avoid getting worked up by something so trivial, I stopped reading DMs altogether.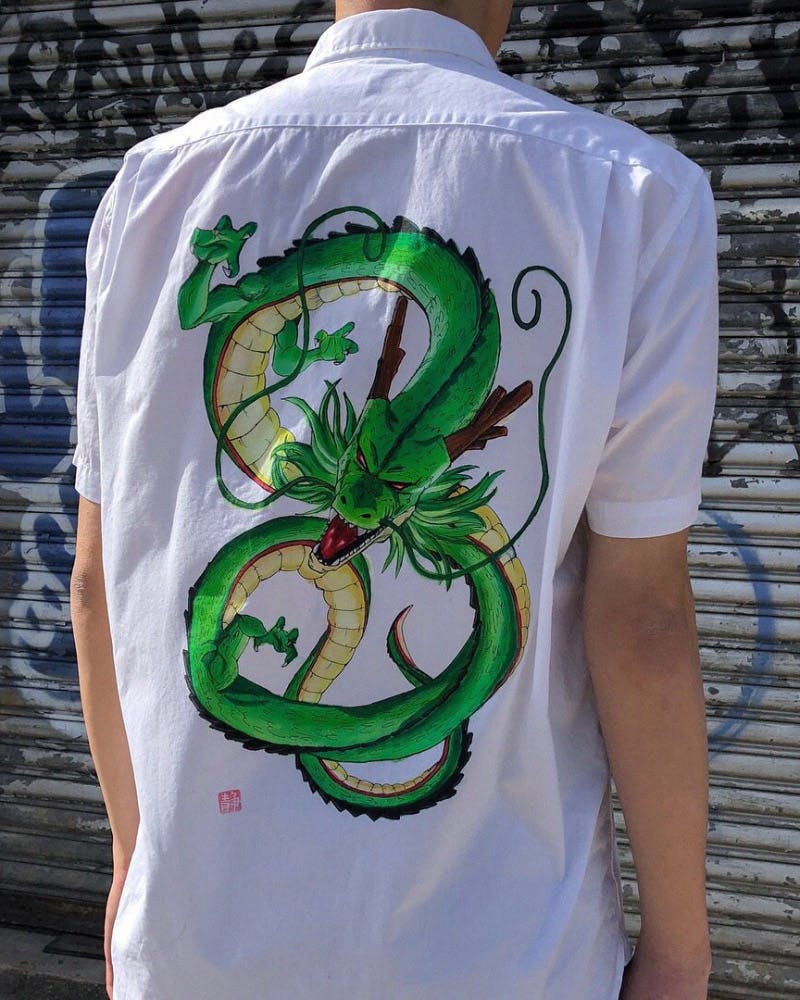 What paint do you use or does it differ by material?
This question frustrates me the most. [Laughs] People usually ask this hoping to hear a specific brand. It's almost as if that is the solution to all their problems. Paint that works for me doesn't and won't necessarily work for others, and vice versa. The best and most expensive paint doesn't guarantee the best result either.
The truth is, I don't use any special paint. It was a lot of trial and error, and I am still in the process of experimenting with different paints and materials. You kind of just learn on the job. People focus so much on the result that they forget that experimenting is part of the process — that's what makes art fun in the first place!
Watch the video below for our guide how to tie-dye.