Update: Kanye West's DONDA merch, co-designed by Demna Gvasalia and previously only available at his chicago listening event, is now available for pre-order online at Kanye's official store. Available are a facemask ($160), two graphic long-sleeve T-shirts ($200), a cap ($60), and the album ($10).
All items are scheduled to be shipped in 12-16 weeks, like his previous DONDA merch drops.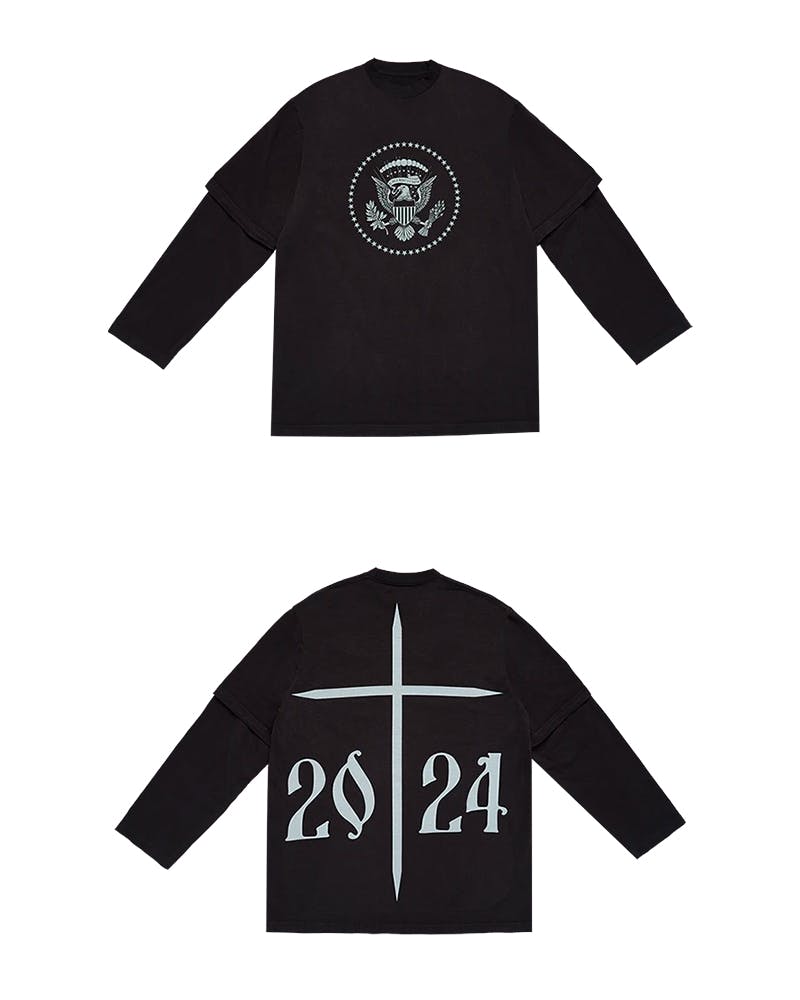 Original Post: Kanye West's latest DONDA merch includes a $200 presidential seal t-shirt. The item in question features the numbers "2024" in large, white text.
This is the clearest reference to a 2024 presidential campaign since West conceded defeat in the 2020 election last November before tweeting "KANYE 2024" along with a picture of him in front of an electoral map of the US.
In his previous run, West's self-styled "Birthday Party" collected just 60,000 votes out of an estimated total of 160 million.
West appeared on the ballot in 12 states, but missed the filing deadline in most others. He gathered the most votes - 10,188 - in Tennessee, a historically Republican state.
When he announced his 2020 presidential bid, many celebrities, including Elon Musk, Chance the Rapper, and Kim Kardashian threw their support behind him. But as his campaign became increasingly chaotic, and he failed to meet filing deadlines, many prominent figures withdrew their support.
West actually announced his 2024 run back in 2019, explaining that he would walk, not run to the presidency. During the Fast Company Innovation Festival, he said, "When I run for president in 2024, we would create so many jobs that I'm not going to run, I'm going to walk."
In the intervening years, Kanye's politics have become less and less coherent, while his actions have only become more disappointing. Most recently, he brought DaBaby and Marilyn Manson onstage during his third listening party despite the respective sexual assault allegations and homophobia.