KidSuper's Colm Dillane has gone from strength to strength since his first interview with Highsnobiety in 2017. His latest project — a collaborative PUMA King football boot — combines three of his biggest passions: football, art, and fashion. If Dillane's erratic genius is reflected in the designs of his KidSuper clothing, his PUMA King is no different.
Going for an eye-catching white leather base with hand-drawn detailing on the upper and KidSuper branding on the PUMA Formstripe and heel, the KidSuper King is anything but traditional — a bold choice for a sport whose fans value tradition over everything. The boot, which drops October 22, will be unveiled by Arsenal star Héctor Bellerín during an upcoming Premier League game.
Bellerín is probably the perfect player to wear such a boot, given his interest in topics outside of the footballing world, most notably fashion. "The fact that it says KidSuper on the Formstripe and that Héctor Bellerín is going to wear it in the Premier League is absolutely crazy," raves Dillane. "When we were designing it, we were thinking of Héctor."
Bellerín, who played a large part in getting 424 to become the official outfitter of Arsenal last year, was deeply involved in the design process. "At first we wanted to make it kind of subtle," explains Dillane. "But Héctor said to make as cool a boot as we want."
"Colm and I decided to make one black and one white. We played around with secondary colors a little bit and we made two really cool ones and then we decided to go with white," explains Bellerín. "I felt like the white one expresses better what KidSuper is about."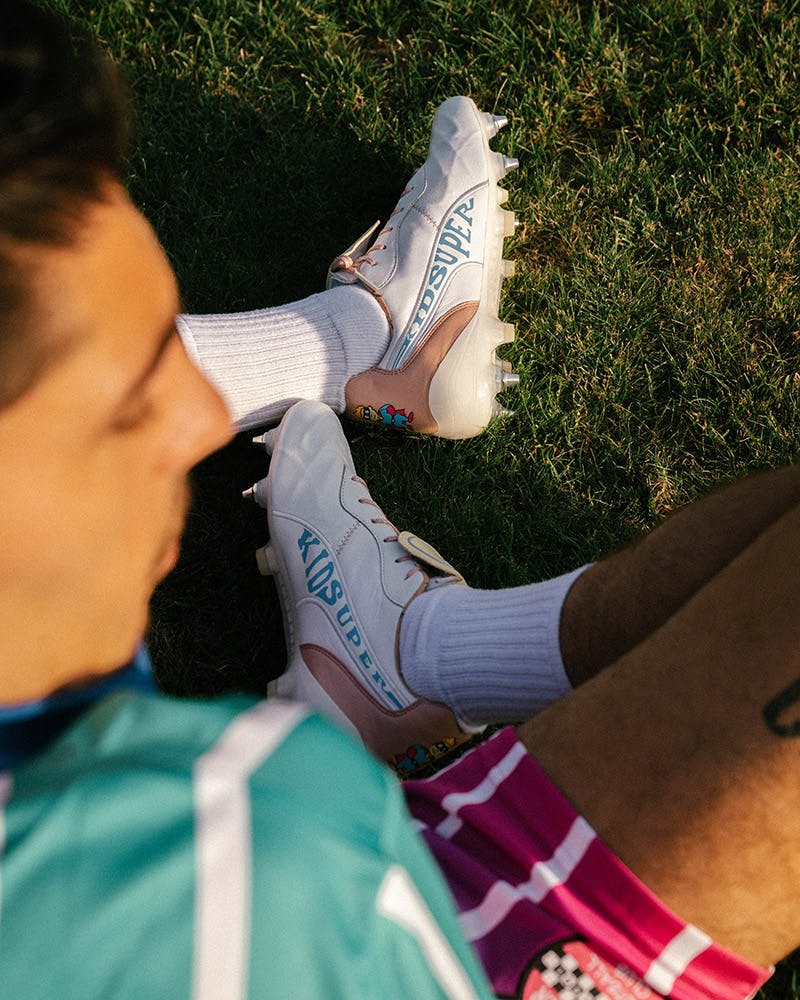 Asked to pick his favorite detail of the boot, Bellerín doesn't hesitate: "The embroidered dove, not just because of what a dove represents, especially with everything that's going on, but also you don't really see embroidery on boots nowadays," he replies. "To have a little detail that you wouldn't see on any other football boot is special."
Bellerín and Dillane's relationship extends beyond this PUMA collaboration, as the football player started wearing KidSuper in late 2017. "The first time I noticed KidSuper was when J Balvin wore it at a concert," Bellerín says. "Colm and I started talking and I really liked how he used his brand to do so many other things. Also, the fact that he was always somehow linked to football, which is unusual to see from a brand like his in New York."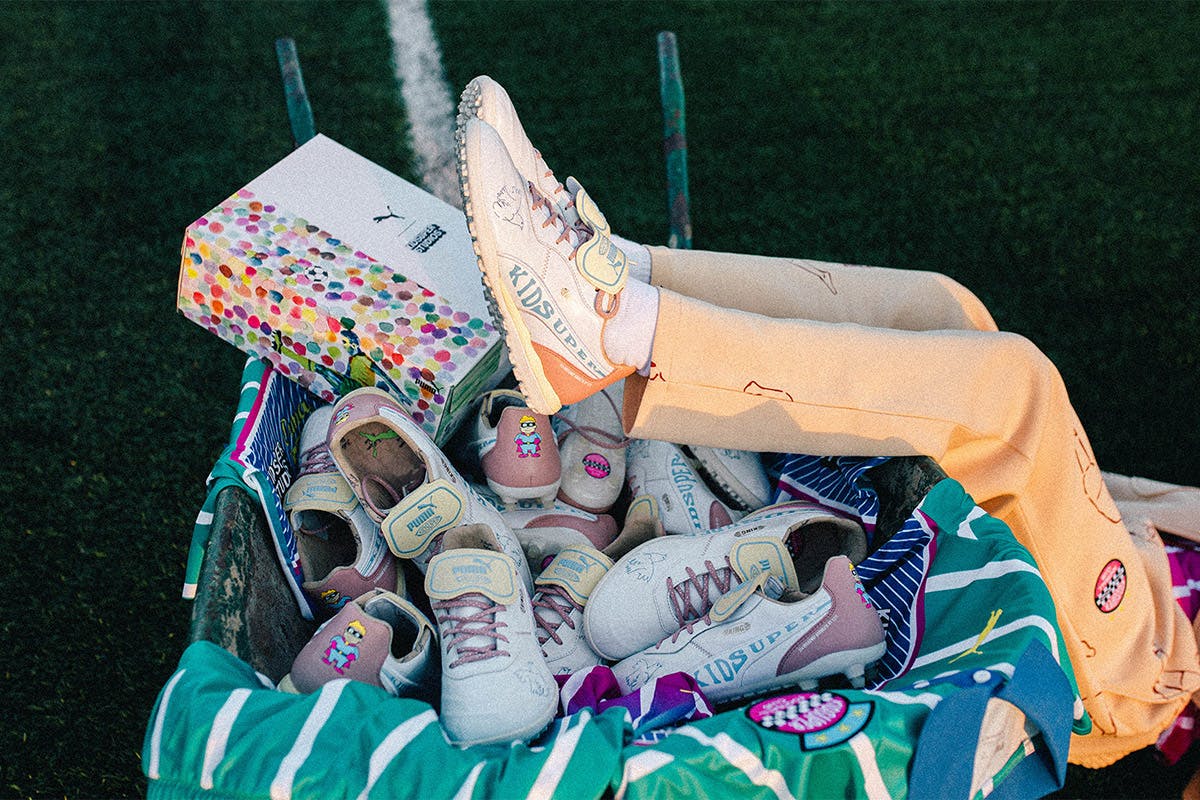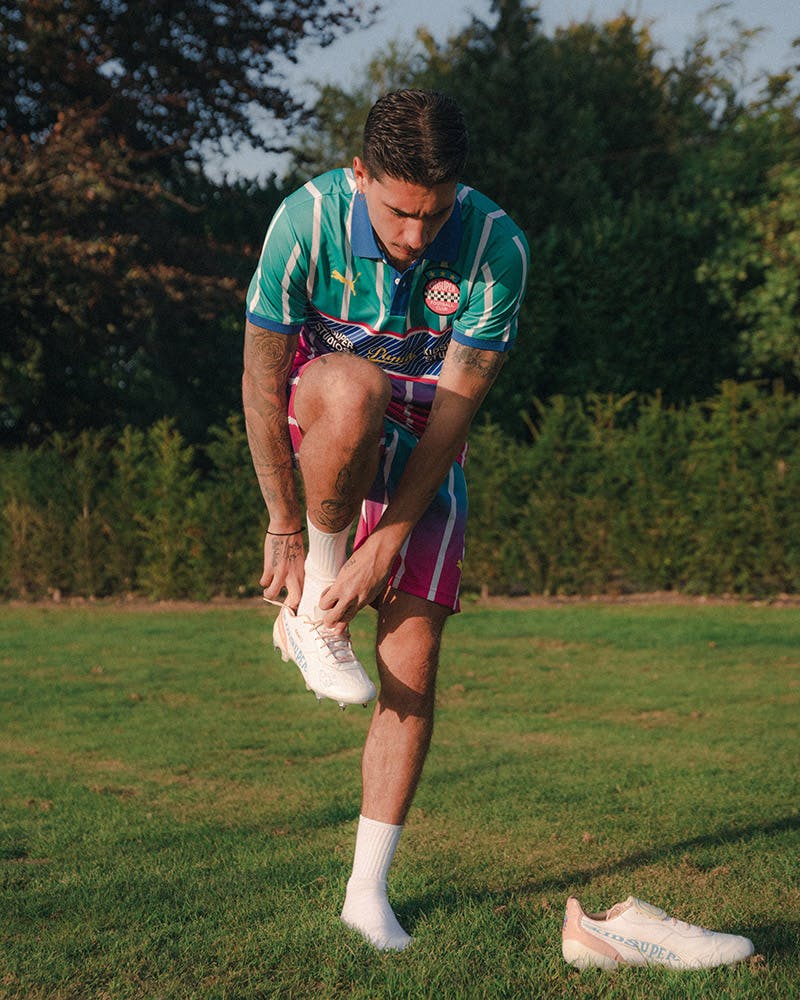 Dillane, being a huge football fan, took the chance to slide into Bellerín's DMs on Instagram. "I would always be making jokes. If he had a good game, I'd be like, looks like you should tell your boss you want to play striker now," laughs Dillane. "It was cool to talk normally to someone you know so much about and, in a way, idolize their position as a professional athlete."
The KidSuper x PUMA King drops separate to a footwear and apparel collection that was released earlier this month, but Dillane pushed for the chance to work on the PUMA King. "I demanded the King, and PUMA was like, 'Why don't you do this other boot?' And I was like, 'No, we need the PUMA King,'" says Dillane.
Pelé, Johan Cruyff, and Diego Maradona all wore the PUMA King, with newly-minted PUMA athlete Neymar Jr. becoming the latest face of the silhouette. Dillane compares it to "four Michael Jordans wearing the PUMA King," a big reason he wanted to work with the silhouette.
While Neymar will be wearing his own version of the King, Dillane says he's pushing as hard as he can to get the Brazilian in his version of the boot. "In all of my meetings with PUMA, I say as much as possible," he says, in true KidSuper fashion. "I'm waiting for PUMA to announce that I'm the new creative director."
The KidSuper x PUMA King drops tomorrow, October 22 via PUMA.com.