Kiko Kostadinov's collaboration with ASICS is not like other collaborations.
After the ascendant designer and Central Saint Martins graduate started his eponymous brand in early 2016, he swiftly became a fixture in the sneaker world, thanks to his ongoing partnership with Japanese brand ASICS in 2018. Kostadinov has established his keen eye for offbeat ASICS silhouettes like the GEL-Burz or GEL-Sokat Infinity, through which he consistently tells compelling color stories. The Bulgarian designer's latest release is centered around the ASICS GEL-Korika, which arrives in four options: two candy-hued colorways for women, and two pared-back, grey and black versions for men.
Kostadinov tells us his sneaker designs are supplementary to his runway shows, and his collaborative ASICS sneakers are picked to complement his collections. "It's always the show," the designer emphasizes while sitting in Soho House Berlin, alongside Deanna and Laura Fanning, the Australian sisters that handle his womenswear collections. "It's always about how the shoe can work with the show. So that's how it all relates, because they need to work with the collection."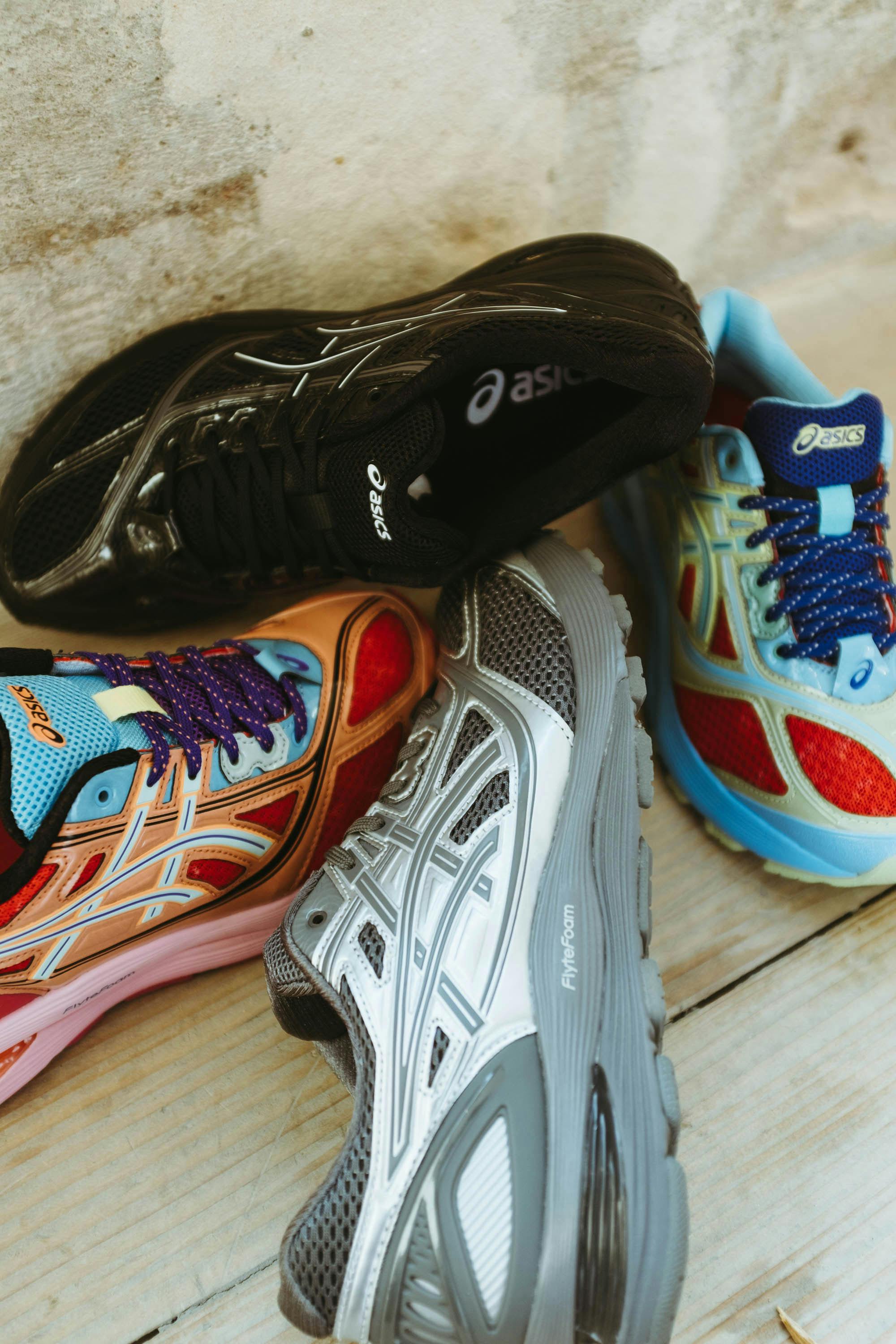 "We worked on the [Korika] together, bringing a basketball shoe and reducing it to look good as a low runner, and just making it a bit more fun with the metallic and the shiny material. Deanna and Laura work on the women's colors, which go back to the womenswear show or the winter collection," Kostadinov continues.
When I ask about the split between the men's and women's sizing, Kostadinov explains: "It's nice now. People want the women's shoes in men's sizes. For once, the girls get the good colors. This is designed by a woman and [you notice] that perspective."
Kostadinov's womenswear designer Laura Fanning aptly wraps up why it might be strange for men to design for women, noting: "It can get quite abstract when you're designing for someone you have no connection to."
The Korika came alongside a brilliant campaign, featuring German photographer Juergen Teller in front of the lens, rather than behind it. Kostadinov notes that he had little idea what he would get in return after he sent the shoes to Teller, who brought the Korika along on vacation.
"The idea was just to give him the shoes, and he could do whatever he wanted with them," the designer explains. "There was a little brief for it, and we asked if he can be in the photos. But apart from that, we were not at the shoot – we don't know when he shot them, we don't know much. We didn't ask, because it doesn't really matter."
Once the initial images hit social media before the release of the shoe, it was clear that they made a splash. "[When] we received the images, we were excited and surprised, but in a really positive way," Kostadinov tells me.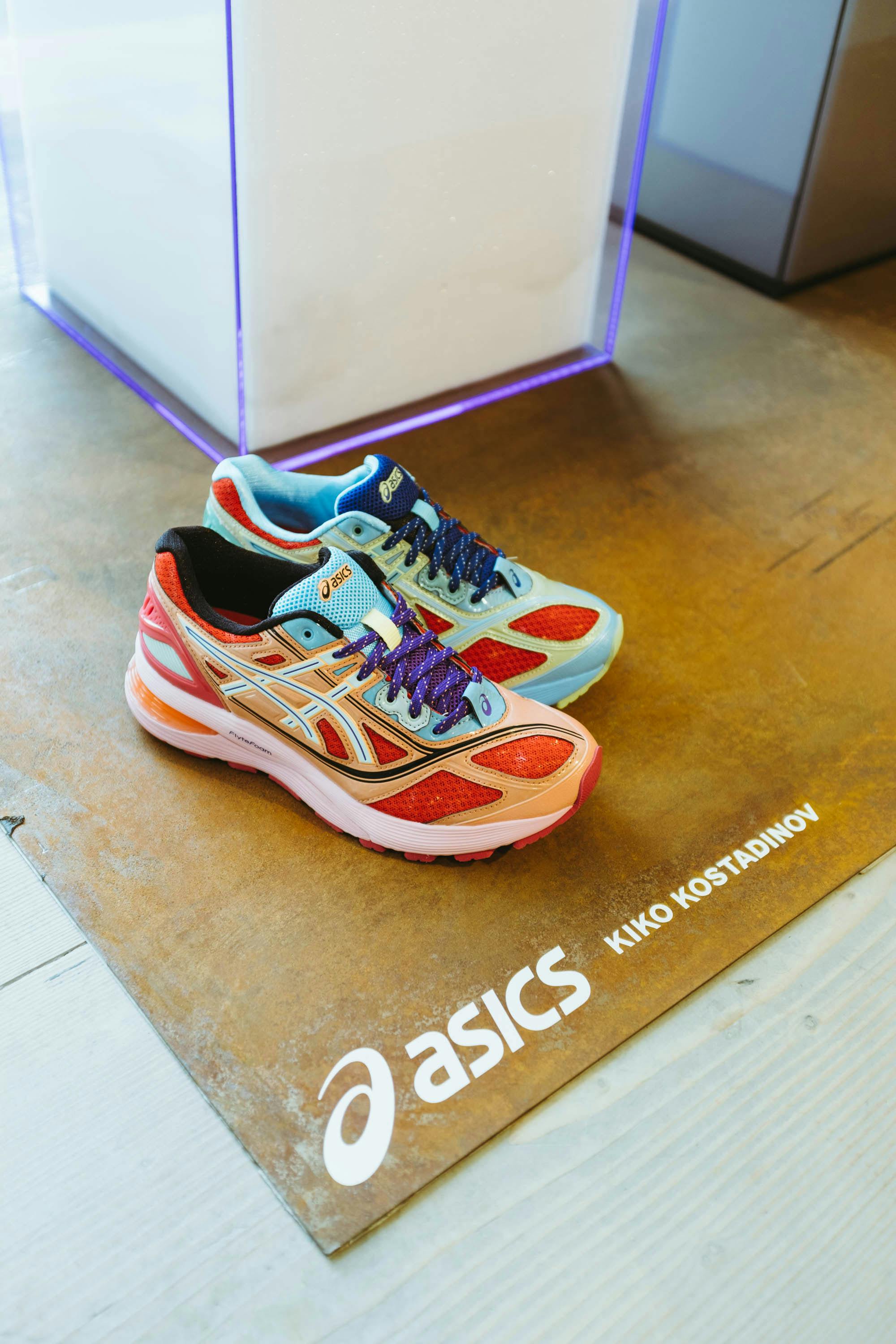 Kiko Kostadinov has helped usher in a new age for ASICS, in which the most conversation-driving products are technical, obscure runners, rather than shoes that have been historically collectible, like the GEL-Lyte 3 or GEL-Lyte 5 – however, Kostadinov mentions he doesn't feel as personally connected to the aforementioned silhouettes.
He tells Highsnobiety that he has agreed to work on a GEL-Lyte 3, imagining it in his own way for the shoe's anniversary in 2020: "You won't really recognize it," he cautions. "It's a really intense hybrid, which will be fun. It's our take on them, but that's for a special release for the anniversary and it's a completely different thing."
I can't help but ask which of his ASICS sneakers he is most fond of, and Kostadinov is quick to mention that he wears all his designs: "I mean, the first one [GEL-Burz 1] is the classic, I guess. I'm tired of people just being like, 'Oh, that was the best one.' Some people say, 'That was the one, and after that it got weird.' But I think people are missing the point. The only one that I probably don't wear is the yellow, or the white [GEL-Burz 1]."
When I mention the "Limeade" colorway is one of my favorites from his collaboration, Kostadinov smirks and replies: "I have so many in the studio. We actually have a shoe crisis in the studio." I can't bite my tongue, and mention I'm a size US11. As if to make my mind wander, Deanna Fanning mentions, "It's so full of prototypes." Kiko himself confirms: "Laura and Deanna are working on these color combinations. They have such a strong color sensibility, and it works really well with ASICS. We have so many crazy prototypes in the studio."