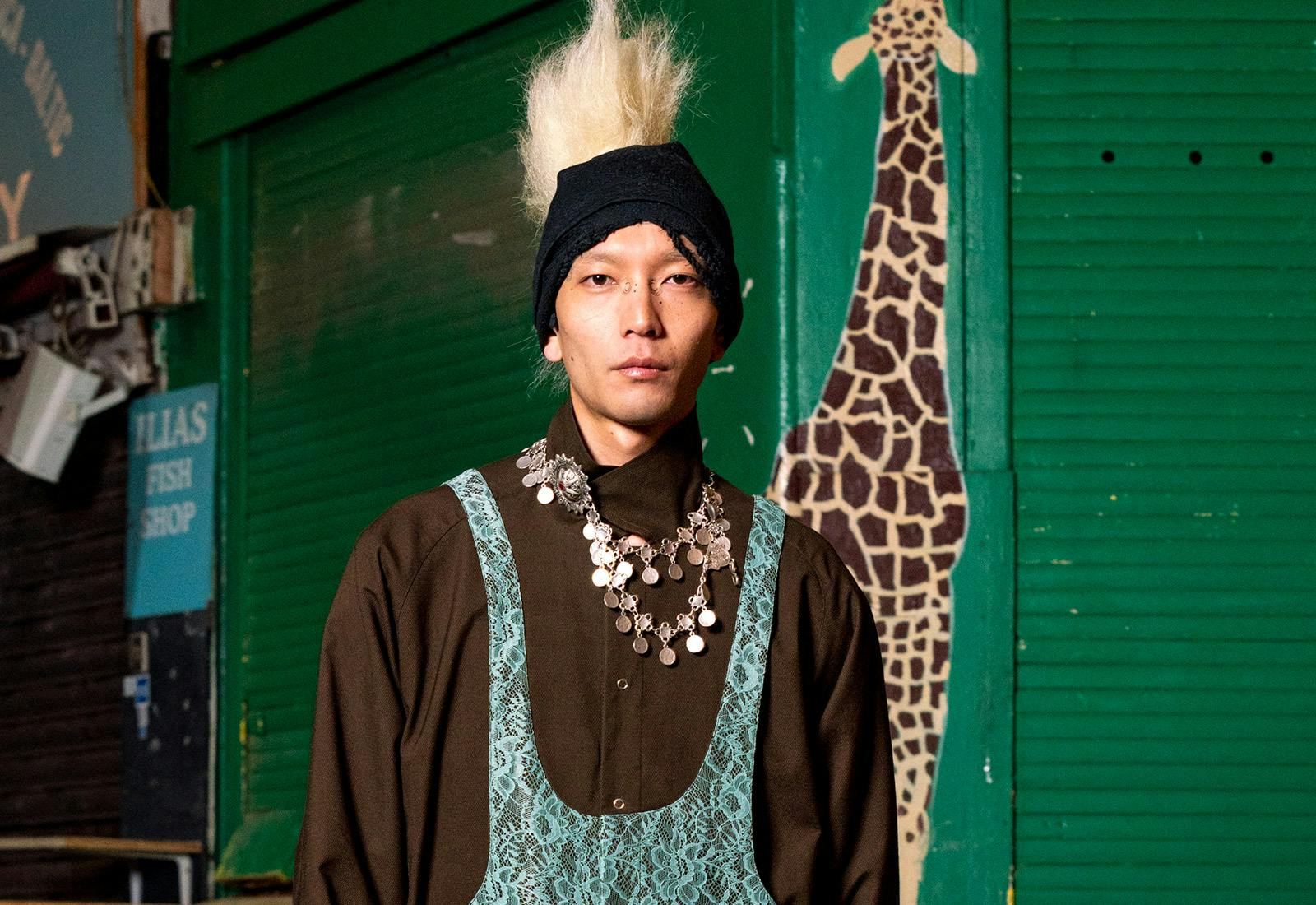 Kiko Kostadinov Spring/Summer 2022 Men's.
Editor's Notes
Say what you will about Kiko Kostadinov's eponymous menswear brand but it ain't boring. The London-based creative has concocted another high-concept affair for Spring/Summer 2021, "Yesternow," taking his dramatic menswear shapes even further into the realm of the unknown, even as they (subtly) address notions of British garment design.
Moving beyond previous equestrian and Gothic riffs, Kostadinov continues to explore historical British sartorialisms, melding them with his own heritage, warped sporstwear and workwear machinations.
For instance, double-breasted coats from a different dimension's Saville Row feature futurist paneling, oversized punk sweaters are softened by scoop necks, harrington jackets take on curved seams and surprising material mixes, and whimsically draped layering pieces borrow from the costumes seen at the folk festivals of Kostadinov's native Bulgaria.
"I would say this collection was a resistance of colour [with] few patterns used," Kostadinov told Highsnobiety. "Silhouettes are the core of what I personally consider [a] new season proposal. my main goal as a designer and the ultimate satisfaction is to create total silhouette idea[s]."
That doesn't mean the accents aren't equally, considered, of course. "The jewelry [is repositioned] as draped necklaces from traditional [shapes], something usually seen in the hair of folk festival [attendees]. Bags are either very formal or very casual, one version [designed] to carry your documents or laptop [and] a fabric version for your two [or] three-day trip."
Challenging they may be, Kostadinov's oft-outré designs have found an ardent fan base, though Kostadinov is clear that he isn't necessarily designing with critical or commercial reception in mind. "I respect the people that buy my brand but I never really think if someone will like or dislike the collection."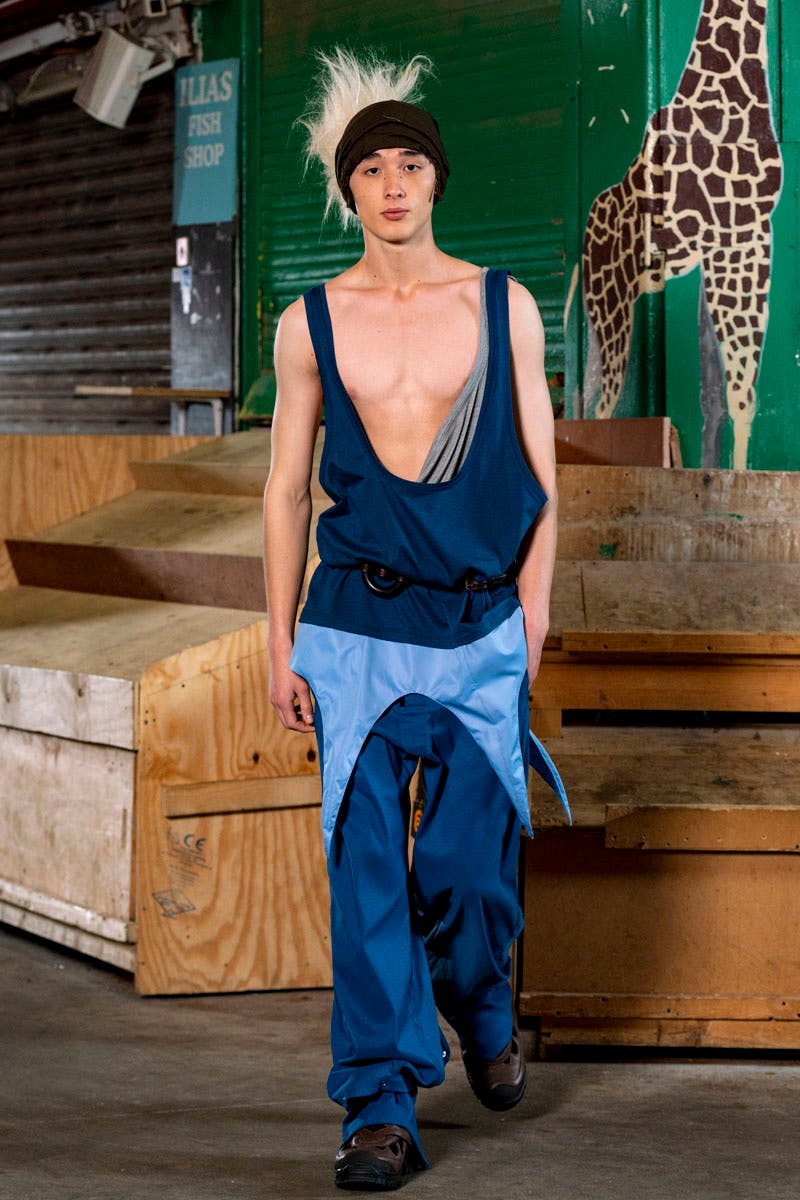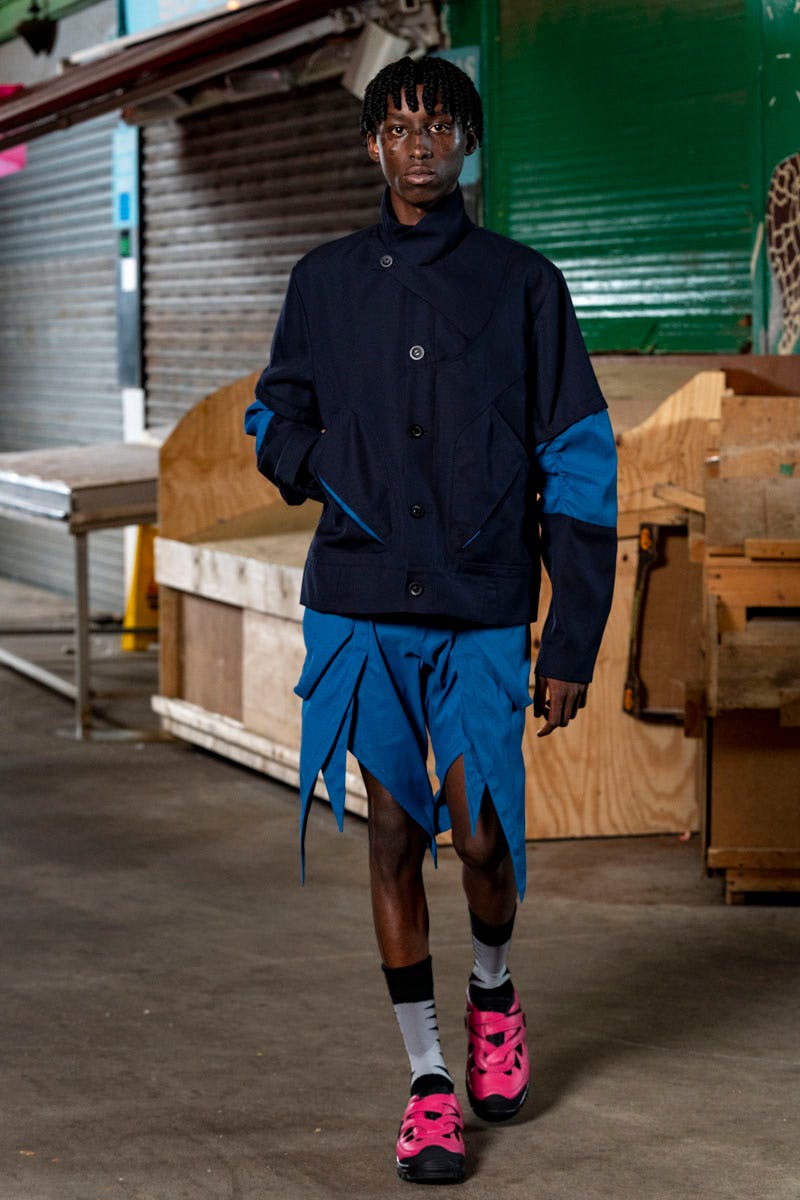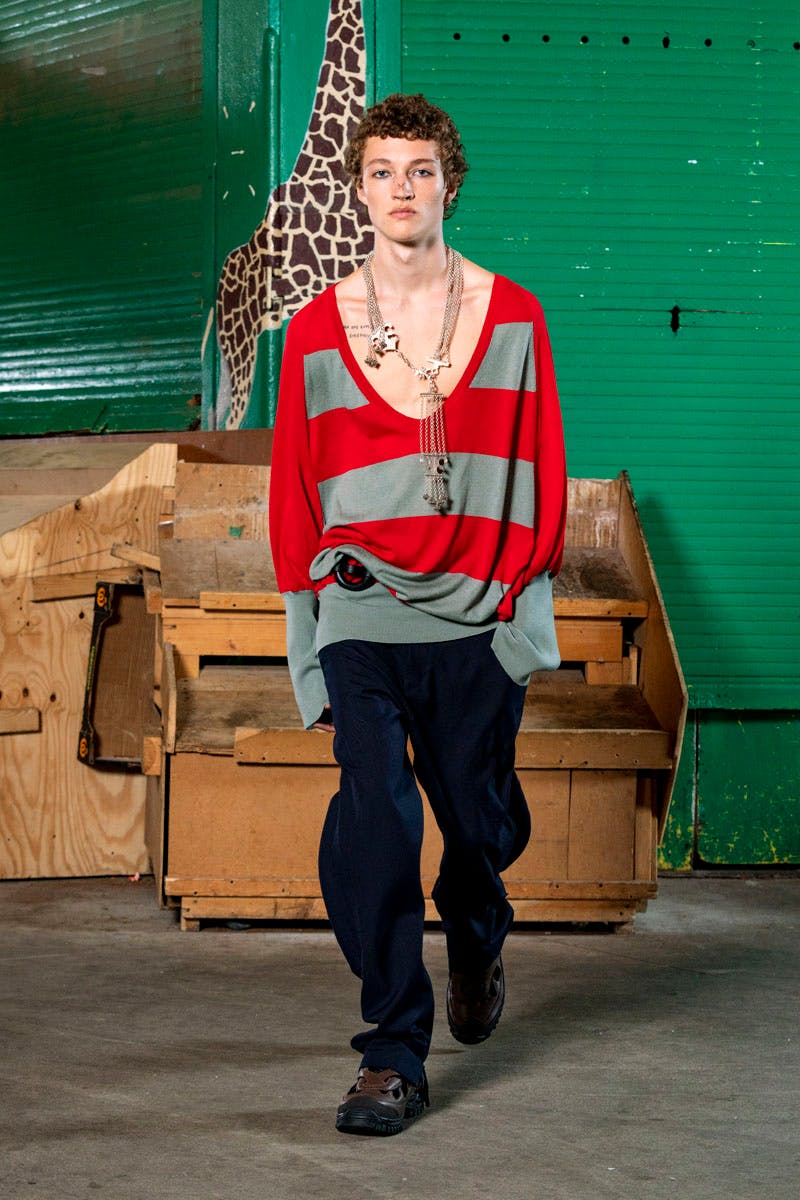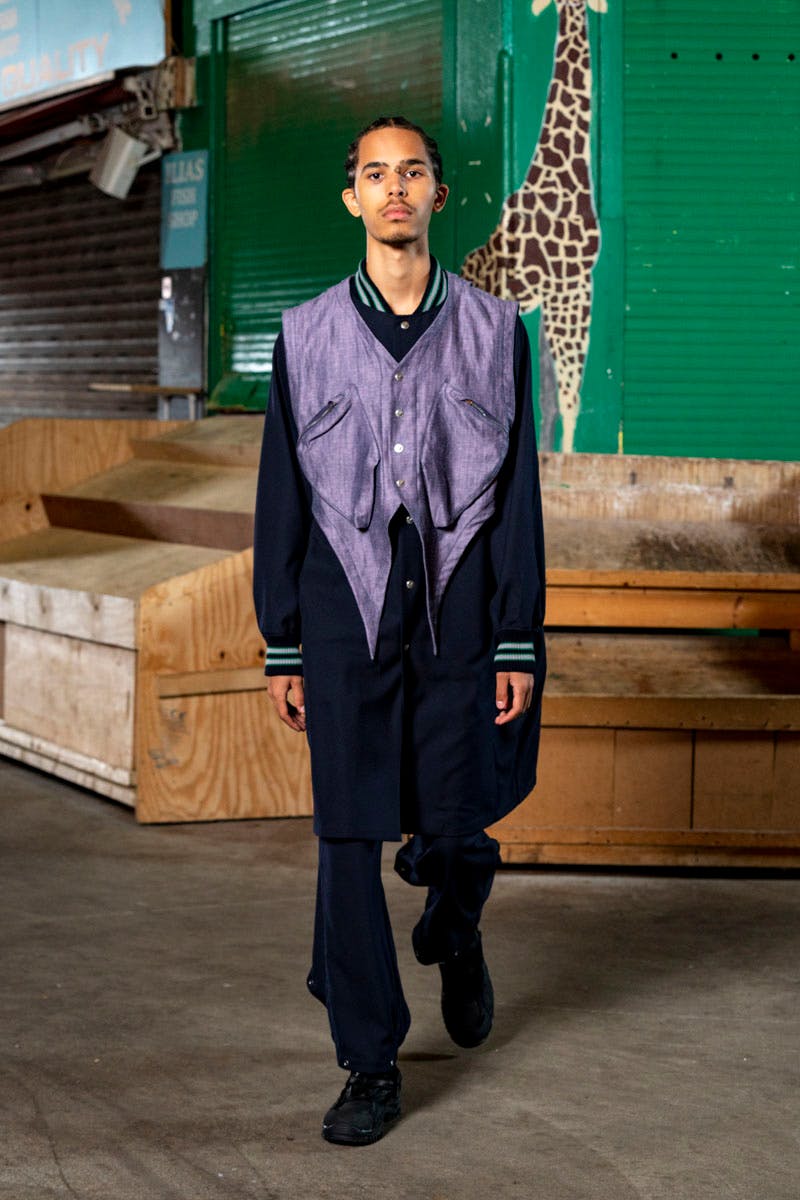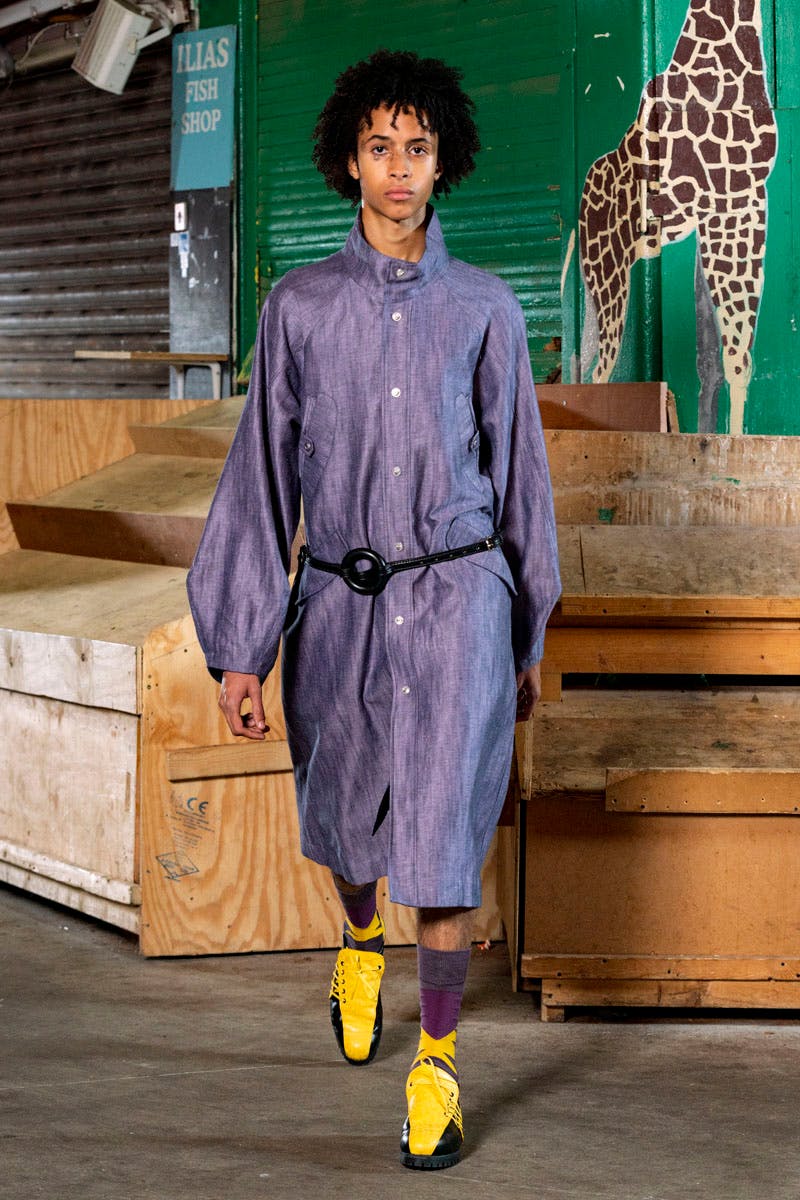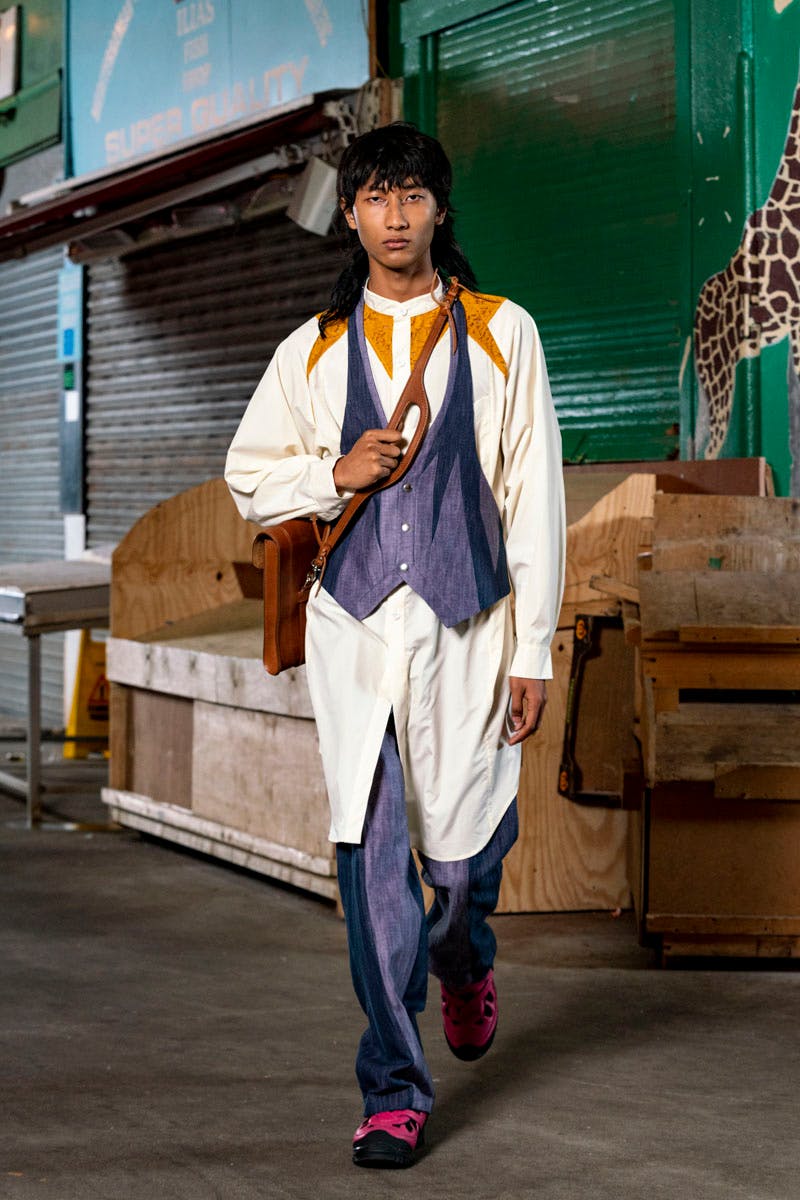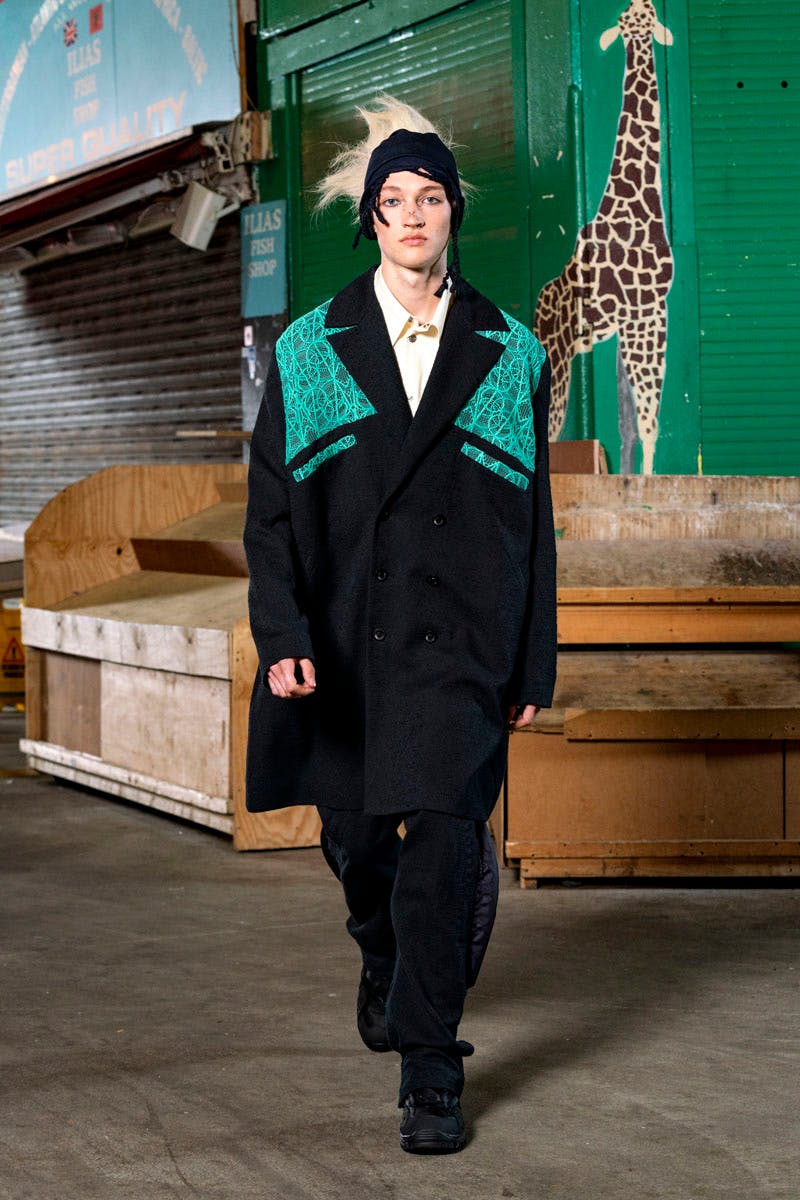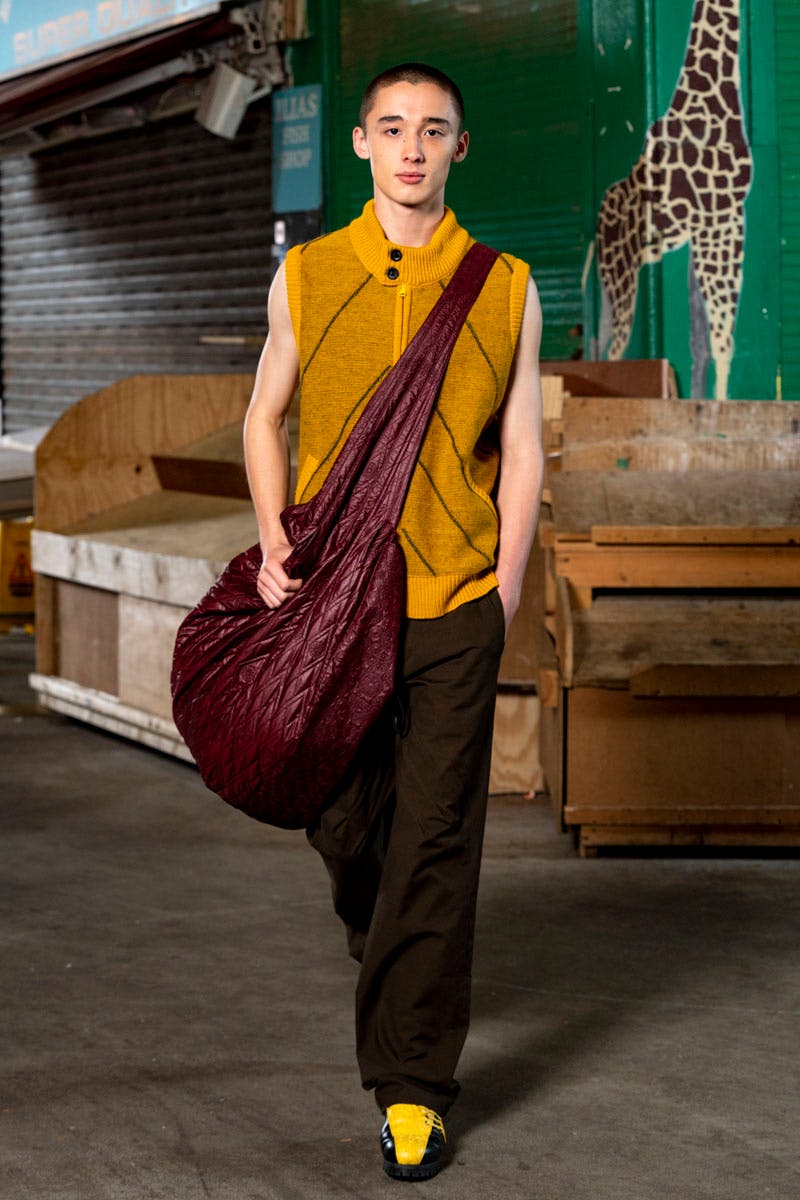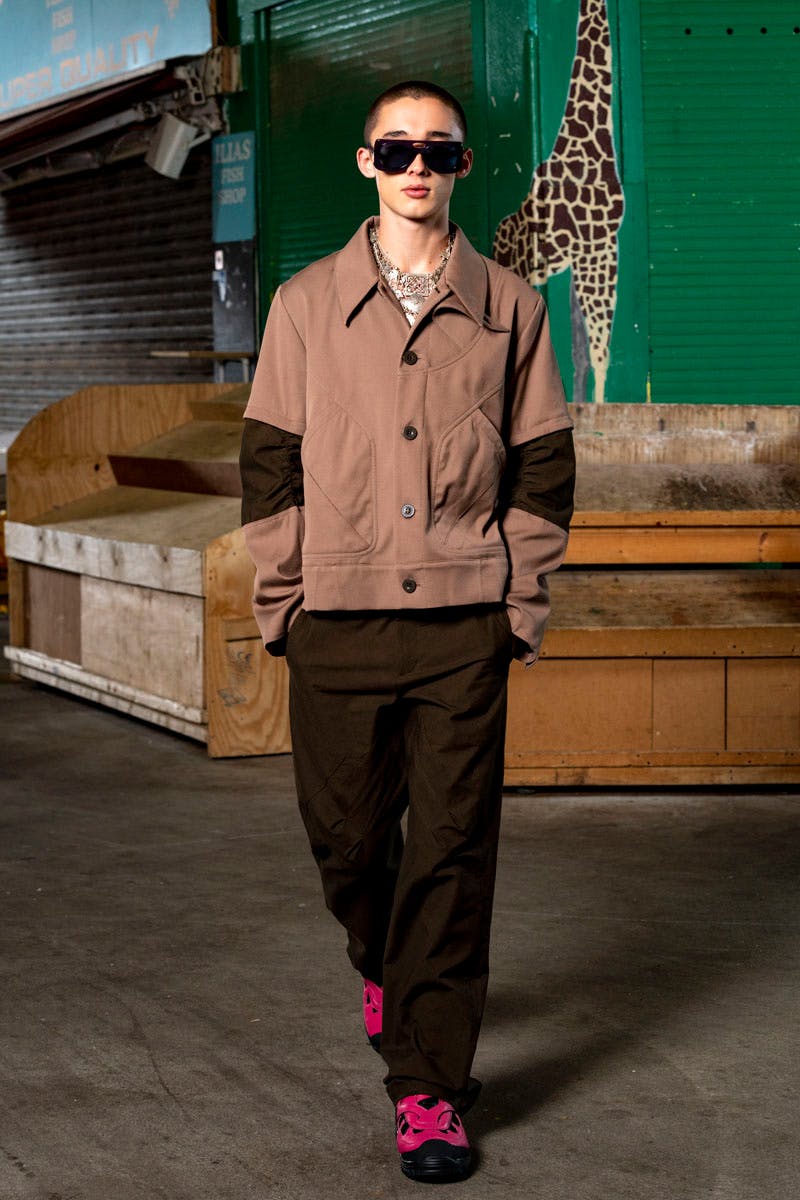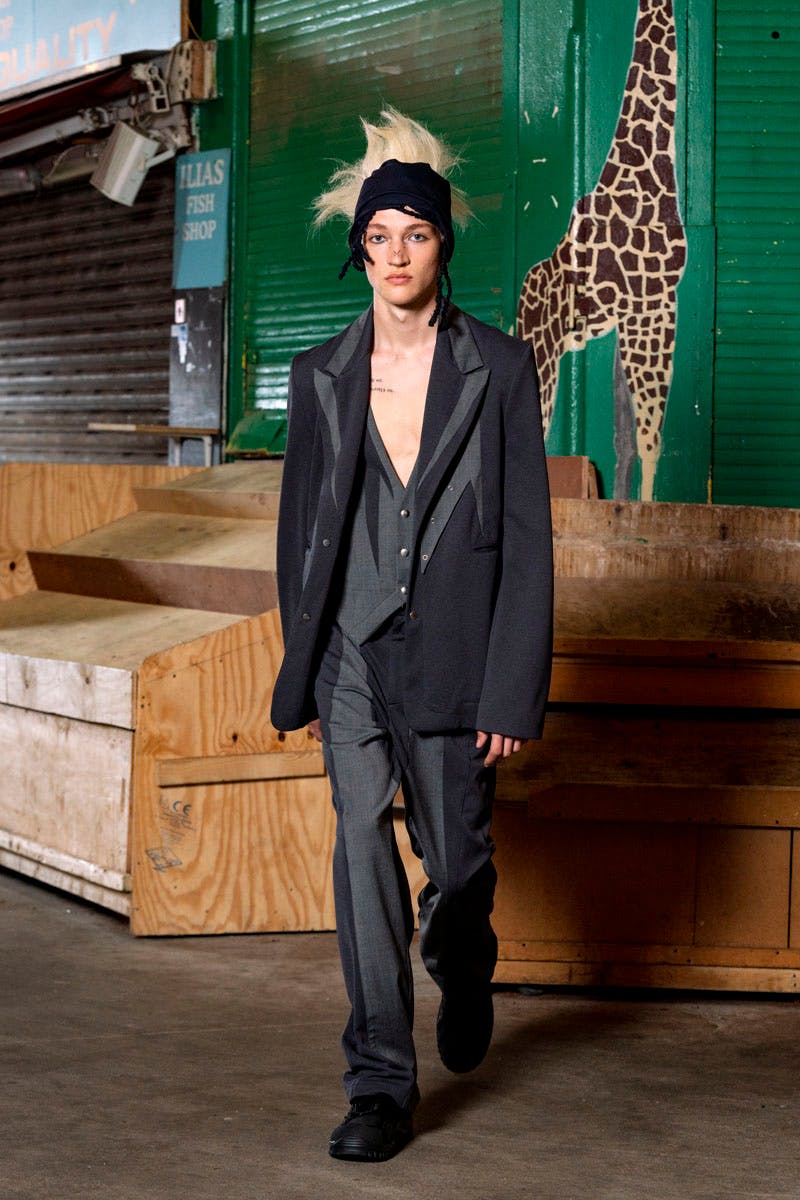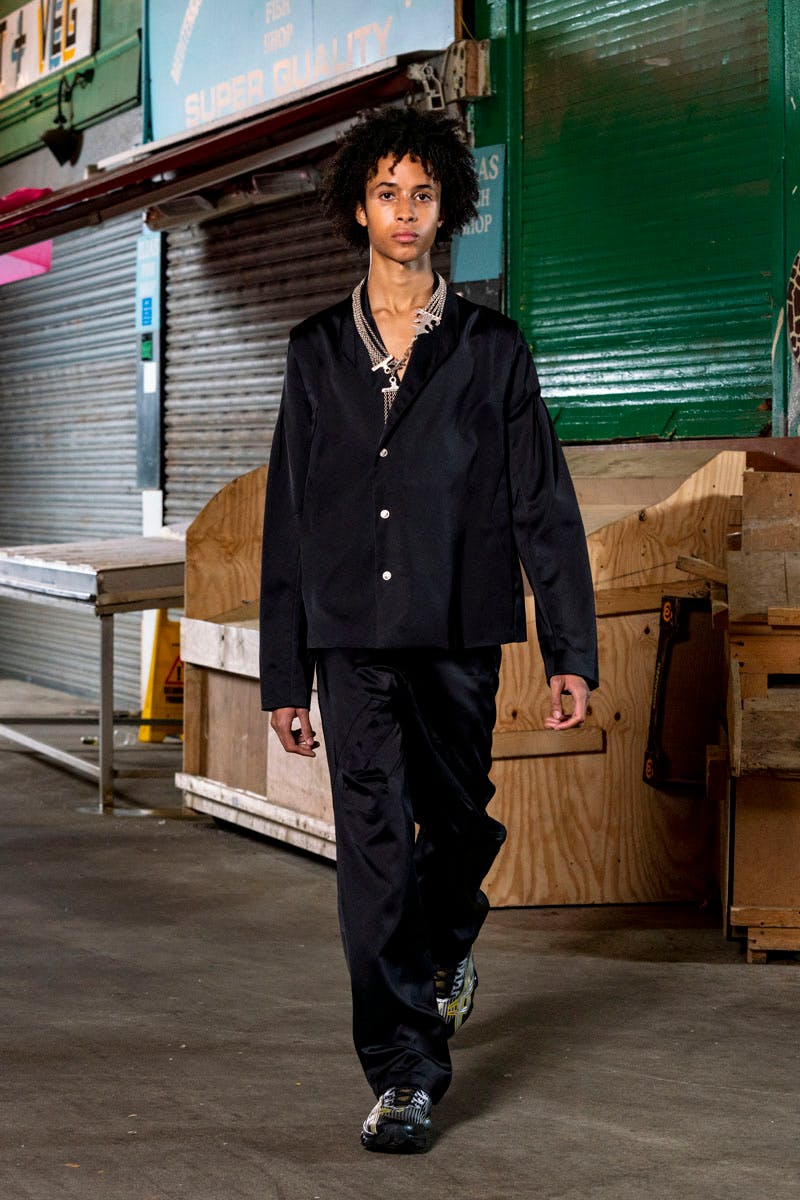 Occasionally trimmed with (not-)Victorian lace or layered atop corset-woven fisherman sweaters, these adventurous bits of outerwear sat atop Kostadinov's anatomical trousers, dragging snap-buttoned pockets and flared hems atop shoes that ranges from semi-dress to full-on football pitch. Kostadinov also integrated one of his ASICS designs/a> into the presentation, accompanying some new and revamped in-line styles.
"Including the ASICS pair was a fun last-minute decision," Kostadinov explained. Given that a lot of his fans' eyes are turned footwards when discussing his work, does he keep up with the digital discourse? "I'm happy that people discuss my work but I don't follow those conversations."
Styling is the most fun part of the season. This where I can play with mini-stories and ideas within the collection. The singlets, waistcoats, pocket vests, cut-out vests... they all had to exist in different ways; they have different function [in regards to] the styling.

Kiko Kostadinov
Highsnobiety's Shopping List
Tank Tops (Emphasis on Top)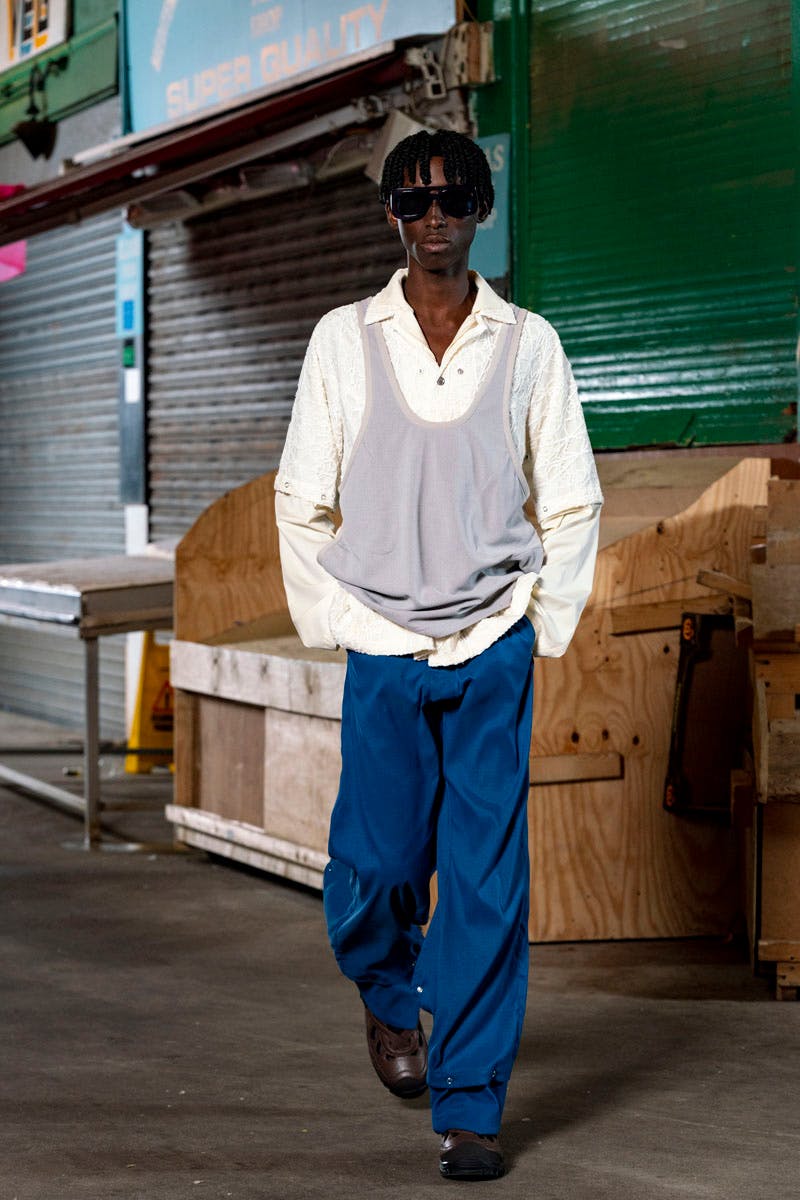 Tank tops make great base layers but what if they were less basic? These oversized singlets are exactly what the doctor ordered for dressing down some shirts with wanton color-blocking and pattern play.
Abstract Pastel Sets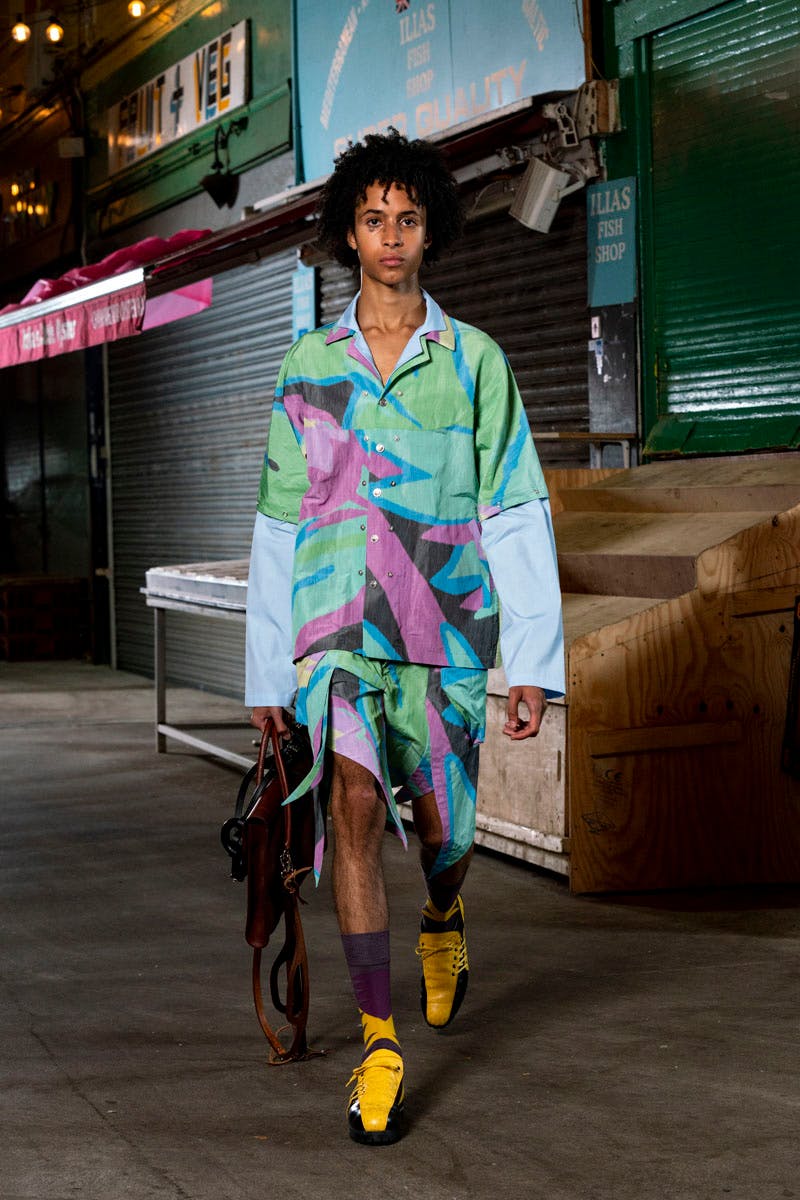 Leave it to Kiko to cook up some crazily abstracted take on typical summer set-ups. Say "Aloha" to boring statement shirts and slip on something more space-age-y.
Chunky Woven Sneakers
With Kostadinov's Camper collabs in the rearview, the British designer has moved onto making his own maximum-impact footwear. In particular, these beefy stompers, laden with latticed uppers that riff on the shape of fisherman sandals, are "an updated shoe from last season with the crossed straps but in slip-on version," Kostadinov said.