The world is still coming to terms with the loss of a true basketball legend. The sudden passing of Kobe Bryant has vehemently underlined his undeniable cultural impact. How many of us grew up yelling "KOBE!" when throwing a balled-up piece of paper into the trash?
For Bryant, creating one of the most successful signature sneaker lines was a natural byproduct of being an extraordinary athlete. Not only did his basketball skills inspire the next generation — many NBA players still wear Bryant's signature shoes on the court — his line of sneakers was game-changing, too. When the Nike Kobe 4 was released, its low-top silhouette completely revolutionized performance basketball, replacing mid- or high-tops as the go-to basketball sneaker.
The High Priest of Low Tops
In an interview with Sole Collector, Bryant explained how revolutionary this design choice really was. "I remember having to go speak to buyers and having to explain to them why I'm going low, from an innovation standpoint, from an athlete performance standpoint, and the things we put into the shoe, like heel lock, that actually make the shoe safer than a high top. That was one of the more courageous leaps," he said. "It was one of those things where if it succeeds, it's going to be industry-changing, and if it fails, we're going to be up shit creek."
Eric Avar, who started working on Bryant's signature line in 2008 and was one of the first supporters of "going low" in 2009, explained what it was like working with Bryant: "The great thing about Kobe is that he is so direct, he is so honest," Avar told Sports Illustrated. "He has a strong point of view, he has a strong voice. [There is] always a very open and collaborative conversation. It is just cool."
Mark Parker & HTM
Bryant's performance sneakers have been the subject of many special edition releases, and it's the ultra-limited HTM (a three-way partnership between Parker, Tinker Hatfield, and Japanese tastemaker Hiroshi Fujiwara) makeups that will stand out in years to come. When the Kobe 9 Elite Low was given the HTM treatment, it was instantly one of the most coveted sneakers of 2014, worn both on the court and off it, thanks to its fusion of performance functionality and keen details, like a multicolor Flyknit upper. Nike's former CEO Mark Parker was directly involved in several of Bryant's signature sneaker models, and Bryant spoke notably about Parker, mentioning: "Over the years, our relationship has evolved. Mark has become one of my muses, someone I turn to for leadership. I could reach out to him at 3 a.m. and he would be up."
UNDEFEATED
Los Angeles-based UNDEFEATED also worked with Bryant on multiple occasions to create collectible sneakers like the "Flight Jacket" Kobe 1 Protro, and many more. Eddie Cruz spoke to Highsnobiety about Kobe Bryant, noting: "I essentially watched Kobe grow up. Starting when he was first drafted as a 17-year-old kid in 1996. I went to every possible game just to watch as Dale Harris [the Lakers coach at the time] would let Kobe 'GO OFF' in the 4th quarter of every game. It was all there. I knew it. Kobe was special. He's the reason why I became and still am a die-hard laker fan to this day. People would often mistake him for being too cocky, but he was misunderstood. He was confident and refused to back down to any challenge. He became my hero. He inspired me to have a relentless work ethic and gave me the confidence to achieve all of my goals."
Kobe's Legacy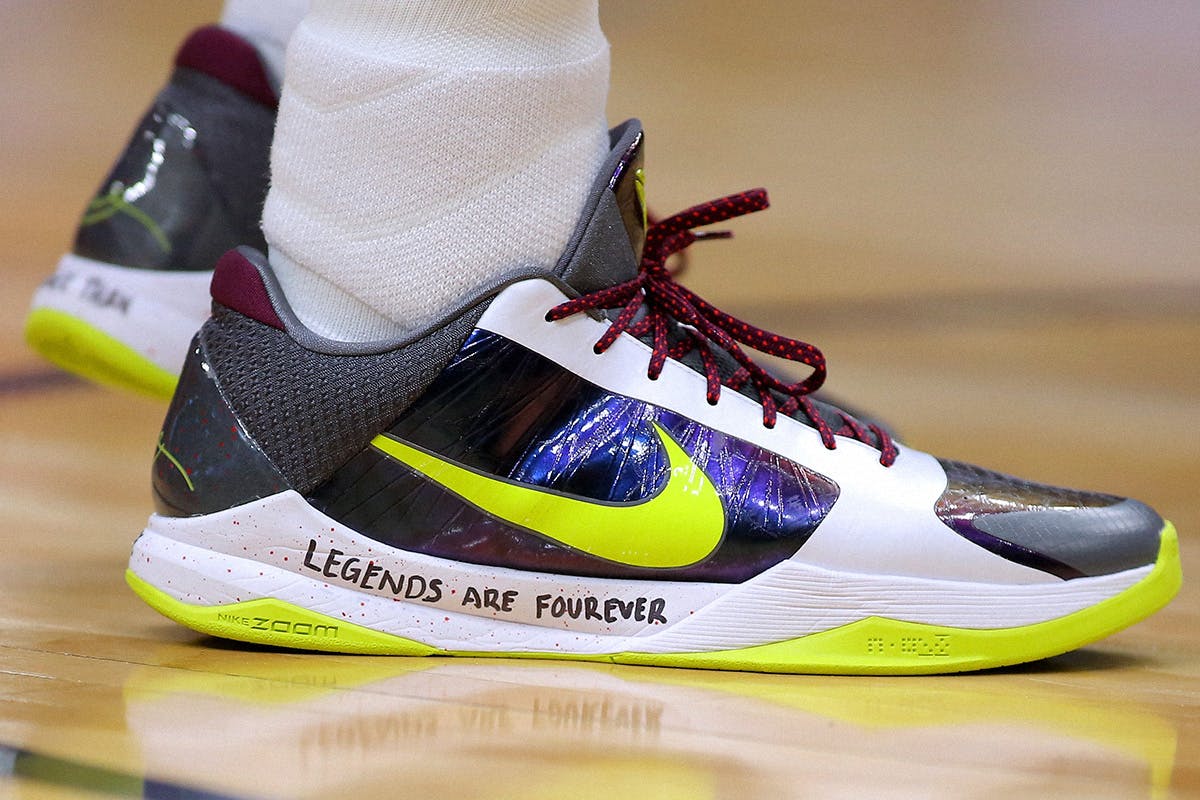 There's no doubt that Bryant's signature line will retain its status as a pioneering footwear franchise, in part because many athletes still see the Kobe line as being seminal. When Giannis Antetokounmpo's Nike Zoom Freak 1 was unveiled in Athens last summer, Giannis said of the design: "Since I was little, I have been wearing Kobe shoes. The fit, feel, and function has always been comfortable for me."
NBA stars like DeMar DeRozan, Devin Booker, and Isaiah Thomas are also frequently spotted taking to the NBA hardwood in Kobes. During subsequent NBA games after Bryant's passing, players throughout the league laced up Kobe sneakers, some inscribed with messages like "Mamba For Life" and "Legends Are Forever."
Further underlining Bryant's impact on sneakers is the fact that Bryant is perhaps the only player to have been signed to both adidas and Nike and have both lines of shoes retroed. And while Bryant's adidas sneakers were never as popular as his Nike line, they have their own place in sneaker and basketball history. Both brands even released statements following his death.
For more, read about Bryant's bizarre but beautiful signature adidas sneaker, the adidas Kobe 2.