If you haven't already heard (or seen), Levi's is bringing back its most popular 501 styles dating all the way back to its debut in 1873. Launching with the Levi's 501®️ jean from 1937, the journey continued with a little trip to Paris for the 1922 501 and has now hopped across the pond to London for its next big moment.
Continuing its revival momentum, the brand's next reissue is its 1901 501®️ jean. This style, in particular, changed the game for the 501 because, like its moniker suggests, 1901 was the year the fifth pocket was added to the back left of the jeans. A year later was actually when founder Levi Strauss passed away, so this final creative act of his may never have existed had he not had his lightbulb moment in his penultimate year.
Limited to 501 pairs worldwide, the stitch-for-stitch 2023 reproduction is made out of deadstock White Oak plain selvedge denim from the Cone Mills, where the fabric originally came from all those decades ago. Bringing back some of its oldest iterations and revamping them to fit the modern-day wearer reinforces the well-known saying of, 'if it ain't broke, don't fix it.' Everyone needs a good pair of jeans, and once a timeless classic like the 1901 501®️ is born, why not bring it back for the people of today?
One of these people who knows a good pair of jeans when they see it is London-based artist, poet, and writer Rene Matić. With creativity and self-expression at the core of their practice, it was only right that Levi's chose an upcoming young talent like Matić to spotlight the Levi's 501®️, not only in our current cultural landscape but in the artist's studio itself.
Hailing from Peterborough in the East Midlands, Matić is now settled with their wife and two dogs in the hustle and bustle of South East London, a creative hotspot for those making a name for themselves in the art world of today.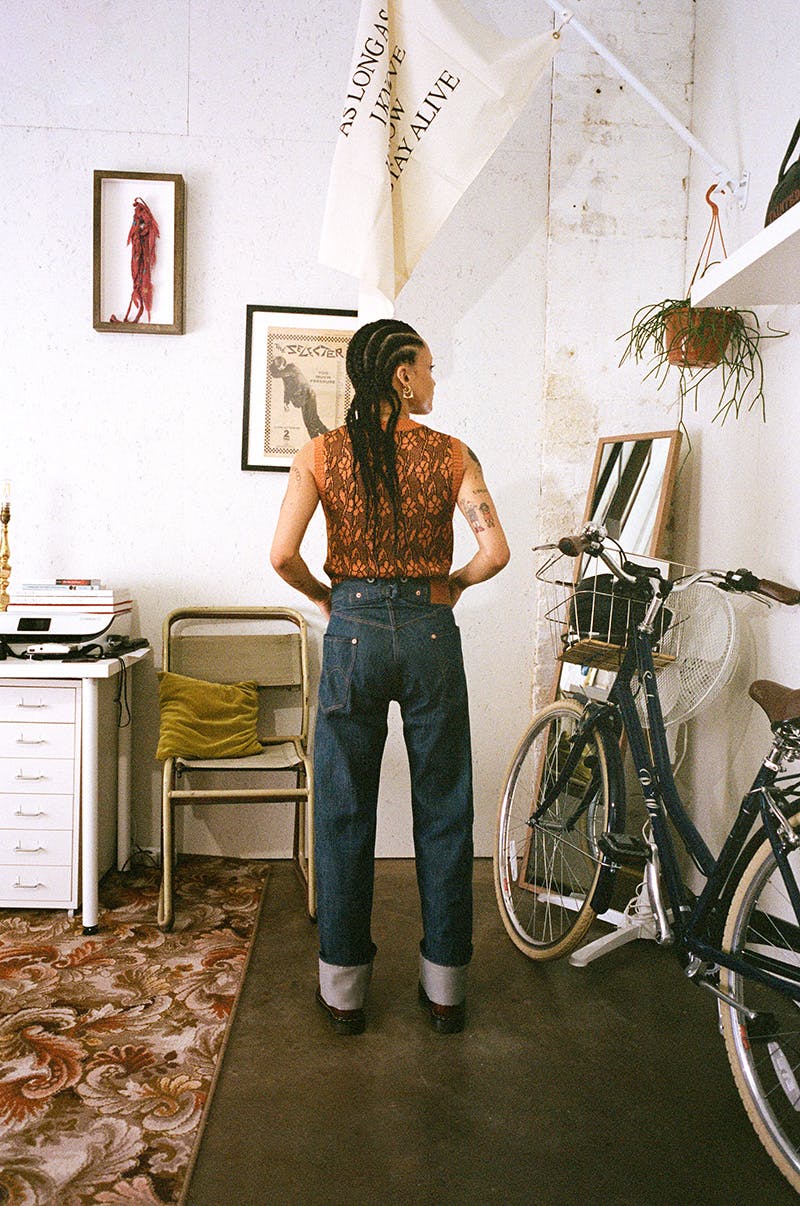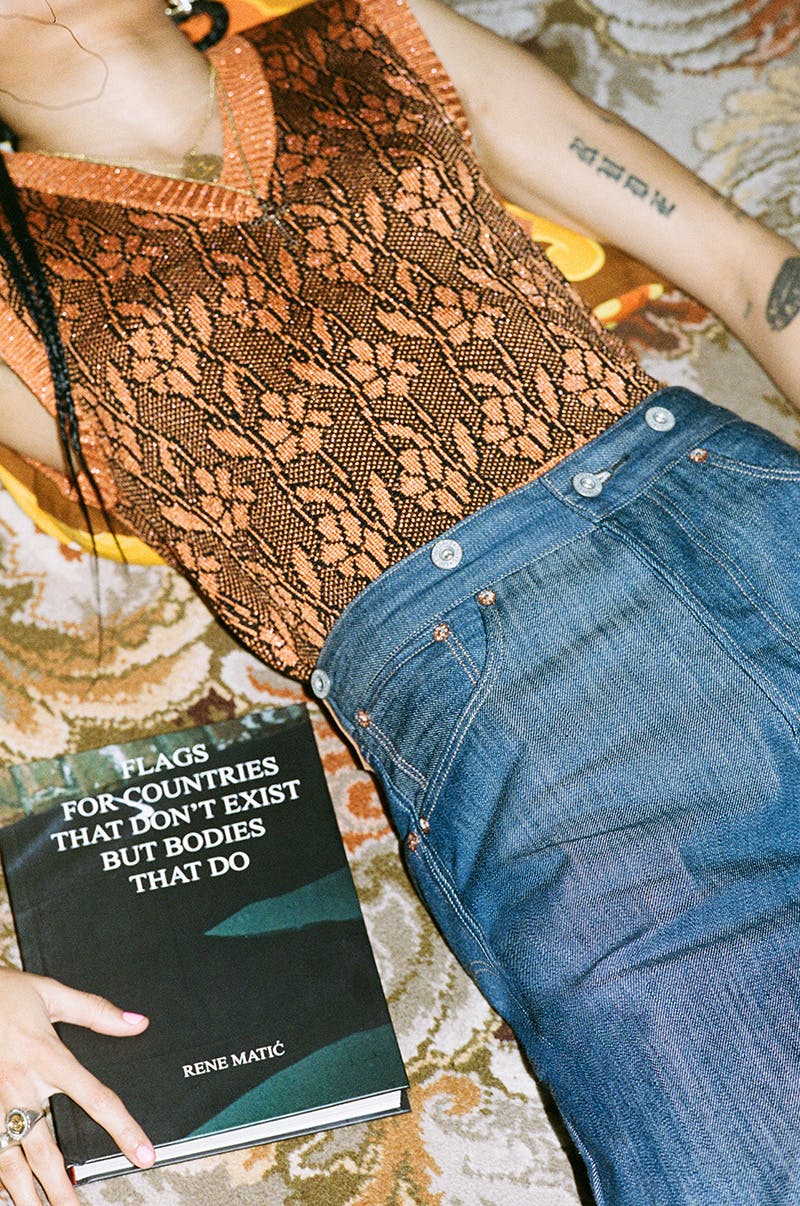 So Rene, what did you wear most as a child?
I went through lots of different phases, some that I am more proud of than others. As a child, my mum would dress me like her - a little silk neck scarf and a polar neck - very chic.
What do you remember fondly about growing up?
A fond memory of growing up would be dancing with my mum and her girlfriends to Motown and disco music in the kitchen. It's still my favorite thing to do now, only now I can also join in the prosecco drinking and cigarette smoking as well.
You've been known to say that art is the only thing that fuels you. Why is this? 
When I say that, I'm talking about art as a kind of philosophy, I suppose - a way to exist, a way to think, a way to behave. It isn't necessarily about the craft or the physicality of the work itself, but it's the queering of the mind that fuels and saves us and sometimes disturbs us.
Through art, I find spirit.

Rene Matić
Your practice as a multi-medium creator has evolved over the years, similar to the Levi's 501®️ identity. What would you say you've noticed changed the most within your craft and work?
I think the thing I've noticed changing is the pace of ideas and making. Everything slows down and draws out in the best way. I sit with things longer, and they sit with me. I feel like I used to present the work, but now the work presents itself to me.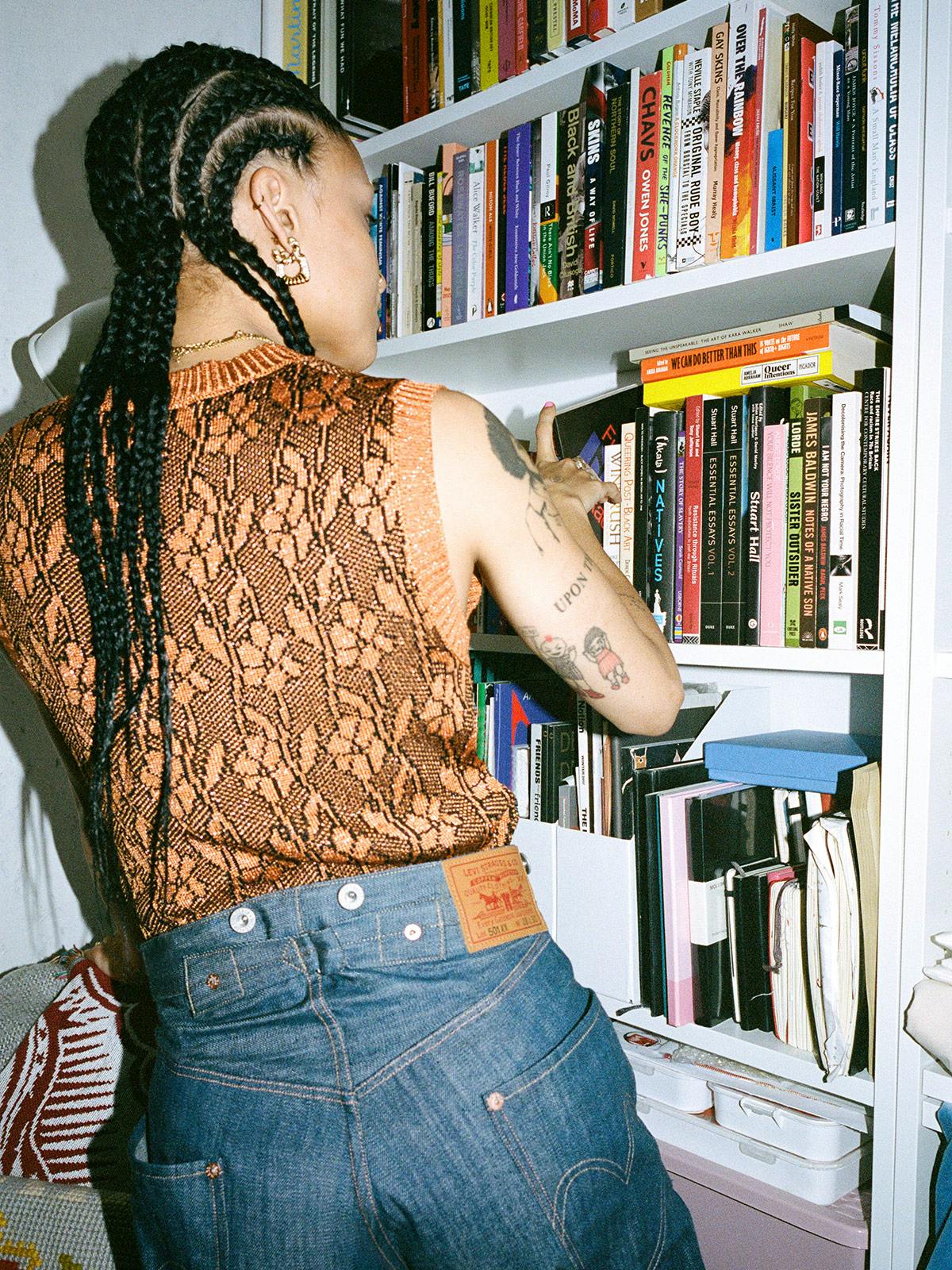 You already work in many different mediums, but is there something you haven't tried yet that you're keen to?
I want to try everything! I very rarely get to use my hands these days, so I'd love to return to something a bit messier. Or maybe more delicate? Delicate and messy is my gender haha.
The Levi's 501®️ is also steeped in history and heritage, like some of your pieces. What would you say some of the recurring themes in your work are?
I often take my departure point from moments in history where dance and music movements - such as Northern soul, Ska, and 2-Tone - have arisen through intimacies between West Indian and white working-class culture in Britain. As someone from this diaspora, I find the poetics of these histories grounding, using them as sites to queer and re-imagine
What about London as a home now inspires you?
The queers, the gays, the girlies, the art, the artists, the communities, the buildings, the clubs, the pavements, the passion.
As a young queer artist in this field, what do you hope to see happen more within the arts?
MORE MONEY. More money for the museums, more money for the institutions, more money for organizations, more money for the curators, the researchers, the writers, the artists, the assistants. More money for the work. More money for the lives.
How would you describe your style? Do you find yourself checking out vintage shops around London a lot?
My style changes, but I'm always a skinhead at heart, so there will always be a nod to that. I switch quite dramatically between being a masc or a femme - depending on how I'm feeling/what's in the air. Female identifying Skinhead's were called 'Sorts' back in the day, which, used in a modern context, means someone who's slaying, so I'm going to say that's my style and goal haha - I'm a sort!
I've been a fan of Levi's from early on. My dad is a Skinhead, so the Levi's 501®️ is part of the uniform. Levi's has a history and community that isn't fixed...it's like the holy grail of denim.

Rene Matić
Describe a good pair of jeans in three words.
Ass/looks/nice.
Ok, task is to turn the Levi's 501®️ into an artwork — what would you do?
I actually have used the Levi 501®️ in many artworks, sometimes as costume, sometimes as sculpture. The most recent one was commissioned for the Beano show at Somerset House, where I invented  my own alter ego called 'Moonstomp' and displayed the outfit they would wear, which included the Levi 501®️.
Why do you think brands like Levi's have maintained their icon status for so long?
I think it comes down to fluidity and movement. And also JEANS, man. We can't be without 'em.
Shop the Levi 1901 501®️ jeans here on the Highsnobiety Shop, at levi.com, and in other retailers such as END Clothing, CULTIZM, and SLAMJAM.