Louis Vuitton's Spring/Summer 2023 collection was the house's first without direct insight from artistic director Virgil Abloh. Though, you may not have known from looking at it.
Abloh passed in November 2021 but the always-on creative was never not overseeing countless projects. He had stuff in the works that wasn't even dropping until 2023 and had input on no fewer than two separate LV runway shows that debuted after his death.
Though Abloh didn't directly put his stamp on Spring/Summer 2023, his mark is everywhere. The Louis Vuitton menswear design team — Studio Prêt-à-Porter Homme, as they're known — that devised this collection was obviously drawing deeply from the lessons they learned from Abloh, down to the show invites.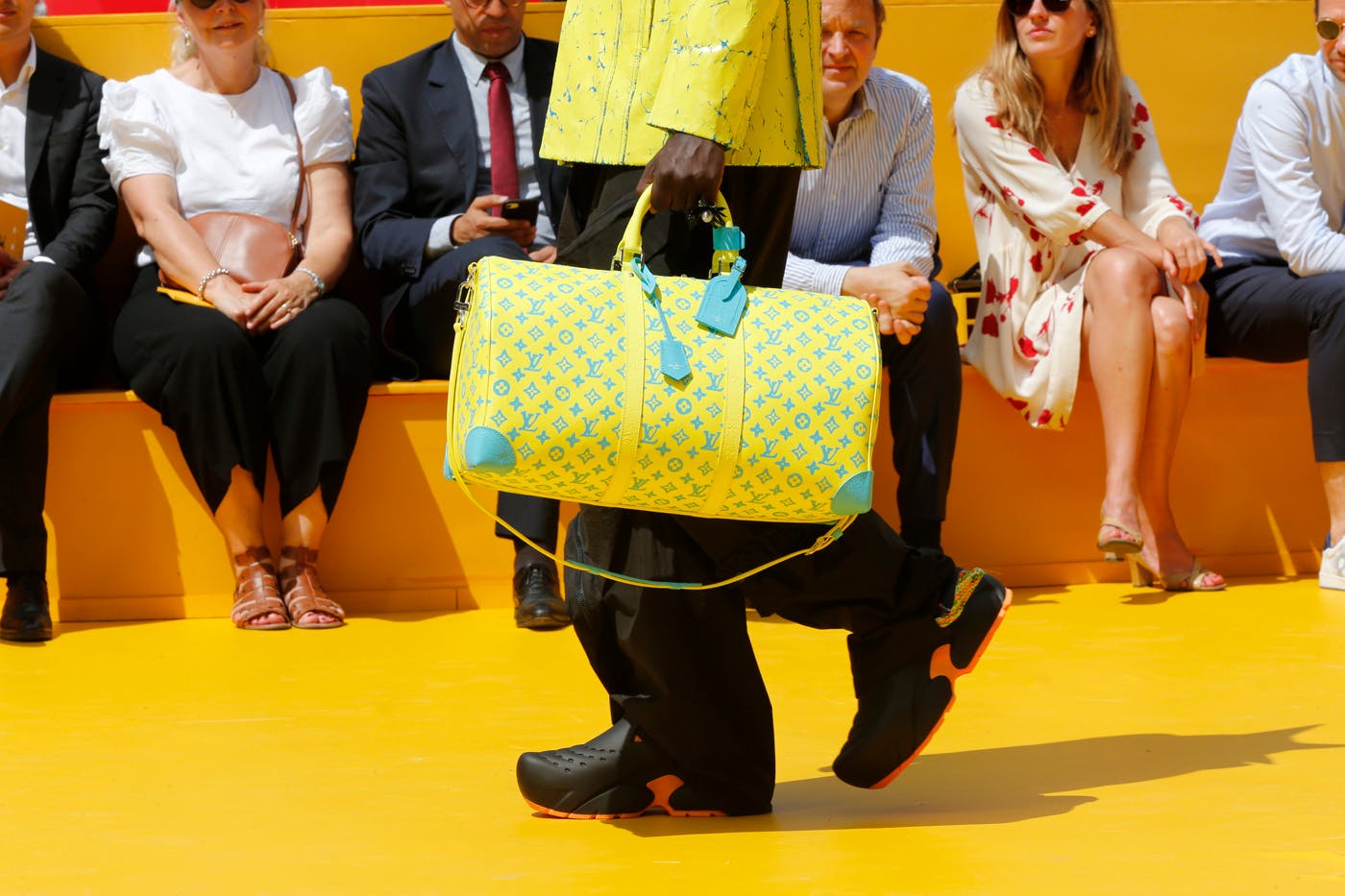 The collection itself is heavily inspired by Abloh's menswear inclinations, with plenty of face-shrouding sunglasses, patterned blazers, pooling pants, and pieces that shred gender norms.
Spring/Summer 2023, in particular, explores crocheted knits and crinkle-cut edges that feel lacey, delicate. Dresses and skirts provide a similar soft contrast to the beefy sneakerboots and masculine weight of massive, ankle-length coats studded with pockets and scissor charms. In fact, there's a very DIY feel at play in Louis Vuitton's menswear collection, or at least as close as ultra-luxury gets to feeling "do it yourself."
The mélange of patterns and colors, washed denim jeans abutting crisp white aprons and patterned slit-hem suits, it's an all-in approach that does indeed reflect the countless inspirations that Abloh channeled into vivid, boundary-breaking menswear.
The LV accessories and bags are no less expressive, shifting from tonal matte leather to painted crocskin to paper boats, an evolution of the plane motif key to Abloh's LV practice.
Of course, nothing tops the massive Louis Vuitton speaker-backpack-thing, replete with monogram canvas interior and Fleur de Monogram frame. A showstopper in any language, including the design language devised by Abloh himself.