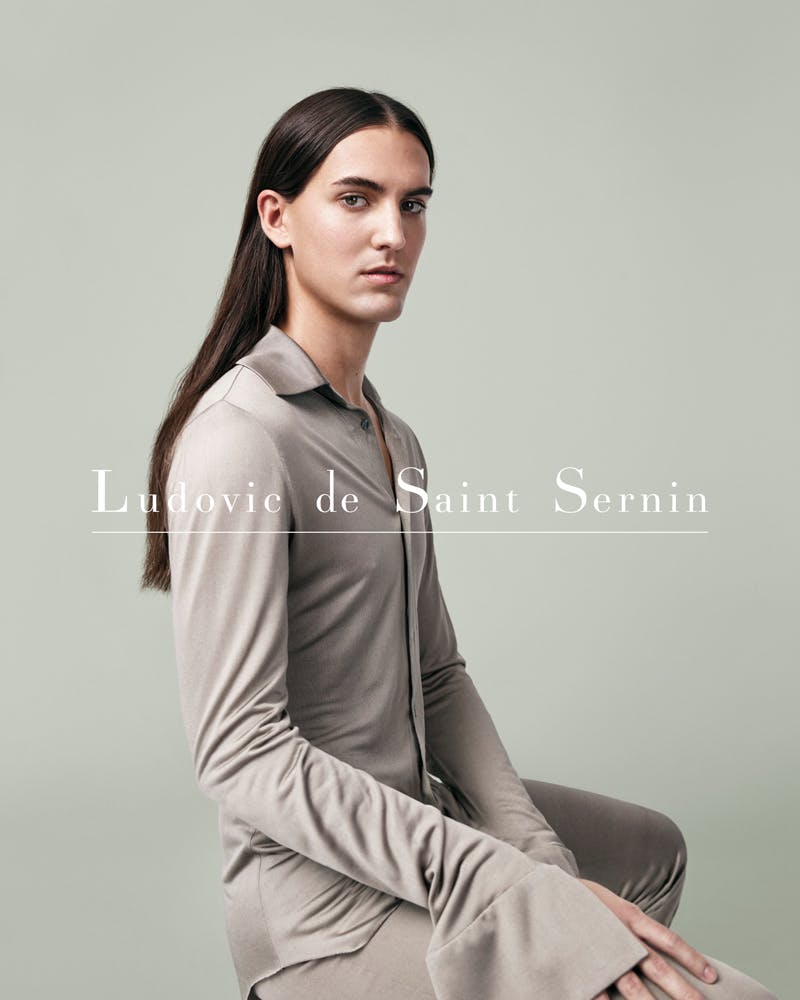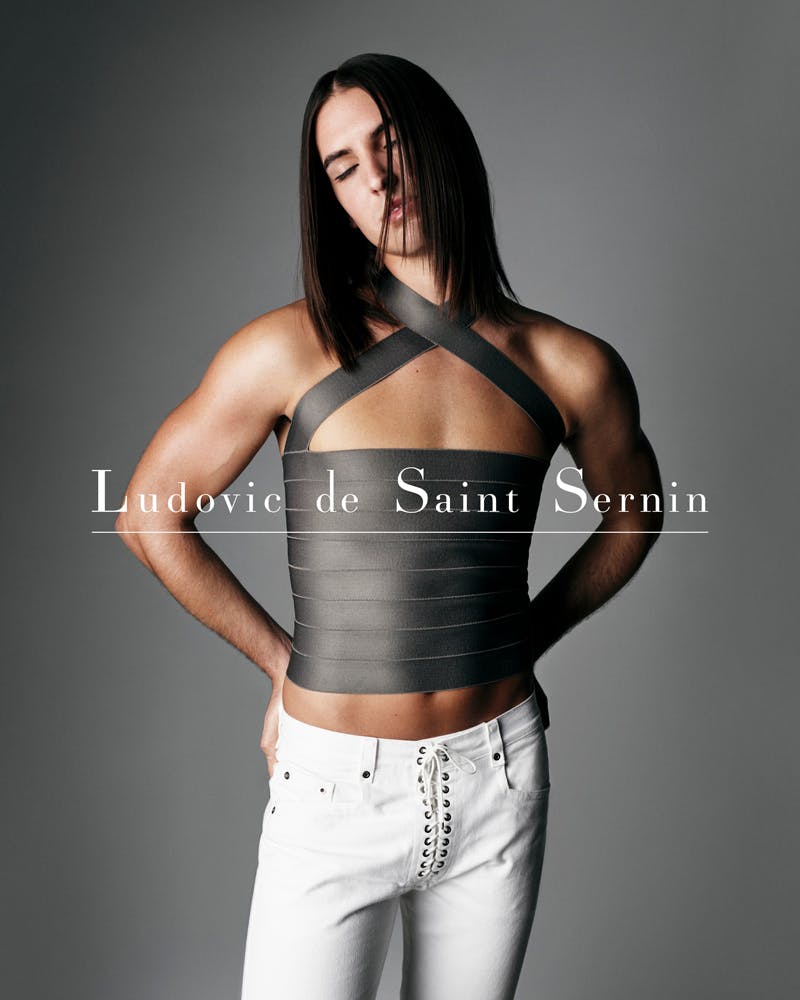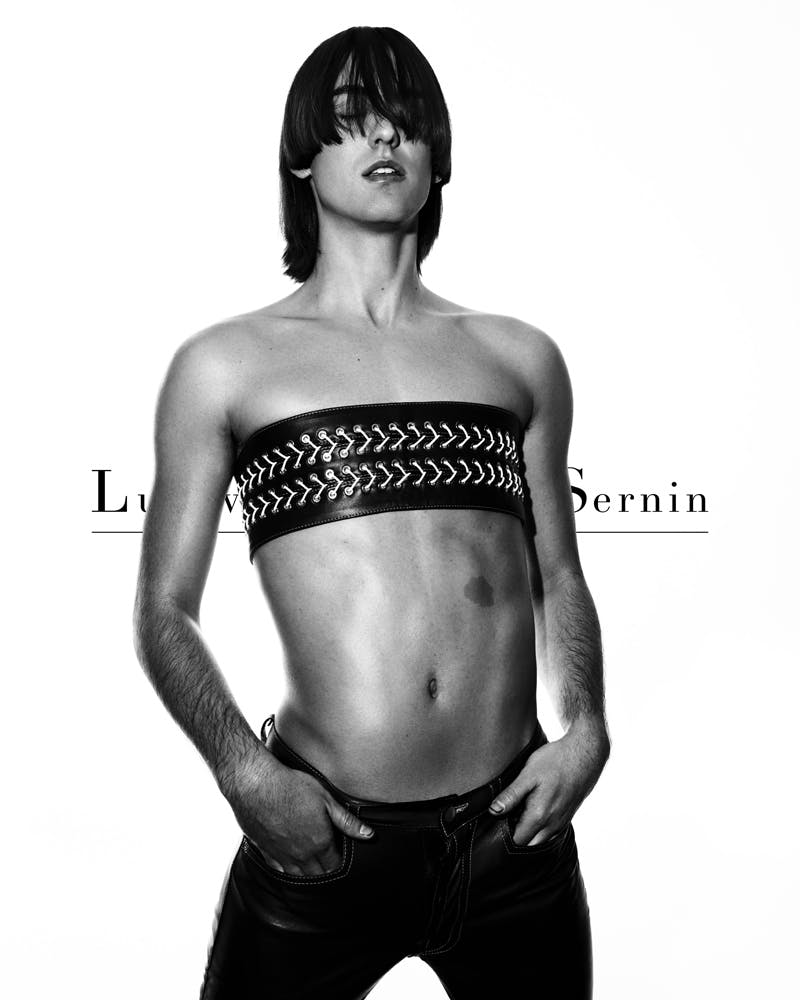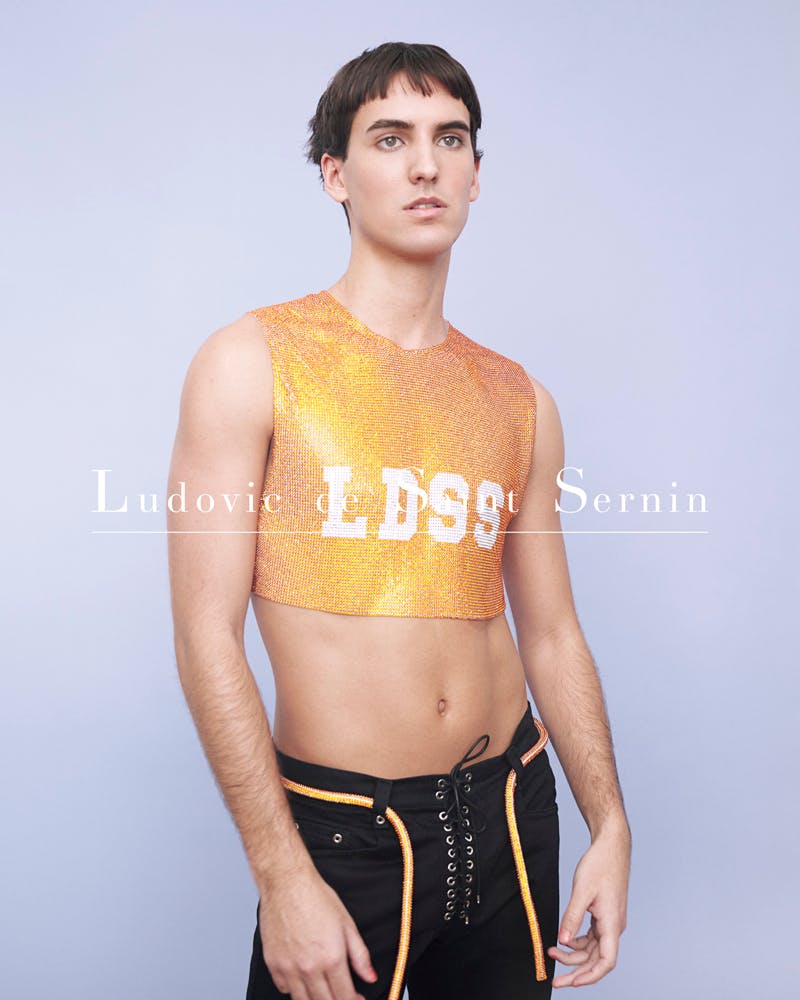 Ludovic de Saint Sernin's (LDSS) Spring/Summer 2021 campaign "E-Boys" highlights the latest denim lace-ups, leather bandeaus, and off-the-shoulder knits from the Paris-based label. The campaign sits in a wider catalog of shamelessly sexy and provocative imagery, which has been a cornerstone of the brand since its inception in 2017.
Previous campaign references have spanned photographer Robert Mapplethorpe, the classic supermodels of the '90s, and now, LDSS turns to esteemed fashion photographer Willy Vanderperre to lock down on the "E-boy" phenomenon of our digital age.
The campaign puts the transformative nature of hair front and center. Model Ignacio is photographed in six different looks as his hair traverses from back-trailing extensions, to shoulder length, to '00s nostalgia, before being shaved down to 3mm buzzcut for the summer.
Below we catch up with Saint Sernin about his inspirations and fulfilling the LDSS fantasy.
Why is it named E-Boys?
The "E-boy" is such an interesting concept for me, especially given the times that we live in right now. I wanted to pay tribute to my community and celebrate them by creating a collection that takes inspiration online, on Instagram, TikTok, and other platforms where you can express yourself. We constantly take selfies and show our newest clothes we bought e.t.c.
Since we couldn't do a show this season I knew it was really important that we think of each garment of the collection as a stand-out piece that can speak to you just through an image online. It's super colorful, you've got rainbows, Swarovski crystals, and that's what e-boys are all about!
How did you approach casting for this?
Well, when Willy [Vanderperre] and I started talking about casting we were thinking that we wanted to do a large casting (and shoot remotely if necessary) so we could have everyone we wanted without having to travel as well. And then I thought wouldn't it be super fun to have only one model but create with him all different types of looks from hair, to clothes and even nails?
Willy also mentioned how Ignacio and I would take selfies for Instagram and post ourselves in LDSS. And that's when I thought who better to embody the essence of LDSS than my boyfriend, Ignacio?
The campaign features one model with six different haircuts, can you elaborate on your inspiration ?
That campaign is all about hair. We wanted to create six unique looks that could represent some of the iconic hairstyles that E-boys can have but also throw in some '00s references dear to my heart! We started by giving Ignacio extensions which was super fun, and then Louis Ghewy, my hairstylist since the very beginning of LDSS, started cutting his hair. So you've got the pop star hair from when I was growing up with super mega ironed hair, a more emo and edgy hair short at the front, long at the back, the Josh Hartnett hair cut from The Faculty, and last one is buzz cut 3mm!
"Don't ruin my fantasy" What is the LDSS fantasy?
I think the beauty of the LDSS fantasy is that everyone can project their own fantasy on LDSS in order to live their best life. I love how people interpret what I do in their own way.