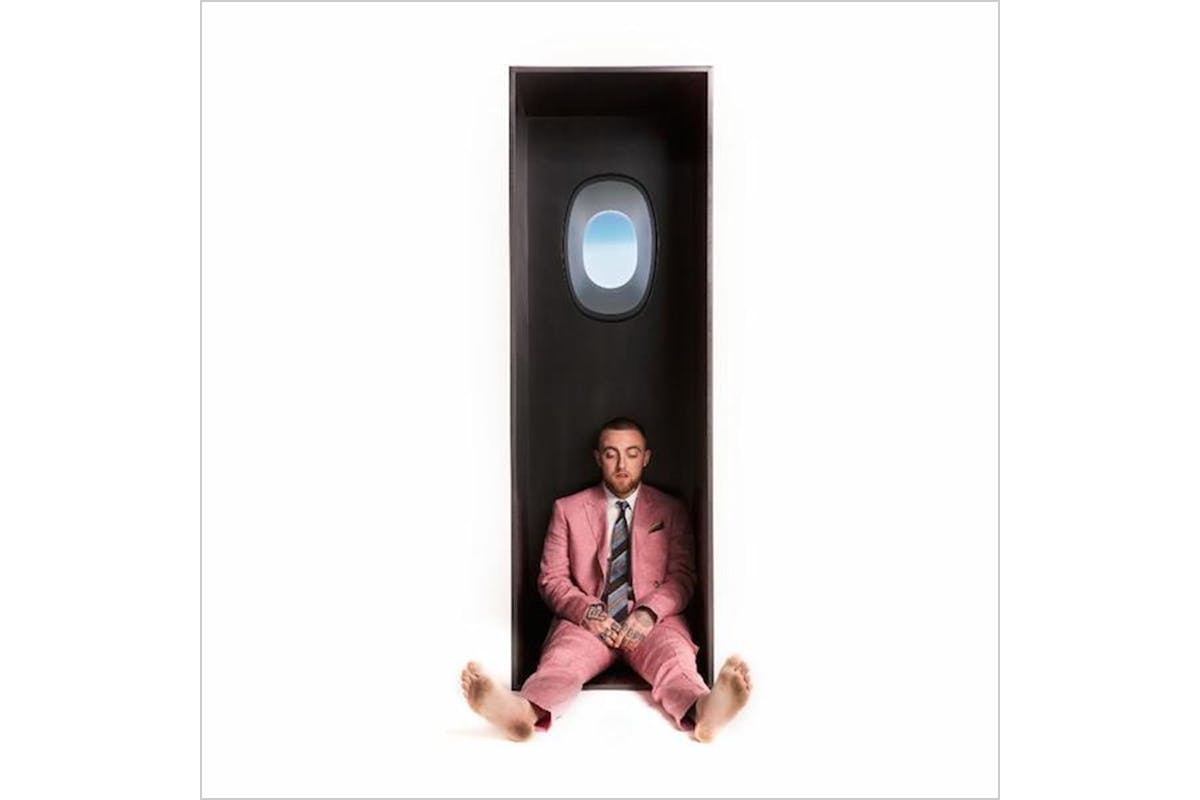 4.0/5.0
I miss the incautious, K.I.D.S. mixtape-era Mac Miller. The stroll-through-the-super-market high school senior that would hop on a bed to finish off a rap verse in a music video. The light, breezy lyricism for the perennial slacker and smoker. But those days are gone. Miller's career has seen a trajectory not dissimilar to that of the state of the world; with each release, his narrative grows much darker and colder.
Swimming, Miller's fifth album, is fresh from his break-up to the now-engaged Ariana Grande. But instead of waging a war of words about being scorned at the hands of love, Mac's grim new album holds a larger perspective. It explores failures and coping, to the backdrop of mostly smooth jazz and hushed tones. It may be off-putting for those hoping to remove themselves from darkness, but Swimming submerges the listener into deep crevices of self-destruction for the purpose of understanding the self and the pitfalls that doom us all to mediocrity.
It's been merely two years since the incisive love project The Divine Feminine and rap has felt Miller's absence. No matter how bleak and dismal, or just downright outré his experimental albums got, they offered a break from the monotonous globs of trap and SoundCloud boilerplate. That changed when he became attached to Grande. He appeared for a guest spot on "My Favorite Part" with her and a few live performances, but, as relationships frequently cause partners to do, Mac largely withdrew from the hubbub of everyday celebrity life. As Ariana tells it, their relationship began to sour. Mac was self-medicating, a lot, climaxing in a certain incident earlier this year, handled with grace. While we'll never know what truly happened during those two years, but Swimming serves as the best explanation we'll get in this suitable of a time frame.
And the answer that it gives is one of crests and plateaus. Like an actual wave, Swimming's moods crash and fall, then rise again, all while we frantically hold on to prevent being cast out to sea. Amid the maelstrom, Mac acts as the voice of the seas, somberly spewing line after line of pleas and resolutions to against solemn, jazzy funk. "Come Back to Earth" is the step off the shore, its heavenly sound threatening to lift you from your perch unless you hold something down. It reads as a cathartic, armchair psychiatry chat that gets pretty real ("And I was drowning, but now I'm swimming/Through stressful waters to relief/Oh, the things I'd do/To spend a little time in hell"). The grey skies that he speaks of in the opener cloud the rest of this remorseful outing.
The record continues to alternate between moderately-paced, confident declarations of fault and slower, more vulnerable attempts at understanding. "What's The Use?" is pure ecstasy with a dark twist; a woman isn't the object of his sentimentality, his relationship with the bottle is. His confidence in his ability to shed it is endearing, even if we know it's more troublesome than he lets on. Snoop Dogg contributes his grizzled elegance that evokes the playful spirit of "Sensual Seduction" turned inward. "Self Care," the Grande primer, is a morose look at the relationship that you've unknowingly been waiting for. His rhymes grace the former pair's (according to him) liquored up lifestyle and his DUI with an air of derision that seems as if he never was as invested as he let on. The strapping bass of the first half catches you off guard; once it narrows itself in the emotional second half, in which Mac talks about oblivion like it's nothing, you're ready for it.
Interestingly, if an ongoing motif exists in the confines of the album, it's that the nature of the wide-ranging production swings like the movements of a wave. Each song, while sprinkled with luminous energy underneath the gloom, features claustrophobic production that makes it feel as if you're wading through heavy, icy waters. Miller's previous projects like Faces and Watching Movies With the Sound Off were known for their druggy systems of sounds that gave each work an airy vibe familiar to users of the same ilk. With Mac fixing himself and his addictions, Swimming is purposefully crafted in this murkiness. This is the sober version of what drugs sound like. "Ladders" is a pulsating affair complete with the jumpy electro synths and techno-esque bass. Here, Miller is contending with the impacts when "it all comes fallin' down/when the night, meets the light" in which he loses everything he's worked for. "Conversation, Pt. 1" is on the higher end of the spectrum, with Cardo and Yung Exclusive's sneaky production proving to be one of the cheerier beats on the album — if you could even call it that.
But through it all, Swimming is a journey that explores what comes after the lowest point. It's Mac Miller's most pessimistic album, and his most personal. But the darkness comes with the promise of better times after lessons are learned and bridges are crossed. "2009" and "So It Goes" are the final act of the album, and in eleven cumulative minutes between both, Mac takes us back to the beginning and proffers the first signs of catharsis within his current situation.
The album's waves have washed him ashore to deal with life's series of ups and downs. And the sanguine key in which he raps in "So It Goes" lets us know that he's weathered it and come out a better person. His enticing bed of warm funk that captures his baptism of vices also captured his cry for help in ways that make Swimming the authentic self-destruction album so many artists have attempted before. Here, Mac is in rare form, chronicling his destruction and rebirth in a way that shows his acknowledgement of the path ahead, but reluctance to step on it without the certainty of companionship at the end. Whether he continues to walk that path is ultimately up to him, but the Mac that's featured on Swimming will find his way from the darkness. In the process, he's given us a beautiful means to mark the turn of his narrative.
Mac Miller's 'Swimming' is available to buy or stream. For more of our album reviews, head here.