Announced yesterday, Mark Parker is stepping down as Nike's president and CEO. The company announced John Donahoe will succeed Parker, effective January 13 2020, with Parker becoming executive chairman of the board.
In his time at Nike, Parker has become synonymous with the company's rapid growth, digital-first mindset, and product innovation. He was first hired as a footwear designer and product tester in 1979, by none other than Nike's first full-time employee, Jeff Johnson. He later became CEO in 2006. Nike co-founder Phil Knight later revealed "He was one of the first guys we recruited out of college," while speaking with Forbes. "So we've kind of had our eye on him for almost 40 years."
In a letter to Nike employees on the topic of his abdication of CEO, Parker noted "I'm not going anywhere," also noting he will still be heavily involved in product, design, innovation and marketing. Nonetheless, this news does punctuate the end of an era for Nike.
Below, we look back at Parker's legacy, specifically the outstanding achievements that the former-CEO will be remembered for.
A Legacy of Products Before and during his time as CEO, Parker spent a lot of time in Nike's fabled Innovation Kitchen, which is a top-secret prototyping area that offers a plethora of tools, machines, materials, instruments, and utilities for designers to explore new ideas. While many CEOs might not see it as prerequisite to be so hands on with design, Parker did. In what is considered a definitive profile on Mark Parker by Fast Company, Nike director of footwear innovation Michael Donaghu spoke about the Innovation Kitchen, remarking, "I think his heart is still here. He still likes to just pop in and start talking to people about stuff that's on their desks, particularly their side projects. He can't help himself."
During his tenure at Nike, Parker worked on numerous running projects including the Odyssey, Pegasus, Air Trainer 1, Presto, Nike Free cushioning, the auto-lacing HyperAdapt sneaker, and the lifestyle-oriented HTM range (more on that below). Even Tinker Hatfield's revolutionary Visible Air is patented in Parker's name.
Half CEO, Half Designer
Even before working for Nike, Parker was a designer and runner who customized and adapted his own shoes. "I might run in an Asics Tiger shoe and put a waffle bottom on it," he told Fast Company. "Any business that wants to realize its potential has to have good design."
It was this design-oriented mindset that set him apart from other CEOs that might come from a more traditional management background. At Nike, Parker equated management with editing, and he believed what set him apart was his openness to creativity and a sense of how critical it is to focus on innovation in a company. Always searching for deeper insights to inform innovations, Parker's "design thinking" management style has been likened to Apple's approach to products under designer Jony Ive.
Nike HTM
Parker is one of three members of HTM, a three-person design collective that is denoted by an acronym, representing Japanese designer and fragment design founder Hiroshi Fujiwara, Nike innovation stalwart Tinker Hatfield, and lastly Mark Parker. HTM was founded in 2002 with the collective's first project, a bespoke Air Force 1 with premium leather uppers and contrast stitching. The HTM project doesn't work on any real deadlines or constraints, but highlights on the HTM project's CV include several collectible Lunar Flyknit models, a number of Kobe signature models, and even some Converse.
Parker noted to Highsnobiety in 2018, "HTM was about more than Japanese sneaker culture. Although when it started, the Tokyo mystique was very high. HTM started with the idea of how the three of us—Hiroshi, Tinker, and I—could reconstruct a classic sneaker with a new twist to appeal to a different audience. It evolved into the partnership we have today, where each of us has the opportunity to explore new concepts to push the edges for the company."
Patron of the Arts
Parker started to tap artists such as KAWS, Futura 2000, Stash, Mr Cartoon, and Os Gêmeos, to create limited-edition sneakers around the mid-1990s. Many of these partnerships are still ongoing today, and the resulting sneakers are considered highly collectible. Parker's office is famously packed from wall-to-wall with artwork he has commissioned or collected, from Andy Warhol pieces to sculptures by Dustin Yellin. It was reported that Parked once came to Missouri sculptor Kris Kuksi with a blank-check commission. "He just said, 'Do something huge," told Kuksi to Fast Company.
Parker told Highsnobiety, "Collaboration is critical to our work at Nike—within our own teams to build on our ideas, and with outside partners who can help take us to new places. Each relationship brings a different point of view or skill that we're interested in. Once you go through the creative process together, you always learn something. And you might not even realize what that is until you start the next project.
Athletes First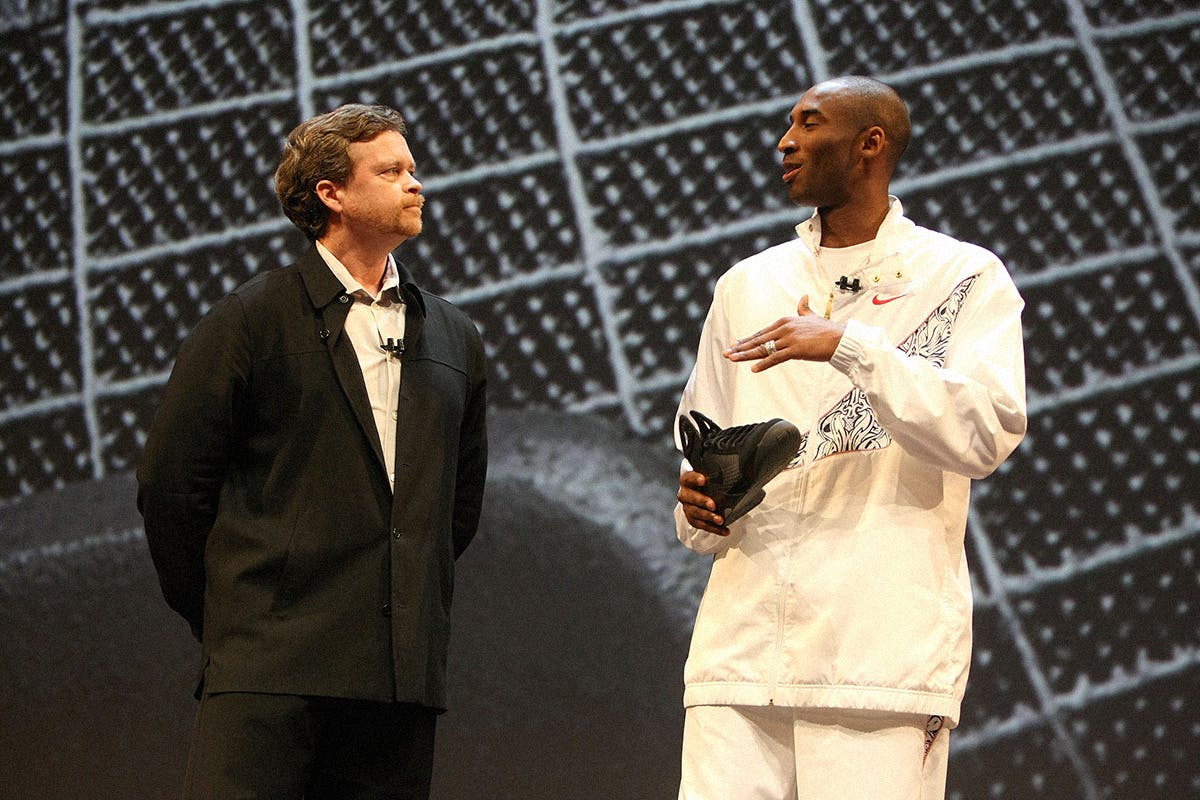 Nike's stance has always been to lean on the brand's roster of elite athletes inform the direction of Swoosh products, and Parker personally enforced this. Parker prioritized his relationship with the Jordans, the Bryants, and the Armstrongs, keeping their feedback at top-of-mind. Speaking to Highsnobiety in 2018, Parker noted "We start with the athlete. The specific brief of solving an athlete's problem ultimately dictates how a product will look. Oftentimes, that leads to an entirely new aesthetic. That's what separates us from many other designers. And really, fashion designers have always told us it's that authenticity that draws them to Nike."
Kobe Bryant once spoke about a meeting with Parker, in which Bryant was surprised when Parker took out his notebook to sketch during the middle of the conversation. In 1996 as VP of consumer product marketing, Parker helped sign Tiger Woods to a 20-year, $40 million deal. In 2001, Parker was instrumental in recruiting marathoner Paula Radcliffe, who up until recently was the fastest female marathoner of all time. Parker and Tinker Hatfield both liaised closely with John McEnroe when creating the Nike Air Trainer 1, which McEnroe wore faithfully for the majority of his career.
Fostering these relationships was always a priority for Parker as a CEO.
For a deeper dive into Nike, watch below.