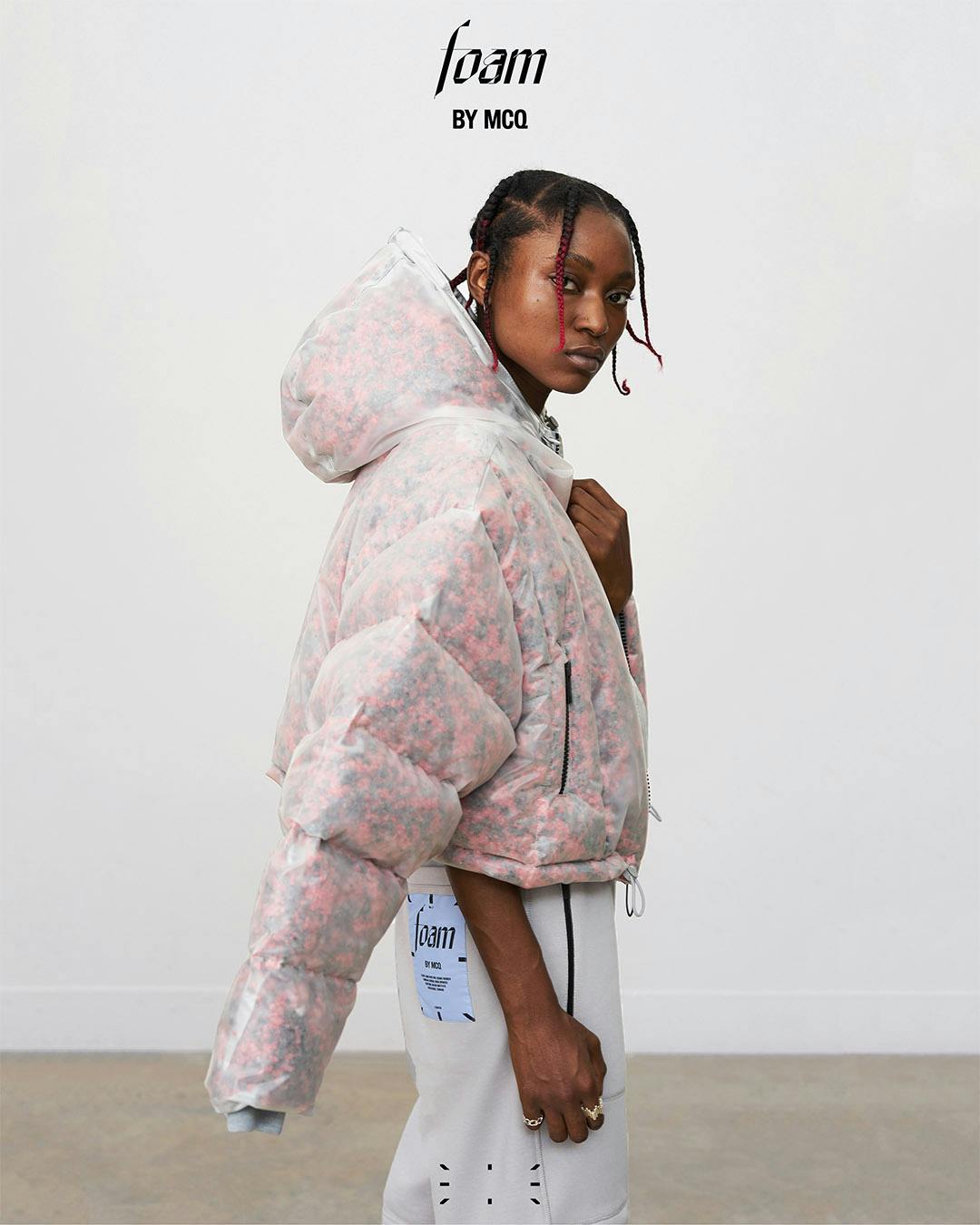 The third icon from MCQ — called FOAM — plays with the idea of contradictions and remixes classic workwear silhouettes with repurposed textiles. MCQ enlisted three creatives to bring the FOAM icon to life, each hailing from London.
One of those collaborators is Lagos-born rapper Flohio, who's also been tapped to front the campaign for FOAM. The South London MC's music is featured in the soundtrack for the campaign film and is set to host a live performance for the icon's launch event. Her new mixtape, No Panic No Pain, features themes that fit right into the FOAM collection.
We spoke to Flohio about the exciting new project, the creative process behind it, her favorite pieces from the collection, and more. You can also check out the full cast of collaborators for this and previous icons at my.mcq.com.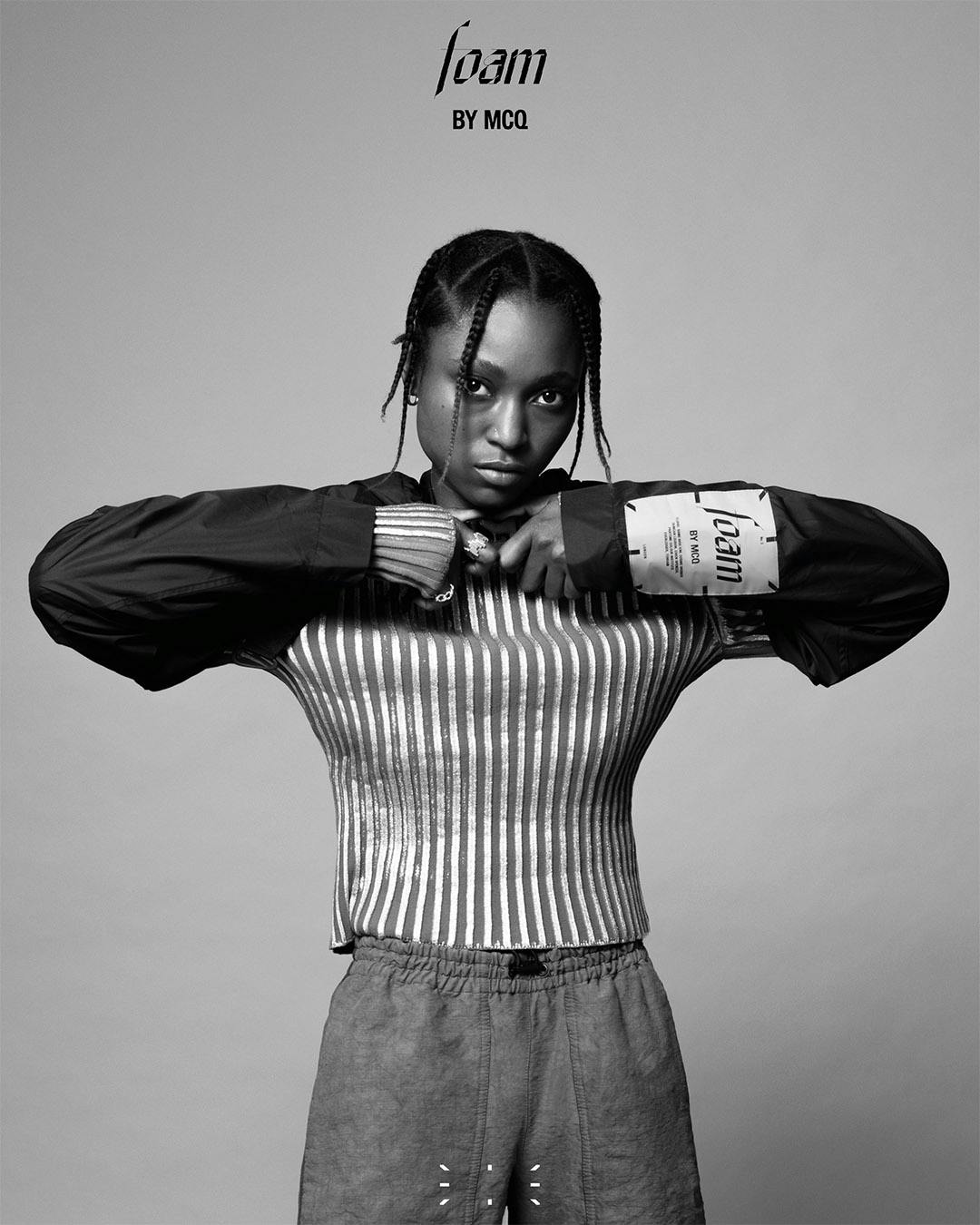 What was your role in the collaboration with MCQ?
I was basically the mind behind what Foam stands for. There's a bit of contradiction within these garments — they have a bit of me in it. How I move on stage, my character.
Could you talk us a little bit through your creative process?
There were so many back and forth PowerPoint slides [about] what I like, what I see, what I think people who are going to rock Foam likes in terms of music, etc.
You look at this capsule and you go, "All right. It's sweet. It's all charming," but there's an aspect to these garments. They get activated in some sort of way, and for me, it's the spark of the music. I don't know what it is, but I also get activated in some way.
Music has been a big theme for MCQ, and I know you're releasing new music soon. Were you able to incorporate your work into this collaboration, like any of your music?
I just released a mixtape and all the songs on it fit into the theme of Foam. It's something I've been creating during the time I've been working on Foam. My songs are all about different emotions and different feelings. And that's what the capsule is all about. It's all different items, from the small pieces to the big pieces.
What are some of your favorite pieces from this collection?
I like the cropped jacket with the cashmere inside. That is definitely a crazy contradiction because when you see cashmere, you're not meant to ruin it in pieces. It's a nice scarf, or it's a nice dress, but when you look at the cropped jacket with the stuffed cashmere inside, it's like, "That's crazy." The idea behind that one was wild. My other one would have to be the fluorescent silver MCQ bag that gets activated in water. Those are my two favorites.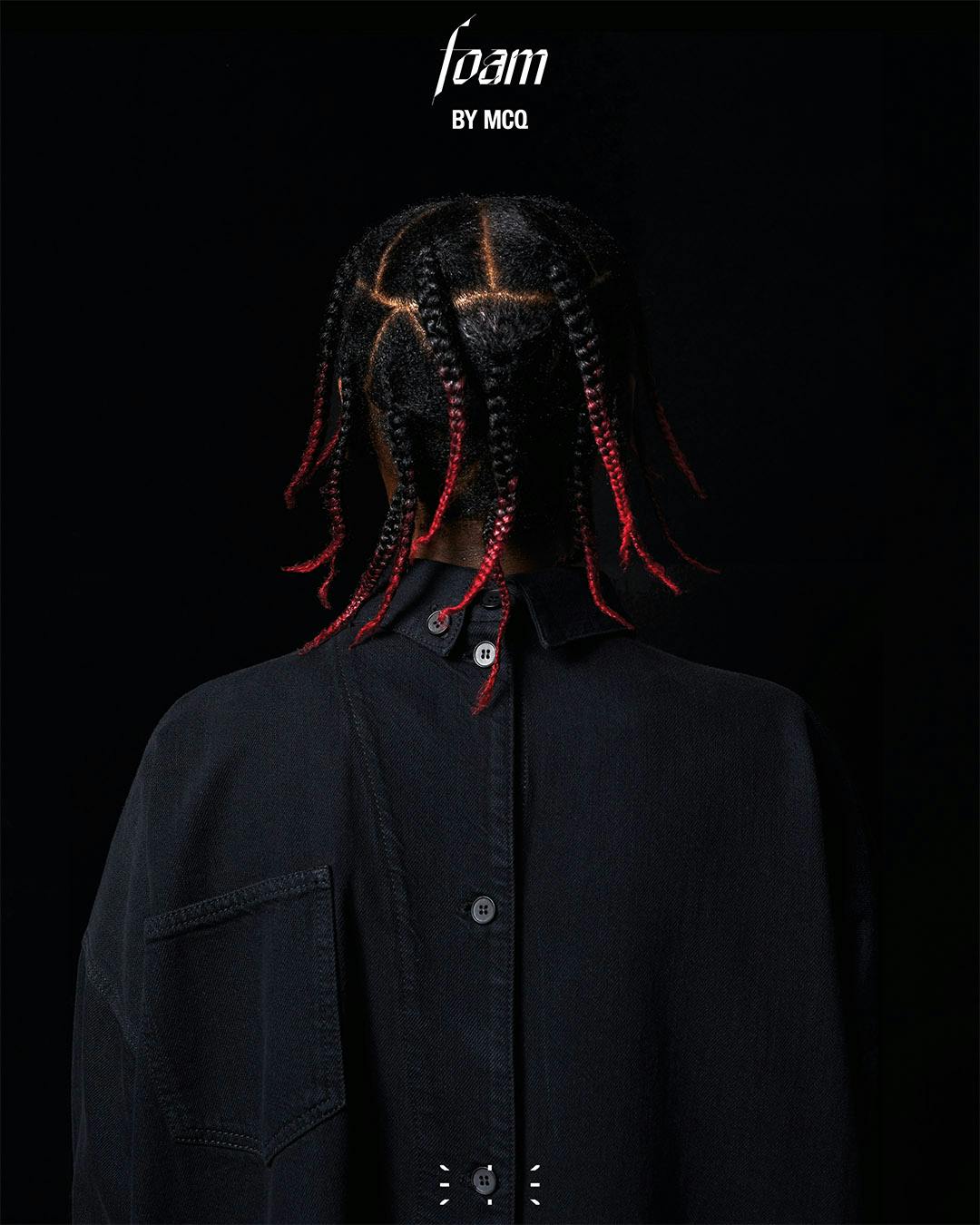 What's it been like working with the other talented collaborators on this collection and also working with MCQ?
It was great working with different artists from different genres, like Sang Woo, I think he's wild. These are people I love working with, I love their energy, I love their brilliant minds, and I think they're just amazing creatives. If there's another opportunity to do this again with the same crew, I'm all there. It was such a blast working with these collaborators.
I've heard you're a really amazing live artist. Can you share one of your most memorable live performances?
There are way too many performances, but I'd say Mexico. Those kids in Mexico, they're so wild, so supportive, and it's really true love. I feel it every time I'm in Mexico. It's just different. A bunch of Spanish kids rapping my lyrics — it's wild to see.