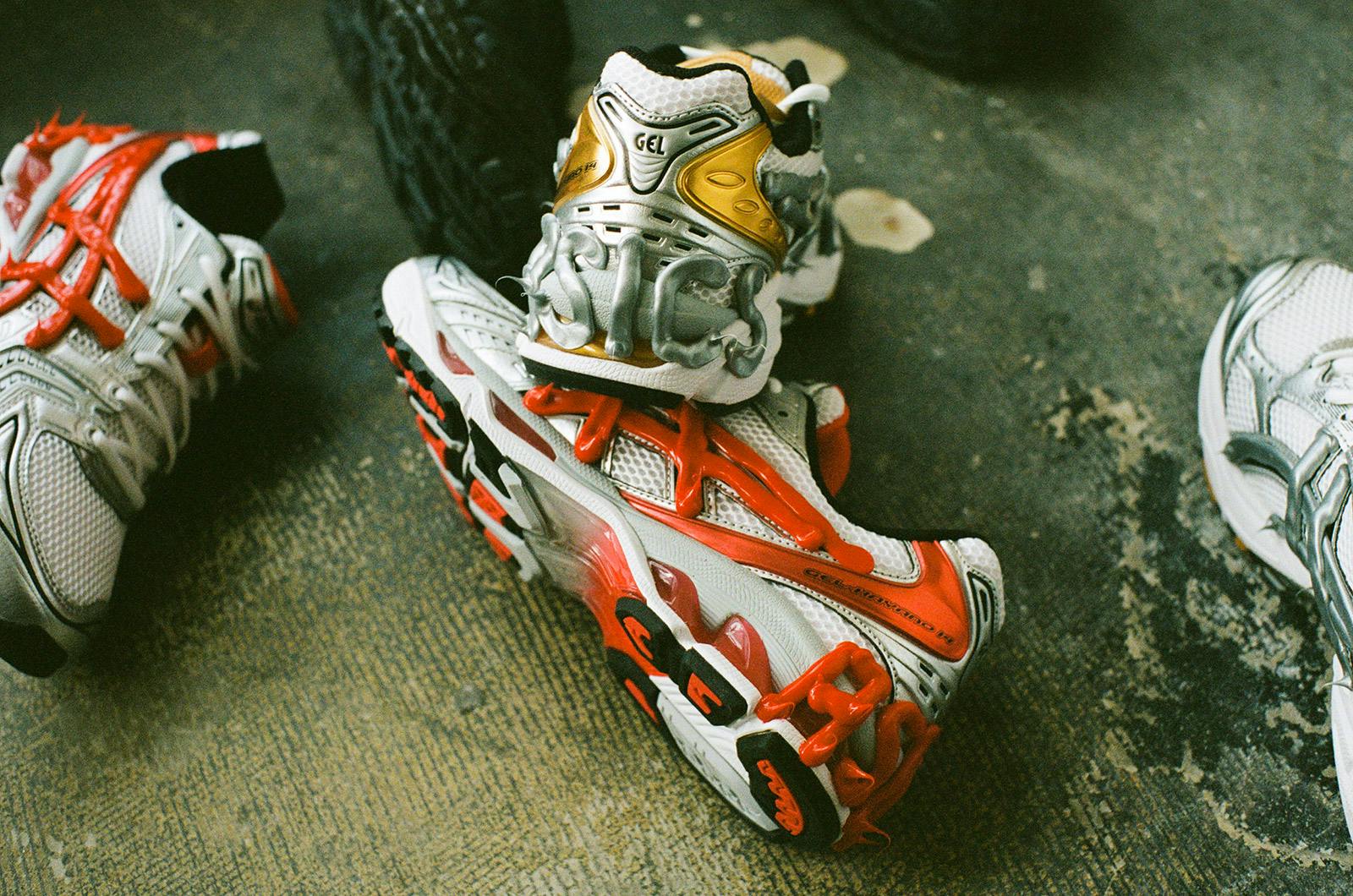 Dennis Buck is busy at work in his Berlin studio on 30 special-edition pairs of ASICS GEL-KAYANO 14 sneakers that go to auction today, June 25. As a full-time artist, he tries to keep his schedule as balanced as possible. He admits it can be quite hard to leave work at times: "There's always something to do, but you don't want to do that because then it becomes unhealthy."
While he imposes a certain rigidity on his day-to-day life, Buck's work reveals a much more playful, loose, and irreverent persona. Originally from the South of Germany, he made his way to Berlin in 2013 to finish his studies at the Berlin University of the Arts. Since, he's managed other artists' studios, appeared in group exhibitions, and procured a work space of his own.
It wasn't until 2015, however, when his artistic practice really came into focus. A financial bind and a lack of resources led him to a hardware store in Los Angeles where he bought a few tubes of silicone and smuggled them back to Germany in his suitcase. He started first by painting with silicone on plastic, then moved into more sculptural pieces, and eventually bags. He's worked almost exclusively with the material ever since.
For this special project with ASICS, Buck brings his trademark buoyancy and humor. It's unmistakable when looking at the custom shoes that they're Dennis Buck originals. Approaching the all-black GEL-KAYANO 14, he "wanted to make a more bulky shoe" and lined the sole with rows of black silicone. Alternately, the red and gold colorways are spruced up with silicone in the corresponding color and have the words BUCK and ASICS spelled out across the back of the heel (just in case you forgot whose work you're looking at).
Art made completely out of silicone may seem unconventional, but Buck was raised surrounded by the stuff — his dad is a construction worker. "It's a funny thing that we both earn our money with the same material, but he works really hard every day and I'm like, 'This is art.'" Buck and his dad call each other to discuss the properties of silicone and different ways to manipulate the substance. His dad shows coworkers pictures of his son's art, marveling at the way one material can have two such different applications. Perhaps Buck's most successful and well-known application of silicone has been his bags. He calls them Buck Bags. They're part sculpture, part accessory, part statement piece, part conversation starter. They give new meaning to the term wearable art.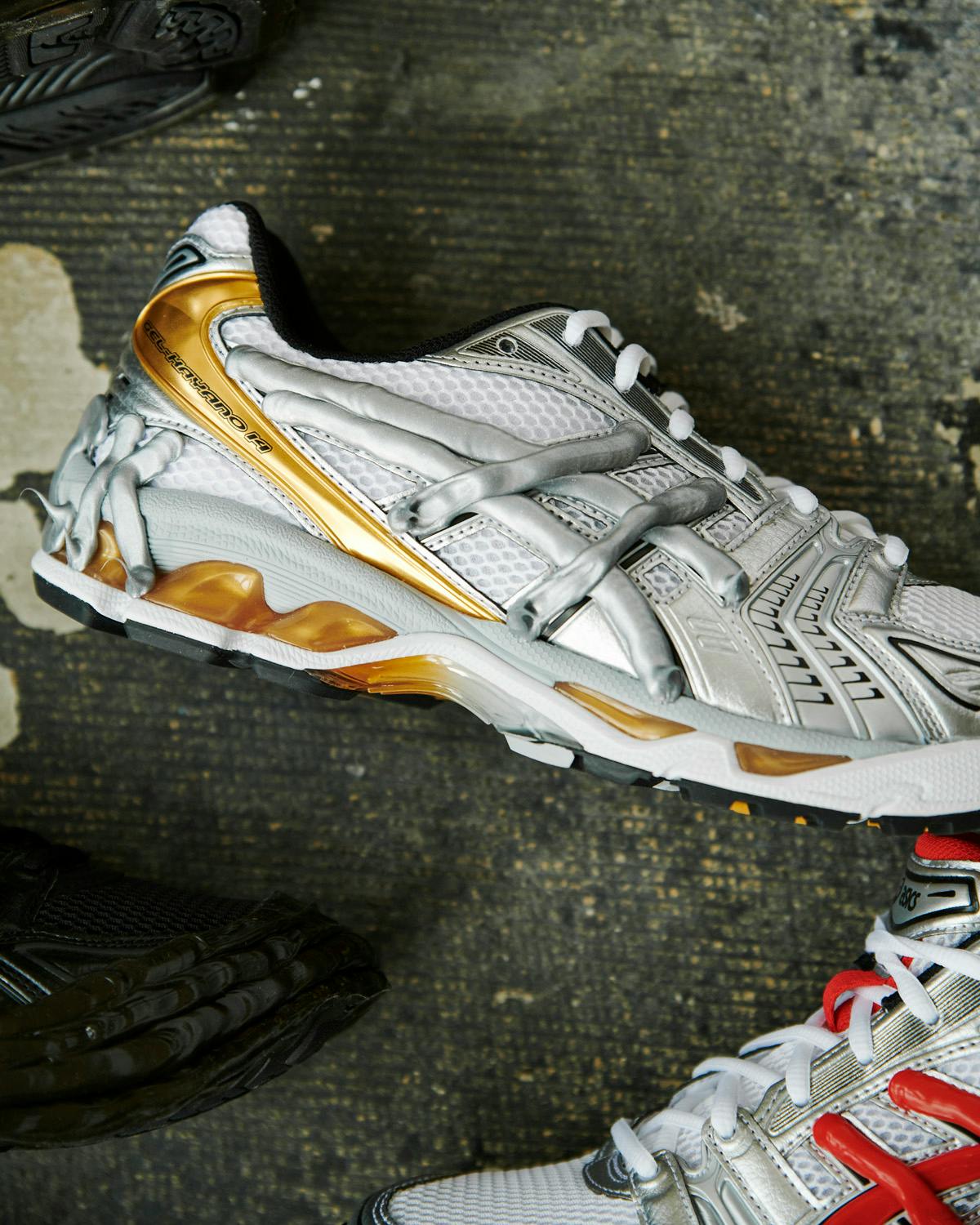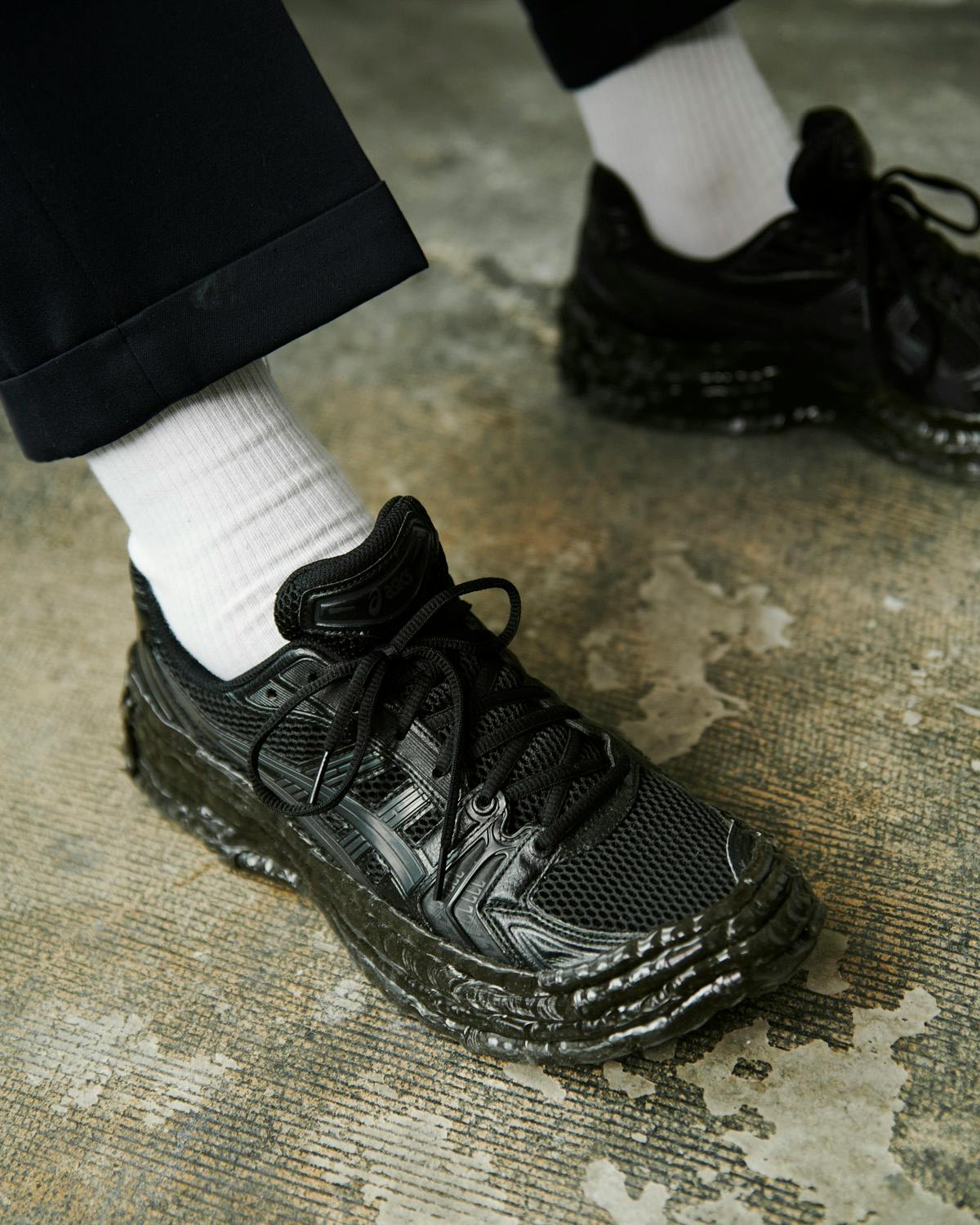 All the more reason ASICS tapped Buck to align with their Crafts for Mind, one of its overarching themes that emphasizes the importance of craftsmanship and attention to detail. The brand handed over 30 pairs of GEL-KAYANO 14's for Buck to customize, as part of their ongoing partnership with local artists and creatives. ASICS will then sell the special edition shoes through Berlin's Voo Store via an online raffle that goes live today, June 25, and donate the proceeds to a charity supporting mental health. Since Buck is German, they've opted for Deutsche Depressionshilfe, an independent non-profit foundation that helps provide assistance and resources for people needing support with mental health-related matters.
This issue is crucial to ASICS' central tenets and founding principles. The brand name itself, ASICS, is an acronym of the Latin phrase Anima Sana In Corpore Sano meaning "Sound Mind in a Sound Body", and as a company geared towards the betterment of self, its connection with Buck was quickly apparent. The artist draws inspiration from friends and, as he mentioned earlier, tries to assert a self-imposed work-life balance. He relies on a sound mind to complete his creations and tries to avoid negative thinking: "I only have a certain amount of energy throughout the day and I don't want to spend that energy on negativity."
Help others achieve a Sound Mind in a Sound Body and enter the raffle online here.