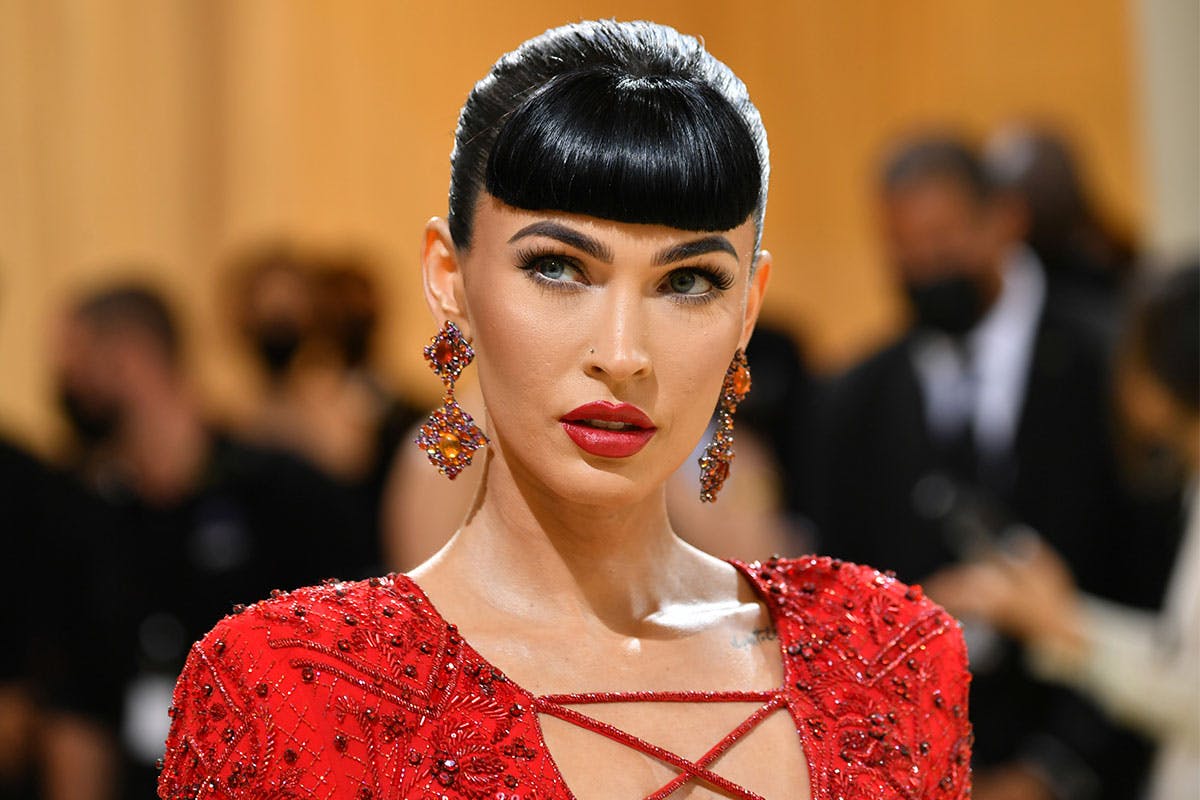 I love Megan Fox.
I love her performance in Jennifer's Body, a culture-shifting film that recently reentered the spotlight for its sly critique of the patriarchy. I love her insanely relatable assertion, "I have no friends and I never leave my house."
I love her unbothered attitude and no-holds-barred honesty, in interviews and on social media.
It's been thrilling to witness Megan Fox's resurgence — renaissance, even, according to the Washington Post — sparked partly by her relationship with Machine Gun Kelly and partly by our collective reevaluation of how Hollywood treats young female stars (i.e. Britney Spears).
Her style evolution, courtesy of Maeve Reilly, has been equally as satisfying to watch.
From Mötley Cruë tees (kinda iconic, IMO) to Jacquemus cardigans, the actor's fashion has reached new heights.
Her Versace cardigan, worn as a dress, was a win. Her "business meeting" look, lingerie worn under a billowing, wide-shouldered coat, was even better.
But not all good things last.
Last month, she starred in a perplexing short film by Philipp Plein, fashion's resident clown. I'm not sure Fox has ever worn Philipp Plein (at least in public), making her decision to work with  such a disgraceful designer even more confusing.
Over the weekend, British GQ unveiled its new cover, featuring Fox and her beau in a rather male gaze-y photoshoot.
On Twitter, fans and critics have been reveling in the cringe factor of the accompanying interview, which reads like a Twilight-inspired bodice ripper.
"Even our first kiss, she wouldn't kiss me," Machine Gun Kelly said. "We just put our lips right in front of each other and breathed each other's breath and then she just left."
Now, Fox is releasing a collaboration with Boohoo, the fast-fashion behemoth that's faced allegations of human rights violations at its factories. Like its competitors FashionNova and PrettyLittleThing, Boohoo has also been accused of ripping off the work of independent designers.
Unsurprisingly, onlookers have been quick to question Fox's Boohoo collection.
"Not the slave labor fast fashion collab," one comment on the actor's Instagram reads. Another asked, "Who is your PR team?"
Though it's entirely up to Fox how she makes bank, her latest projects throw her lack of luxury ad campaigns into sharp relief.
Sure, she recently starred in Kim Kardashian's latest SKIMS promo. Before her resurgence, she appeared in an Avon fragrance ad (circa 2013) and an underwear campaign for Emporio Armani (2010).
Why hasn't such an iconic woman been tapped as the face of a luxury fashion or beauty brand? Considering the inordinate number of opportunities given to the Hadids and the Kardashian-Jenners, it seems like a small ask to see Fox model in their place.
In a sense, Fox's noticeable absence from the world of high fashion indicates that she's still being pigeon-holed — as a sex object instead of a talented actor, as the woman that AskMen boycotted for being "overexposed," as the subject of a horrifically misogynist letter written by Michael Bay's crew.
Philipp Plein is undeniably tacky and Boohoo is objectively low-quality, observations that, at first blush, had me agonizing over whether the Megan Fox-aissance (if you will) is over.
But by questioning her ventures, I worry about contributing to the public stoning of Fox. The level of fame that she (and any public figure) enjoys is engineered to fuel backlash but at the end of the day, who is anyone to denounce her business decisions?
As vocal as the star has been about reclaiming her narrative, her reemergence has in part perpetuated the criticism she's trying to escape.
In fact, some of the comments on Fox's Instagram are alarming. From panning her parenting to asserting that the way she dresses provokes sexual violence, her followers spout backward rhetoric that casts a bleak shadow on Fox's attempt to break free from the judgment that caused her brief disappearance from the public eye in the first place.
The fervor that celebrity culture inspires is a complicated phenomenon that I'm not knowledgeable enough to discuss at length.
But the uproar and applause that Fox has sparked — noise that oscillates between praise and degradation, deification and defamation — leaves me to wonder: by declaring a Megan Fox renaissance, did we set her up for failure?