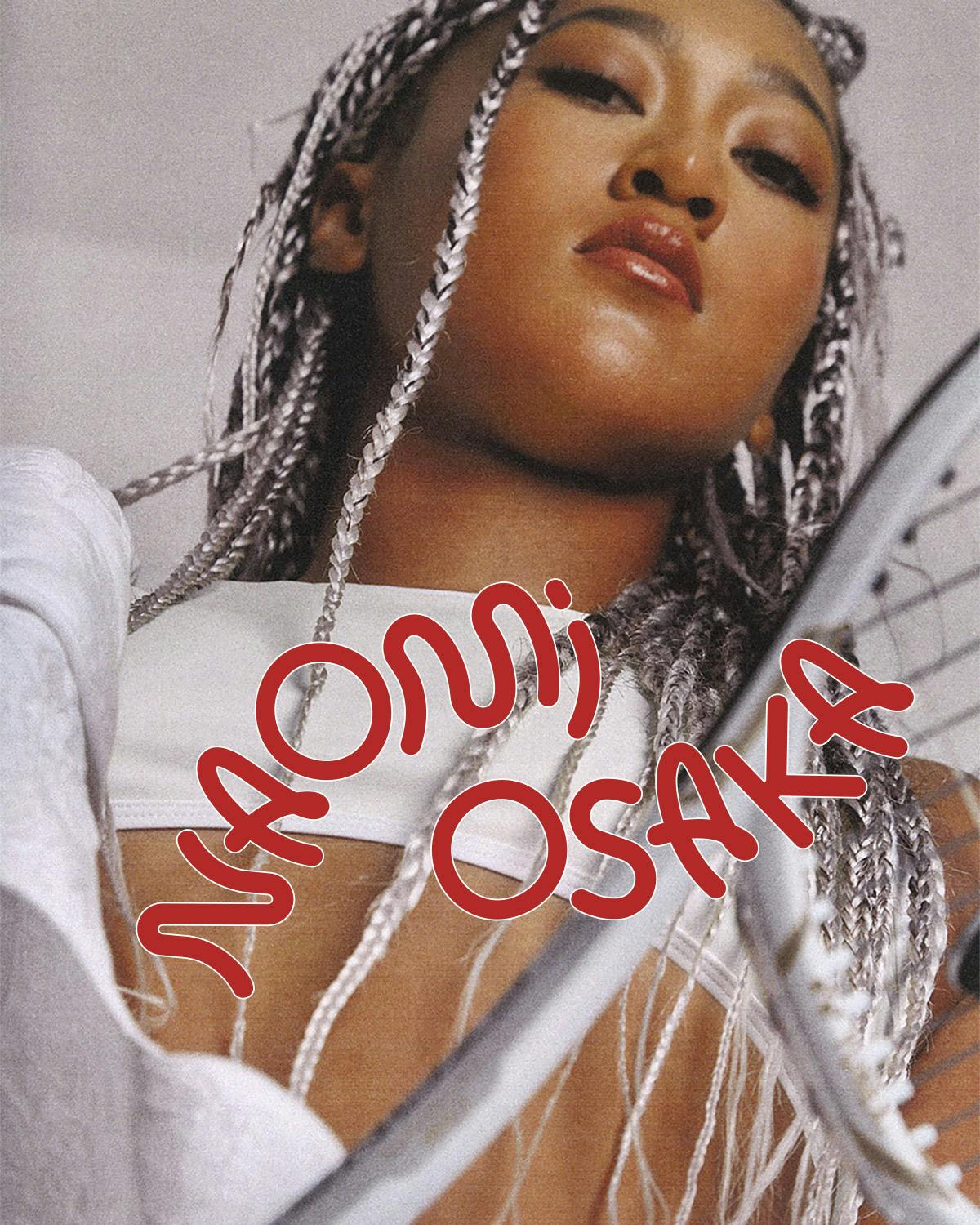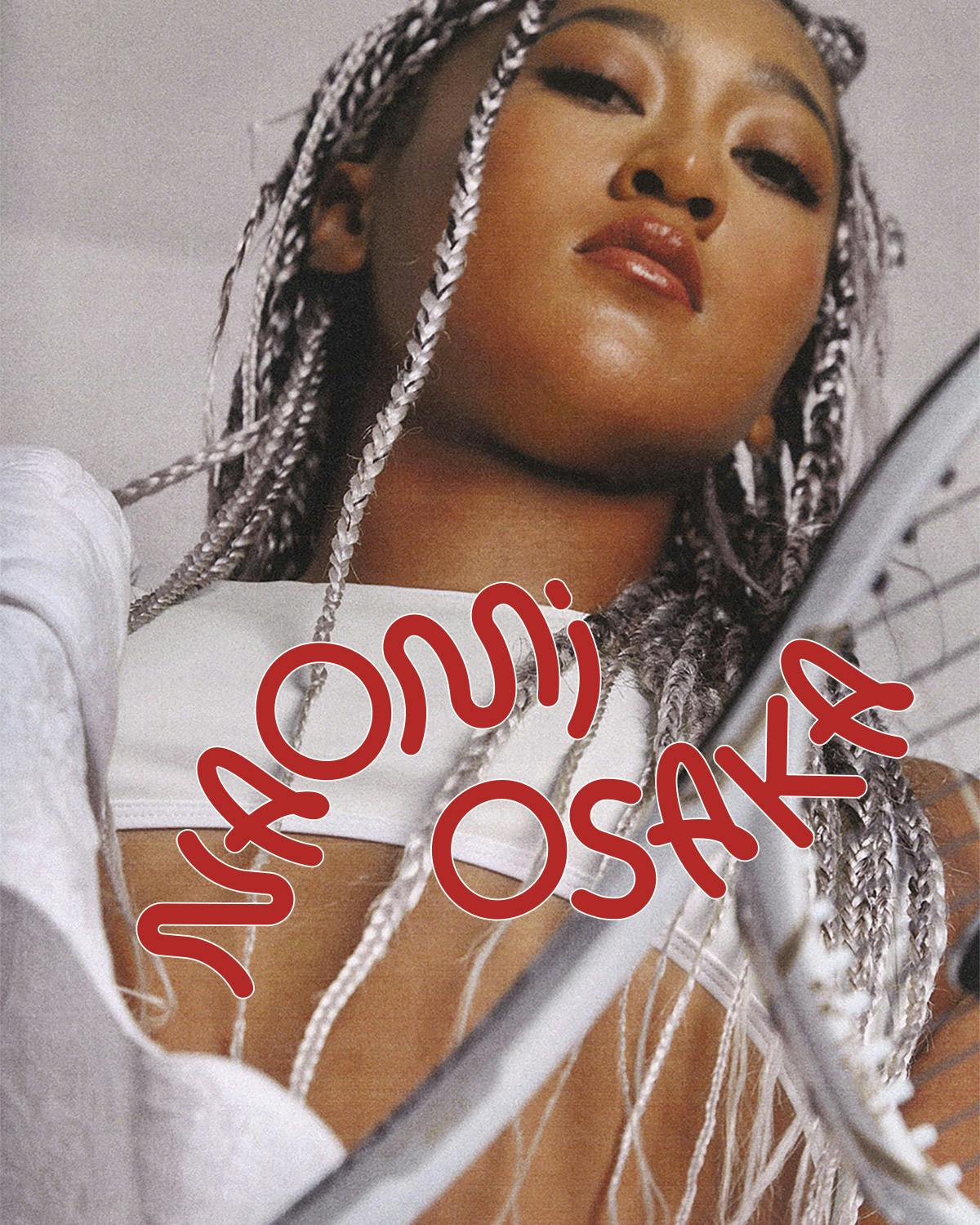 This edition of FRONTPAGE was first published on August 26, 2020. In it, we sat down with tennis superstar, Naomi Osaka, before she went on to win the US Open Women's Singles. Now, as she is named one of Time Magazine's most influential people (for the second year in a row), we revisit our interview with her and reflect on just how much can change in a matter of months. 
People came to the third round of this January's Australian Open expecting a showdown. The tournament's defending champion, Naomi Osaka, was taking on 15-year-old Cori "Coco" Gauff, whom she'd annihilated at the US Open just a few months prior. Yet, when the final ball dropped, Osaka lost 6-3, 6-4. During the press conference immediately following the match, the soft-spoken athlete fielded reporters' grating questions with dignity. But the mood in the room was somber.
"Was there anything you think you could have done differently?" "Put the ball in the court," Osaka replied darkly, before breaking into a small chuckle. The sarcasm was a stark contrast from the endearingly sincere and nerdy answers that normally define her post-match interviews. (She once told an oblivious reporter that her goal was "to be the very best, like no one ever was.")
In the six months since, after a rescheduled French Open, a canceled Wimbledon (for the first time since World War II), and an especially heartbreaking postponement of the 2020 Tokyo Summer Olympics, Japanese-born Osaka has had no choice but to take everything in stride. "Normally, we tennis players train for tournaments, so it's been really weird to not have a specific tournament in mind and just kind of play it by ear," the tennis star tells me. "And sometimes you feel a bit unmotivated, because you're not really sure when things are going to pick back up."
When I ask her how she has been able to summon up the willpower to continue working on her game, Osaka puts it rather simply: "I guess I just pick something I want to get better at. In tennis, it's a slice. I'm not that great at it," she says — a humble response, coming from someone who at one point was the world's No. 1-ranked female tennis player. (Her ranking has since fallen to No. 10.)
Now, with the US Open set to begin next week, Osaka has been training vigorously with her coach, Wim Fissette, and her physical trainer, Yutaka Nakamura (both of whom have experience working with No. 1 players). By breakfast, Osaka is warming up to run various drills. Then, after hours of on-court practice, she proceeds to the gym for conditioning. Nakamura, previously Maria Sharapova's fitness trainer, encouraged Osaka to take advantage of her time off from the pro tennis circuit. "I think it's a great opportunity for all of us to use this time to reevaluate what needs to be done to step up to the next level," says Nakamura. "Sometimes you're traveling so much to prepare for tournaments back-to-back that it's difficult to commit physically day in and day out." And while Osaka never once mentions the US Open, or the prospect of taking back the top title in tennis, Nakamura tells me she has her eyes set on "regaining the No. 1 spot."
In some ways, Osaka is not unlike the protagonist at the center of Naruto, the wildly popular anime that the 22-year-old spent her childhood watching. While it's true that the athlete, with her impenetrable expression and quiet strength, seems nothing like the perpetually grinning Naruto Uzumaki, it's also not hard to see why she identifies with him.
"Just watching as an outsider and seeing all the work that he put in, was really cool when I was younger. He was the outcast, and then he proved himself to people, and we started believing in him," Osaka gushes. In the show, 12-year-old Naruto grows up an orphan shunned by those in his village, most of whom write him off as a knucklehead with far-fetched dreams. Then, after years of blood, sweat, and tears, Naruto manages to reach his goal of becoming the strongest ninja in the land — while also saving a few of his friends along the way.
"That stubbornness is something maybe I have a little bit," Osaka says, understating the years she struggled to outplay her sister, Mari, who's older by 18 months — and the training she endured in the years leading up to her professional career.
Born in Japan to a Haitian father and a Japanese mother, Osaka has been playing tennis since the moment she could hold a racket. Her father, Leonard Francois, became fixated on turning his daughters into tennis stars after seeing a broadcast of Venus and Serena Williams, then teens, playing a doubles match at the 1999 French Open. When Osaka was three years old, she and her family moved from her hometown of Osaka — Japan's second largest city — to Long Island, where free public courts were readily available.
Initially, Osaka did not show much promise, nor was she all that interested in the sport. She was more concerned about beating her older sister. For years, Osaka played daily sets against her sibling, and lost every time. After each and every defeat, however, she'd boldly declare, "I'll just beat you tomorrow."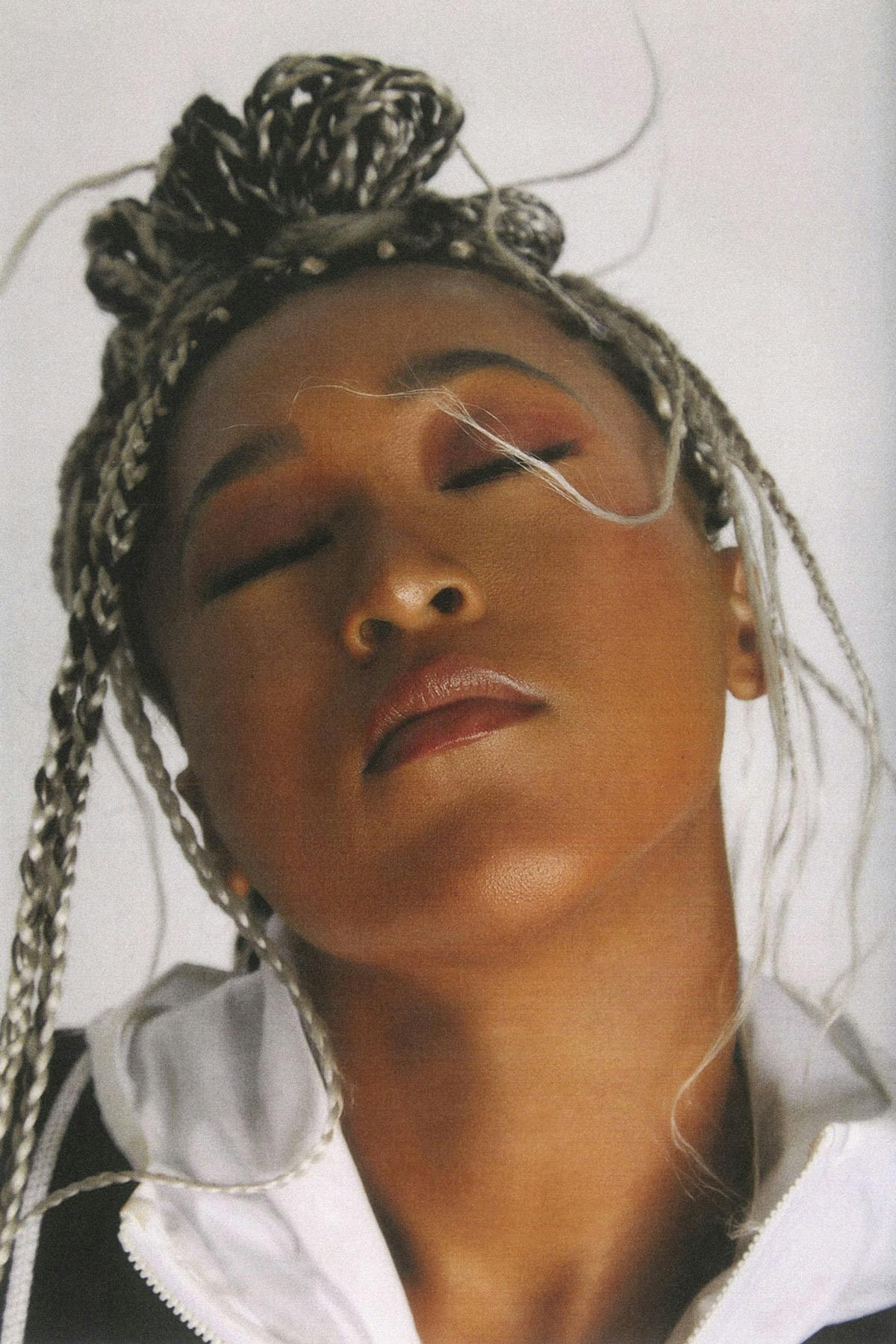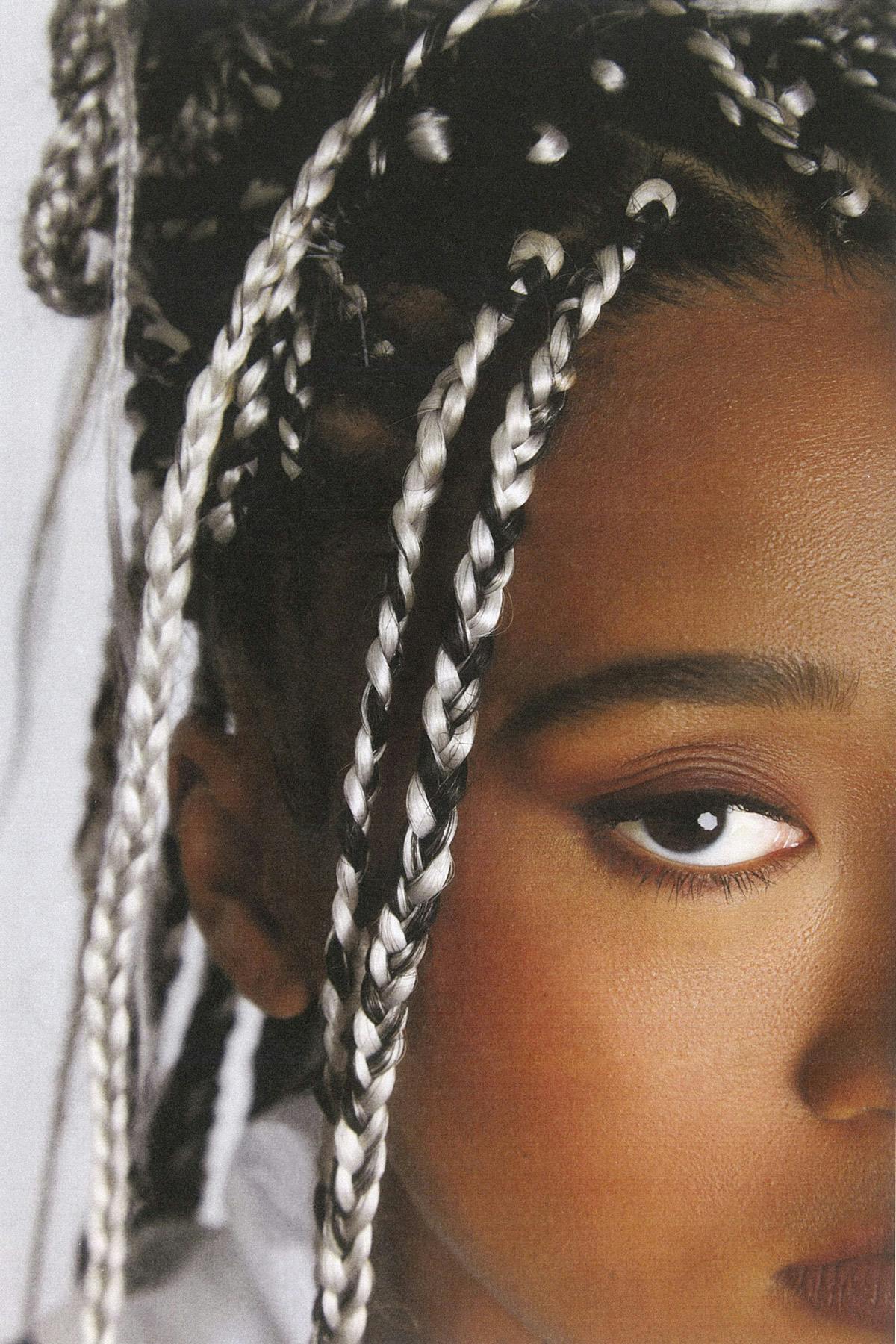 Sitting at home in front of a brown wall, with a member of her team just out of the frame of the Zoom conference, Osaka looks impassive and composed — like how she usually does during those mandatory post-match pressers. Then, in typical Osaka fashion, she offers a candid admission about grappling with the pressures of being a high-ranking tennis player.
"When I was younger, it didn't really matter if I won or lost," said Osaka, as a small smile works its way across her face. "I mean, it mattered to me, of course, but it wouldn't make the newspaper."
But then, at 20 years old, Osaka scored a win that reverberated around the world. In a controversy-laden final at the 2018 US Open, and one of the biggest upsets in tournament history, she bested her Off-White™-clad childhood hero Serena Williams to win her first Grand Slam. At the time, little was known about Osaka, except that she had serious potential with her killer serve and aggressive playing style. And though she was the youngest female tennis player in the world's Top 20, few people expected that she would fare so well against Williams, let alone that she'd be able win the first set 6-2.
Highsnobiety / Eli Linnetz / top ASAI skirt CHOPOVA LOWENA shoes BLACK COMME DES GARCONS X NIKE socks NIKE
Things took a turn when the chair umpire — one known for being notoriously strict — called a code violation against Williams, accusing her of receiving in-match coaching. Williams, who maintained that she doesn't cheat, became emotional, smashing her racket and pushing back against the umpire. The umpire then called two more code violations against her, which cost Williams a point and a game. In the end, Osaka won the second set 6-4, but her monumental feat was marred by the umpire's treatment of Williams. As a melancholy-looking Osaka accepted her trophy at the post-tournament celebration, she apologized to those in the crowd booing over the way the game was officiated: "I know everyone was cheering for her, and I'm sorry it had to end like this."
In the days following, many argued that Osaka had been robbed of what should have been a dream-come-true moment. But as the first Japanese player to ever win a Grand Slam, Osaka became an overnight hero in Japan, and her rise to fame has since helped shift the racially homogenous nation's perceptions of what a Japanese person can look like.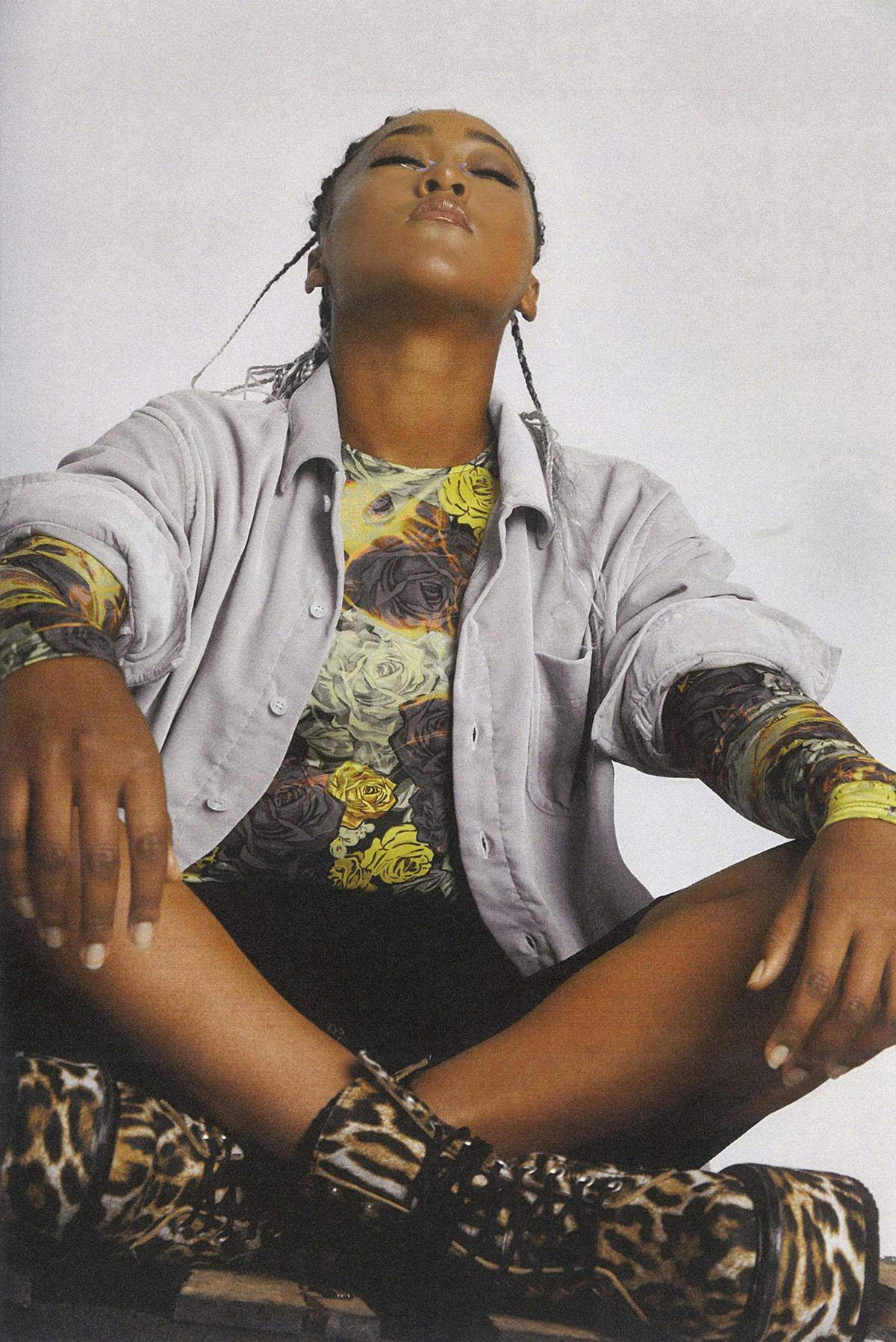 Months after defeating Williams, Osaka dispelled any notion that she may have been a fluke at the first Grand Slam of the 2019 season, taking home the championship at the 2019 Australian Open. Her back-to-back Grand Slam wins secured her the No. 1 spot in tennis. To this day, she is the first and only player of Asian or Haitian descent ever to do so.
Needless to say, when Osaka loses a match these days, the world takes notice. And such was the case for her most recent loss at the Australian Open. "You flip on the TV when you go home, and there's news about it. And when you lose, you go to the airport, and there's newspapers [that say], 'Blah blah blah, she lost.'" she explains.
And despite her steely demeanor, Osaka admits that the tension weighs on her when she's competing. "Sometimes, when I'm playing my matches, I think about [the press], which I know I shouldn't, but it definitely makes things a bit more stressful for me," says Osaka. "For the past year, I've been learning to let that go and accept that that's what I have to deal with now."
Although she downplays its effect on her, Osaka also has a hard time processing defeat. "I feel like people think that I'm kind of poker-faced, but inside is definitely a rollercoaster for me," she says. She has acknowledged this inner turmoil in the past, referring to the string of losses she experienced after becoming No. 1 as some of the "worst months of my life."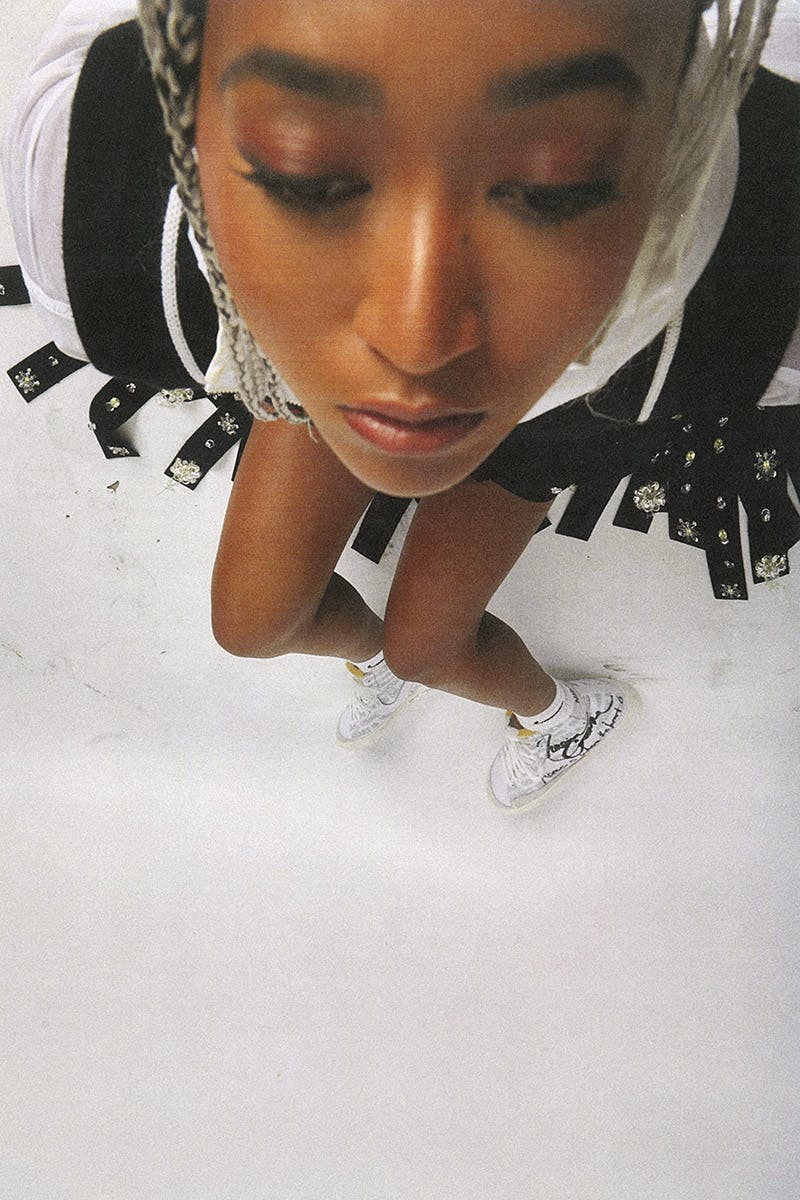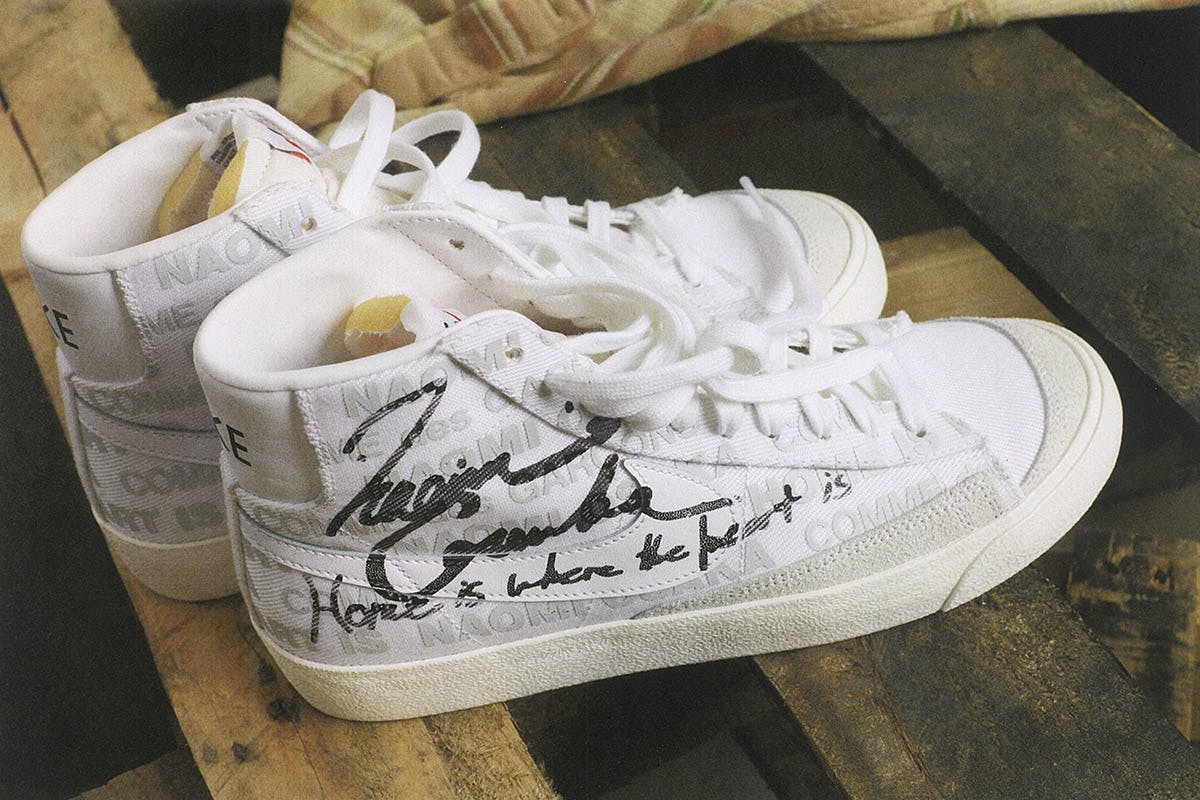 "I can honestly reflect and say I probably haven't had fun playing tennis since Australia," she wrote in a post that she shared via Twitter. She was referring to her 7-6, 5-7, 6-4 victory over Petra Kvitová, whom she bested in an epic match that lasted for more than two hours. "I've put so much weight on the results of my matches instead of learning from them, which is what I 'normally' do."
It's a sentiment echoed by other top-tier tennis players like Ashleigh Barty and Rebecca Marino, both of whom nearly quit tennis altogether due to burnout. But while the former tennis stars have spoken publicly about their struggles with visibility and mental health, Osaka's inclination is to shoulder her worries alone. "I have a tendency to shut down, because I don't want to burden anyone with my problems," she admitted in that same Twitter post.
One of the few people Osaka does allow into her inner world is her sister. Before a big match, if Osaka is feeling anxious or "on the verge of throwing up," she calls her. "Usually I'll make jokes, and if I can get her to laugh, it usually helps her calm down," says Mari Osaka. But for the most part, her little sister "does not talk about her feelings, or her problems, or if she's hurt, or anything like that. She keeps it inside."
When Mari competed alongside her sister at the Miami Open last year, however, she saw a glimpse of her sibling's pain. "She takes losing really really bad. Like, really bad," she says, recalling her younger sister's loss against Hsieh Su-wei at the 2019 tournament. "She stayed in the locker room crying forever, but the thing is, she'll pop right back in a week. You just gotta give her time. And then she'll fight harder because of it."
In just days, Osaka will get her chance to finally put the ball on the court at another Grand Slam. And while there won't be any fans watching from the bleachers this time around — a decision set forth by the United States Tennis Association due to concerns over the athletes' safety — the world will certainly be watching to see if the 22-year-old will be able to make a comeback. Regardless of how she performs this August, Osaka seems to have accepted that victory isn't always guaranteed, and that the only thing she has complete control over is how secure she is in her own identity, winner or not.
In an op-ed she penned for Esquire, Osaka wrote that the pandemic forced her to confront herself and re-evaluate what mattered most to her, aside from her tennis aspirations. "I'm a daughter, a sister, a friend, and a girlfriend. I'm Asian, I'm Black, and I'm female. I'm as normal a 22-year-old as anyone, except I happen to be good at tennis," she wrote, seemingly an attempt to establish herself as someone other than a tennis machine.
In the past several months, Osaka has been wielding her star power for an entirely different kind of fight — one taking place far beyond the confines of her multi-billion-dollar industry. In May, after white police officers in Minneapolis murdered George Floyd, sparking months of nation-wide protests, Osaka began using her platform to call for an end to police brutality and systemic racism. It's something she says she would not have done two years ago.
"When I saw the horrific video of George Floyd's murder and torture at the hands of a cop and his three colleagues, my heart ached… Black people have been fighting this oppression alone for so many years, and progress has been fleeting at best. Being 'not racist' is not enough. We have to be anti-racist," she wrote in that same Esquire op-ed. In it, she called for the defunding of the police — a stance that might have negatively impacted her career just a few years ago.
So what compelled her to take action?
"I think for me the main thing was… I didn't think people cared about my opinion," says Osaka, adding that she prefers to listen to those "who are more articulate." But then she went to Minneapolis to attend Floyd's funeral, and it changed her. "Just going there and seeing how the whole city was at that moment… it was definitely something surreal for me. And I just started thinking, 'Even if one person cares about what I say, then maybe that person will show another person.'"
From there, Osaka began sharing news articles with her 500,000 or so followers on Twitter, some of whom did not take kindly to her activism."There were some people really upset with me," Osaka says with a small laugh. Her offense? She'd reposted a tweet about a Black Lives Matter protest that was happening in Osaka, Japan. "For me, that was cool, because I've never seen a Black Lives Matter protest anywhere in Japan," Osaka explains.
But then a handful of users replied with concerns that the protesters might have been "spreading corona." "Yeah…" Osaka trails off, after explaining the backlash to me. Although she does not comment any further, she has made it clear that she would not "stick to sports" and stop talking about politics.
Her posts on Twitter are also a good indication of how she feels about her naysayers and internet trolls. "Anything you say on this bird app can and will be used against you in a court of cancel culture," reads one of her cheeky tweets. "How some people need to mind their own business," reads another tweet, posted alongside a clip from Yu Yu Hakusho, another anime classic. (You have to watch it to understand.)
Try as she might, Osaka knows she can't end racism overnight. After a week of replying to those in her mentions, she noticed a change in her demeanor. "I was like, 'Hmm, I'm feeling kind of hostile.' So then, I was like, 'I should probably stop replying to people.' Because I started feeling like every day I was on a mission to lower racism somehow, and that's not even possible."
Although she hasn't figured out how to navigate both the power and pitfalls of Twitter, Osaka is determined to show people, particularly those in Japan, why the Black Lives Matter movement is so important. "There's a time when you kind of have to talk about things. Like, you can't just keep shoving it under the rug," she says. "For me, what I want is people being more aware."
At one point during our conversation, I ask her how the pandemic may have shifted her goals — both on the court and off — and Osaka says something that strikes me as sounding like a line taken right out of an anime series we both love. "For me, it's just knowing I tried my best every day at something," she replies. "And being able to go to sleep at night knowing I didn't regret something."