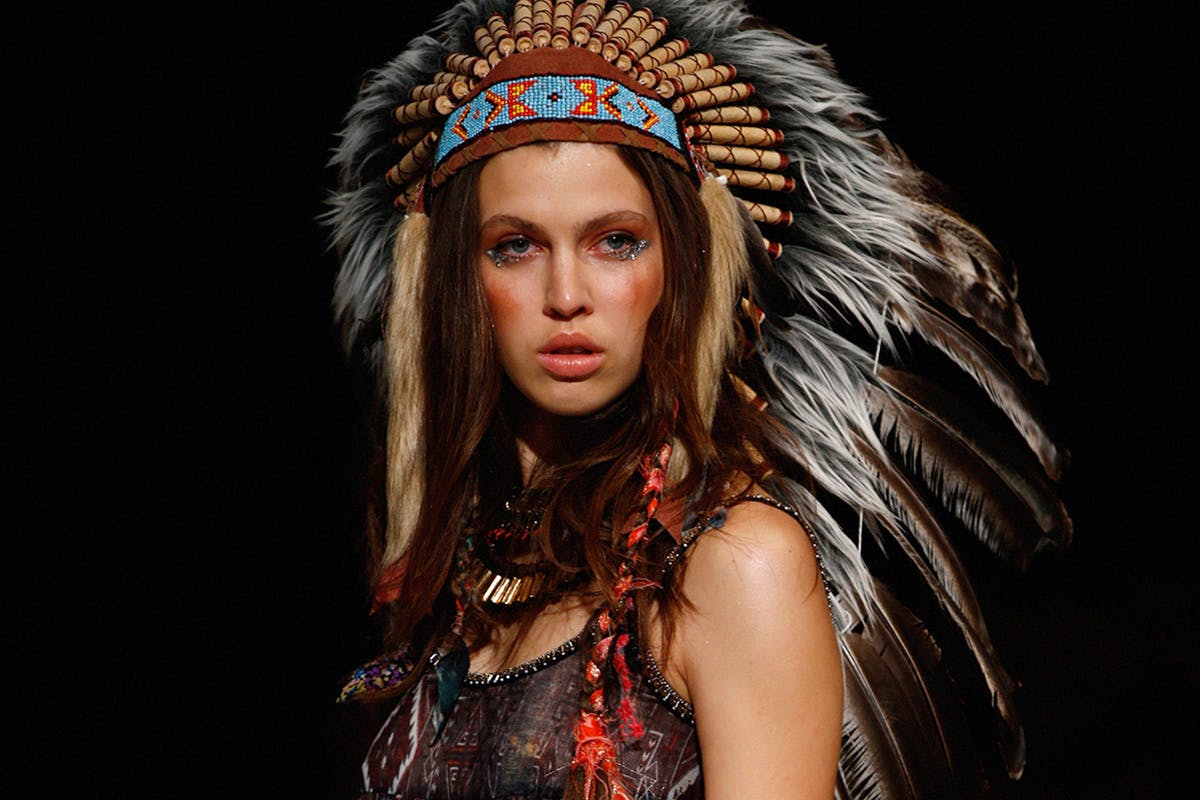 For the last decade, the uproar over the racial insensitivity involving two names/mascots in major American sports, the Washington Redskins and Cleveland Indians, has only intensified after even the most die-hard fans began to realize that the enjoyment of the few was coming at the expense of the many. Although Washington Redskins owner, Daniel Snyder, has made no indication that the added pressure has made him rethinking a name change, news has emerged that the Indians will finally be retiring their unfortunately named mascot, Chief Wahoo, following the 2018 season.
While the removal of the mascot alone surely doesn't address the countless issues plaguing Native American communities throughout the United States, it's a small step in acknowledging that marginalized groups - and their centuries of traditions - shouldn't be used like sartorial springboards for others to play dress-up.
Although the ripple will be felt most in the world of sports - placing added pressure on other teams like the Kansas City Chiefs and Atlanta Braves - the fashion and music world should take note as well. At least these franchises can hide behind decades of usage which leads to their stubbornness. But in fashion and music, there are countless contemporary decisions which speak to equally flagrant offenses.
One of the most common instances of cultural insensitivity is the usage of Native American headdresses/war bonnets which have become as commonplace at music festivals around the world as the neon bracelets which get people into the various afterparties. For many of the women who have donned them, there's the belief that what they're wearing is akin to the free love movement when hippies wove flowers into their hair.
While Coachella has remained tone-deaf on the subject (despite banning marijuana which has been legalized in the state), other festivals like Tall Tree and the Bass Coast Electronic Music Festival in British Columbia, Canada acknowledged the trend, rightfully interpreted it as offensive, and actually acted.
"We understand why people are attracted to war bonnets," Bass Coast organizers wrote. "They have a magnificent aesthetic. But their spiritual, cultural and aesthetic significance cannot be separated. Bass Coast festival takes place on indigenous land and we respect the dignity of aboriginal people."
The headdress, specifically amongst the plains people, were only worn by male chiefs, and only on special ceremonial occasions where bouts of honor and instances of compassion were to be recognized. In a world where people get chastised for the fugazzi - where every stitch, sole and eyelet is examined for authenticity - people have chosen to let this falsehood slide because Native American voices supposedly don't carry enough significance.
But waifish festival goers are certainly not the only group to blame. There is a recurring problem where musicians and brands continue to mine Native culture under the guise that they are trying to honor it. In reality, it's exploitative and damaging.
Gwen Stefani - no stranger to cultural reapprorpiation thanks to her usage of Harajuku Girls for her triple-platinum solo record, Love. Angel. Music. Baby - and her band, No Doubt, were forced to remove the music video for their song, "Looking Hot,"after intense backlash for their cliché Western garments.
Robert Holden, deputy director of the National Congress of American Indians, said of the video, it "is definitely offensive and culturally insensitive to Native people. It does continue to push the stereotypical idea of Native dress and culture in that it also is a depiction that you see in Hollywood or in Halloween or Thanksgiving."
Holden went on to insinuate that what the band had done was as culturally damaging as if they had donned slave chains.
Five days after the band scrubbed the video from YouTube, Victoria's Secret was completely tone-deaf when they let supermodel, Karlie Kloss, strut down the catwalk in leopard-print lingerie and a floor-length war bonnet. Not surprisingly, Victoria's Secret offered up a similarly ineffective apology.
This plague spanned artists like Lana Del Rey and her music video, "Ride," and Urban Outfitters who released a Navajo-inspired collection which included unfortunate items like "Navajo Hipster Panties," "Peace Treaty Feather Necklace," "Staring at Stars Skull Native Headdress T-shirt," and a "Navajo Print Fabric Wrapped Flask." The latter item seemed particularly cruel given that Native American youth have the highest rates of alcohol use disorders of any racial group in the country.
Even someone like Pharrell Williams, who has emblazoned the words "Human Race" on his collaborative shoes with adidas wasn't immune to wearing a ceremonial headdress on the cover of Elle in 2014.
Following a Twitter backlash with the hashtag #nothappy (a play off his mega-hit), Williams responded, "I respect and honor every kind of race, background and culture. I am genuinely sorry."
That same year, Ralph Lauren released a holiday ad campaign which mimicked traditional Native American portraits from between 1790-1920 when men and women were clad in more traditional Western wear. What made this particularly problematic was that the sartorial shift for indigenous people wasn't a choice; rather, it came as part of a forced assimilation practice where frontier ways were thrust upon them. But whereas the gold badges worn by Jews during the Holocaust was as a means of identifying enemies of the state, frontier Americans hoped to make indigenous populations disappear through their clothing.
In response, the brand released a statement, saying, "Ralph Lauren has a longstanding history in celebrating the rich history, importance and beauty of our country's Native American heritage. "We recognize that some of the images depicted in the RRL look book may have caused offense and we have removed them from our website."
The usage of Native American garments and jewelry isn't just problematic because of past implications, but also continues a stereotype that indigenous culture only dates back to a time that is often represented on film and television; making it seem like they have no relevance in music and fashion in a contemporary context.
While most offenders have issued weak apologies, Paul Frank was the rare brand who turned their cultural thoughtlessness - a party with headdresses, teepees and drinks with names like "Rain Dance Refresher" and "Neon Teepee" - into an opportunity to reshape the narrative for four Native American designers who presented their work at the Santa Fe Indian Market in New Mexico with help from the brand.
Some of the designers had overt homages to their ancestry. Others relied on more subtle hints that weren't as blatant - as has been the case so many times when brands and people from outside Native communities get involved.
Laguna Pueblo jewelry designer, Pat Pruitt, has spoken at length about the irony of not wanting to forget the past, but also not always wanting to deliver heritage items.
"We can choose whether or not to represent our culture," he said. "I don't want to present this false façade that there's a story behind it. I don't rely on that as an artist. Because sometimes there's not, sometimes it's just fucking cool! If I happen to use my culture, by all means I've been blessed, but I don't want individuals to be fooled in the sense that this is only where Native Americans get their inspiration. Because it's not. We don't rely on, 'What does this mean?' But if it has nothing to do with my culture, people tell me it's not Native enough. Can't the necklace just be cool?"
Perhaps lost amongst the string of apologies which have become quite commonplace over the years is that Native American voices are notably absent even when collaborations make sense. Valentino seemingly got it right when they hired Métis artist, Christi Belcourt, to transform her painting, Water Song, for usage on various products for their 2016 Resort collection.
Belcourt said she and the brand had explicit conversations about appropriation and whether they had ever had models walk down the runway with headdresses on.
Yet, even after the successful union, it was discovered that Valentino had either already, or been in the process of, marketing shoes with a Native American headdress on the box. Additionally, they also had completely ripped off Kiowa and Cheyenne moccasin patterns that they used on a backpack without any cooperation from tribal members or artisans from that community.
Nike is a brand that has shown a willingness to answer some of the aforementioned problems. In 2007, they released the Air Native N7. The result of nearly two years of collaborative research, development, and fit testing (to accommodate foot width and and depth of the toe box) which spanned 70 different tribes, its goal was to promote a more active lifestyle to combat issues plaguing communities like alcoholism and diabetes. Additionally, environmental impact was considered in the manufacturing process.
The project was brought to market by Sam McCracken, Manager of Nike Native American Business Program, who himself had grown up on a reservation with a mother stricken by type 2 diabetes.
"The Nike Air Native N7 marks an important moment for us and is a great example of what can be achieved when we challenge ourselves to innovate for a better world," said Mark Parker, President and CEO of Nike. "This product represents innovation beyond athletic performance, helping to improve Native American communities. It also exemplifies Nike's broader commitment towards sustainable design and community involvement."
The N7 initiated wasn't just a one-off. In subsequent years, they've enlisted the help of Native American artist/activist, Bunky Echo-Hawk, a member of the Pawnee Nation of Oklahoma, to continue the philanthropic and history preserving goal they originally set out to accomplish.
The significant wasn't lost on Echo-Hawk, who remarked, "It's really unique for a large corporation to work with a Native artist to develop Native-inspired apparel. So often companies just appropriate Native imagery without any kind of consultation. To witness the line grow over the last few years and infiltrate Indian country, to see everyone from small children to grandmas and grandpas in remote areas rocking N7 is amazing. Knowing that resources get funneled back into the community through the N7 Fund seems like a slam-dunk all the way around."
By examining these past missteps in both music and fashion, we understand that misinformation and laziness were most often the culprit. But these excuses should no longer be allowed. Simply put, stop mining the past for accolades in the present.
To read more about cultural exchanges in music, check out our analysis of Tyer, the Creator's ushanka-hat.