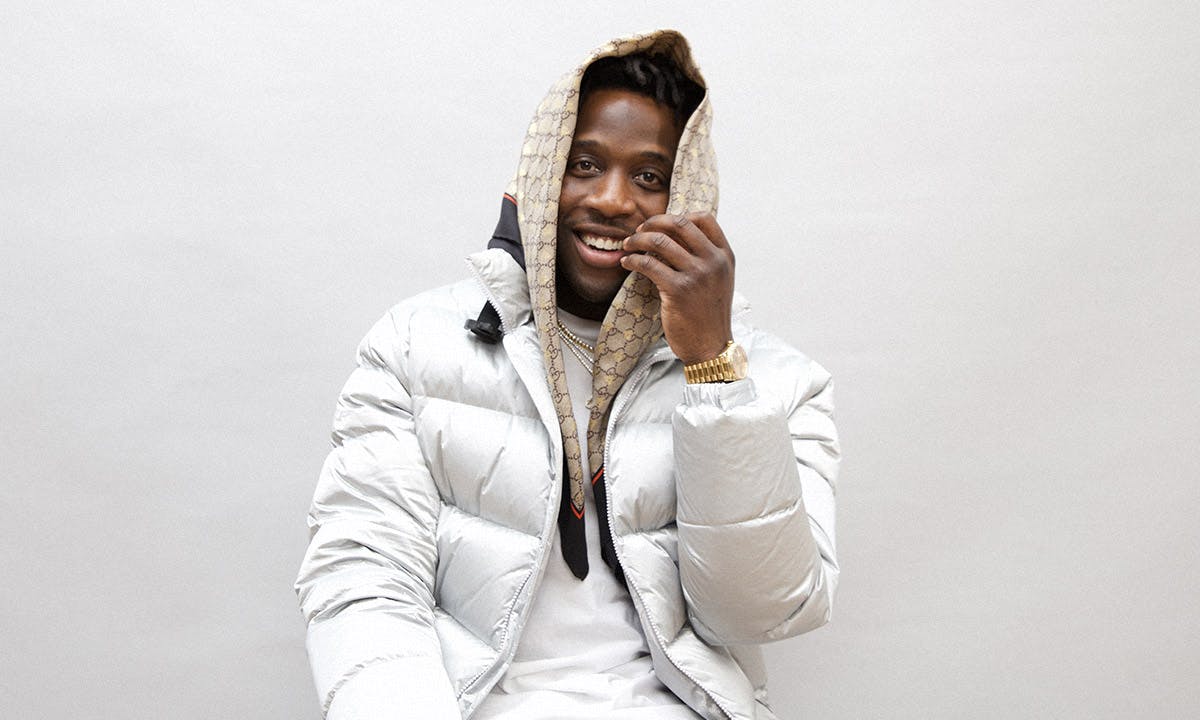 Professional BMX rider Nigel Sylvester has taken his career to new heights through his collaborations on fashion and art projects with partners like Nike and Pharrell Williams. The BMXer stopped by the studio to talk about all things shoes and reflect on the legacy of the late Kobe Bryant.
News of Kobe's and his daughter Gigi's passing undoubtedly shook up the entire globe with the impact carrying over into the studio as well. The cast changed things up this episode by starting off with the Question of the Week (QOTW), which asked listeners to share their fondest Kobe memories (1:46). Nigel spoke to Kobe's impact both on and off the court, and shared intimate recollections of another star athlete in the world of BMX, Dave Mirra.
The below interview is a written version of 'The Dropcast' Episode 96. It has been edited and condensed for clarity.
Jian DeLeon: I feel like you can emotionally relate to that loss of a mentor and a figure who was so influential, who you feel like was going to be around a lot longer than they were.
Nigel Sylvester: Definitely. I mean, I think about Dave Mirra automatically, what I feel you was alluding to, man. And even thinking about Kobe and thinking about Mirra and these greats that we had in our communities and in our lives, man, and them passing tragically. It's super tough. For me growing up as a kid, Dave Mirra was everything to me. I can remember sitting in my mom's room on the nappy ass brown carpet watching Dave Mirra be amazing and soar through the sky and dreaming about one day soaring through the sky myself and being a piece of that, being a 10th of that even, being a professional bike rider. And then a few years later, after a lot of dedication and sacrifice and hard work and completely dedicating myself to the goal and the dream of becoming a professional bike rider and having that man, Dave Mirra, be the one to give me this shot to become a professional meant everything to me. But yeah, when I heard Kobe passed, I didn't know Kobe. Never met him. But he meant a lot to me just being one of the most dominant black athletes of our generation of history ever. He was like a superhero.
The quick hits angle back into Nigel's territory: Aime Leon Dore has teased a collaboration with Porsche through a video lensed by Harrison Boyce, the director who previously worked with Nigel on his GO videos (15:16).
JD: The car is insane. The details on that.
Noah Thomas: Dude, those gloves.
JD: Yeah, the invite to the event they're having during fashion week, shot leather gloves, driving gloves. And it's the Porsche 964 instruction manual, which apparently is a huge thing for vintage car nuts, especially Porsche. That instruction manual that shows you where everything is, how to take care of it. Unprecedented collab. And of course there's going to be a product component too, but the fact that they just made a whole ass car, it's just insane.
Speaking of insane development, Fortnite is the latest game to break through the esports industry, and is now an official high school and collegiate sport (16:56).
JD: All right, speaking of things that are unbelievable, Fortnite is now an official sport in high school and college? What?
NS: I'm more of a Call of Duty kid myself, but I've played it and it's dope. And the fact that it's actually official high school and college sport, the world's changing, and that's amazing, man.
JD: But how does it work? What, you can just stay after school to play Fortnite?
NT: I guess. But think about it, you're a jock now. Think about it, right? The head of the varsity basketball team and the best Fortnite player, you all might be fighting over the same… You know what I'm saying?
JD: You might be.
NT: You might be. Who is prom king? Do they still do prom king? I feel like they might not, just to be honest.
JD: I don't know. It also feels like a very outdated thing in high school now. Why is it about a monarchy? Everybody's royalty.
NT: But who is the most popular kid in school? And it might be the Fortnite kids.
NS: It might be.
NT: Right, and he might be taking Charlene to the dance.
NS: Is Charlene who you went to the dance with?
NT: No, but shout out to Charlene.
The annual crowning of the best acts in music took us back full circle with a remembrance of Kobe and Nipsey Hussle. Although the 2020 Grammys is in the books, the best and worst fits of the evening are still up for deliberation (18:40).
JD: Tyler bringing home the Grammy for best rap album. And his response to it. That was a G move.
NT: Was also an award in itself. How do we feel about the fit? Look, at the end of the day, express yourself. It's all love.
JD: Tyler can do no wrong. I think he's definitely…
NS: Shout out to Tyler. Tyler owes me a bicycle, so… send that, you heard?
JD: Tyler's fit on stage though, after the whole bellhop fit?
NT: No, no his fits are real, dude.
The biggest fashion rumor as of late is Raf Simons heading over to either Prada or Miu Miu—and possibly resurrecting the Miu Miu's menswear line. (19:59).
NT: Yo, that would be so sick, dude.
JD: It's been like what, 11, 12 years since we last saw a collection from Miu Miu men's?
NT: It's been a minute. Miu Miu men's, let's run it, yo. And I feel like Raf there, I feel like he would really channel what everyone liked about Miu Miu men's.
JD: Well, that's the thing, is Raf is also just a Prada stand, straight up. He wears a lot of Prada and has just been, there's a mutual appreciation between him and Miuccia. So yeah, it fits.
NT: Which is also a massive flex, because I feel like Miuccia don't bang with nobody. Who is she hanging out with?
JD: Right? I wrote this piece about it, where whether or not it ends up being true is not as fun as the whole room of process. You know what I'm saying? Conspiracy theories are fun, straight up.
NT: Don't let the facts get in the way of the story, man.
JD: Nigel, what do you think about rumors and gossip in general?
NS: It's entertaining to sit down at a table with your boys or your homies, whatever, and discuss the possibilities, everyone weighs in with their opinions. It's a good conversation. It jogs the imagination. I'm not mad at it.
JD: That's the thing. Every fashion week, there's always this rumor. Last season it was like, "Oh, now that Humerto and Carol are done with Kenzo, Yoon from Ambush is going to step in."
NT: I remember that. That would be fly, though.
JD: But then the season before everyone was like, "Colette's closing," and everyone was like, "No, what are you talking about, Colette's closing?" And then that ended up being true.
Nigel's presence in the studio calls for a special segment titled "Beat or Neat?" where the guest is asked what kicks look best broken-in and which ones need to stay crispy clean (24:24).
NT: Which is only right for you to answer. You did drop one of the best Jordans.
JD: They weren't cooked, they were preheated, I like to say.
NS: They're preheated. There we go. Heat them up for the people. Thing about it, though, we meant to tell that story. That was legit my everyday experience, throwing on a pair of Jordan 1s, hitting the streets, jumping down the stair set, hitting the rail or a ledge. And in real time, watching my kicks get distressed. It's a real thing. And because I rode my bike with no brakes, so my shoes become the brakes. So it's a real thing for me. It's not just something we cooked up.
NT: But how did you become comfortable with that? How did you get over the, "Wow, I'm really beating up these fly sneakers right now."
JD: Well, he got a Nike deal and then he gets as many as he wants.
NS: That definitely helps. It became a thing to me, to the point, Jordan 1s, I feel like it's a shoe that ages very well. Whether they're super crispy or they're cooked, they still look good, hopefully. Your fit has to complement them.
Noah introduces up-and-coming brand Ernest W Baker's shoe as the "Mule of the Week." For an accurate visual, imagine a shoe that embodies YG's Grammy outfit (33:20).
Nigel heightens anticipation and sets the bar high by asking how many items he can list during "What'd You Cop?" He's given amazing care as a member of the Nike family, but Nigel's personal cops always start when the gifts end. Recently, he copped a pair of Kith joggers, an Hermes scarf, and some uncut gems by Greg Yuna (34:52).
Keep your eyes peeled for the next QOTW which will be posted on Highsnobiety's Instagram, and leave a voicemail on The Dropcast hotline at 833-HIGHSNOB (833-444-4766) for a chance to be featured in a future episode.
Relevant Links
Michael Jordan to Drake, 21 Savage & Nike: The World Pays Tribute to Kobe Bryant
Craig Green & adidas Originals' First-Ever Drop Is Coming This Week
This Is Your Best Look Yet at Travis Scott's Upcoming Nike SB Dunk Low
Aimé Leon Dore Just Teased a Blockbuster Collaboration With Porsche
'Fortnite' Is Now an Official High School & College Sport
The Best, Worst & WTF Fits From the 2020 Grammys