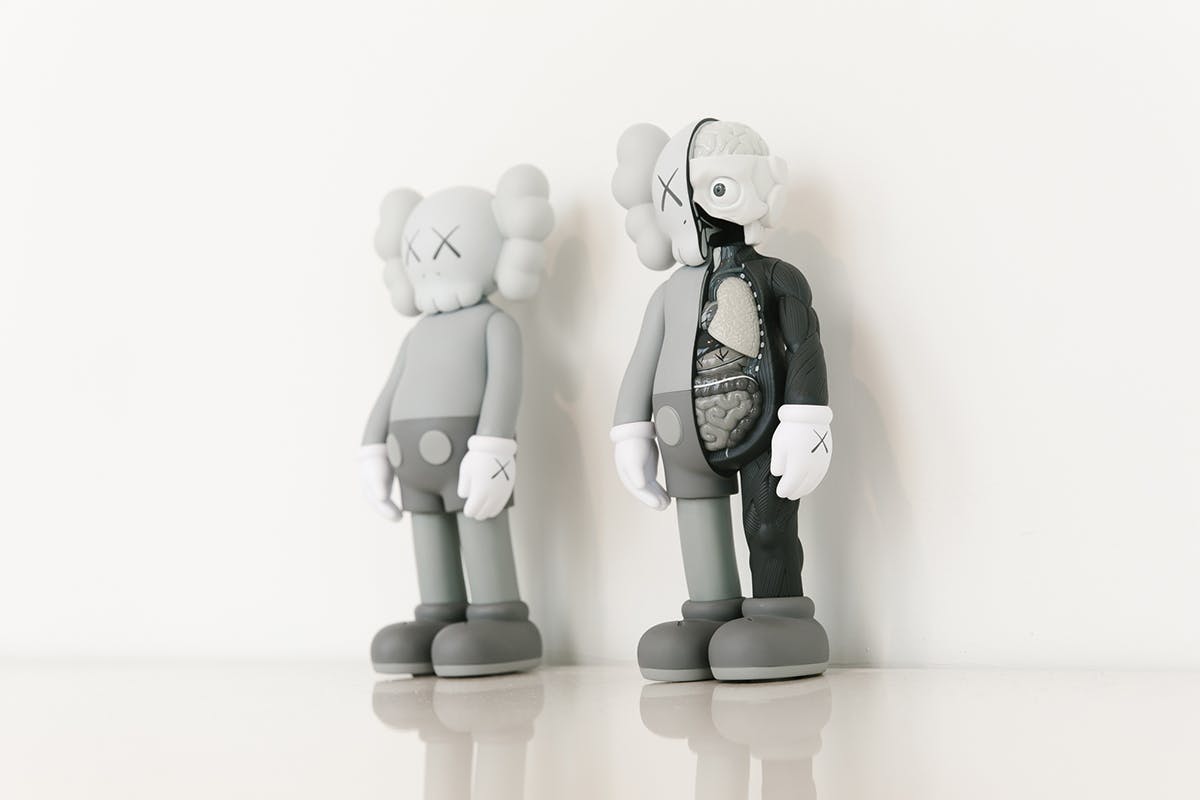 The relationship between art and commerce has always been a contentious one. For years, people have warned of the consequences of muddying art with economics, but why?
According to Takashi Murakami's Superflat theory, as the distinction between social class and mainstream interests "flatten," a culture is produced with little distinction between "high" and "low." While this notion may go against the fundamental values of art, there exist a number of artists who work to break traditional perceptions of art by emphasizing its relationship with product and the marketplace.
Brian Donnelly, aka KAWS, is no exception. His now-defunct OriginalFake label not only epitomized the idea of "art as product," but strived to bring the idea of "pop art" into the 21st century and the realm of streetwear. If Andy Warhol and Jeff Koons were the pioneers, KAWS is the one who contemporized it. Now a relic of a very specific time in popular culture, OriginalFake remains an oddity and a treasure in the convoluted history of streetwear.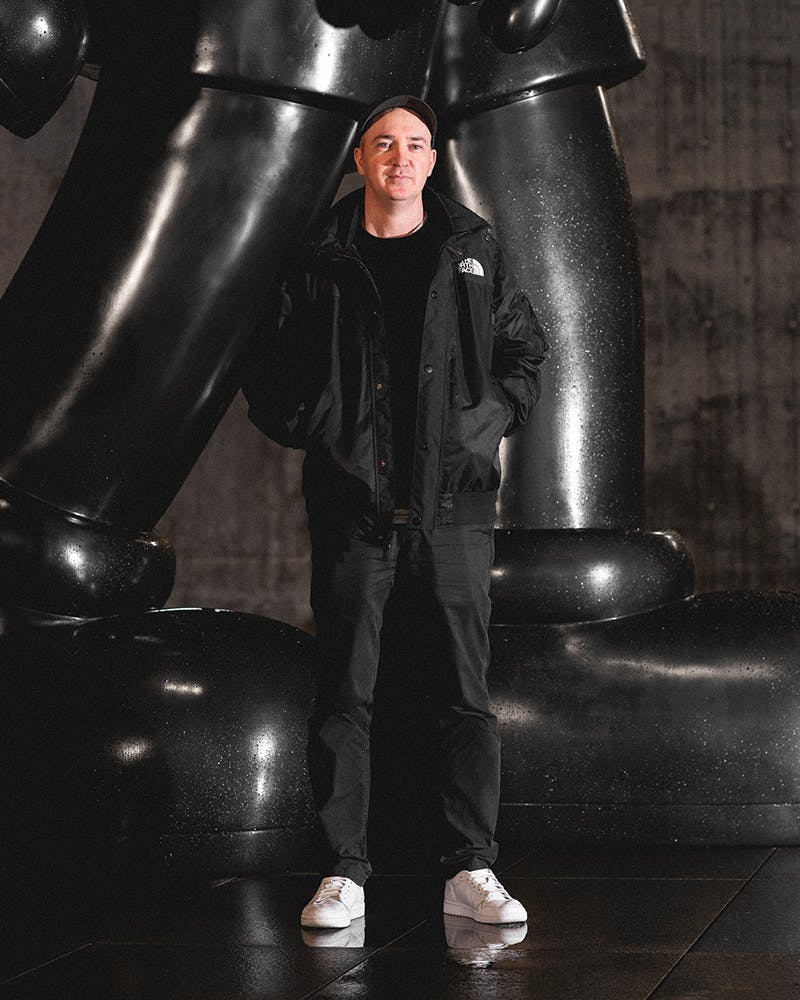 To understand the origins of OriginalFake, we first need to understand Donnelly himself. The artist made a name for himself in the early '90s following a massive boom in consumerism that resulted from a growing middle class. In response to this ceaseless commodification, KAWS got to work on the streets of New York City, supplementing advertisements with signature characters including the Companion, Bendy, and the Accomplice.
KAWS' irreverent attitude to art would become pivotal to his involvement in streetwear. Donnelly frequently released his art as a purchasable product and often transformed pop culture icons such as SpongeBob SquarePants or Mickey Mouse into his own creations by adding a signature "X" motif to each character's eyes. These characters would become some of KAWS' most lauded designs, with plastic figurines and plush dolls becoming the cornerstone of the artist's product line.
After being approached by Japanese brand BOUNTY HUNTER in 1999, KAWS produced his first vinyl figurines for the cult streetwear label. The popularity of the first BOUNTY HUNTER series catalyzed the relationship between KAWS and other players in the Japanese streetwear scene. The most pivotal of these relationships was with Medicom Toy, the celebrated toy and collectible company responsible for the Kubrick and Be@rbrick series. This partnership, seemingly insignificant at the time, eventually laid the groundwork for what would become OriginalFake.
In 2005, KAWS was approached by Wonderwall, the Japanese interior design firm behind many of A Bathing Ape's storefronts, with a proposal to design his own outlet in Tokyo. While he was thrilled with the idea of designing a shop, KAWS knew that if he were to do it, it should be selling his products. Finally, with designs by KAWS and manufacturing provided by Medicom Toy, OriginalFake was born in 2006.
OriginalFake T-shirts
With streetwear becoming more prominent in the mid '00s, counterfeits were abundant. In response, OriginalFake's first release was a replica of KAWS' original Be@rbrick for Medicom Toy. Other collections featured original KAWS artwork, bridging art with commodification. The result was some of the most original graphic tees to hit the market.
Produced by the team behind NEXUSVII, OriginalFake T-shirts boasted high-quality screen-printed graphics reminiscent of streetwear OGs BAPE and GOODENOUGH. Having worked with BAPE's NIGO on the packaging for KAWS' "The Kimpsons" products and collaborated with BOUNTY HUNTER on a series of figurines, KAWS was already well versed in the world of streetwear.
Some of his most popular non-collaborative tees included KAWS-style renditions of popular characters. While interpretations of Astro Boy and the Stay Puft Marshmallow Man were a huge success, OriginalFake hit its stride with KAWS' immense archive of original imagery. Between the Companion, Chompers, and the "X" motif alone, OriginalFake found endless ways to rework KAWS' oeuvre into original designs.
OriginalFake Clothing
While OriginalFake will always be remembered for its graphic tees, the brand's real bread and butter was its cut-and-sew offerings. Still working with NEXUSVII, OriginalFake was able to offer garments with quality comparable to top-tier streetwear labels such as WTAPS and NEIGHBORHOOD. The team's geometric design approach allowed for a sartorial appeal that streetwear had rarely seen at the time.
The juxtaposition of quirky graphics and intricate wardrobe staples was unusual but not unwelcome. In fact, one could argue that OriginalFake was a pioneer in bridging the gap between streetwear and traditional menswear. Every piece of clothing, whether it was a T-shirt or field jacket, was thought-out. The garments didn't even need someone to model them; KAWS would often style his lookbooks so only the garments were present. While that might sound amateurish, KAWS' clothing was dynamic enough to appeal on its own.
OriginalFake Collabs
Considering KAWS' extensive list of collaborators, it should come as no surprise to know OriginalFake's collabs are some of the most sought-after in streetwear. At the top of the list is OriginalFake's 10th-anniversary T-shirt for Supreme's Tokyo store. Featuring Kate Moss and KAWS' Bendy, the shirt recalled the artist's OG days of commercial vandalism. The two brands got together again in 2011 to reinterpret Supreme's logo in KAWS' signature pop art style.
While the Supreme collaborations are probably the most well known, OriginalFake mostly worked with long-term collaborators from Tokyo's Harajuku scene, including BAPE, NEIGHBORHOOD, and fragment design. But KAWS' biggest collaboration, another with a major Japanese label, isn't really a collaboration at all.
KAWS shut down OriginalFake in 2013, the same year NIGO decided to leave BAPE. The timing was perfect. NIGO became creative director of Uniqlo's UT T-shirt line, giving KAWS the opportunity to design for a bigger audience. NIGO asked his friend if he was interested in producing a small capsule collection and, starting in 2016, KAWS started designing regular collections for the fast-fashion brand each year, with drops selling out in minutes.
Since KAWS' relationship with Uniqlo began, the value on the secondary market of OriginalFake shirts has dropped dramatically. Even if OriginalFake is only a memory, the brand helped pioneer a movement that ate away at distinctions between "high" and "low" culture. With streetwear having become near-ubiquitous, one can only wonder if OriginalFake would have been bigger today.
Maybe its prices were too aggressive or perhaps the brand was too far ahead of its time, but whichever way you look at it, OriginalFake redefined streetwear, becoming the missing link between inception and detonation.