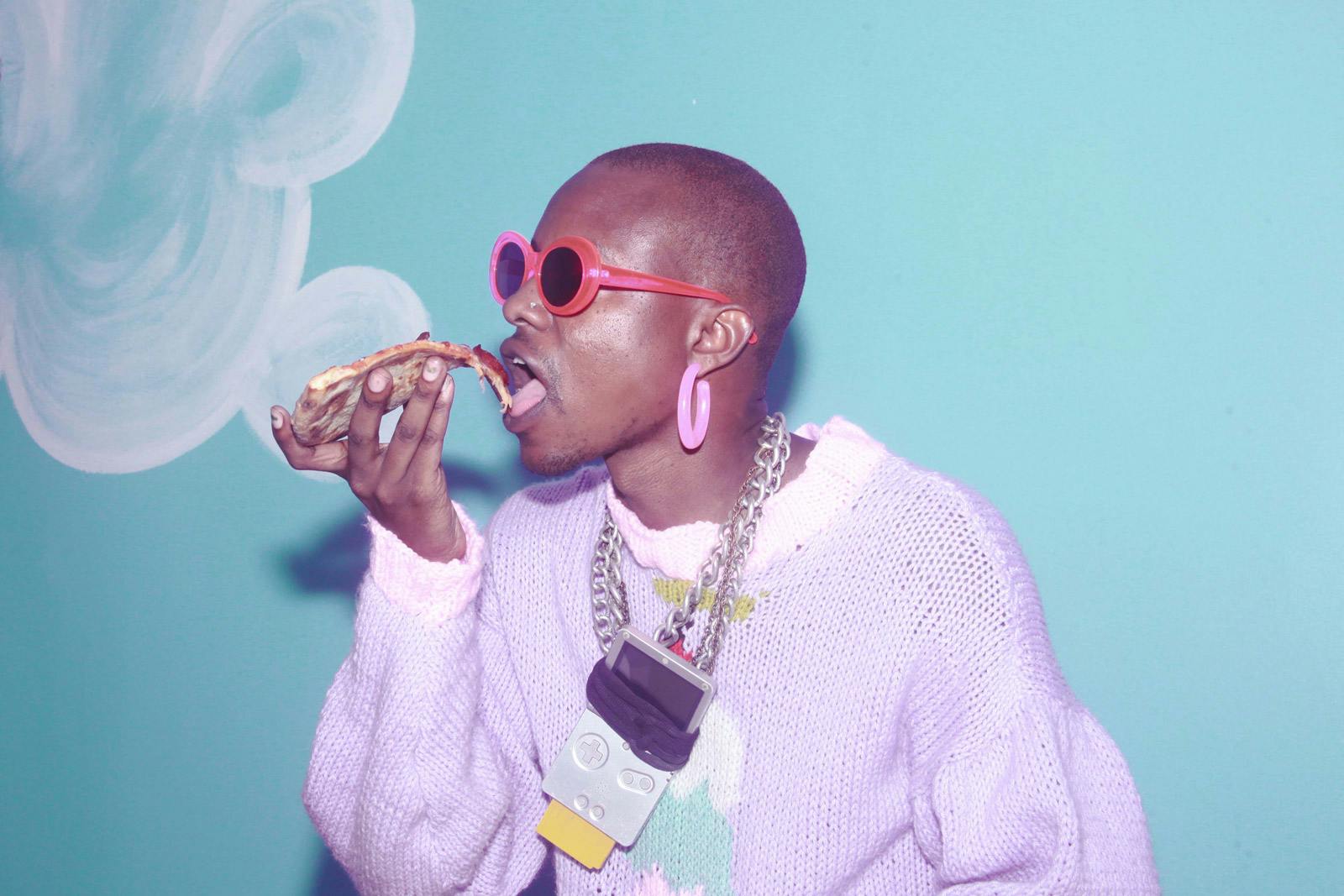 Highsnobiety / Nico Kartel
When you think of your run-of-the-mill member of Congress, you probably aren't picturing a non-binary, 26-year-old rollerblading artist who wears a Gameboy Advance around their neck like a Cuban link chain. Society may not have caught up to it yet, but there's a new standard of representation in politics. After all, if you're going to be representing New York's 7th Congressional District (which includes Park Slope, Gowanus, Cobble Hill, Red Hook, and Sunset Park), a little eclectic flair here and there never hurt nobody — in fact, it resonates with the melting pot of cultures found within the boroughs.
Born David Porter, Jr., Paperboy Prince was a rapper, a journalist, and a graphic designer before making the jump to community organizer, New York City activist, and Congressional candidate, running a campaign against Rep. Nydia Velázquez in hopes of becoming the first non-binary member of Congress. The 14-term incumbent Velázquez has been in office for close to three decades and remains popular, so Paperboy did not manage to unseat her in a primary race held earlier this summer. But far from loss, this race proved a huge win in terms of accurately reflecting the changing tides of the political visibility of Black culture and the LGBTQ+ community.
"It's our time!" they joyously tell Highsnobiety over the phone with a laugh. "It's important to have diverse viewpoints representing the people. For me, that just doesn't mean somebody being Black, a woman, or gay. It means them actually embodying a viewpoint that's different from the status quo that we already have. Someone can be gay or Black but think just like George W. Bush, so they're not giving us anything new. It's about having actually new, fresh viewpoints represented with diversity of thought."
The pseudonym Paperboy carries significance for a community organizer who prides themselves on bringing news and education to the streets, but it also stems as far back as childhood, to the kid who delivered The Wall Street Journal to the Washington, D.C. neighborhood where they grew up. From a young age, they always had an interest in reading the newspaper, collecting them, and learning everything from front to back. With both their parents heavily involved in electoral politics and community activism, Paperboy was raised with an underlying interest in being civically engaged; this would later lead to an internship on Capitol Hill with members of Congress in elementary school.
Paperboy remained actively involved in the political sector throughout their academic career, but few could have imagined it would be a parking ticket that would spark their interest in running for a seat in Congress. With citizens saddled in thousands of dollars in parking tickets, nobody in a seat of power seemed to care that there were far bigger issues in the community worth dealing with than penalizing parking infractions.
"Basically, it really pissed me off," they say. "There were so many things going on, but that was the straw that broke the camel's back. It made me realize how much the system is just treating people like they're disposable and not actual people. There's no community there, there's no love there."
"Honestly, it's funny now because I'm so deep in it; I've been campaigning publicly for a year now. I'm so deep in it now that it's hard for me to put myself in the mindset of myself when I wasn't in it," they reflect. "One of the main [reasons for running] was because I was feeling like our representation weren't actual people who cared, they weren't working as hard as they could be, and they weren't really doing anything that could impact our lives. They weren't working like it was their apartments they were about to lose, it was their business that was about to close, like it was their friend who didn't have a job coming out of college, or like it was their marriage that was about to end in divorce."
The political ideology of Paperboy Prince centers around spreading love, and they strive to put the essence of community back onto the streets by making civilians feel more secure with their elected officials, caring about them as human beings and not just taxpayers. Other chief priorities include a universal basic income, Medicare for all, and ending the criminalization of drugs. These are more tangible political ambitions, but Paperboy will be the first to tell you that, above everything else, the message is love.
"If y'all not gonna do it, we're at least going to have the conversation, and we're gonna do it my way," they laugh. "We're going to do it the same way we get people interested in partying, buying cool stuff, or dancing to music. It's the same way we're going to get people interested in changing the community for the better."
We inevitably discuss intersectionality, and Paperboy stresses that being your most authentic self is key. "For too long, we've had politicians that are trying to be this fake perfect person, and the reality is, nobody's perfect," they say. "We need people that are real people, people who are themselves and who people can identify with. The more that you're yourself, the more you can admit that I go through the same issues as you do every single day."
How has social media played an important role in your campaign and getting your message out there? How do you deal with negative backlash online?
You know what's crazy? I never get negative backlash. Now, that being said, I've gotten tons of death threats, especially once we started throwing protests. I've gotten people saying they're going to hang me, calling me all types of racial and ethnic slurs, gay slurs, and all this type of stuff just in the last four or five months. As far as people on social media, I get a lot of love. The love is so powerful, it just drowns out the hate. We get way more love than most politicians.
[Social media] helped the campaign a lot and it allowed us to rally my people. The best thing I did for the people that loved us and believed in my campaign, and still do, was we focused on those that were connecting with what we're saying. If someone's a supporter, we're like a family. I'm not trying to build a campaign, I'm trying to build a family — and not a dysfunctional family. A super loving, happy family, and the best family you've ever seen in a movie. That's what I'm working towards.
Highsnobiety / Nico Kartel
You ran against Rep. Nydia Velázquez, a serious career politician. What do you believe you can bring to the table that she may not be able to, and where do you think you can demonstrate a better grasp of the issues?
It's not so much about any specific politician. I don't think someone should be a career politician. Being a politician as a career implies that your job is this, and at a certain point, you're disconnected with the people because you haven't actually had to live as a person. How can you legislate on businesses when you haven't had to run a business in 20 years? How can you legislate on public schools when your children haven't attended public schools in decades or have never set foot inside a public school? How can you legislate on public housing when you make sure that your driver never takes you within 100 feet of a housing project?
When you're in a certain job as an incumbent for decades, you just lose touch with the people. When you vote for the same old politician with the same old ideas, you're going to get the same old results. How can you expect to get something new from the same person that has given you what you got? They already know this is what you're going to accept, so what is their incentive to provide something better for you and the community?
I want to work with everybody, from whoever they say is the worst politician, most racist or sexist politician, to the most progressive and open-minded. I believe in loving all and connecting with all. Not throwing people away just because they believe differently than me. Part of your challenge of showing how much of a diplomat and leader you are is how you treat those with different viewpoints. All of these politicians in power were exposed when Donald Trump got into office because they talked about him spreading fear, lies, and hate, and guess what they decided to match it with? Hate. If he's gonna spread hate, you should fight hate with love.
Why do you think so many young Black voters are discouraged from showing up to the polls? How is their voice in the political landscape impacted?
People ask why Black people feel so disheartened to vote. Well, when you ask Black people to vote, you're not actually telling them to be free and open with their vote. You're telling them to vote for the pre-approved person who the liberal white establishment says they should vote for, which traditionally has never served Black people. Finding out a way to change that is important.
Traditionally, politicians have used Black people. They use them for their votes, they pander to them, and then when it comes time to actually uphold the promises that they make, they're unresponsive — there's no follow-through or follow-up. A lot of the problems that are facing Black America, on a very local level, can be solved by the Democratic politicians they put in power, but these politicians don't seek to solve these problems. They in fact want them to continue, so that Black people are dependent on them to save them from that same issue time and time again.
Speaking specifically about the NYPD, what is your stance on abolishing versus defunding the police?
A lot of people hear "defund the police," and it's a very big, powerful term, but it's also vague. The police department has so many different companies it contacts and money that it spends. When they say they'll defund the police, they might take a million dollars from the toilet paper budget, but they're not taking any money from the budget that is mobilizing, murdering, and terrorizing Black and brown people. I want to make it clear that when people say "defund the police," they mean defunding the place that is actually terrorizing, brutalizing, and murdering Black and brown people. I'm in favor of that.
I support abolishing the police, because with great power comes great responsibility, and at this point [the police] have completely lost the trust of the people that they're supposed to protect. They've also shown that they cannot police themselves. When you leave it to the police to weed out the bad apples and prosecute those that kill and overstep their powers, they never do it. If you can't even on a microlevel reprimand and prosecute the officers who commit crimes in a timely manner, how can you, on a macro level, reform the police department as a whole? You're unequipped to do that work. Abolishing the police and replacing them with a citizen-controlled safety and mental health-focused group would be a much better system. People who have lived in the community and first-responders with people that have more training and background in de-escalation instead of brute force.