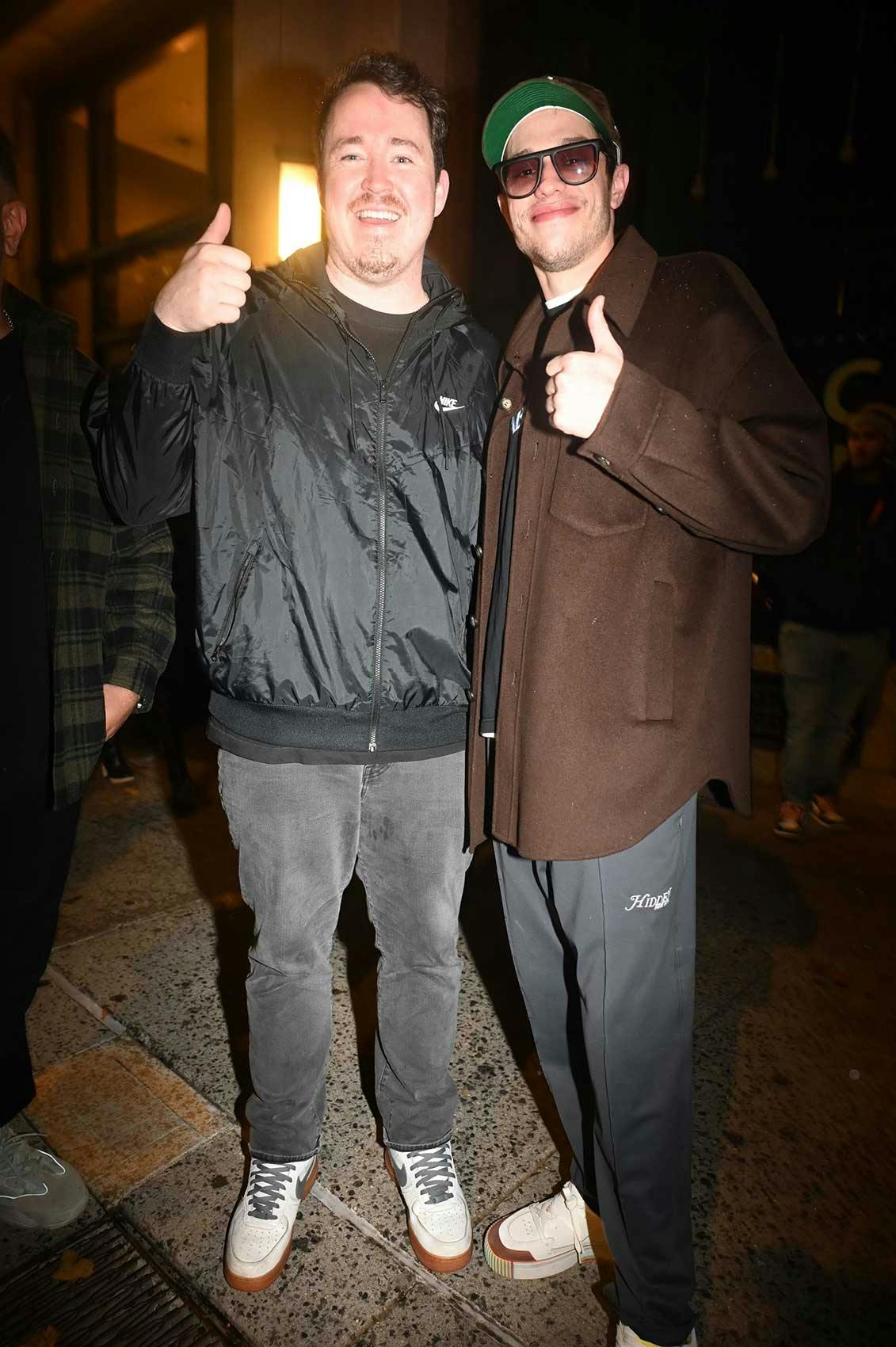 We've been eyeing Pete Davidson's sense of style ever since he started dating Kim Kardashian in late 2021. It was the classic tale of Beauty and The Beast. Eh, Pete's not really good beast material, it's more like the Scientifically Sculpted and The Schlub.
But that was the inherent appeal to their relationship, seeing the glammed and tanned Kim next to the gleefully frumpy Pete (now that he's rumored to be dating Emily Ratajkowski, that juxtaposition isn't going away). Over time, though, it became clear that Pete cared more about clothes than he may have let on.
Witness the stuff he wore to a Saturday Night Live afterparty on November 13, a blend of normal dude duds and surprising streetwear flexes.
Let's put aside the troubling anti-Semitism put forth by SNL host Dave Chapelle (who attended the party wearing his usual slightly-too-small Rick Owens) for now and focus on what Pete Davidson wore.
As is typical for Pete these days, he was all smiles in sunglasses and easy layers, matching a wool shacket to his HIDDEN NY track pants and MSCHF Gobstomper sneakers.
To the average viewer, these are just clothes. To the trained eye, these are still just clothes, but they're clothes that indicate a deeper understanding of the state of streetwear in 2022.
We've seen Pete repping cult Instagram page HIDDEN.NY not just once but at least twice, the latter time even with some special sunglasses that signified insider access.
These track pants aren't quite as rare — you can match Pete for under $100.
HIDDEN.NY isn't exactly a best-kept secret but its endless feed of Nike Dunks, NIGO, and '90s nostalgia does represent a level of streetwear awareness that you wouldn't expect the social media-averse Pete to care for.
The MSCHF shoes are another wink.
Sure, these particular sneakers were co-signed by Jimmy Fallon but anything MSCHF is one of those IYKYK things you likely wouldn't care about if you weren't into "the culture," as they say.
It's not super surprising to see him in HIDDEN.NY and MSCHF knowing that Pete's already at least a little into streetwear culture but it's another worthy entry for the timeline.
Point is, Pete's just as likely to meet and greet fans wearing PJs or fast fashion as he is to wear anything interesting but there's always the rare moment that he surprises us with a Goyard bag or Stone Island pants.
For someone more into what he wears than who he dates, I'm just as pleased to see him wearing interesting stuff as I am to hear that he's dating yet another famous beautiful person, though the rest of the internet clearly feels differently.
Shop our favorite products