For decades now, Japan's fashion scene has built itself up to be an enigmatic force. Known for shrouding itself in a certain mystery, many of the brands and figures that constitute it are notoriously press shy. This trait, along with many others, have only served to heighten its popularity in the Western world.
Resultantly, becoming a poster person for the scene is oftentimes a consequence of being a little more vocal than other patrons. One of these outspoken individuals is Motofumi Kogi, better known as "POGGYTHEMAN." A recognizable figure on the fashion week circuit, and one who has successfully transcended any and all stereotypes of mystery. Poggy's unique style speaks to his rich palette of influences, from rockabilly and hip-hop, to the blue-collar stylings of hippie communes.
His expressive attitude and less-than-traditional approach to publicity has seen brands worlds over flocking to collaborate with him. For his latest venture, Poggy found comfort in the ideals of Hamilton; an American-turned-Swiss watchmaker with a footing in cinema. Given the affinity both parties share for craftsmanship and tradition, the Ventura POGGYTHEMAN watch, available exclusively on Highsnobiety, is an ode to one of the world's most iconic style icons, Elvis Presley.
Inspired by the many variations of what went on to be Elvis' signature pink suit, the collaboration is an amalgamation of the watch's 1957 design, with pink detailing interjecting the original jet-black build. Drawing parallels to the "King of Rock and Roll," the watch references many of the stylistic cues key to "American traditional" -- nicknamed "Ametora" in Japan -- and speaks to the catalytic role music played (and continues to play) in global fashion.
Poggy's historical understanding of fashion and the trends that have been inspired by music and street culture is fascinating. He recognized our Ventura as one of the most important accessories of the 20th century and has created a new look for the 21st century."

Hamilton CEO Sylvain Dolla
To begin decoding music's influence on fashion, we had the pleasure of sitting down with "the man" himself. Calling on his encyclopedic knowledge of the industry, Poggy was able to create a small typology of what he feels to be some of the most defining sonic moments in contemporary fashion. This list below is by no means exhaustive, but serves more to lay the foundation for discussing one of the many pivotal points that led to the creation of the industry we know today.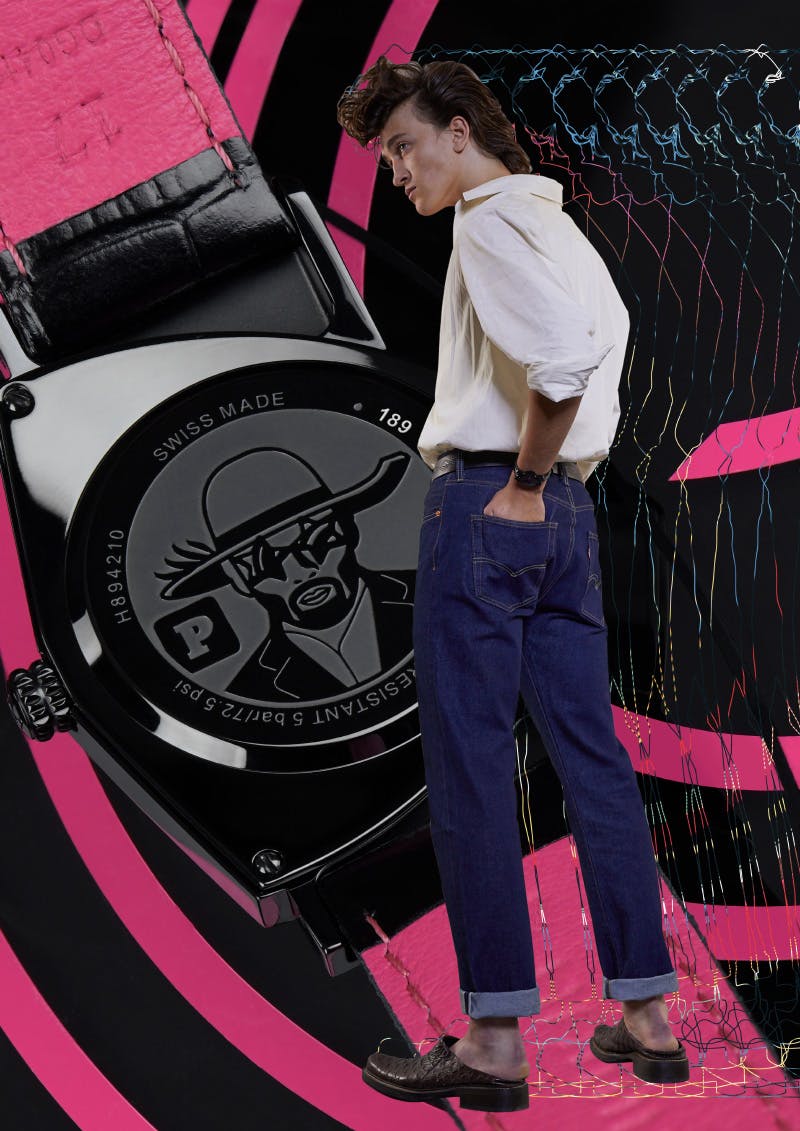 Why is it you feel music has had such a profound impact on fashion?
I think it is quite rare for someone to become interested in fashion alone. My devotion to sports, comics, and music started when I was in primary school which lead me to begin wearing what my favorite players and artists were wearing. I believe there is a natural flow between fashion, music, sports, and culture.
What have, in your opinion, been music's biggest influences on fashion?
The hippie movement helped turn the denim uniforms worn by blue-collar workers into a fashionable item, before the 1980's hip-hop scene did the same thing with sportswear staples like tracksuits. Workwear and military wear -- predominantly referencing, and worn by those interested in, rock and roll -- have also been in the spotlight since the 1990s.
When asked to imagine how a world devoid of fashion's influence might look, Poggy says, "It might be a world in which people still wear evening coats and silk hats as formal wear, with suits continuing to be considered casual clothing." The core message in this statement is that music has brought with it progression, and its presence has served to greatly enrich the culture of design. Without it, fashion would lack the all important ingredient of "rebellion."
Like Elvis, the hippie movement, punk and hip-hop, the world's more rebellious music scenes have reinterpreted various working-class styles and influenced the younger generation to shift their dress code.

Motofumi "Poggy the Man" Kogi
Next to Elvis' famous pink suit, was there anything else about him that inspired this project?
In Japan, timeless menswear styles such as those mentioned above are labelled Trad, and I was once taught that in fashion, 'Trad is a line, and Classic is a dot.'
We, as consumers and producers, are destined to carry on the everlasting, high-quality pieces to the next generation. At the same time, younger generations are becoming more eager to succeed the great, timeless pieces the past generation created. The line created between these two dots is Trad. Though the manner in which these dots connect changes over time, I hope to draw my own line similar to the way in which Elvis did.
Hamilton's Ventura was an important piece in the development of 20th century fashion. Why did it win your heart?
When I was in my 20s, many of fashion's innovators were deeply into rockabilly, punk rock and vintage styling. The same people would wear the Ventura, so I had always longed for the watch. Fans do not only love the design and functionality of the piece, but also its cultural relevance. This is a truly timeless accessory.
Limited to 500 pieces only, the new Ventura POGGYTHEMAN watch is now exclusively available on Highsnobiety's Shop. Hit the button below for more.