This week, Missouri Representative Cori Bush held a virtual fashion show comprising three looks and one question: What does a regular person on a low budget that advocates for representation and climate policies wear when working on a global platform?
The answer? They thrift.
"It's really expensive to get the business clothes I need for the Hill," she wrote on Twitter. "So I'm going thrift shopping tomorrow. Should I do a fashion show?"
Alexandria Ocasio-Cortez was one in a chorus of "yes" that quickly erupted in response to that tweet — she even arrived with thrifting tips on hand and spoke of the benefit it has to the environment. AOC mentioned rental platforms, offered to go on a shopping date with Bush, and plugged fellow Democratic Representative Ayanna Pressley as another Capitol-attending aficionado of second-hand swag. Then, Michigan's Rashida Tlaib got involved, as did Florida Rep (and Rent the Runway fan) Pam Kieth, Minnesota's Ilhan Omar, and Georgia's Nikema Williams. Suddenly, the conversation turned into an extremely refreshing roundtable of real talk featuring elected officials bonding over pre-owned clothes.
This is a big deal. Though it may seem like a small thing, it is so rare that you see politicians, particularly women, publicly discussing their clothing, let alone commenting on second-hand clothing and small budgets. There is a multitude of reasons as to why this is rare, and all of them are political.
"Most members of Congress aren't working class," Bush commented. "So when a regular person like me runs, it's hard to handle everything from how much it costs to run, down to the clothes I'll need to wear at work." She continued to describe how, when you're elected to Congress, you don't get paid until the end of January (so, basically three months, in this case). "If you're living paycheck to paycheck when you run, you have to find a way to make it months without income. We've got to make Congress more accessible to regular people."
Bush then mentioned the misogynistic practices that are a depressing given in a conversation merging style and politics. "This is also about the pink tax (the extra amount women pay for everyday products like razors, haircuts, and sanitary goods). The clothes I wear in the Capitol could make headlines, but a man does not have to worry about that. We've got to spend more on our wardrobes, and then caring for them costs more on top of that."
Naturally, there's a Catch-22 here. So often, the conversations regarding style and women in positions of power are seen as reductive, as belittling their politics, as diminishing policies and values in exchange for aesthetics. But, as Bush states, when outfits end up as headlines anyway, and when you're aware of that, why not play the system at its own sexist game and pay attention to the fact that sartorial statements can wield huge potential? And arguably, ignoring that fact plays an active part in contributing to the very stereotypes many of us are trying to avoid.
As The New York Times asserted earlier this year, "when the choice seems like a meaningful sign of generational change, to ignore what that nominee wears precisely because she is a woman is to fall victim to the same stereotype. Costume is an intrinsic part of any pageant; it is woven into the creation and communication of character. This is never more true than during moments of shared public ceremony: the conventions, the inauguration, the debates, the State of the Union. To a certain extent, we all live on camera now, all the time."
Take AOC's Vanity Fair cover last month, for example. In an extensive interview, she covered a myriad of topics, from what it was like dealing with Ted Yoho — you know, the sweet Republican former-Florida rep who jabbed a finger in her face and called her a "fucking bitch" — to her daily challenges and what she's planning next. Yet, among all of that, the focus for some people was directed at her clothes. And no, it wasn't to compliment her for looking like a top tier boss — which she did because she is — but to make comments like this:
"AOC on the cover of Vanity Fair. The clothes are estimated to cost $14,000. So happy that AOC is upholding the long-established hypocritical tradition of Socialists who believe Socialism is for poor while they enjoy the fruits of Capitalism." — Sunanda Vashisht, political commentator.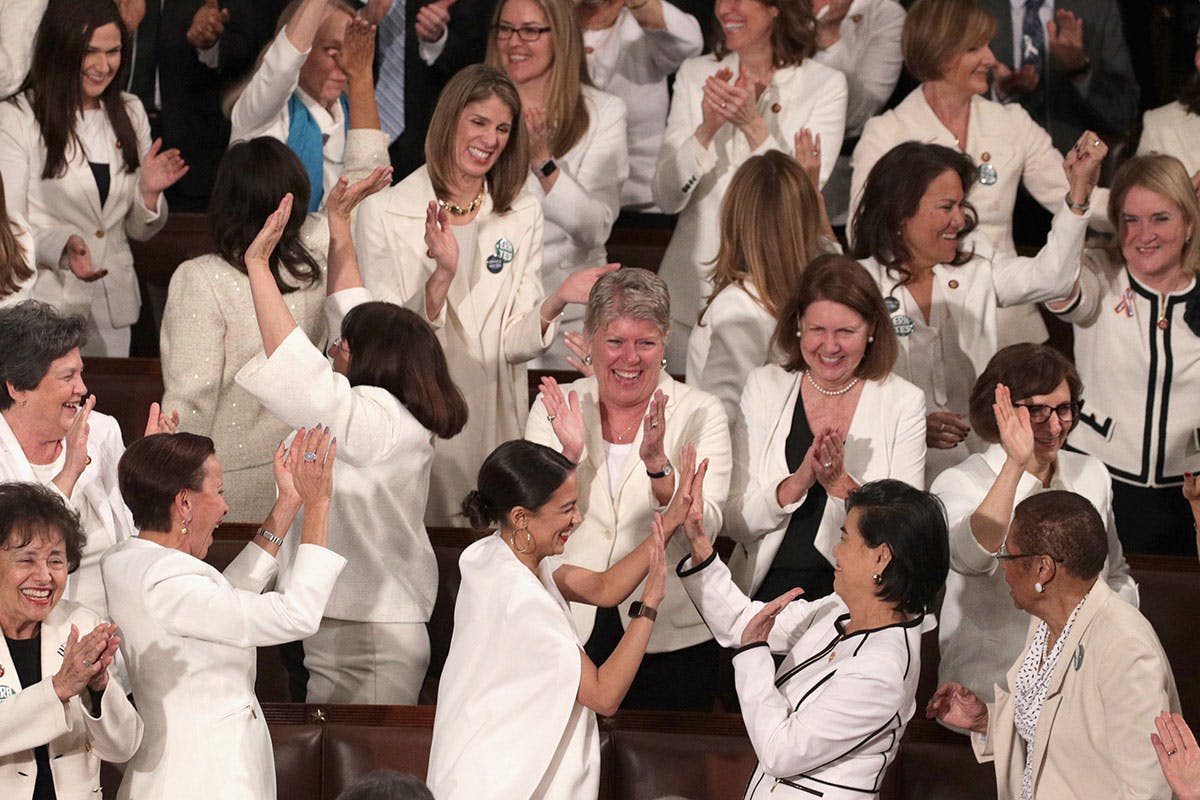 This is the kind of reductive take we're addressing here. The immediate finger-pointing session delivered without firstly a) digesting the fact that this "hypocritical" all-white Aliétte suit didn't actually belong to AOC but was on loan to Vanity Fair for that shoot, and b) it completely ignores the meaning behind it. That suit was chosen in homage to the suffrage movement — it was a nod to the activists that battled 100 years so women could have the right to vote, and to the color's symbolic representation of hope.
AOC also wore white when she was sworn into Congress in January 2019. At the time, she explained that she "wore all-white today to honor the women who paved the path before me, and for all the women yet to come." Shirley Chisholm wore white when she became the first Black woman elected to Congress; Hillary Clinton wore it a lot during her 2016 presidential run; Kamala Harris wore white for her Vice Presidential speech last week; and many, many congresswomen arrived wearing white to the 2020 State of the Union, marking the 100th anniversary of women's right to vote.
Her Telfar bag was also a statement, and one that runs a bit deeper than (paraphrased) headlines like "yo, she copped the Bushwick Birkin." That bag is from a brand with the slogan "NOT FOR YOU — FOR EVERYONE." The founder, Telfar Clemens, based the entire business model on notions of democracy, of developing the kind of luxury that doesn't come with a waiting list and astronomical price tag. There are so many examples like this, it's impossible to congregate them into one article. And still, astronomical prices or not, paying almost $200 for a handbag is still out of most people's price range.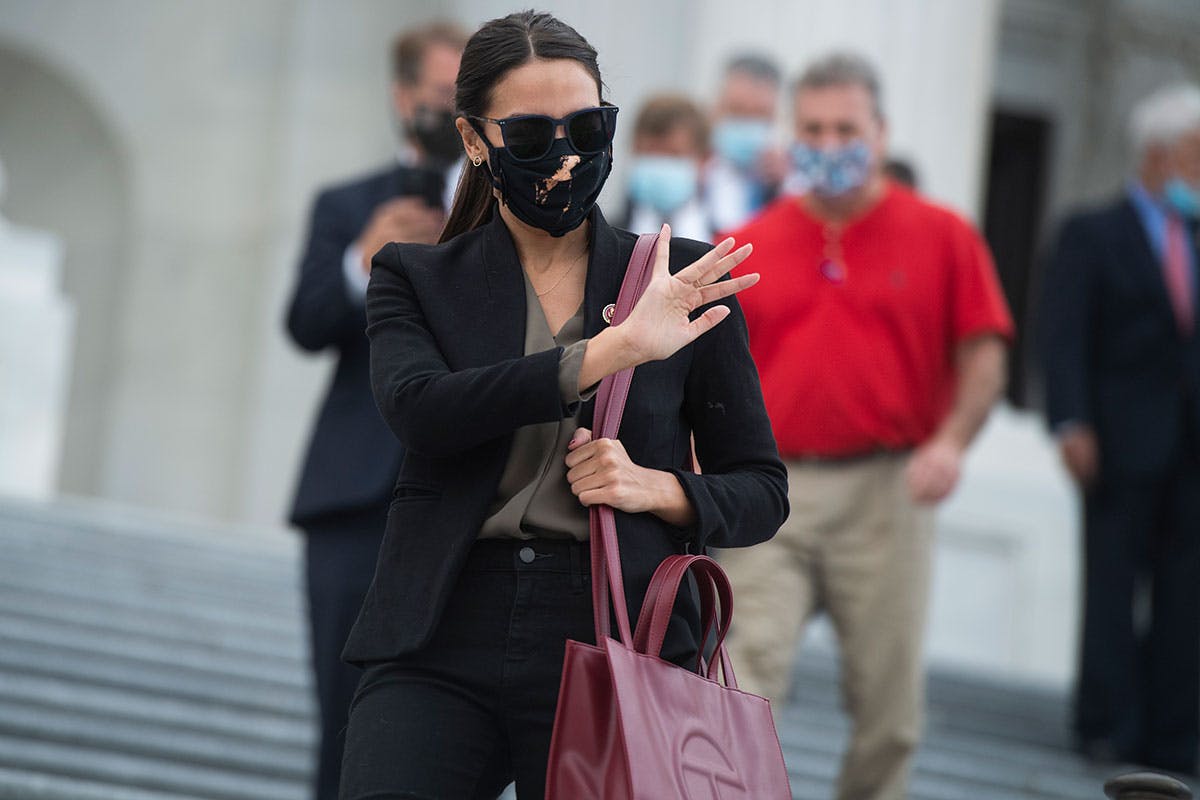 So this is where we come back to thrifting, and why that Twitter discussion was so good to see.
Firstly, it gets real, like actually real, about affordability. It addresses expectation versus reality; about what we expect to see and hear when public figures talk about where they shop. It's genuine in regards to acknowledging the deep-set problems with representation and equality in the current system and acknowledges the part style has to play in that. And it does this while also tying in climate policy. (The New Green Deal and fighting for climate justice is one of the few progressive policies Joe Biden's Democratic party is actually aligned on. There is even some evidence, courtesy of Environmental Voter Project, that pushing prospective policies on climate helped to bag the Democrats' hundreds of thousands of new voters this year in swing states.)
All of this is a long-winded way of saying that conversations around what politicians wear and how they wear it are not as reductive as you'd think, and as long as the conversation is had in a constructive way, it can have a real impact.
So, if you're still reading and looking for ways to be mindful while dressing for success, please allow Bush et al. to show you what that looks like.